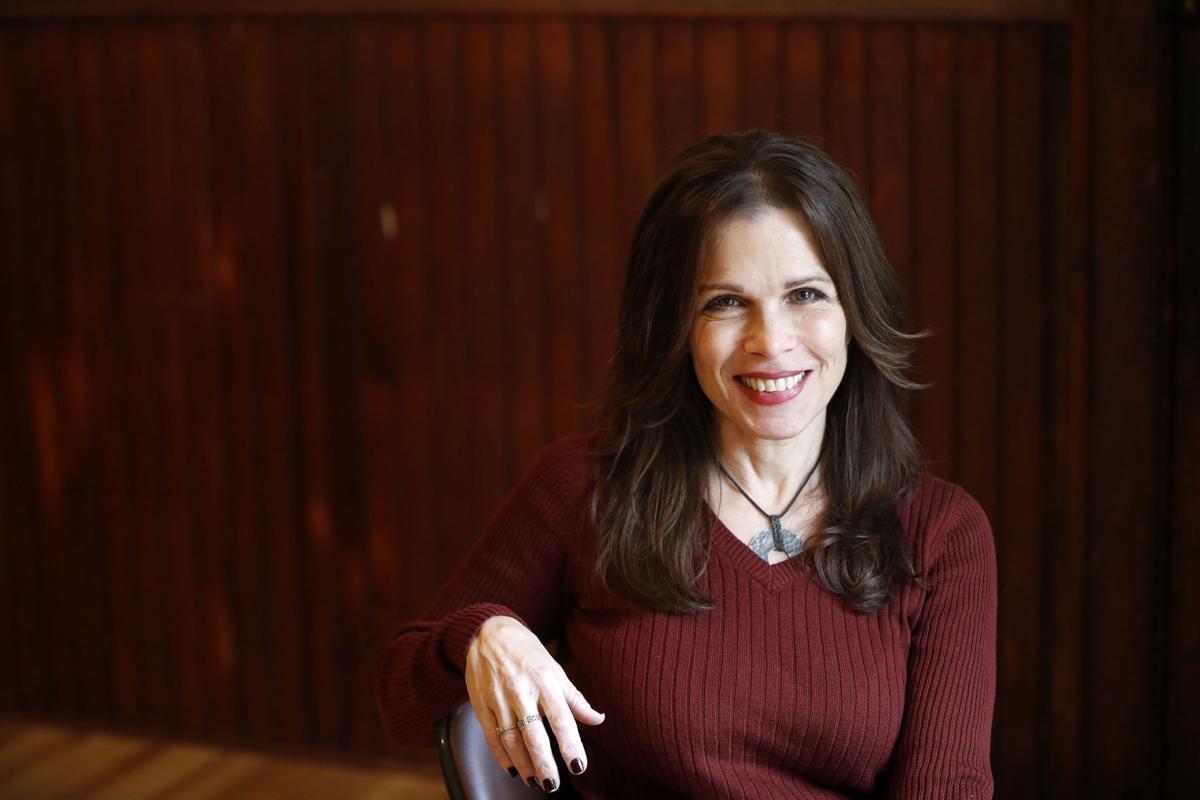 Josie DiVincenzo talks the talk – in several different accents, as a matter of fact.
And she walks the walk – as a successful stage, screen and film actor, adjunct professor at Niagara University, acting coach and scenic artist.
A conversation with this North Buffalo native is engaging, far-ranging – and, upon request – peppered with stories of personal encounters with some of Hollywood's finest. Her anecdotes are culled from 25 years of work in Los Angeles on popular television shows, in theater productions and in movies.
In fact, moviegoers can see DiVincenzo right now in the film "Marshall," about Thurgood Marshall, filmed in Buffalo and playing in movie theaters across the country.
DiVincenzo marvels at the explosion of acting opportunities in theater and movies that happened in her hometown while she was pursuing her career on the West Coast. She returned to the area in 2010, looking for a bit of a break from the stage, perhaps, and turning her attention to teaching and looking for the next opportunity.
"But I had no idea how much Buffalo had grown," she said in a recent conversation. "The talent here and the quality of production is top-notch."
This past summer, DiVincenzo played Mistress Page in the "Merry Wives of Windsor," as part of Shakespeare in Delaware Park, a role that resonates, as she teaches Shakespeare as part of her classes at NU. She also played Lady MacBeth in an all-female production in Delaware Park in 2010, and was in four additional plays there in the 1980s.
"I tell my students that even if they don't know anything about Shakespeare, I want them to leave this class appreciating the work, and if they already like Shakespeare when they start this class, I hope they leave with a passion for it," she said. "It's relevant right now, even in 2017."
"And, as happy as I was when I was on 'Friends' and on 'ER,' the experience of performing on that stage in front of that hill in Delaware Park gave me a real sense of community," she said. "To see 800 to 1,600 people on that hill every night – to see the people of Buffalo there because they love culture and the arts and enjoying a beautiful night under the stars …. And the productions of Shakespeare in the Park are so well done, so well executed."
She refers to the venerable Saul Elkin, founder of Shakespeare in Delaware Park, as "such an icon and mentor to us in so many ways."     
Her extensive stage work – Irish Classical Theatre Co., Jewish Repertory Theatre, Kavinoky Theatre in Buffalo, as well as a number of sites in Los Angeles – has always remained a constant, DiVincenzo said.
"My theater background made me a better film actor," she simply stated. "Theater is my life's blood. It keeps my instrument awake, alive and aware."
DiVincenzo has been a private acting coach for nearly 20 years, but established an acting studio just last month in the Black Rock section of Buffalo. She offers individual sessions for those interested in theater auditions, as well as workshops and individual sessions devoted to acting for the camera and auditioning techniques for the camera. She said these lessons would be valuable, for example, to someone auditioning for a role in some of the movies filming right in this area.
"I have everyone from newbies to seasoned pros," she said. "You may be an excellent actor but you may need audition techniques, for example. When movies come to town to cast for local hires, Cleveland, Pittsburgh and even New York City, as well as Buffalo, are considered. But these companies are starting to realize the talent that's already here and my hope is that they'll utilize us more and more."
DiVincenzo said she and her siblings grew up in an artistic family -- her brother, Mark, is a fine artist, while sister Nancyann Militello became a local special education teacher. Her late father, Richard, a Buffalo firefighter, "was extremely artistic," she recalled. And her mother, Nancy, "still runs my lines with me when I'm in a show and she acts with me, whether she realizes it or not," she said with a laugh.
DiVincenzo graduated from Holy Angels Academy, then SUNY Fredonia with a bachelor's degree in theatre performance. Then it was off to the University of Southern California for her master's of fine arts in acting.
She helped found Theatre Banshee in L.A., starring in many of its productions, as well as serving as a scenic painter, which expanded on her childhood love of art.   
"It was a group of artisans," she said. "To keep the theater alive, we each contributed our skills so that we didn't have to hire seamstresses or set designers, for instance. It was a real troupe.
"And let me say that when I was in 'Marshall,' I acted for two days but I was a painter for seven weeks on that movie – at the Central Terminal and City Hall," she said. "While I've always been acting, teaching and coaching, scenic painting can be lucrative and it was often my day gig."
Not long after graduation from USC, DiVincenzo caught the eye of an agent "from an excellent agency" who started to represent her, and auditions started rolling in, leading to a lengthy resume reflecting solid work on the stage, on television and in movies.
DiVincenzo recently took time from her busy schedule to talk about her performances, her teaching and coaching, and show business, in general.
 Q: Tell us a little about your classes at Niagara University.
A: I teach acting to sophomores and theater appreciation to all levels. It's very familial at Niagara, almost like a conservatory, and I'm very proud to be part of the faculty there.
 Q: Please tell us about your role in "Marshall."
A: I play the secretary, Ruthie, to Josh Gad's character, Sam Friedman, a Jewish lawyer Thurgood Marshall turns to for help with his case.
I only have three lines in two scenes, but I was really happy to be doing this in Buffalo, in my own hometown.
It's difficult to make a three-dimensional character when you only have three lines. It's very easy to get cut, or maybe the camera will be on the other actor, but the editing gods were very good to me in this movie.
Q: What actors have you worked with who have made real impressions on you?
A: Well, George Clooney, Julianna Margulies and Keifer Sutherland. I was very fortunate to be on hit television shows. When I was on '24' with Keifer Sutherland, I told him I was from Buffalo, and he said he loved Buffalo.
 When I did 'Friends,' I was there for a week and it was like being in a play, with a rehearsal, a beginning, middle and end. Sitcoms are like that. It felt like a play, like I was part of a company. One-hour shows and films don't necessarily shoot in order.
W hen I was on 'Friends,' I met Tom Selleck and he was great. Even though he was already a  big star, from having done 'Magnum P.I.,' he was nervous to be on 'Friends' and that was endearing. But that shows you the trajectory 'Friends' was on.
I also worked with Don Johnson on 'Nash Bridges' and that was the first time I had a stunt double. That showed me the partnership actors have with stunt doubles and the precision of the work. I learned that it's the one getting hit that sells it. I was a guest star on that, so it was a big role. My stunt double was Debbie Evans, who worked as Linda Hamilton's stunt double in the 'Terminator' movies and was also in the 'Matrix' films.
Q: You said your theater training helped prepare you for television and film roles, right?
A: There are a lot of excellent actors who have had no theater training, but all I know is that my theater training – going as far back as grammar school – from the get go, empowered me, so that I felt I belonged there. I was a colleague.
... I would get a little starry-eyed when I'd see some of these stars. It's surreal. It's like there they are! But then I just roll up my sleeves and say to myself, 'Let's do this.'
Q: What big changes have you seen in the business in the span of your career?
A: I tell young actors to embrace their essence and create something special. There are still some prejudices of who should look like what, but I think a lot of that has been changing.
And I think it started a long time ago with cable. And now, all of a sudden, there are all of these streaming channels on the Internet, offering so many more opportunities. They seem to be telling the stories of real people and that's true for the stage as well as the screen.
The ball started rolling down the hill. Things are more off-center, off-beat. You see it in theater even more now. And the kids I teach don't even blink – and that's the way it should be. The audience loves seeing themselves up there (on the stage). It's really happening. Look at Lena Dunham and 'Girls,' about real girls.
Times have changed and while there is still a long way to go, we've come a long way with open casting for race and gender.
Q: What are the three best attributes of a good actor?
A: First, have a great work ethic, because no matter how beautiful you are, or how right for the role you are, if you don't have a good work ethic, no one is going to want to work with you. So, know yourself and do your homework. Appreciate what you do for a living.
Second, don't take everything personally. It's a business. You might not get a part because you might be too tall or too short or too blonde for a role or even remind the person casting of their ex-girlfriend, so you can't take it too personally.
And third, know your wheelhouse and embrace what you have to offer. Being five-foot-one, I would have loved to have played the leading lady, the Juliettes of the world, but I fell into character acting and I found my strengths. Accept what you bring to the table. Embrace your gifts.