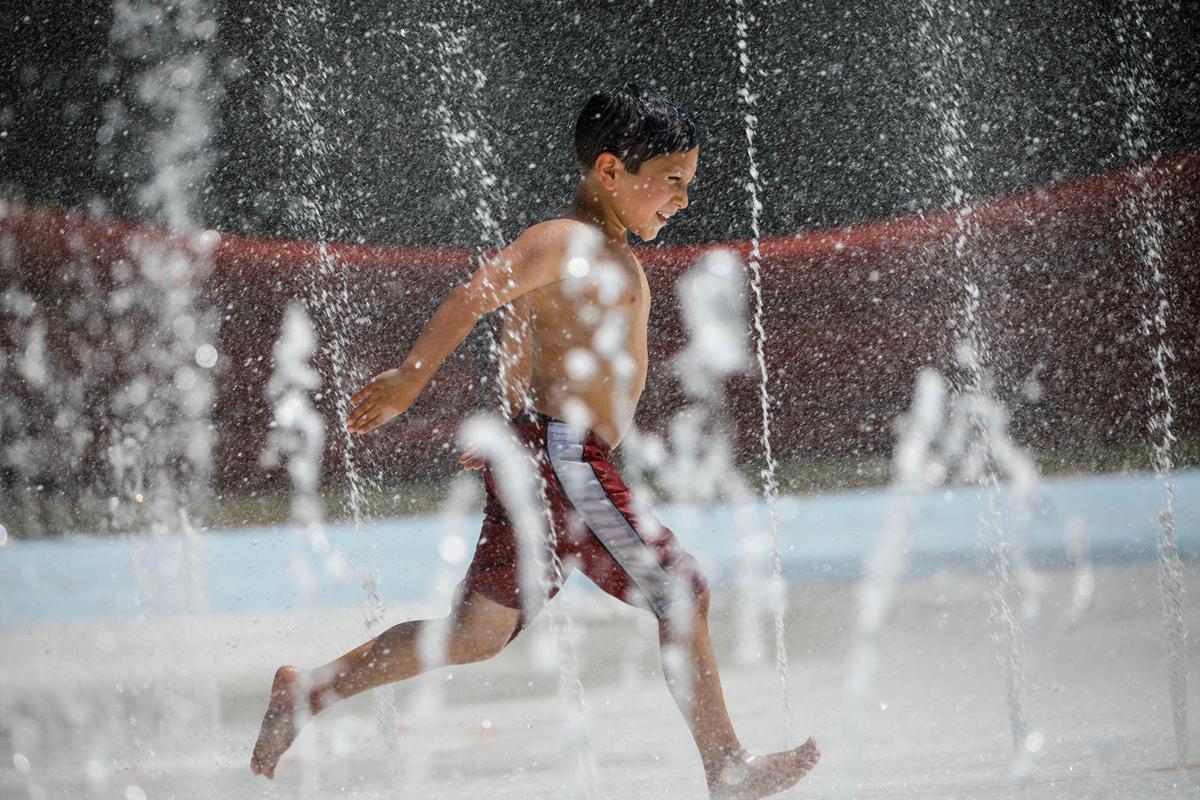 As Western New York endured another day of oppressive heat, officials encouraged residents to find a cool, quiet place where they can drink plenty of water.
They can also enjoy a good book while they're at it.
Buffalo and Erie County Public Library locations have been designated as cooling centers for Western New York, which saw its fifth straight day of temperatures of 90 or above Tuesday. That makes this the second-longest such hot streak in Buffalo history, according to the National Weather Service.
With the heat wave arriving during a pandemic, many of the usual locations for relief, like air-conditioning oases like shopping malls and movie theaters, are unavailable.
"We're still in a pandemic, and so our plan for cooling has been disrupted with many of the usual sites to escape the heat not available right now, so that's a problem," said Erie County Health Commissioner Dr. Gale Burstein. "But the good news is that libraries are available as cooling centers."
"We are absolutely grateful that the county's emergency services look to us to help the community in such a way," said Buffalo and Erie County Public Library Director Mary Jean Jakubowski. "We welcome people into the library."
When the temperature hit 90 about 1 p.m. Tuesday at the National Weather Service's station at the Buffalo Niagara International Airport, it marked the fifth straight day in the 90s. But there's more to come.
The Buffalo record of seven consecutive days over 90 degrees could fall, as forecasts call for temperatures in the high 80s and low 90s the next three days, during which there is also a heat advisory in effect for much of the region.
If the Wednesday temperature hits 90, this heat wave will own second place to itself at six days long. The record of seven straight days at 90 or above concluded on July 10, 1988.
Burstein warned that heat-related illnesses can affect anyone, with the extreme heat resulting in one's body temperature rising faster than it can cool itself, which usually happens through sweating.
She encouraged that Buffalo "continue to be the City of Good Neighbors" so people check in on family and neighbors, especially those in vulnerable age groups, in addition to taking advantage of the cooling centers at the libraries.
Here are a few things to do before you go:
Check the schedule: Check the buffalolib.org list of each location's hours. Libraries have recently reopened from the coronavirus shutdown and are operating under a limited schedule.
Wear a mask: The libraries are following state guidelines, which means limited occupancy, social distancing and the wearing of face coverings.
Bring a water bottle: Burstein urged people to drink water to try and stay ahead of possible overheating of your body by doing so throughout the day.
"Don't wait until you are thirsty, just assume you are losing water from your body from sweating," Burstein said. "Stay hydrated, time it so you drink water every hour."
Jakubowski stressed that water bottles are welcome at the libraries.
"We encourage you to bring a water bottle with you and drink water anywhere in the building," she said.
Not just books: Libraries offer free Wi-Fi and free public computers. More offerings are available at buffalolib.org, which also includes digital services like downloadable books and online media that have remained available during the pandemic.
"We want to be available to our communities," Jakubowski said. "It's a great feeling to know we are relied upon for such services, and we're so proud of our staff for adjusting to the new normal. Now we have the added situation of being a cooling center. We're here with open arms."
Libraries have been included as cooling centers in years past, but with the limited options during the pandemic, they are being depended on much more.
Jakubowski said that having the libraries become cooling centers doesn't require any additional resources or preparations, just that the locations know that they might have increased foot traffic. She said that if there is significant increased attendance at libraries, they'll consider extending hours or opening other parts of libraries such as meeting rooms.
Burstein said that while most community facilities remained closed due to the pandemic, she recommended that people call 211 to see what services or options are available in their area.
The health commissioner stressed that whether people seek refuge from the heat at a community center, or even at a friend's home where there may be air conditioning, everyone should be wary of the coronavirus.
"Even though it's hot, we still have Covid-19 amongst us," Burstein said. "It hasn't gone away."
Burstein said that the recent dramatic Covid-19 outbreaks in other states, many in the south and west, have shown that the virus has not shown to be adversely affected by high temperatures.
"We were hoping this virus would be sensitive to heat, like some other coronaviruses were, but we're still seeing high numbers in the U.S. in states that are very, very hot," she said. "So Covid-19 is still here, and while we try and stay cool we need to stick with the preventative measures."
The heat wave is expected to end on Saturday, when the high is expected to be a relatively cool 84.
Concerned about COVID-19?
Sign up now to get the most recent coronavirus headlines and other important local and national news sent to your email inbox daily.