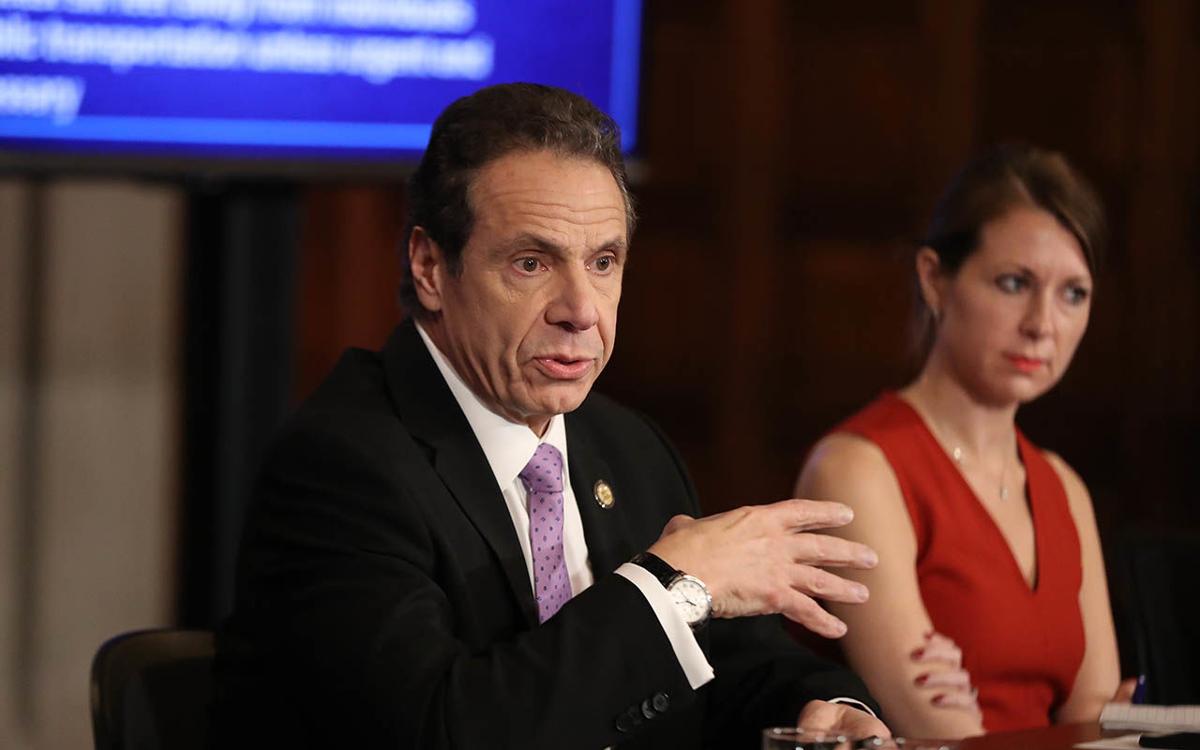 Gov. Andrew M. Cuomo has a short, blunt message to those congregating at downstate bars and restaurants. 
Cuomo on Monday cited large gatherings, as well as local governments' responsibility to enforce them, as a major threat to New York State's continued control of the coronavirus.
The governor said that if gatherings continued, it could lead to the rollback of the reopening plan and the closure of bars and restaurants.
"The bad restaurants and bars are going to make it bad for everyone," the governor said. "We cannot allow those congregations to continue. If it happens, we're going to have to roll back the reopening plan and close bars and restaurants."
Speaking Monday morning at a briefing at New York City's John F. Kennedy International Airport, Cuomo also criticized the federal government's response to the pandemic just before leaving for a same-day trip to Savannah, Ga., to assist that city's coronavirus response. 
The governor said the congregations are mostly a downstate problem, showing photos of gatherings in Manhattan and Queens and calling out the New York City Police Department.
"If you have congregation of people, they are going to spread the virus," Cuomo said. "I'm telling you in plain New York speak: It's stupid. Don't be stupid. What they're doing is stupid.
"If young people are going to come out and do something stupid, the local governments have to enforce the law. The police department has to enforce the law, and they are not doing it." 
Cuomo said most New York City bars and restaurants are complying with guidelines.
The governor did not provide a specific timeline regarding potential rollbacks to reopenings.  
"I have been talking about his for how many weeks? Two weeks, three weeks, four weeks, this has been going on?" the governor said. "I'm telling you, we are right on the line."
New York State's reopenings have been done on a regional basis; New York City entered the fourth and final phase Monday, albeit without indoor dining.
Cuomo, citing New York's continued low hospitalization and test rates, said that the congregations were among two main threats to New York's continued efforts against the virus. The other was rising Covid-19 rates in 40 other states.
"We have that dual threat," Cuomo said. "Other states with virus increasing, that's pressuring us. And you have these congregations, that by definition have to be increasing the viral spread. With both of those pressuring our progress … it's math. It's going to have an effect."
Cuomo again criticized the Trump administration for how it has handled the pandemic, describing their response as "incompetent."
"The federal government is still in denial and refuses to follow the science," the governor said. "In New York, we did it in the science, on the numbers, on the data. The solution is science. ... Five months later, this country is totally unprepared to deal with this.
"It's like we are on Day One of Covid. It did not have to be this way."
Cuomo reiterated his gratitude for those who helped New York during the most intense days of the coronavirus crisis and said the assistance to Georgia was an effort to repay that.
Cuomo and other members of New York's task force will meet with Savannah Mayor Van R. Johnson and the city's health care officials to discuss best practices to fight the pandemic, the governor said. Cuomo also said New York would be donating "thousands of pieces" of personal protective equipment.
Asked if he would be quarantining upon his return, the governor said no, citing his status as an essential worker. Georgia is among the states from which travelers to New York have to quarantine for 14 days upon their arrival. 
Secretary to the Governor Melissa DeRosa, who is also part of New York's delegation to Savannah, also pointed out that the state law, in addition to not applying to essential workers, says that people who are in another state for less than 24 hours do not have to quarantine. 
For the fourth straight day, New York's Covid hospitalizations recorded a new low since March 18, one of the first days of the pandemic. Sunday's statewide total was 716.
The state tested 49,342 people Sunday, with 519 coming back positive, a rate of 1.05%.
The rate of people testing positive in the Western New York region, which ticked up slightly last week to 2%, has hovered around 1% for the last five days. Sunday's positive test rate was 0.7%. Saturday's was 1.0%, Friday's was 1.3%, Thursday's was 1.2%, and Wednesday's was 1.0%.