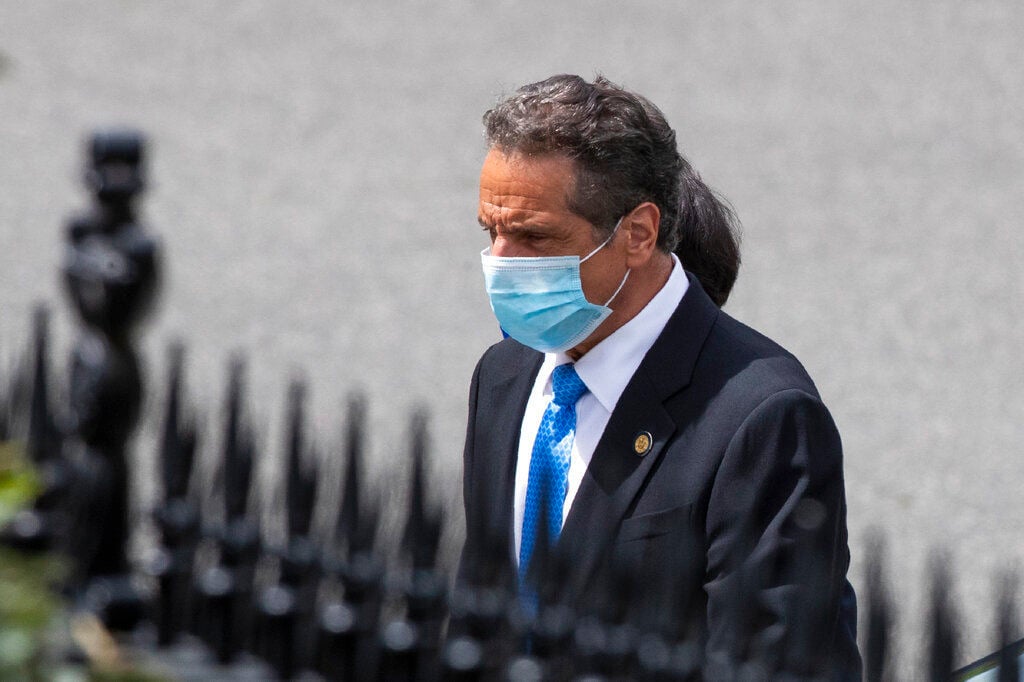 Gov. Andrew M. Cuomo, who has criticized the federal government throughout the coronavirus pandemic, made perhaps his most pointed criticism Monday as he spoke directly to President Trump. 
Cuomo said Trump needs to "start telling the truth" about the virus, should sign an executive order directing everyone in the United States to wear a mask, and told the president he should be wearing a mask himself. 
"Let the president lead by example," Cuomo said, "and let the president put a mask on it." 
Cuomo again drew contrasts in how New York has battled the virus to the point where the state continues to have record low infection and hospitalization rates while other states that reopened quickly are seeing record highs.
"To the president I say today, if you want to help stop Covid-19, then they should start telling the people of this country the truth," Cuomo said. "And the truth starts with how large of a problem this is, and how real a threat Covid is."
"How we are at his point as a nation, and we still haven't taken the simple, easy, minimal step of saying: you must wear a mask when you are in public," Cuomo said. "Just sign an executive order.
"We did it two months ago in this state. The other states are just starting to do it now. States that were recalcitrant ... now they're doing a 180. And you have the same states now wearing masks. Let the president have the same sense."
New York's total hospitalizations rate fell to 853 and the daily death toll was seven; both of those, computed as a seven-day average, are all-time lows.
The state's rate of positive coronavirus cases was below 1% at 0.84% Sunday, with 391 of 46,428 tests coming back positive.
At the end of his opening remarks Monday, Cuomo and Secretary to the Governor Melissa DeRosa unveiled a literal version of the figurative "mountain" to which Cuomo has often compared the coronavirus battle.
It was a model of a mountain in the same shape of the "curve" of daily hospitalizations that has been charted out and cited throughout the pandemic and which is now part of his daily statistical update via Twitter. Day 42, the height of the virus battle in New York State, was designated at the mountain's peak. 
Regarding the reopening of large shopping malls, which currently is on hold, Cuomo said the state will make it mandatory that malls use air filtration systems that can filter out the virus. 
Concerned about COVID-19?
Sign up now to get the most recent coronavirus headlines and other important local and national news sent to your email inbox daily.