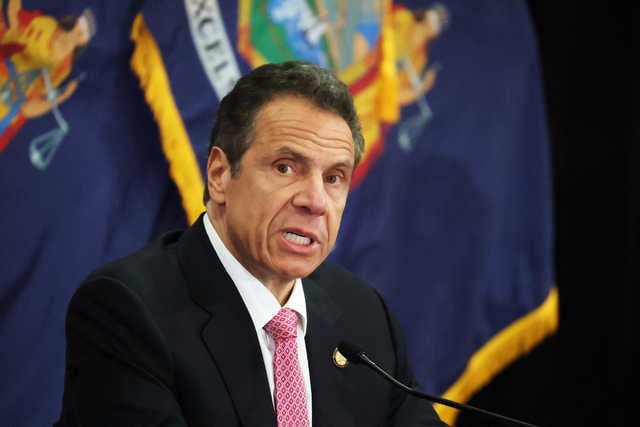 ALBANY – In a self-examination of one of the most controversial public health policy decisions during the Covid-19 pandemic in New York, the Cuomo administration says its policy requiring nursing homes to admit coronavirus positive patients was not a "significant factor" in the thousands of deaths seen at the facilities across the state.
The 33-page review released Monday by the state Health Department instead blamed Covid-19-positive staff and visitors who unknowingly infected the vulnerable population of nursing home patients, at least more than 6,000 of whom died in numbers that are not yet complete.
Critics dismissed the report as an exercise to distract and to deflect blame away from a decision in early spring by Gov. Andrew M. Cuomo that bolstered the nursing home census statewide at an especially dangerous time during the pandemic in New York. Some renewed calls for an independent probe.
Cuomo, who issued the March 25 edict that nursing homes take in the infected patients, hailed the report issued by Health Commissioner Dr. Howard Zucker. Cuomo put Zucker in his top state health post in 2014.
Cuomo, who was not present with Zucker when the report was released, later said criticism of the nursing home admission policy was based on "pure politics" and "ugly politics."
"You had this political conspiracy that the deaths in nursing homes were preventable," Cuomo said, faulting the federal government for not alerting states earlier when Covid-19 first made its appearance before confirmed cases began popping up in a number of states.
"And now the report has the facts and the facts tell the exact opposite story," he said.
The report, with some data provided by the health department and other sources, also comes at a time when state lawmakers have been discussing a timetable to hold public hearings on the nursing home deaths. The Democratic-controlled Legislature has not set a schedule for those sessions, which are likely to be joint hearings of the Assembly and Senate and will examine both how the Democratic governor and health entities handled Covid-19 in nursing homes.
Assemblyman Richard Gottfried, a Manhattan Democrat who chairs the Assembly health committee, said the new DOH report "is almost all about whether the March 25 order ... was correct. There are a lot of other issues relating to nursing homes and Covid-19, including staffing levels, adequacy of Health Department quality and safety enforcement and adequacy of funding."
"Those issues were serious long before Covid-19, which has made the problems even worse. That's why we plan to hold legislative hearings," he added.
Senate Minority Leader Rob Ortt, a North Tonawanda Republican, said the Cuomo administration report is "an insult" to every New Yorker who lost a loved one in a nursing home. He noted the virus hit hard a nursing home in Washington and that Cuomo was slow to react to protect nursing home patients here.
Ortt said Cuomo "fixated" on holding daily press briefings that got him national headlines while issuing a "botched" March 25 directive "that sent Covid-19 positive patients walking into the door" of hundreds of nursing homes.
"The Cuomo administration's failure to accept responsibility for their disastrous response has been outrageous, but to blame family members who have suffered devastating losses – who were not even able to say goodbye at funerals – is the ultimate low," Ortt said.
While Zucker has been a regular feature of Cuomo's Covid-19 media appearances, he held his own news conference in the morning along with two private sector, downstate health care executives, including Michael Dowling, a longtime adviser and confidante to Cuomo and his late father, Mario, when he was governor more than 25 years ago.
Dowling used terms such as "Monday morning quarterbacking" for pushing a narrative that he said falsely claimed "that x causes y." Dowling, CEO and president of Northwell Health, joined Zucker and Cuomo in hailing statistics that showed far fewer people – on a per capita basis – died in New York nursing homes than elsewhere in the nation and world. Dowling said New York did "exceptionally well" compared with those other areas.
The report bases its conclusions on several factors, including that:
* The median hospitalization stay for patients who were then admitted to nursing homes was nine days, a length by which the virus would have cleared the body of most people who were then no longer contagious when they were transferred from hospitals to nursing homes.
* There was a "high likelihood" that Covid-19-positive visitors came to nursing homes, though the report said there is "no specific data to support this assumption and so, ultimately, this is inconclusive." Cuomo shut down visitation at nursing homes March 13, two weeks after the first confirmed case was revealed in New York.
The report is more clear about what it called the main spreader of Covid-19 in nursing homes: employees. It said nursing home industry data estimated that about 37,500 facility staffers tested positive between March 19 and early June. Nearly 7,000 of those people were working at nursing homes in March at a time when testing was far from widespread or even urged in some quarters.
The report said that thousands of staffers "unknowingly" transmitted the virus in March – "through no fault of their own" – while at work at facilities upstate and downstate.
Health care workers complained loudly that health facilities and the state were slow in distributing critical items, such as masks and gloves, to help protect themselves and their patients.
Zucker, in his public comments Monday, sought to relieve from blame any one person or group of spreading the disease like wildfire through nursing homes.
"I would blame the coronavirus, Covid-19. That's where I would put the blame," he said.
Nursing homes, which are closely regulated by the state, and one of the biggest health care unions, which is politically close to Cuomo, used carefully chosen words to react to the report.
George Gresham, president of 1199SEIU, which represents 40,000 nursing home staffers, said nursing home caregivers performed their tasks at physical and emotional cost and were often without adequate personal protective equipment and while being denied needed sick time.
The union on Monday did not criticize the DOH report, or the March 25 directive by Cuomo, but said it will continue raising its voice "to demand that both residents and workers be protected and respected."
The New York State Health Facilities Association and the New York State Center for Assisted Living, which represents more than 450 nursing homes and assisted living facilities in the state, said it has been clear throughout that older people and those with chronic conditions living in those homes were the least able to withstand getting infected with Covid-19.
"At the onset of the Covid-19 virus, nursing homes and assisted living facilities were not the top priority. The principal focus of policymakers was on bolstering hospital resources and ramping up hospital bed capacity," said Stephen Hanse, the group's president and CEO.
Indeed, Cuomo's March 25 directive to move patients from hospitals to nursing homes was fueled by growing worries that hospitals would not be able to meet the number of Covid-19 caseloads – a fear later not largely realized. That March order was later rescinded in May.
The industry said nursing homes and assisted living facilities have had to endure significant Medicaid cuts that, executives have been saying for months, did not leave the facilities adequately prepared to meet the pandemic. "These cuts need to stop,'' Hanse said.
Both the nursing homes and the DOH report said quality of care issues were not to blame in Covid-19 nursing home deaths spiraling in New York.
The findings of Zucker's report were not a surprise since his boss, the governor, has been saying for some time that asymptomatic staff members were likely the chief reason so many nursing home patients died – and not as a result of the March 25 edict. The state has also said nursing homes did not have to take Covid-19-positive patients if they could not adequately care for them. The Zucker report also criticizes the federal handling of the crisis – a frequent theme of the Democratic governor.
The DOH report said the nursing home Covid-19 fatality peak occurred on April 8. The report relied heavily on dismissing theories that the March 25 policy led to a surge in nursing home deaths, saying that New York would have had one of the worst fatality rates in the nation. It noted states without similar policies had higher death rates among Covid-19 patients in nursing homes.
The report also sought to debunk what it said was incorrect information in the media that the March 25 directive ordered nursing homes to take the patients, saying that they must take such patients "for whom it can provide adequate care."
The study on Monday said a DOH survey found that 6,326 Covid-19-positive patients were sent from hospitals to 310 nursing homes between March 25 and May 8.
On May 10, Cuomo issued a new directive: He blocked hospitals from sending patients going to nursing homes unless they tested negative. Tests of nursing home workers has also increased, though some health industry officials say the tests in some areas are taking too long for results to be made known to the staffers.
The governor has sought to portray his sharpest critics over Covid-19 as partisan Republicans. On Monday, Republicans were not relenting after the DOH report. Assembly Minority Leader Will Barclay, an Oswego County Republican, said "to the surprise of absolutely no one," the DOH report continues the administration's "pass-the-buck narrative."
Republicans – and some Democrats, such as Gottfried – for months have been calling for an independent investigation into the Covid-19 nursing home deaths in New York.
On Monday night, Senator Gustavo Rivera, a Bronx Democrat who chairs the Senate health committee, said the new Cuomo DOH report, at first glance, "poses more questions than it answers."