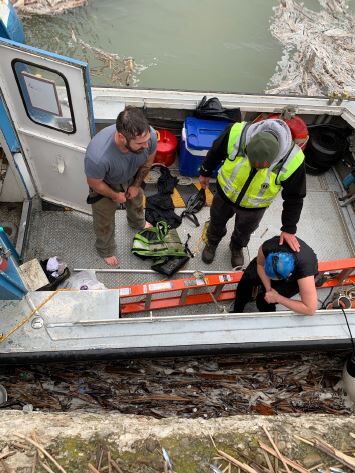 With it being just over a week before Christmas and only Rocky Hine's second day on his new job, the Niagara County resident and commercial diver wasn't expecting anything especially dramatic to happen Thursday.
All that changed when a distraught man jumped into the Niagara River off Bird Island Pier. Hine, who was working as a superintendent for BIDCO Marine Group, an underwater construction company, was on shore when he saw a desperate figure swirling about in the rough waters of the river. Sean Needham, also a commercial diver for the company, was sitting in a boat nearby, while Chris Kunzleman, another BIDCO commercial diver and rescue spotter, ran downstream on top of the river wall, keeping the victim in sight.
It seemed more than fortuitous that they were where they were.
"We do underwater construction," said Mark Judd, president of BIDCO. "So we have a crew that was working right on the outside of the water where the water is extremely fast." 
Judd said his company has been working on the site for about a month. His crews are repairing timber cribs that support the pier. 
Despite the initial confusion and panic among dozens of fishers on an unseasonably warm December day, Hine, Needham and Kunzelman were prepared to spring into action.
"We had a diver in the water, and I was overseeing the crew with a diver down in the water doing our work. And there's a bunch of fishermen standing up there. All of a sudden, we heard them hollering and screaming," Hine said.
He then saw a fisherman run down the pier with one of the life preservers stored along the walkway.
"That's when we realized, 'Oh, my God, somebody' – we just assumed somebody fell in, you know. We just assumed it was a fisherman," Hine said.
"So I grabbed our life ring from the pier we were on, jumped in the boat with Sean and we took off in the boat down the river, and Chris, he went running with another life ring down the pier," he added.
It was Kunzelman who directed the rescue boat to the exact location of the distraught man, who initially resisted the rescue attempts.
"We tried to explain to him: 'Look, man, this is not the way; come on, get in the boat with us,' " Hine recalled.
He said the crew was well aware of the short amount of time the frigid water can claim a life.
"We're a diving company, so we know about the water. He didn't have but another minute or two, or hypothermia was going to kick in," Hine said.
Hine said that is when Needham, wearing a life vest, stripped to his underwear and dove into the river with one of the company's life preservers around him and swam up to the young man in the water and wrapped his arms around him. Hine maneuvered the boat towards them as Needham, with the victim in tow, swam up to the boat, at which point Hine grabbed the young man and pulled him into the boat. 
"Then, Sean got in the boat and we turned around and headed back to the job site where we were docked up and everything and, at that point, we were just trying to get him warm. We started stripping his wet clothes off and tried to talk to him, too, and calm him down, because he was right there on the edge of going into hypothermia and shock," Hine said.
"Luckily, we have hot water, because our divers in that cold water, they have hot water running through their dive suits. It keeps them warm. So, as soon as we got him up on the dock, we started getting the warm water on him to get his body temperature back up, and EMS was there immediately. And that was it, man, a crazy day at work," said Hine, who, like Needham, is a military veteran.
"Typically, we're not there to go save the general public. You know, it's a week before Christmas, man, and we're both vets and we've seen a lot of things, and you just can't let that happen, not on my watch,"  Hine said.