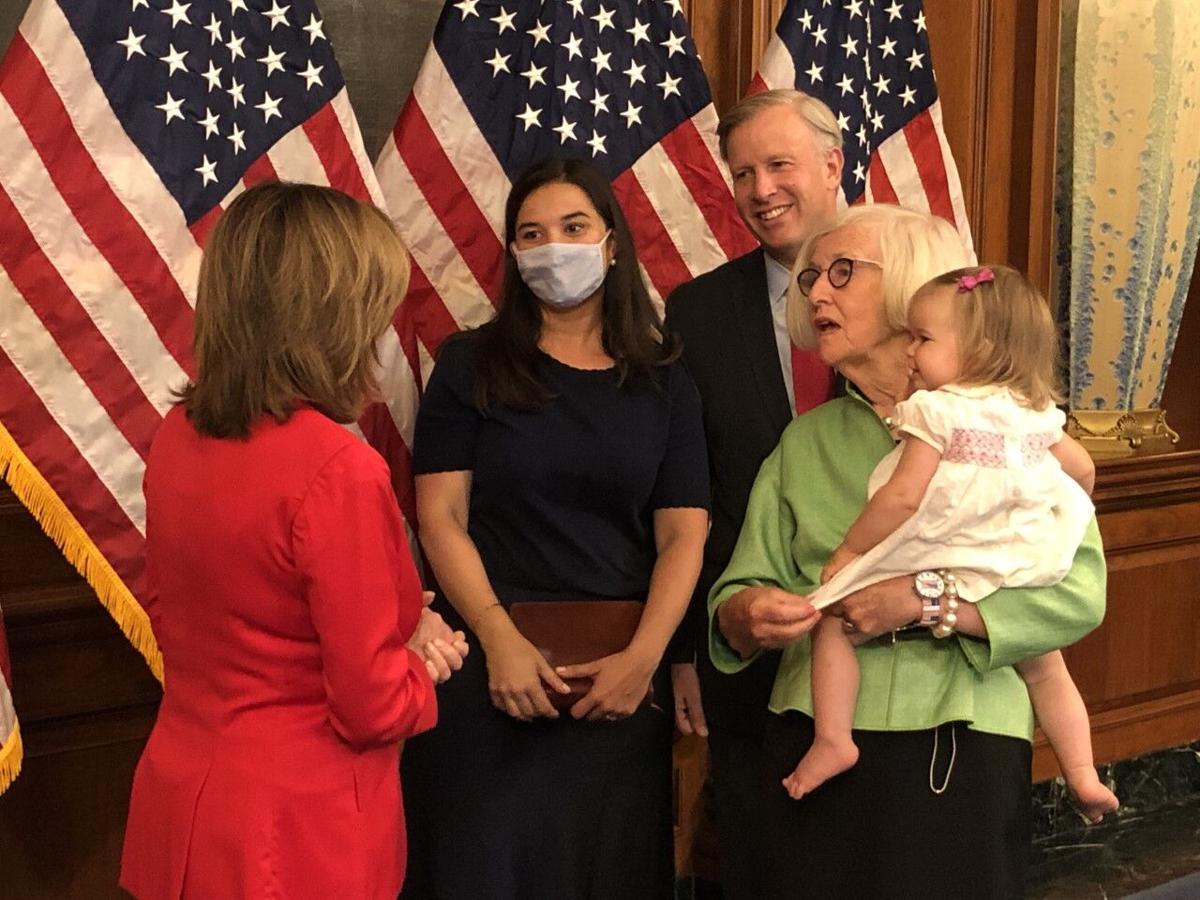 WASHINGTON – Rep. Chris Jacobs began his tenure in Congress Tuesday with a focus on something his far-flung, largely rural district has not enjoyed for a long time: constituent service.
Sworn in to the House in the morning by House Speaker Nancy Pelosi, Jacobs, a Republican, said afterwards that he had been appointed to the House Agriculture Committee.
That means the new lawmaker will be working on issues important to his district's key industry. It's the first time in decades that the district between Buffalo and Rochester – now New York's 27th District – has had a lawmaker on the Agriculture panel, but Jacobs said it was a natural choice.
"When I was asked what committee I wanted, agriculture was on my the top of my list because of how significant it is in NY-27," said Jacobs, a longtime Buffalo resident who now lives in Orchard Park. "I want to be very engaged and a real advocate for farmers and the agribusiness sector in general."
Jacobs will also serve on the House Budget Committee. He said that was an option House Republican leaders presented to him, and one that will allow him to learn fast about the vast operations of the federal government.
The new lawmaker said he plans to focus largely on issues that are important to the district, as well as hiring staff to deal with what's likely to be a huge backlog of problems his constituents want him to address.
"One of the first things I'm really concerned about is I want to get on top of constituent issues," Jacobs said.
The 27th District office had a small staff ever since Rep. Chris Collins, a Clarence Republican, resigned upon pleading guilty to felony insider trading charges last Oct. 21.
Then on June 23 – the day of the special election that Jacobs won – the office staff was let go so that the winner could hire his own staffers.
"There's been no constituent work," Jacobs said.
Jacobs, who wasn't officially declared the winner in his race against Democrat Nate McMurray until last week, has hired a chief of staff and a caseworker in the district's Geneseo office. Filling out his staff will be an immediate priority, he said.
New York State's newest federal lawmaker will also have to gear up for a rematch against McMurray in November. And the Democrat, who lost by 5.3 points in a district where Republicans have an 11-point edge, promised it will be a fight.
"Given the outcome of the election, I don't think they're storming into Washington; I think they're limping in," McMurray said. "I think we're gonna have a very competitive race." 
Asked about Jacobs' focus on agriculture and the district, McMurray said the new congressman may be trying to step away from President Trump, who aided Jacob's campaign but who appears increasingly unpopular in recent national polls. But McMurray said any "chameleon" move won't work for Jacobs.
"There's lots of videotape where he's saying how much he loves Trump," McMurray said.
Regarding the fall race, Jacobs said: "People are going to get an opportunity to see how I conduct myself and if I am an impactful representative for them and if I do it with honor and integrity. So they will have a record now to weigh when they're when they're going to vote November."
Jacobs' priority Tuesday was not on politics, but on ceremony. Yet his swearing-in was a far more muted affair than these events usually are.
He appeared on the House floor shortly before 10 a.m. clad in a blue suit, red tie and black mask bearing the American flag. Rep. Brian Higgins, a Buffalo Democrat clad in an olive suit and blue surgical mask, accompanied Jacobs and introduced him to colleagues from New York.
But amid the Covid-19 pandemic, there were no handshakes. Instead, Jacobs greeted his new colleagues with elbow bumps.
A ceremonial swearing-in took place immediately afterwards in the ornate House Rayburn Room. There, Jacobs – socially distanced from Pelosi – raised his right hand for the cameras.
Political instincts then kicked in, and Pelosi spent the next several minutes fussing over Jacobs' young daughter, Anna. Pelosi also paid special attention to John Long, a 93-year-old former World War II veteran and longtime friend of Jacobs, greeting him with a warm handshake and planting in his hand a medal showing the Capitol and the speaker's signature.
Long, a former Republican chairman in the Town of Tonawanda, said he was thrilled that Jacobs was now a member of Congress.
A longtime adviser to Jacobs on veterans issues through Jacobs' tenure as county clerk and a state senator, Long said Jacobs has the makings of a great congressman.
"Ever since he was on the Buffalo school board, he has had a remarkable ability to work with people," Long said. "I'm proud of what he's doing and I expect great things from him."