A Cheektowaga man was among those who went into the Capitol building Wednesday amid an insurrection by President Trump's supporters, he acknowledged to The Buffalo News Friday.
"America first! America first!" someone can be heard yelling.
Other published photographs and videos show Harding among a group of people outside the Capitol piling cameras, tripods and other equipment marked "AP" on the ground as people repeatedly shouted "CNN sucks." One man wearing a black ski mask slams a tripod to the ground and stomps on it. One video, posted to ruptly.tv, showed Harding approach the pile and say: "A bigger lighter." Someone yells "Light it up!" as Harding kneels down and sets a piece of plastic on fire in the middle of the pile. A photo taken by a Wall Street Journal reporter at the scene showed Harding in the crowd around the broken media equipment.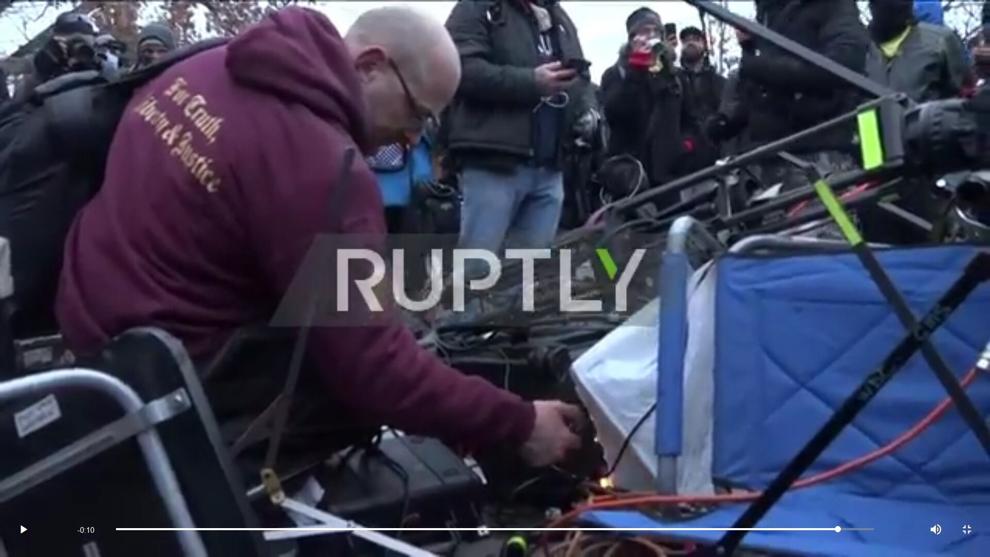 Harding acknowledged to The News on Friday that he did go into the Capitol building for about 40 minutes and that he used a Bic lighter to set a piece of plastic on fire outside.
"I did nothing wrong," said Harding, who said he contacted the FBI on Friday after several people suggested on social media that he should be arrested.
He said he went in to "to chronicle and document" the events and that he did not cause any damage inside the building or hurt anybody.
He also said that he helped pile media equipment outside the Capitol building and that he used a Bic lighter to light a plastic bag in the pile.
"We took the rest of the media equipment that was there. We put it into a pile. That was a symbolic gesture. Nothing burned. It was metal. It was far from any structure. It was nowhere near the Capitol building. It was nowhere near a tree. It wasn't even on grass that could be lit on fire. There was a plastic bag. I had a Bic lighter and that was it. It was symbolism," Harding told The News.
Harding, who has frequently participated in Buffalo protests against Gov. Andrew Cuomo's Covid-19 restrictions, was outside the Buffalo City Court building Friday before a court hearing by a coalition of Erie County restaurant and bar owners who are suing the state to allow to reopen. He is not part of the lawsuit, but was there as about a half dozen people gathered to rally in support of reopening restaurants and bars to indoor dining.
He was also among those who confronted health sanitarians and Erie County sheriff's deputies at an Orchard Park gym in November, yelling "Get out!"
Any Western New Yorker who stormed the nation's Capitol Wednesday may soon be met with the full force of the law, Buffalo's top federal prosecutor said Thursday.
On Thursday, U.S. Attorney James P. Kennedy Jr. said any Western New Yorker who stormed the nation's Capitol Wednesday would be investigated.
"We have received a number of leads and tips regarding yesterday's events at the Capitol Building," Kennedy said. "Working with our law enforcement partners, we are actively investigating the information we have obtained. Should we determine that there is a legal nexus between the crimes committed at the Capitol and our jurisdiction, we will not hesitate to charge those responsible."
Two busloads of people from the Buffalo area traveled to Washington, D.C., to support Trump and protest against Congressional leaders as they gathered Wednesday to certify President-elect Joe Biden's election. Harding said he was not among them and traveled alone by car.
Harding said he is aware he could be arrested.
"If I'm arrested, it is what it is. I'm not afraid of what I did. I didn't wear a mask for a reason. I knew cameras were on the entire time," Harding said.