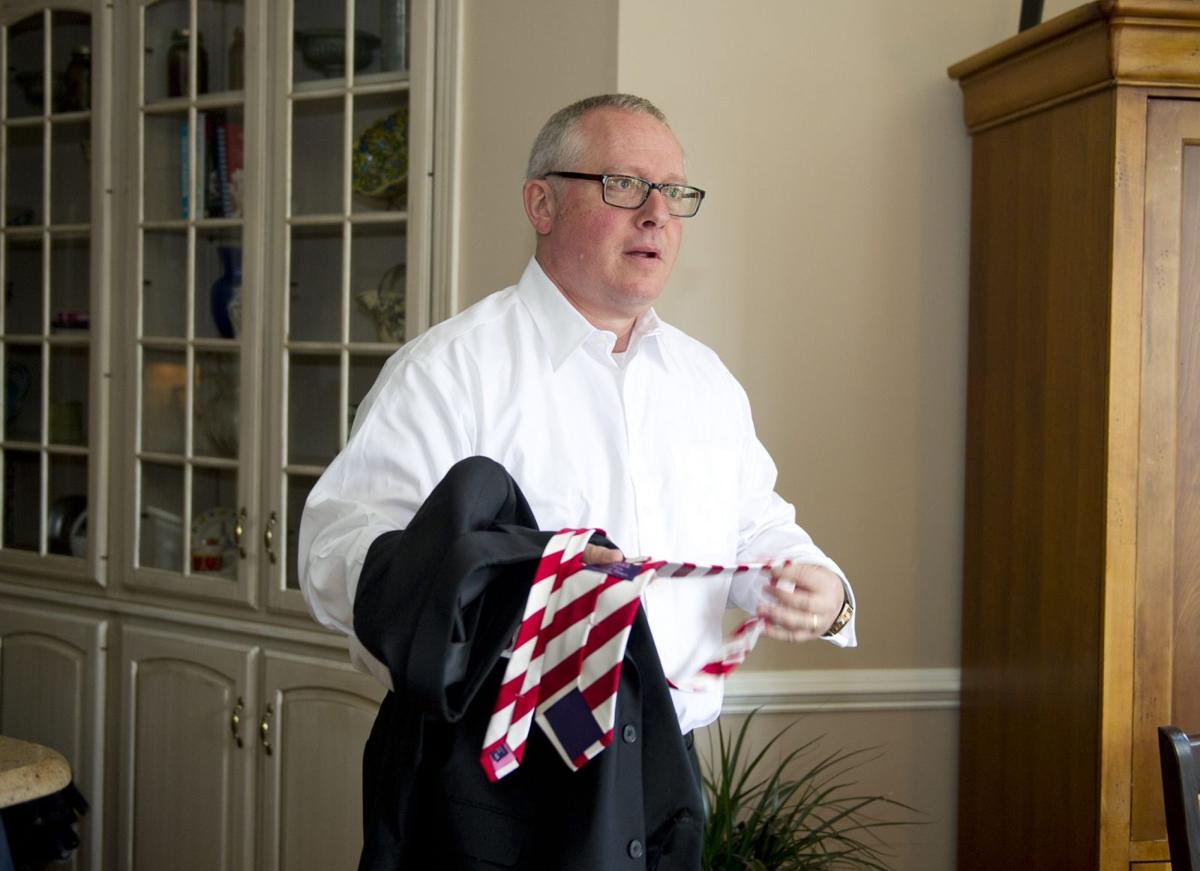 WASHINGTON – East Aurora political consultant Michael R. Caputo found himself at the center of a scientific and political firestorm Saturday in the wake of a Politico report showing that he's leading an effort to alter the Centers for Disease Control's scientific reports to make them more compatible with President Trump's views of the Covid-19 pandemic.
Prominent epidemiologists and other scientists took to Twitter to express their outrage that Caputo, who was named assistant secretary for public affairs at the Department of Health and Human Services in April, and his staffers would try to change the tone of the CDC's science-based research on the pandemic. Many echoed comments that Dr. Nancy H. Nielsen, senior associate dean for health policy at the University at Buffalo School of Medicine and Biomedical Sciences, made in an interview.
"This is terrible. I mean, this is censorship. This is suppression," said Nielsen, a former president of the American Medical Association.
Political commentators such as former CBS News anchorman Dan Rather lambasted Caputo's actions, too.
"This is propaganda over science," Rather said on Twitter regarding the actions described in the Politico story. "It is immoral, dangerous, and must be considered un-American."
Asked in a brief interview what he had to say in response to such critics, Caputo said: "Nothing."
In the Politico story, he defended his actions by saying: "Our intention is to make sure that evidence, science-based data drives policy through this pandemic — not ulterior deep state motives in the bowels of CDC."
Caputo bore most of the criticism Saturday even though the Politico report indicated that Paul Alexander, a Caputo aide who had been a part-time assistant professor of health research methods, evidence and impact at McMaster University in Toronto, was primarily involved in trying to change the CDC's reports.
Alexander recently told CDC Director Robert Redfield and other agency officials that he wanted to see – and if necessary, revise – the agency's weekly Morbidity and Mortality Weekly Reports, in which government researchers detail their latest findings about the Covid-19 pandemic.
"The reports must be read by someone outside of CDC like myself, and we cannot allow the reporting to go on as it has been, for it is outrageous. It's lunacy," Alexander said in an email to those officials, which Politico obtained. "Nothing to go out unless I read and agree with the findings how they CDC, wrote it and I tweak it to ensure it is fair and balanced and 'complete.'"
In that Aug. 8 email, Alexander said some of the agency's scientists appeared to be using the reports to "hurt the president." Alexander then asked the agency to alter two already-released reports that he said undermined President Trump's efforts to get schools to reopen in person this fall.
"CDC tried to report as if once kids get together, there will be spread and this will impact school re-opening . . . Very misleading by CDC and shame on them. Their aim is clear," Alexander wrote.
That was by no means the only time Caputo and his deputy raised issues with CDC research.
A report on hydroxychloroquine, the malaria drug that Trump has touted as a Covid-19 treatment despite a lack of evidence that it works, was delayed for about a month after Caputo's team questioned the political leanings of its author, Politico said. The report, which was released earlier this month, concluded: "The potential benefits of these drugs do not outweigh their risks."
And on Friday, Alexander asked the CDC to change its definition of the pediatric population so that it no longer include people aged 18 to 20. "These are legal adults, albeit young," Alexander said in an email Politico obtained.
Asked on Saturday how he came to know about Alexander, Caputo said: "From his work." Asked for more specifics, Caputo said: "Reading."
Caputo told the Hamilton Spectator in July that Alexander appeared frequently as a guest on his radio program. Caputo previously appeared as a radio host on WBEN in Buffalo. Caputo told the Spectator that he and Alexander became good friends, and that the Canadian professor's current job in the United States is, in part, "criticizing other people's work."
Politico published its story at 10:25 p.m. Friday, and it didn't take long for epidemiologists, public health experts and politicians to erupt.
"So this is thuggery, suitable for some tinpot dictatorship, where the great leader wants the science to say what he wants it to say," tweeted Gregg Gonzalves, an assistant professor of epidemiology at the Yale University Medical School. Gonzalves ended his tweet by calling Caputo "a public health menace."
Several scientists said they were particularly aghast that Caputo's public relations team thought it should reword the CDC's Morbidity and Mortality Weekly reports.
Dr. Tom Inglesby, director of the Center for Health Security at the Johns Hopkins University Bloomberg School of Public Health, said in a tweet that those reports are a key way for U.S. government scientists to communicate their findings to the rest of the world.
 "Terrible new low for science in US," Inglesby tweeted. "Leave CDC alone, let them use their expertise to help control this pandemic."
 And several epidemiologists – experts who study the spread of disease – tweeted their concern that by tweaking CDC reports to better fit with Trump's view that opening the economy and schools should be a top priority, Caputo and his team could be endangering lives.
 "So Wrong. Wrong wrong wrong!," tweeted Michael Mina, assistant professor of epidemiology at Harvard University's T. H. Chan School of Public Health. "These actions cause excess deaths!"
 Nielsen, the former AMA president, raised that same concern.
 "You can't suppress data, you can't alter the reports, because it will cost lives," she said.
 The political reaction was no less vicious.
 "Caputo is a thug and political hack. This is why he was put there," tweeted former Rep. Joe Walsh of Illinois, a Republican and Trump critic.
 Rep. Brian Higgins, a Buffalo Democrat, said in an interview that he would be requesting a congressional hearing where Caputo and Alexander would have to explain their actions. Higgins said those actions appear to follow up upon Trump's admission, in the new Bob Woodward book "Rage," that Trump wants to play down the pandemic.
 "This is a continuation of the White House attempt to suppress public health officials that have very important information that is designed to help keep the American people healthy and safe," Higgins said. "So anybody, whether you're Republican or Democrat, should be concerned about that."
 Caputo declined to take on his critics in his brief interview with The Buffalo News, but he offered a spirited defense of his actions to Politico.
 "Buried in this good [CDC] work are sometimes stories which seem to purposefully mislead and undermine the President's Covid response with what some scientists label as poor scholarship — and others call politics disguised in science," Caputo said.
 And while no epidemiologists rushed to his defense, Tom Fitton, president of Judicial Watch, took to Twitter to do just that.
 "Deep State CDC press release attacks efforts to hold anti-Trump bureaucracy accountable for politicized #coronavirus hysteria and the outrageous suppression of #Hydroxychloroquine. These bureaucrats believe they should be accountable to no one," tweeted Fitton, who heads a conservative group that has been steadfastly supportive of Trump.
 Caputo, through his personal account, retweeted Fitton's tweet and did something he's long been known to do on Twitter. He lashed into his critics.
 When "Chico Grande," who has 124 followers, suggested that Caputo "should rot in hell" for his actions, Caputo – who has 48,700 followers – replied: "Leftists are violent extremists."
 And in response to Dan Rather's tweet criticizing his actions, Caputo wrote: "@DanRather, leftist propagandist."