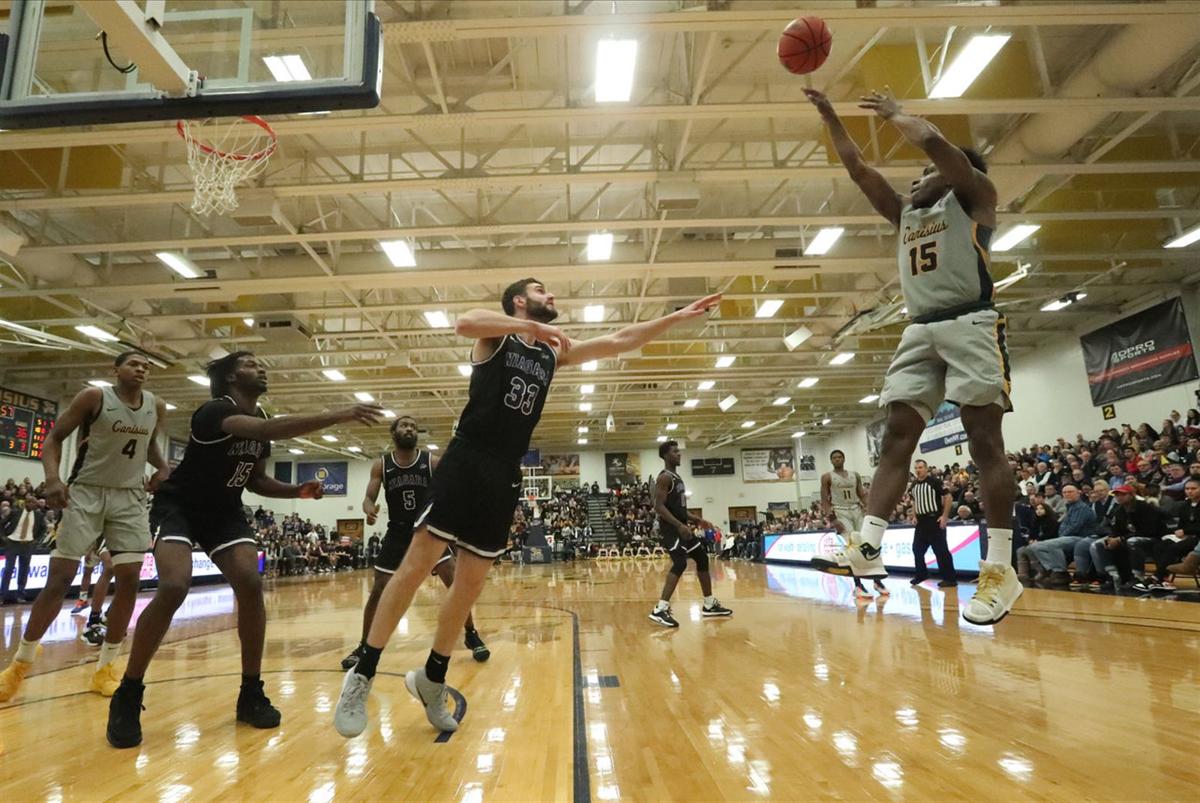 Canisius College athletic director Bill Maher confirmed Tuesday that Canisius will cut about one-fifth of its athletic budget in advance of the 2020-21 school year.
Canisius will not cut any of its 16 men's and women's sports, but the cuts will include layoffs and furloughs among athletic department staff, a reduction in travel budgets and salary reductions for coaches and members of the athletic department.
In all, Canisius will cut $1.25 million from its athletic budget for the 2020-21 school year, or 19% of the budget from the 2019-20 fiscal year. That $1.25 million, Maher said, are funds that the athletic department received from the college.
"When we go through these challenges, the goal is, how do we meet these reduction goals and impact teams the least way possible?" Maher said. "All of the other elements are non-negotiable, such as the baseline level of how we can travel safely, how we can feed people properly. We've been very economical at Canisius and we will continue to do that, but those are areas we have to preserve."
Maher said the audit of athletic budget for the 2019-20 fiscal year remains to be finalized, but Canisius generated $12,162,555 in revenue in 2018-19, according to data released by the Equity in Athletics Disclosure Act.
"The budget cuts and challenges we've been facing have been brewing for a while," Maher said. "The Covid-19 pandemic certainly exacerbated those cuts and pushed them to the forefront."
Canisius President John J. Hurley told The News on Monday that enrollment at the school is declining, and Canisius projects a $20 million shortfall in a $75 million budget. Canisius also had a $6 million operating deficit during the 2019-20 academic year.
However, Hurley said a decision to drop athletic programs could impact a significant part of Canisius' enrollment, which was just more than 2,250 undergraduates for the 2019-20 school year.
"We have 400 student-athletes attending Canisius," Hurley said. "All of them are here because of athletics. That's not saying they don't get a great education, but they're here because of athletics. If we cut athletics, enrollment drops by another 400 students. So, cutting athletics altogether is not a workable situation.
"The rest of the programs are all generating tuition, room and board of some amount. And as we looked at the programs, we looked to see if there was any opportunity, could we actually save money by eliminating a sport? And there are none. In each case, we would see a net loss in revenue by eliminating a sport. So we're staying with the current lineup of sports, but athletics is seeing a 19% cut in its budget."
Among the layoffs in the athletic department are nine full-time employees, including two assistant coaching positions. One men's basketball coaching position and one on the women's basketball coaching position will be eliminated, effective Aug. 1.
Canisius laid off 96 employees, including 25 professors, and 71 nonfaculty employees in total, including 51 administrative and support employees and 20 employees in facilities and maintenance.
Additionally, Canisius lost $450,000 in NCAA distributions because of the cancellation of the NCAA basketball tournament due to the Covid-19 pandemic. Maher said the Metro Atlantic Athletic Conference made a reduction in its operating budget and passed along that savings to its 11 member schools, but he did not specify how much Canisius received. Maher also said the athletic department is utilizing a reserve from the Canisius Blue & Gold Fund, which is made up of donations that help fund scholarships, coaching, recruiting and team travel.
Hurley also told The News that Canisius will lose $500,000 in revenue from housing Erie Community College athletes in its dorms. ECC announced last month that it will suspend six fall sports programs because of the Covid-19 pandemic.
"We have to explain that we're doing everything we can to preserve the experiences student-athletes have, and delivering on what we promised them in the recruiting process," Maher said. "We have 410 student-athletes this year, and that's because coaches have worked to bring them here, and understanding that we have to be part of this solution. There's work to be done, but we still will work to provide that experience. It's something that many parents will ask about, and I'll answer that we're going to continue to do our best."