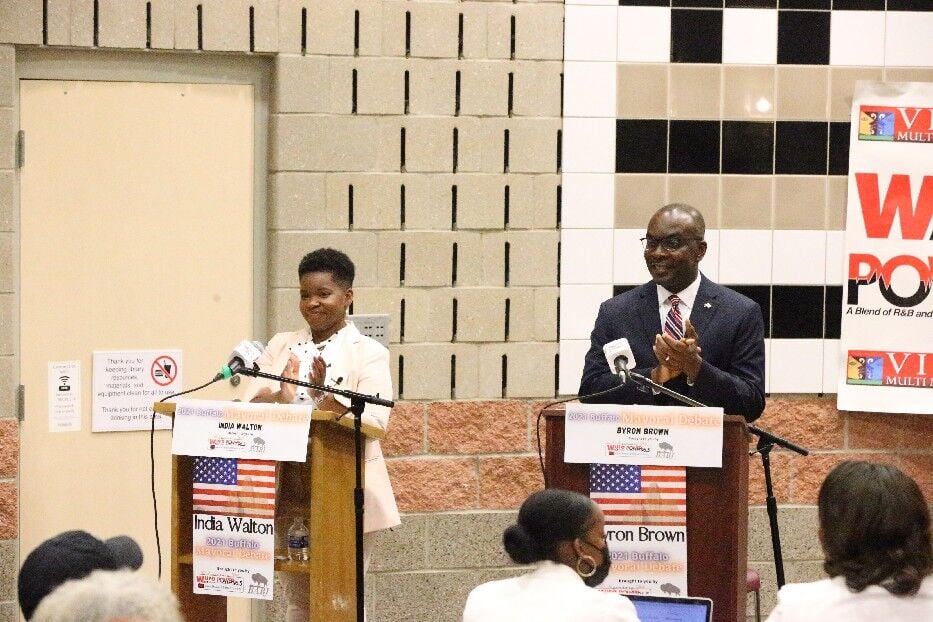 Mayor Byron W. Brown is stepping up his attack on challenger India B. Walton's crime fighting approach in a new ad claiming her plan to chop $7.5 million from the Buffalo Police Department budget will spur the layoff of 100 officers.
After a series of positive television spots throughout his unsuccessful Democratic primary campaign and early in the general election contest, Brown is now concentrating on his opponent's police platform. The new ad that began airing Tuesday features 18 police officers who the campaign said volunteered to convey that the Walton plan will result in a department with significantly fewer members.
Mayoral candidate India Walton wants to amend the city charter to establish an independent police oversight body with investigatory and subpoena power.
"All of us will lose our jobs," they say in unison, before two officers close the spot.
"Our job is to keep Buffalo safe," says one.
"We can't do that with India Walton as mayor," adds another.
The scope of Buffalo's support of the school district figures to be a campaign issue leading up to the November general election.
Brown is also jumping on another key part of the Walton crime fighting plan in which she proposes a restorative justice approach instead of prison to some crimes of sexual assault. Brown campaign manager Conor Hurley calls the proposal "outrageous," adding it negates "years of struggle to protect the rights of sexual assault victims."
Walton is not backing off a concept that her campaign says has been advanced in recent years by good government groups and criminologists. Her campaign explains that victims of sexual assault in many cases do not desire incarceration for their attackers because of a close relationship.
Walton outlined the plan last week in announcing her program by establishing a "pathway to accountability ... aimed at growth and healing through a community based restorative justice program."
Walton said Tuesday that her call for "restorative justice" applies to more than sex crimes, labeling it "especially urgent that we offer non-punitive responses to crimes of poverty, like petty theft."
"In our current punitive justice system, the state intervenes and all-too-often ignores, or even punishes, survivors like me," she said. "What's more, those who've committed harm and wish to make amends are all but forced by our current system to deny wrongdoing and avoid responsibility, or else be sent to prison, an environment where rape is rampant.
The candidates for mayor of Buffalo squared off Thursday for what is, as of now, the only debate scheduled between them, with Mayor Byron W. Brown and Democrat India B. Walton offering starkly different assessments of a city that Brown has run for the past 16 years.
"This approach has manifestly failed to keep women safe, as gender violence remains pervasive," she added. "Only by providing community-based pathways toward amends and repair can we truly interrupt cycles of violence, and meet the needs of my fellow survivors."
Criticized even by supporters during the primary for ignoring Walton in his media efforts and campaign appearances, Brown has adopted a hard-line approach. He began targeting Walton's campaign plan during last week's mayoral debate at the Merriweather Library on Jefferson Avenue, emphasizing the layoffs (which Walton does not dispute) that would eliminate a sizeable portion of the 724-person department. But she countered with statistics showing recent spikes in crime while proposing new law enforcement techniques at a time when police tactics are being questioned across the nation.
She has also said any reductions in personnel caused by the proposed funding cuts would be addressed through attrition, not layoffs.
During last week's debate, she cited rising crime statistics (which Brown said mirrored national pandemic crime increases) as proof that new methods are needed – including using professionals, rather than police, to handle cases of domestic violence, mental health crises and traffic stops. Simple innovations such as brighter street lights, she said, will go a long way toward achieving her new police goals.
"Everything does not have to be done through increased enforcement," she said.
Following an initial general election ad touting his administration's accomplishments that debuted last week, the mayor's new television spot hardens his approach. Sources close to him say that more ads expected to air soon will target Walton's proposal to fund various city programs through a 3% tax increase.
Hurley would say only that the new ads are slated for all television outlets and carried a "five figure" price tag.
Walton is expected to begin airing her television spots in early October, her campaign said.