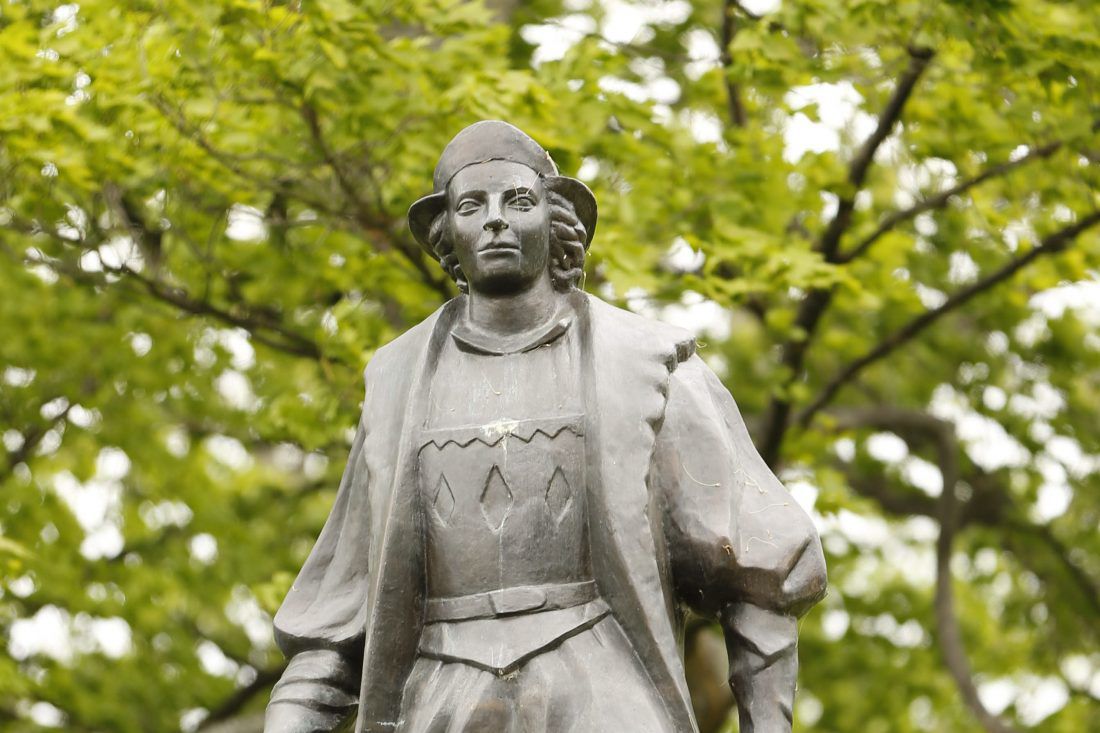 Now that the statue of Christopher Columbus has been removed from the park bearing his name, there is a petition circulating to install a statue of a Buffalo-born Medal of Honor recipient and rename the park for all such local heroes. 
Attorney Joseph Sedita has started a petition drive to rename Columbus Park on the city's West Side the Buffalo Medal of Honor Park and construct a statue of Marine Sgt. John Basilone, who fought in World War II, to replace the Columbus statue.
The new name would have a more "unifying theme," and other statues representing members of the community could also be placed in the park, Sedita said.
"Why not do something that the Italian American community can and will relate to, and why not do it in a way that opens itself up to all various members of our community," Sedita said. 
"There's lots of room for a lot of statues in Columbus Park," he added.
According to Sedita, Sgt. John "Manila John" Basilone was born in Buffalo in 1916 into an Italian-American family. He was awarded the Medal of Honor, the nation's top military honor, in 1942 for his bravery during the Battle of Guadalcanal in World War II. On Oct. 24, 1942, during the battle for the island's airstrip, which the Marines would later rename Henderson Field, Basilone's unit was attacked by more than 3,000 Japanese soldiers. He commanded two sections of machine gunners that fought for two days until only himself and two other Marines were left standing.
Sedita said he reached out to several people associated with the Federation of Italian-American Societies of Western New York about the initiative, including a former president, Donald Alessi, but has received minimal feedback.
The July 10 removal of the Columbus statue was initiated by the North Buffalo-based federation as a proactive measure. 
A 15th century Italian explorer, Columbus has been long considered a source of pride for Italian Americans, while vilified by Native Americans and others for acts of genocide.
Statues of Columbus were removed from two Chicago parks on July 24 by order of the mayor. A statue of Columbus was toppled by protesters and thrown into Baltimore's Inner Harbor on July 4. A marble statue of Columbus in Boston was decapitated, and protesters in several other cities have also knocked down statues of Columbus. In Richmond, a Columbus statue was set on fire and thrown it into a lake.
The City of Buffalo is returning the statue to the Italian American organization, which paid for its construction in the 1930s and gave it to Buffalo. The organization plans to relocate the statue to an undetermined place in Buffalo.
The federation will commission a statue to replace the Columbus statue. The new name of the park will be chosen by the federation in consultation with the city.
A statue of Basilone could serve as a "balm to the feelings" of some of Buffalo's Italian Americans.
"A lot of people felt kind of dissed by the sudden removal of" the Columbus statue, Sedita said. "Why concentrate too much on that? Here is something better."