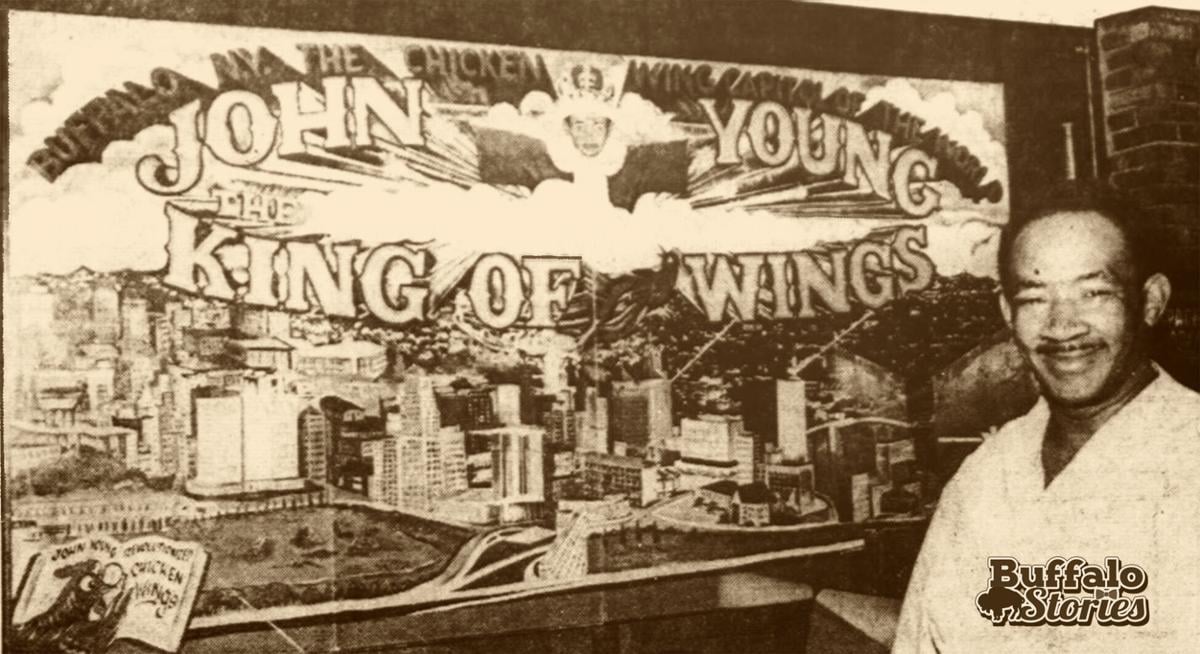 Buffalo's chicken wing history – dating back about 60 years – can only be traced back so far before fact turns to legend, and the story diverges into the legendary tales spun by the Anchor Bar folks and the self-proclaimed "King of Wings."
Sometime in the mid-'60s, early versions of the "Buffalo wing" began popping up all over town.
The trendy "barbequed chicken wing," split at the joint and served with celery and blue cheese, was first made popular by the Anchor Bar – and then it was copied by gin mills and pizza joints around Buffalo – and then by sports bars and chain restaurants all around the world.
Since those first Anchor Bar wings came out of Teressa Bellissimo's Main Street kitchen, the true history of the chicken wing has been shaped by the stories and memories of two unique Buffalonians who were promoters and showmen as much as they were chefs and restaurateurs.
While they may be an afterthought for restaurants elsewhere in the country, chicken wings are a must-have in the Buffalo Niagara region.
As the wing gained a foothold in hearts and palates of Buffalo through most of the '70s, the Anchor Bar became the universally acknowledged home of the Buffalo chicken wing. Owner Frank Bellissimo (and later his son Domenic) told a story that involved a wrong delivery of wings and using them to whip up something on a Lenten Friday in 1964.
John Young's story starts at least a couple years before that accidental delivery in 1964. Through the 1980s, he'd show anyone willing to look at his yellowed delivery slips from Will Poultry showing thousands of pounds of wings being delivered to his restaurant on Jefferson at High.
The man who'd become Buffalo's self-proclaimed "King of Wings" came to Buffalo from Alabama in 1948. He had 13 brothers and sisters, and they lived on wings.
"We were so poor during, and after, the invasion of Pearl Harbor, that all we could afford to eat was chicken wings, the feet, their necks and gravy," Young told Courier-Express reporter Patricia Ward Biederman in 1981. "The chicken wing was a delicacy on our table. We never saw a chicken breast, chicken leg, or thigh, not even a chicken back. I was 13 years old in 1948, the same year I came to Buffalo, that I learned that a chicken had other parts."
"Less imaginative men looked at the chicken wing and saw a crooked piece of poultry. Young saw an entire city smiling and wiping sauce off its greasy fingers. He remembers the very moment a new food was born," wrote Ward Biederman.
Young says Buffalo's love affair with the chicken wing started in 1962, after a conversation with a friend who'd just visited Washington, D.C. That friend, Sam Anderson, stopped into the soul food joint where Young catered to teens and suggested that Young try serving his special "mumbo" sauce with fried chicken wings – which were selling big in D.C.
"From then on, I never looked back," said Young in 1981. He might not have looked back, but he did leave Buffalo – disheartened after the discord and destruction on the East Side following protests and riots during the summers of 1967 and 1968.
By the time Young returned to Buffalo in the late '70s, wings – and the Bellissimo story – had become iconic in Western New York and around the country.
Just as he'd done several times before, Young opened a restaurant – this time on Delavan Avenue across the street from the Chevy plant. Young's story moved to the status of legend when he had one of the walls inside the place decorated with a $2,000 mural proclaiming Buffalo as the "chicken wing capital of the world" and John Young as "The King of Wings."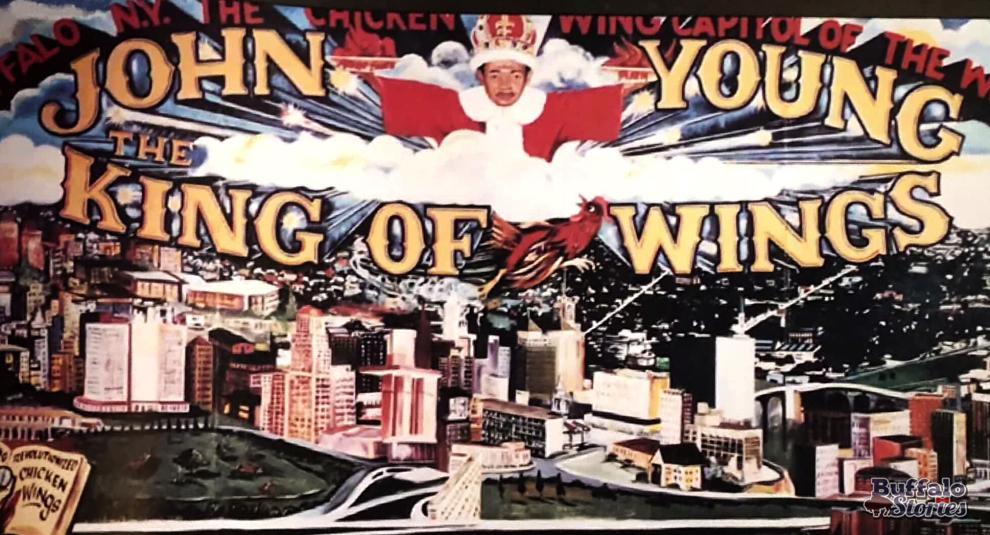 Patricia Ward Biederman's description of the painting is worth repeating:
"In the painting, the figure of John Young, 'the king of wings' in gold crown and ermine-trimmed red robe, emerges from the clouds above the Queen City in a shower of sparks, scaring the pinfeathers off a flamboyant rooster."
Aside from promoting his own story, Young also used the 1981 article to fire a salvo directly at the Bellissimo family.
"Mr. Bellissimo used to come into my place (then at Jefferson and Utica) and eat my chicken wings. He was serving a lot of spaghetti and stuff – I-talian food – but he liked sweet potatoes and greens, what we call 'soul food.' All food is soul food, of course, but we're talking about heavy food that people used to eat," Young told the Courier-Express.
The son of Frank Bellissimo – who himself had taken credit for the invention of the chicken wing – dismissed that idea with the wave of a hand.
But even though Domenic Bellissimo said his father "never left the Anchor Bar," the younger wing magnate wasn't completely dismissive of Young.
"I have no patent on wings. I'm doing my thing, let him do his thing," Bellissimo said in the same 1981 article that quoted Young. "If he wants to claim he's the originator, let him claim it ... He's entitled to make a living just like I'm entitled to make a living."
In talking with Ward Biederman, both men staked their claim, but each also gave the other some credit and room to sling wings.
Young acknowledged the Anchor Bar did innovate on his idea. "That's the credit I give Frank for, coming up with the blue cheese and the celery. They did do that."
A couple years before the Anchor Bar served the wings that very closely resemble what the world knows Buffalo for today – John Young was serving fried chicken wings in Buffalo, although his weren't split at the joint into drumstick and flats, were slathered in the 24-herb blend called mumbo sauce instead of Frank's hot sauce and butter, and didn't have blue cheese or celery on the side.
Changes to his recipe aside, Young – who the Courier called "the East Side Edison of the chicken wing" says there wouldn't have ever been wings had he not started selling thousands of pounds of them in 1962. And that's all he wanted people to know. Said Young:
"I want to get credit for what I did."
Steve Cichon writes about Buffalo's pop culture history for BN Chronicles, has written six books, and teaches English at Bishop Timon - St. Jude High School.