The Buffalo market has long been known to retailers and marketers as a place where people love a bargain. From the pioneering closeout buying and marketing efforts of Sattler's, to decades of heated political battles over whether coupons would continue to be available in the newspaper, people in Western New York have always taken saving a buck seriously.
In the years following World War II, people came from all over the region to visit Sattler's flagship store at 998 Broadway. Shoppers thirsty for deals were whipped into a frenzy by hyperbolic weekly newspaper ads and the country's first singing jingle for a retail store.
By the time Sattler's famous 998 Broadway location was shuttered in 1982, the idea of deeply discounted retailing had taken root in a handful of regional chains with locations in Western New York.
Raymond Dweck opened his first variety store on State Street in Erie, Pa., in 1958. The second store in the D&K chain was opened in Jamestown a few years later. Through the '70s, '80s, and '90s, D&K had as many as 12 stores in the Buffalo area – first in traditional urban shopping districts like the East Side's Broadway-Fillmore, the West Side's Grant Street and South Buffalo's Seneca Street, before branching out into strip malls throughout the region.
Before the last few D&K locations closed in the late 2000s, the place was a throwback to the simpler times of retail.
"Scant attention is paid to ambiance," wrote Frank Bilovsky in the Rochester Democrat and Chronicle in 1993. "The merchandise is piled high with dish towels and chair cushions or boxes filled with all-purpose batteries."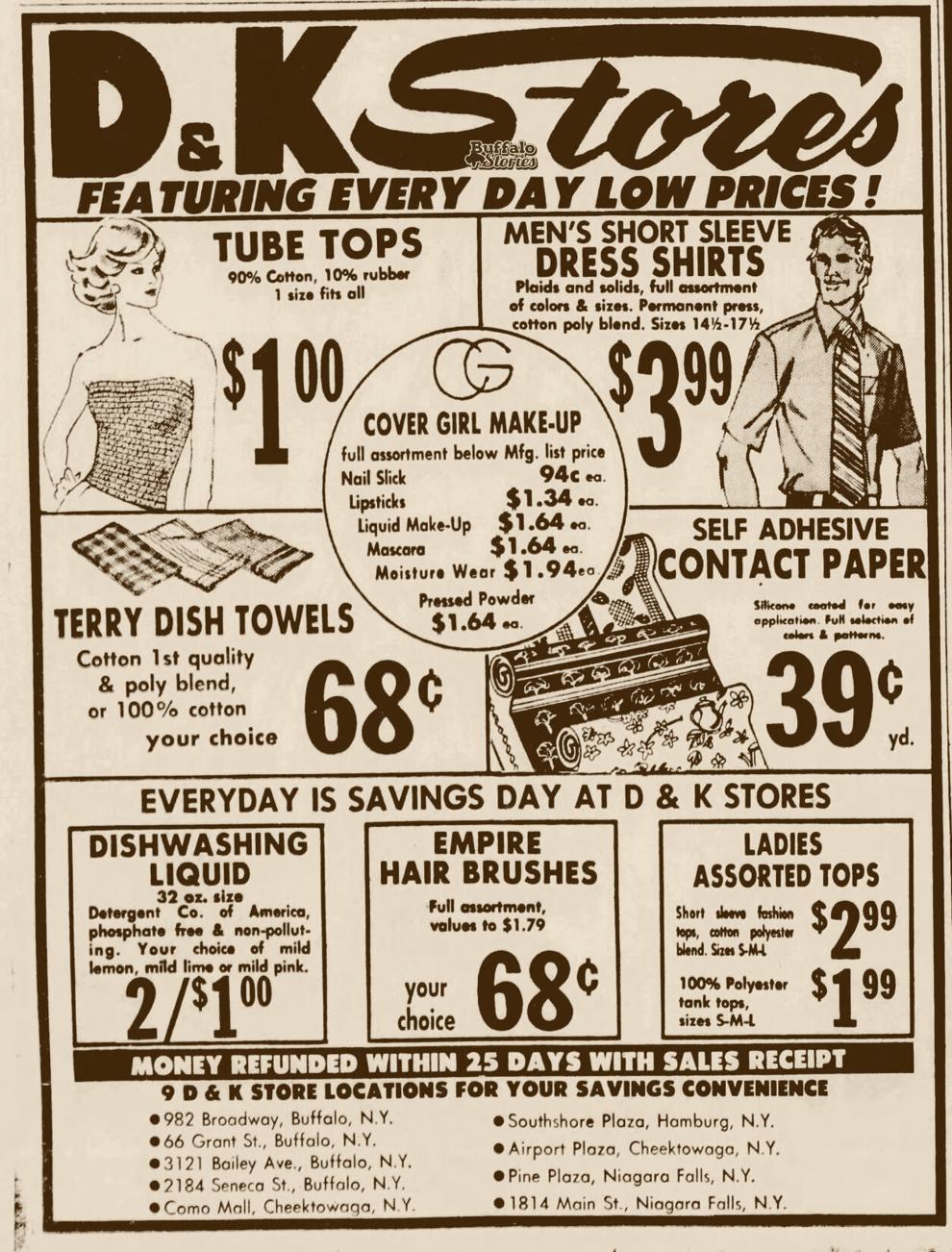 "Most items – dish towels, knicknacks, pantyhose, coloring books – cost less than a dollar and were arraigned in square, tidy bins," remembered Discount Diva Samantha Christmann in 2014.
"The stores buy merchandise in huge quantities, so it can be sold at a considerable discount," real estate expert Joseph Genay told the Allentown, Pa., Morning Call in 1992. "The variety housewares and clothes store is kind of a poor man's Kmart."
The stores across Ohio, New York and Pennsylvania slowly closed through the 2000s before completely disappearing.
The first Odd's-N-End's store opened in the East Side's Central Park Plaza in 1983. Eleven years later, there were 55 stores across the Northeast. The year after a 1992 public offering, Odd's-N-End's had $26 million in sales.
In 1994, the store's President and CEO John H. Clark said weekly ads in the TV Topics through the '80s and '90s were a big part of the chain's success.
"The News helps us to inform Buffalo that they don't have to settle for discount when they can buy closeout," said Clark in 1993.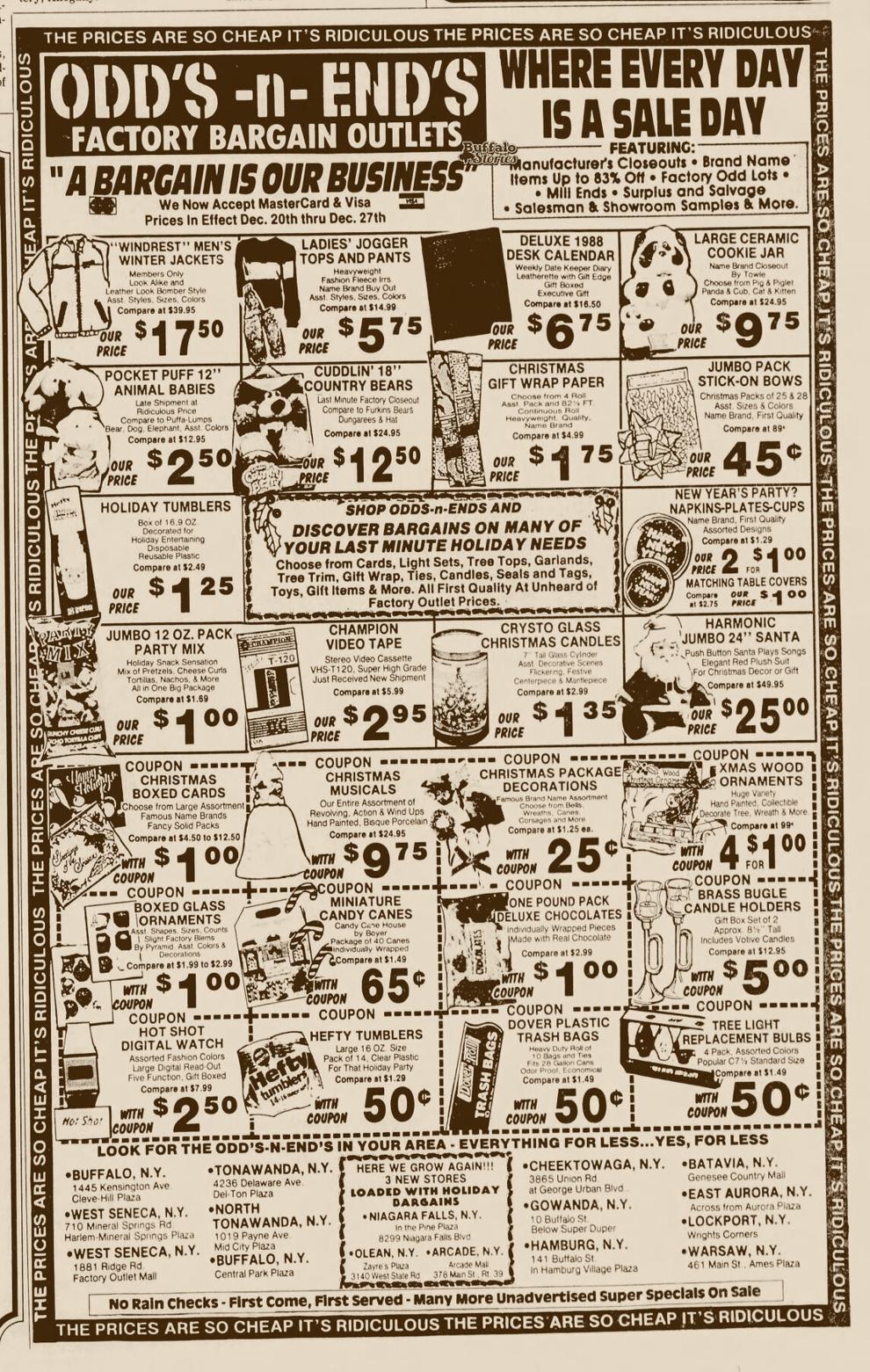 After 18 years of steady growth, rapid expansion and then increasingly difficult competition – Odd's-N-End's announced it was closing its remaining stores in 2001.
"When we opened up our first store, there wasn't a Wal-Mart or Dollar Stores," Clark told The News in 2001. He founded Odd's-N-End's with Ed Epstein in 1983. "There's only so many retail dollars to be spent in Buffalo. You start slicing the pie up between Wal-Mart, Target and the malls, and it's awfully hard for a small home-grown Odd's-N-End's to compete."