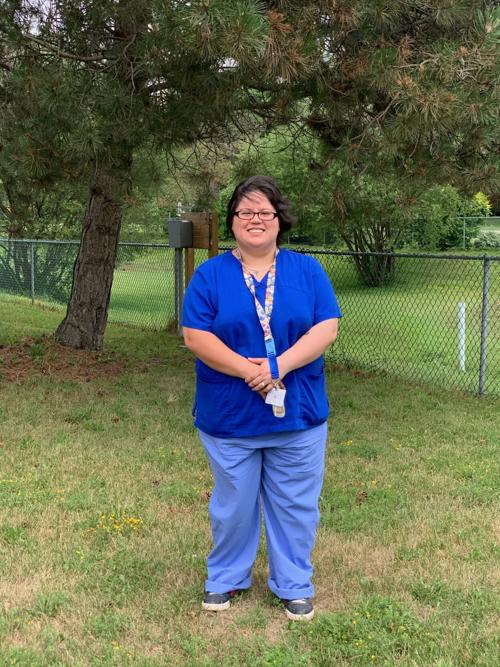 Deina Neff wanted to work in health care while growing up in Niagara Falls, but family dynamics forced her into the work force after high school.
Neff juggled up to three jobs a week during the next seven years, including as a cashier.
"Because of my personality and the way I helped customers, some of them said, 'Maybe you should go into the medical field,' " she said. "Northgate Health Care in North Tonawanda was hiring, and offering certified nursing assistant training, so I thought I should try that out and see what happens."
Neff has worked at the skilled nursing facility for the last six years – mostly in the memory care unit – and enjoyed it so much she decided she wanted more. In January, she was accepted into the Practical Nursing Program at Trocaire College to pursue an advanced nursing degree.
Visitation resumed last week at nursing homes and assisted living centers across New York, although mingling comes with tight requirements.
The McGuire Group, which operates six long-term care facilities in the region, and 1199 SEIU United Healthcare Workers East joined forces with Trocaire to collaborate on an apprenticeship program that will help Neff and nine other McGuire union CNAs close skills gaps and fill middle- and high-end job vacancies.
A workforce development in long term care grant from New York State and support from the U.S. Department of Labor will cover costs of the program, including wages, participants would otherwise have gone without while handling their academic load.
"The students' range of experience varies from one year to greater than 18 years, and all have been tremendously engaged in the program," said Dana Mata, nurse manager with The McGuire Group. "The apprenticeship curriculum includes coursework in a wide range of topics from regulatory, quality management and leadership training to validation of clinical skills taught in their nursing program."
Neff, 31, learned about the apprenticeship while she waited to hear about her application to a similar program that would have cost a lot more. She and her husband, John, live in Youngstown.
Neff has spent the last several months juggling 40 hours or more between work and school, including this summer. She will graduate next spring with a licensed practical nursing certificate. She can then help supervise those who do what she does now and continue to help with many of those duties, as well as assess patient needs, conditions and treatments, confer with doctors and other providers and administer medications.
She is making long-term care her career because she likes her colleagues – and loves the Northgate residents.
"They become part of the family," she said. "I like going to work every day, seeing everybody and making a difference."
Not that it's easy, especially during a pandemic.
Staff turnover has climbed slightly.
"I think that's the health care field in general," Neff said.
She and her co-workers have had enough personal protective equipment to do their jobs and are familiar with infection control standards because other viruses can sometimes spread through parts of a health care facility, she said.
More challenging right now in the memory care unit? Many residents don't grasp the impact of Covid-19 beyond the fact that loved ones can't visit them in their rooms.
"It weighs in on them," Neff said.
"The most challenging part of the job to me is having to watch residents' lives change to the point of being closer to end of life," she said. "But the most enjoyable part is being able to be the person that makes them smile when their family is not there, knowing that I'm a part of that."
Concerned about COVID-19?
Sign up now to get the most recent coronavirus headlines and other important local and national news sent to your email inbox daily.