Imagine a giant cap covering one end of a super-sized pipe. Now turn it vertical so the cap is on top, make it translucent, put a staircase and elevator inside, and stick it into the ground so the cap is protruding.
Voila! Introducing the new "headhouse" feature that is being added to the planned redevelopment of the Albright-Knox Art Gallery's campus, providing a separate access to the underground parking garage below the grass instead of going through the building.
The structure is all glass, with a flat aluminum-cladded roof on top, and it would sit approximately where the entry gate is located for the current surface parking lot.
The museum's design team modified their plan to include the new cylindrical feature as a replacement for the original concept of an underground tunnel that would have stretched from the garage to the vestibule of the 1962 building.
While more direct, that prior plan would have required changes to the historic vestibule, which can now be preserved instead. And the change saves on the cost of constructing the tunnel and rebuilding the vestibule, architect Paxton Sheldahl of OMA told the Buffalo Planning Board, which approved the change Monday night.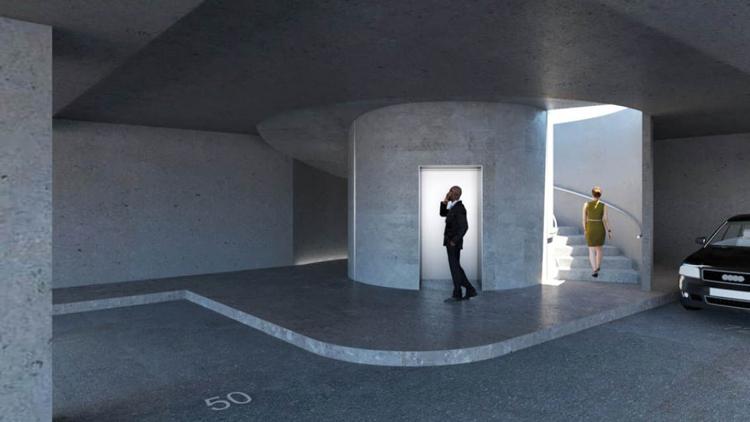 The Albright-Knox is undergoing a $165 million renovation and expansion project that will add 30,000 square feet of gallery space in a new North Building, bury the parking lot underground to return the open lawn that was originally part of the Delaware Park vision, and restore a new vision of the west stairs to the 1905 building. As part of the project, the museum closed late last year, and will reopen in 2022 as the Buffalo AKG Art Museum.
The project received city site plan approval a year ago, and construction has begun. After a seven-week delay due to the coronavirus pandemic and the state-mandated shutdown of construction activity, work resumed and remains on schedule, museum spokesman Woody Brown said.
But museum officials and architects have been working with the city to finalize the design requirements and obtain any remaining permits.
That resulted in the new headhouse and 15 other minor changes that the Planning Board also approved Monday, after the Preservation Board last week.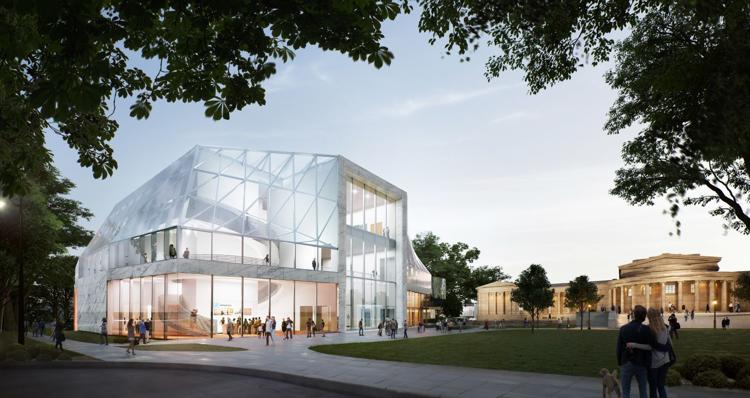 Those include changing the alignment of the path in front of the 1962 building and rebuilding the sidewalk at the vestibule; maintaining the granite curbs; upgrading the limestone plaster in the proposed new North Building to white marble and changing glass to metal cladding in the loading dock; adding three new horizontal canopies over entrances at the North Building; removing metallic concrete column covers on the footbridge; and changing the historic stair recreation at the 1905 building from barre granite to cast stone. There were also some changes to the lighting plan and overall massing of the building.