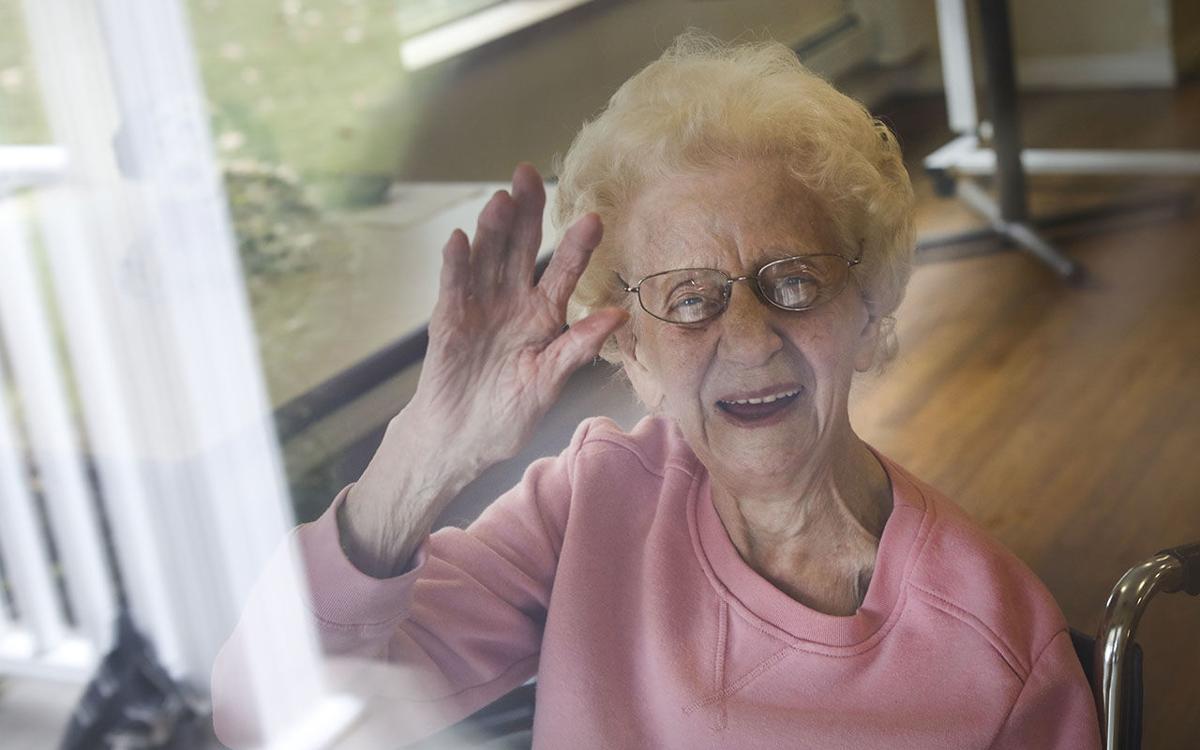 Celestine "Sally" Szemenciak, a 108-year-old nursing home resident, has faced many challenges in her life, but one of the biggest was beating Covid-19.
Now she and her family, like so many others, are looking forward to the chance to begin in-person visits under the state Department of Health's new regulations issued Friday allowing limited visits.
The change lifts the March 13 ban put in place by Gov. Andrew M. Cuomo in response to the novel coronavirus, which struck the nursing home population hard. More than 6,000 long-term care residents died across the state.
"When I see my mom in person for the first time in four months, I'm going to simply say, 'Hi, Mom. It's good to see you.' I'd love to give her a hug, but I don't think that will be possible with social distancing," Deanna Machtel said Saturday.
Her mother lives at Beechwood Homes in Getzville.
The soonest visits can take place is Wednesday, if long-term care facilities have not had any coronavirus cases in the last 28 days and have filed visitation plans certifying that they will adhere to rules set by the state Health Department.
Rich McCune, Beechwood Homes administrator, said the facility is in the process of reviewing the rules and "will continue to keep our residents and families informed as we look to implement a new DOH approved visitation program as soon as possible."
Szemenciak's continuing recovery and the lifting of the visiting ban are not the only good news on the pandemic front. Cuomo released figures Saturday that continue to chart reductions in Covid-19.
Statewide hospitalizations dropped under 800 for the first time since March 18 and the three-day average death toll – seven – was the lowest since March 16, the governor said.
In Erie County, there were 51 new cases reported, bringing the total of Covid-19 positive cases to 7,711. In Niagara County, new cases were at 7 and the total number of positive cases was 1,334.
But this isn't the time to let your guard down, the governor said Saturday.
"As we allow ourselves to celebrate some good news ... I urge residents to stay 'New York tough' and not give up the ground we've worked so hard to gain together, particularly in the face of rising cases throughout the country and compliance issues here at home," Cuomo said.
For Machtel, her mother's progress is nothing short of remarkable.
In early June, two weeks after her mother had tested positive for Covid-19, Machtel said she had begun to make plans for her funeral.
"She was asymptomatic at first and doing fine, but all of sudden she stopped eating altogether and was drinking very little. I thought she was a goner," Machtel said.
During one window visit, Machtel said, "My mother shouted, 'Dee Dee hold my hand.' She was frightened."
Her loss of appetite reduced her weight from 96 pounds to 80 pounds, the daughter said.
Machtel said she called a Catholic deacon who, through a window, gave Szemenciak an anointing of the sick, formerly known as last rites.
All of this caused Machtel to recall memories her mother had shared with her of the 1918-19 Spanish flu pandemic that had claimed some 50 million lives worldwide.
"She was 6 at the time and living in Sloan. She told me that when someone died from the flu, a piece of cloth would be placed on the outside door," said Machtel. She had wondered if her mother more than a century later would be claimed by the Covid-19 pandemic.
But the constant care provided to her mother by nurses and aides in Beechwood's Covid-19 unit, Machtel said, helped her mom get through the worst of the virus.
"Every day the social worker called me with updates," Machtel said, in noting how important it was to know what was happening.
By mid-June, Szemenciak had twice tested negative for the virus and was moved back to her room.
"Mom just started eating some solid foods on Wednesday. The nurses and aides fed her and with their help, she can walk short distances," Machtel said.