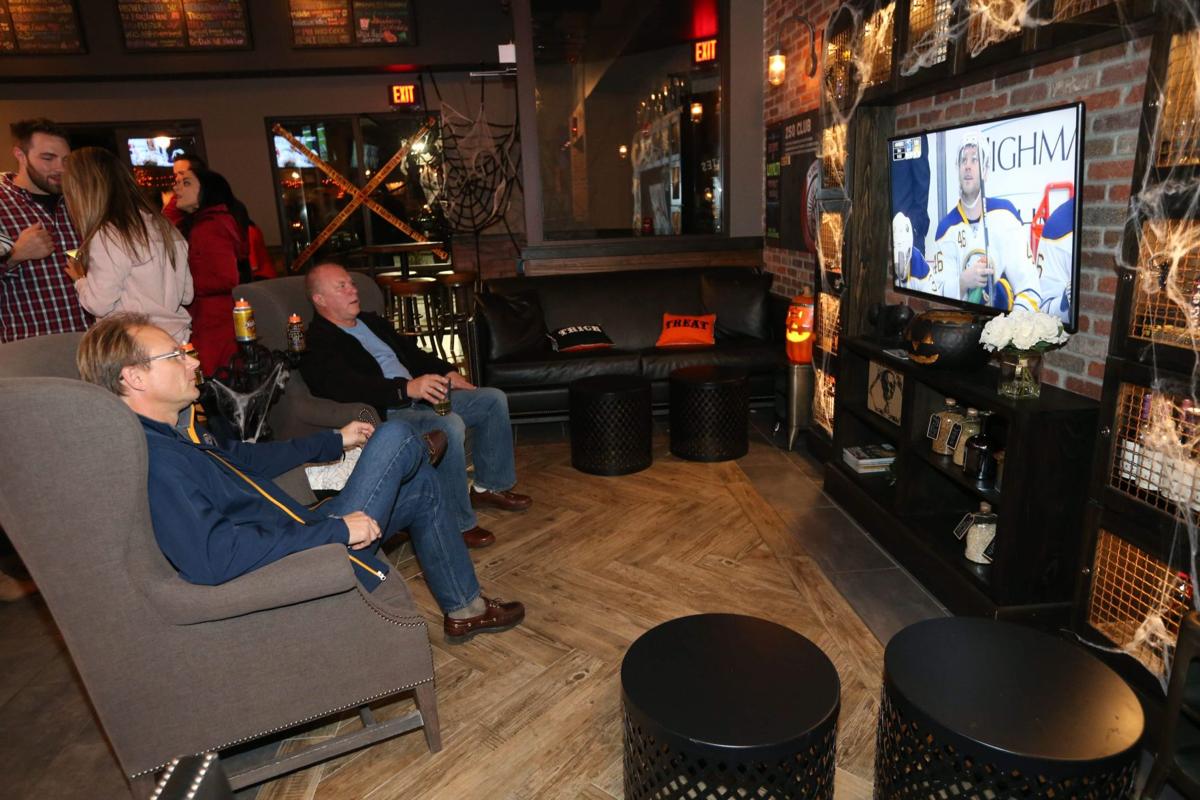 The Buffalo Sabres, who have the highest local TV ratings among American teams in the National Hockey League, will continue to have their games carried on the Madison Square Garden Network (MSG) for more than a decade in a wide-ranging deal announced Monday that will include carrying additional Sabres and Buffalo Bills programming.
The agreement by MSG and Pegula Sports and Entertainment, which runs the media and content business for the Bills and Sabres, means that team owners Terry and Kim Pegula will not have to face the cost and risk of starting a new regional sports network while accomplishing most, if not all, of the things they would have been able to do with one.
Under terms of an agreement that sources say will go beyond 10 years and will double the present rights fee of about $9.6 million annually, MSG has agreed to brand the programs supplied by Pegula Sports and Entertainment under the title of MSG Western New York here and expects to expand its reach into all areas of Rochester.
With one year left on the present Sabres-MSG deal, the new agreement ends the long-running speculation that the Pegulas planned to start a regional network similar to the defunct Empire Sports Network.
"We've all heard the cries for a long time about regional sports in Buffalo and people missing the Empire Sports Network," said Marc Honan, the Bills senior vice president of media and content who started his career at Empire. "I think this new relationship with MSG is going to give us the opportunity to provide sports fans with homegrown programming. Things they haven't done in the past."
"Basically, what we have done is create our own platform, which is stronger because we already have the distribution on MSG, we have the benefit of MSG programming on there and the benefit of the platform of producing as much programming as we feel comfortable," said Mark Preisler, the executive vice president of media and content for Pegula Sports and Entertainment. "It is a long-term deal and programming will grow and grow over time.
"We are partnering with MSG to create programming under a new sub-brand, MSG Western New York," added Preisler. "We're taking the best of both worlds. The best of MSG and the best of PSE, Bills, Sabres programming, and we've found a home for it."
"Working with MSG, we can produce whatever we want and put it on the MSG zone up here," Preisler added.
In essence, the arrangement gives the Pegulas about $19 million to $20 million annually in rights fees while saving them millions of dollars in startup costs and the need to make distribution deals with cable networks and satellite providers. MSG Western New York pretty much has the same upside. It won't immediately have prime-time programs beyond Sabre games, but Preisler said it can program there eventually.
"It was a strong consideration," Preisler said of starting a new regional network. "But at the end of the day, our goal was to create this hybrid with MSG, who we've worked with for a long time."
MSG has carried Sabres games since 2005.
In prepared statements, both Terry Pegula and MSG Networks President and CEO Andrea Greenberg hailed the agreement.
"The opportunity to extend and expand our partnership, including the launch of the MSG Western New York brand, will be a great opportunity for our fans to stay connected to the teams they love," Pegula said.
"MSG Networks is thrilled to renew and expand our long-standing partnership with the Buffalo Sabres and Pegula Sports and Entertainment," Greenberg said.
As has been the case, the Sabres will pay production costs and keep the advertising revenue. In addition, Preisler said PSE retains some rights to produce programming for digital streaming, which is something he said the Washington Capitals and other sports franchises are investigating. The league retains digital rights to the games.
Honan said all the Bills programming that has been carried on Channel 7 is moving to MSG Western New York.
"The Rex Ryan Show" is tentatively scheduled to air at 7 p.m. Saturday and 11:30 am. Sunday and have other runs. The pregame show "Bills All-Access" will air at 11 a.m. Sunday and the postgame show "Bills Tonight" will air at 11:30 p.m. Sunday and be repeated throughout Monday.
MSG Western New York also will simulcast all Bills preseason games with Channel 7, with the option to re-air them at other times.
"Hockey Hotline" and "The John Murphy Show," the WGR radio shows on the Sabres and Bills carried from 10 a.m. to 3 p.m. daily, will be produced by Pegula Sports and Entertainment from studios at Ralph Wilson Stadium and simulcast in a five-hour TV block on MSG WNY. "Hockey Hotline," which had been a WGR production, is being revamped. Andrew Peters will remain on the program. Murphy's program, which is moving from nights to noon to 3 p.m., also will have an additional host.
MSG also has the right to carry any of the Pegula Sports-produced programs in areas beyond Western New York where it is carried.
Pegula Sports also has agreed in principle to extend the radio deals with WGR to carry Bills and Sabres games after investigating the possibility of starting a PSE Radio Network.
"Our goals were so aligned," said Honan. "It made it easy to extend both deals. They were completely on board with the (MSG) simulcast. So it is good for both of us."
Pegula Sports also tried out the idea last season of having separate radio and television announcing teams work the Sabres games but rejected it.
"That was more preparing for Rick Jeanneret not being here," said Preisler.
He said that Jeanneret has agreed to do play-by-play for as many as 40 games next season. Dan Dunleavy, whose original deal called for him to take over for Jeanneret in the 2017-18 season, will work the other 42 games.
The Sabres' terrific ratings undoubtedly helped make the case for a higher rights fee. The ratings in the first season of Jack Eichel's career rose 60 percent last year to an average of 6.55, the best among American teams in the NHL.
It wouldn't be shocking if the doubling of the rights fee could eventually lead MSG to ask its carriers for an increase in what it receives per subscriber, which eventually could be passed down to the consumer.
Preisler and Honan said they felt that the fact the Pegulas own both teams has been an advantage in formulating TV and radio plans.
"We could never have done that with two separate owners," Honan said. "We were able to build one studio, we're hiring one production team."
Honan said five people will be hired to simulcast the five-hour radio block for television, including adding a co-host for Murphy. Recent want ads for those positions led to some inaccurate speculation that a Pegula Sports Network was coming.
Honan explained how the partnership helps MSG.
"MSG has a lot of downstate programs with the Knicks, Rangers and Giants," he said. "This gives them a much greater foothold in Western New York and a much greater connection outside of just Sabres games."
However, the five-hour safety zone of shows produced by the teams and carried on WGR has led to some concerns from other media members about the teams' desires to control their message at the expense of other outlets.
Honan dismisses that possibility, saying shows that take calls "open your forum to any topic."
"The local sports fan is extremely intelligent and well informed," Honan said. "We're certainly looking to provide more information, more entertainment, give them more access to our players and coaches. Outside of that, they are going to form their own opinion. Our goal is to help them make an informed opinion. By giving them access, we think we can do that."
Preisler added, "Our goal is to provide fans across Western New York the ability to stay connected to their teams through every form of media available. Our goal always is to enhance our fans' experience."