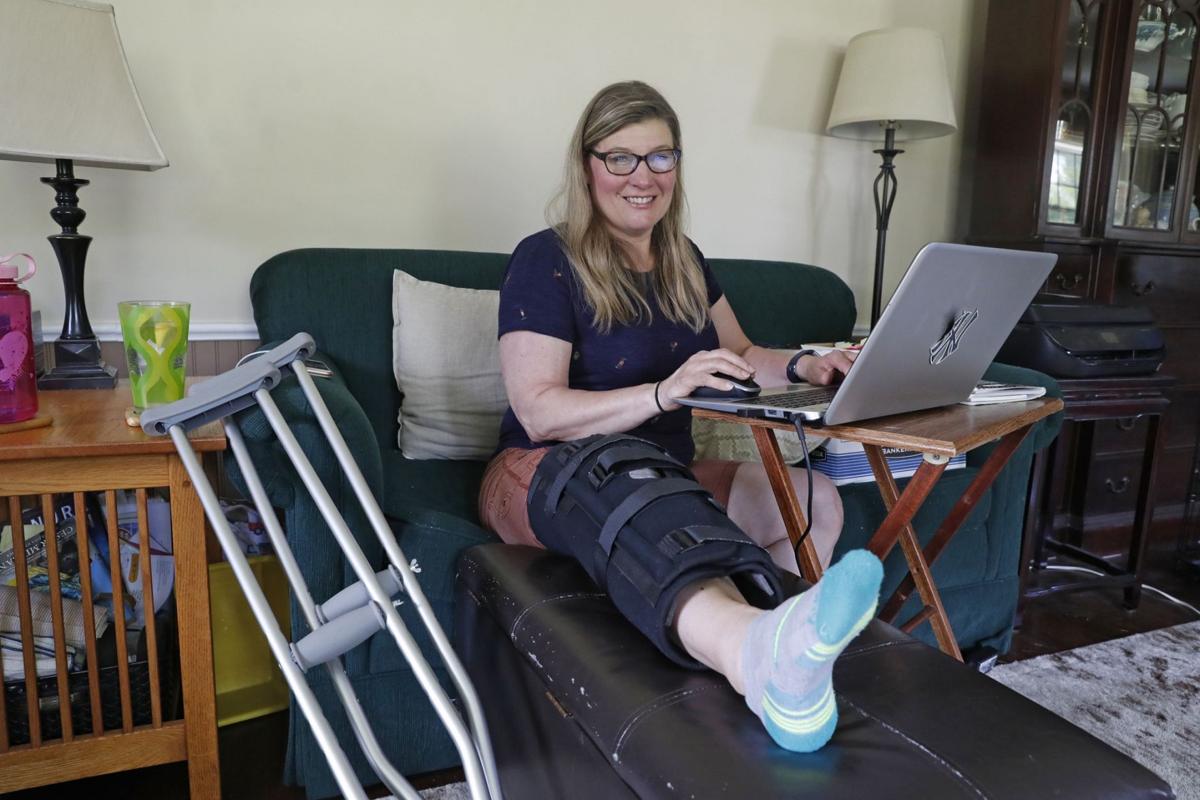 Peggy Blidy understands the toll a pandemic can take on someone waiting for "elective" surgery.
She tore the ACL in her right knee while skiing March 8 and her plans for surgery stopped a week later, when New York State halted nonemergency medical procedures as the number of Covid-19 cases began to soar.
Worse, she tore her meniscus in the same knee in early April, during a misstep during physical therapy exercises at home.
"Covid gave me the ability not have to commute downtown to work, and I could spend more time rehabbing, which was fantastic," she said. "It also gave me more time to have another injury. I was right back on my crutches."
Blidy, a married mother of twin teenagers, lives in the Town of Boston and works as a paralegal. She was among thousands of patients in Erie County who waited three months or more to have an elective procedure during the state-ordered pause and has a message for others in similar straits who now have the green light to go forward with them: The process will be different during the pandemic but can still be handled effectively.
"It's safer than going to a grocery store," said Dr. Michael Rauh, a shoulder and knee surgeon with UBMD Orthopaedics & Sports Medicine who reconstructed Blidy's anterior cruciate ligament.  
Joint replacements, eye surgeries and cancer screening endoscopies were among procedures forbidden as part of coronavirus-related shutdowns. The state Health Department allowed them to resume in stages in Western New York from mid-May into the second week of June. Free-standing outpatient surgery centers – which handle the bulk of nonemergency procedures away from hospitals – were the last to be granted waivers in a decision the Cuomo administration has yet to explain.
Practices that thrive on outpatient procedures laid off staff, cut salaries and turned to telehealth during the first three months of the pause in typical life. Sacrifices they and others made helped drive down the number of Covid-related hospitalizations and deaths that health experts feared could overwhelm hospitals in the region.
That didn't happen. Instead, steps that were taken – including public gathering restrictions that have eased, along with most citizens willing to abide by frequent handwashing, social distancing and wearing masks while indoors in public – now make the region one part of the country where Covid-19 infection rates are low.
If they stay that way, here is what those who need elective surgery can expect.
The realities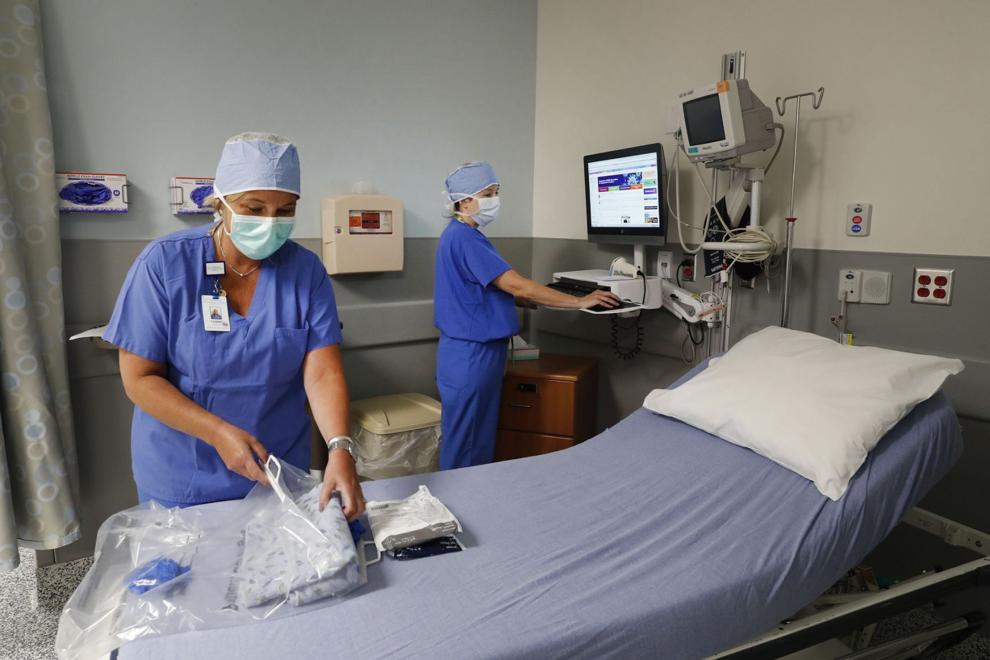 It will be good to know that doctors have grown to hate the two words used during the pandemic to describe nonemergency medical procedures.
"The popular term 'elective surgery' really means scheduled surgery," said Dr. Kevin Gibbons, executive director of the UBMD Physicians Group and chief of neurosurgery with Kaleida Health. "Many of these procedures are medically necessary and time-sensitive. If you have a pinched nerve in your neck and it's causing significant pain, that's one thing. But if it's causing significant weakness in your dominant arm, that's another thing, especially if that weakness could become permanent if you're not treated in the appropriate time frame."
It will take at least a few more weeks to schedule surgeries for most patients as physicians and staff across specialties at UBMD and in other regional practices prioritize those most in need while they work within a new virus-prevention framework.
Excelsior Orthopaedics and Sports Medicine, for instance, had a backlog of more than 4,500 surgeries when the practice resumed nonemergency procedures June 8. Before last week, the Buffalo Surgery Center on the grounds of the company headquarters in Amherst operated at half-capacity or less as staff got more accustomed to new safety protocols.
The surgery center prioritized hip and knee replacements, as well as other surgeries for patients who've struggled in recent months through the most pain and most serious physical limitations, Excelsior CEO David Uba said.
Excelsior surgeons perform about 75% of procedures in outpatient settings, mostly the surgery center, which typically handles 1,400 cases a month across several specialties.
Surgeons conducted 40 emergency and trauma-related procedures in April and 55 in May, Uba said. Nearly all center staff was furloughed during those months.
Rauh, said UBMD Orthopaedics patients made aware of their logjam of cases have offered to put off surgery to help those in greater need.
"It's a rare person our schedulers talk with who say, 'I need to be first,' " said Rauh, also medical director of the Southtowns Surgery Center in Orchard Park.
Gibbons, whose neurosurgery practice is limited by his other duties – including his role as senior associate dean for clinical affairs in the University at Buffalo Jacobs School of Medicine and Biomedical Sciences – postponed 70 procedures before scheduled surgeries could resume. He has lengthened his surgery days to address the backlog. Outpatient surgeries at Buffalo General Medical Center, where he performs most of them, are back at 90% of pre-Covid volume, he said.
Covid-19 precautions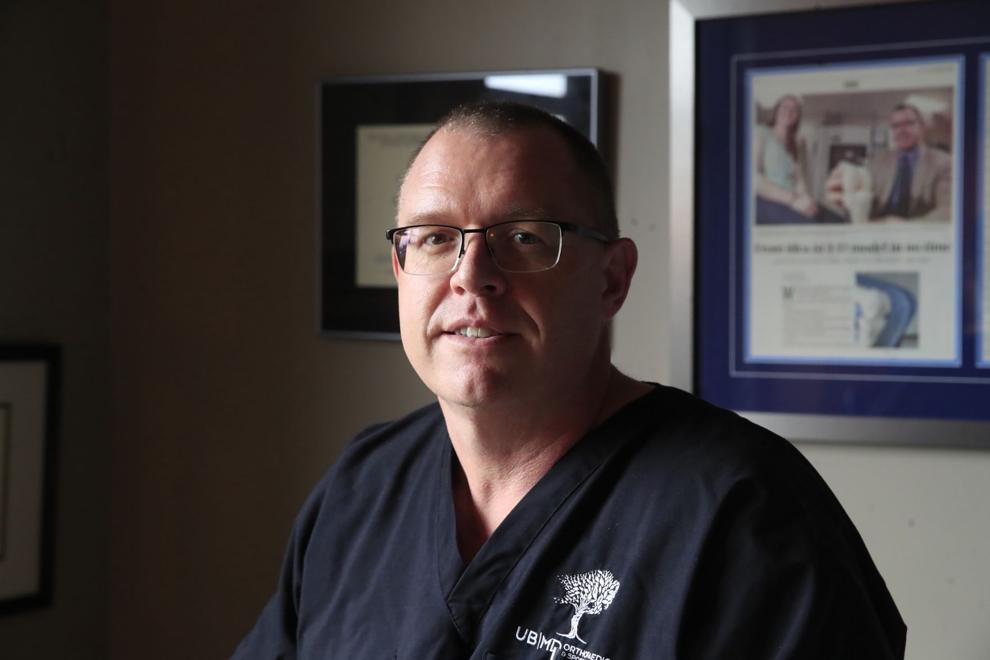 "The big issue is getting patients ready," Gibbons said. "It's not like throwing a switch. A lot of patients had preoperative testing done previously, and it needs to be repeated."
That might include diagnostic imaging and will entail blood work which now must include a test within five days of scheduled surgery for the presence of novel coronavirus – followed by self-quarantine of patients until their procedures take place.
Those patients will need to arrive on surgery day wearing a mask. They will undergo a temperature check and health screening after they bid goodbye in the parking lot to the people who drove them, who won't see them again until it's time to go home.
Every staff member will wear personal protective equipment. Sanitizing will be obvious.
As has been the case with many physical therapy sessions, a preoperative visit and some postoperative visits may be done through telemedicine, with the understanding that patients will need to visit facilities where preoperative imaging and blood tests need to take place, said Dr. Michael Ostempowski, a partner at Excelsior who specializes in hip and knee joint replacements.
Blidy experienced the process as part of her UBMD Orthopaedics surgery, which took place June 11 in the Ambulatory Care Center at Erie County Medical Center. Reality struck when she arrived at ECMC for her coronavirus test.
"When you're standing there in the line and you see the precautions that medical personnel are taking while they're testing people, Covid-19 becomes very real, very fast," she said.
Trade-offs
Health care workers understand that some people who are older or have other serious underlying health conditions may want to put off nonemergency surgeries until there are better Covid-19 treatments or a vaccine.
Fewer than 10% of patients continue to wait for procedures, Gibbons and Rauh said. Some want to be extra cautious, while others who hoped to recover in the spring have opted for surgery later this year so they can enjoy the summer.
Doctors interviewed for this story said they have treated patients whose injuries and conditions grew worse, and their procedures more complicated, because of delays. Rauh also tells patients during consults, particularly if he deems their case pressing, that they need to consider the prospect that a second wave of the new coronavirus later this year might push surgeries well into 2021.
Other wrinkles also exist. Some specialists in the region are in such high demand that they typically schedule surgeries four to six months out. Meanwhile, some surgeries have been canceled because a patient, or someone he or she came in contact with, tested positive with the novel coronavirus, opening slots that must be filled quickly by others who have been waiting.
"It's asking a lot of our patients and doctors to be incredibly flexible," Gibbons said.
Blidy is glad surgery is behind her. Her husband waited in his pickup in the ECMC parking lot during the four-hour process, then drove her home. Her family, including her 13-year-old twin boys, have helped tackle dishes, laundry and feeding Buddy, the golden doodle puppy that arrived in the household in late May.
"I was a little bummed when I knew my surgery was going to be postponed," Blidy said. "I can't lie. I wanted it done. But I understood that the pandemic is bigger than all of us.
"I'm an active person and sitting around is not our family gig. I'm going to rehab this knee and I'll be skiing again, not this season, but eventually. And I'll be able to do everything I want to do eventually. That's the goal."
Medical practices are now better prepared – with protective equipment, testing capacity and prevention protocols – than they were in the spring, Gibbons said, so should there be an uptick in Covid-19 cases, health care providers will advocate that a proven safety record should allow necessary nonemergency surgeries to continue.
ALBANY – People desperate for a haircut, or wanting to go into a retail store or head to the library or get back to work at some office-based businesses are going to be happy today as Western New York is expected to head into phase two of the Covid-19-slammed economy's reopening. But what about those in need of an
"If we had to learn one thing from this pandemic," Rauh added, "the need for continued care, not only musculoskeletal care, but care in all areas of medicine, doesn't stop and shouldn't stop."
What to expect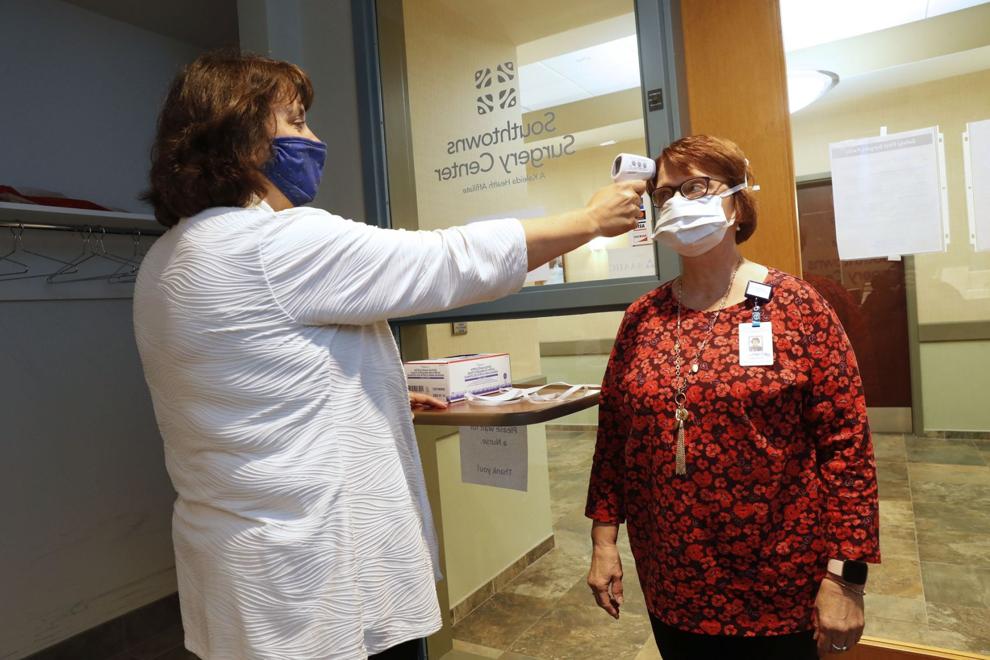 Outpatient surgery centers have established similar guidelines to protect patients and staff from Covid-19. Among them:
Testing: Patients are required to get a test for the novel coronavirus three to five days before a scheduled surgery and self-quarantine until after their procedure.
Screening: Staff and patients will have their temperature taken, be asked if they have any symptoms of Covid-19 or have visited any regions during recent weeks that have become coronavirus disease hot spots.
Other protection: Plastic shields separate patients from staff at check-in. Those waiting for surgery can do so outside or by socially distancing inside. All staff is required to wear masks and other personal protective equipment. Patients are required to wear facial coverings, as well.
Limited access: Those driving friends or loved ones to scheduled procedures can expect to wait outside in their vehicles or a nearby location until patients are ready to go home. The drivers will be notified with a text or phone call at that time.
Disinfecting: Surgical suites and recovery bays will be thoroughly cleaned after every use, as has always been the case.
Office visits: Some preoperative and postoperative visits may be done through telehealth but expect preparative imaging and blood testing, as well as at least one postoperative visit to be conducted in person in places where similar Covid-prevention protocols also are in place. "We typically need to see patients at least once to examine them and particularly their incisions," Gibbons said. "There are certain things that we can really only test by physically examining the patient, checking reflexes and looking for other problems that you can't do over the phone."