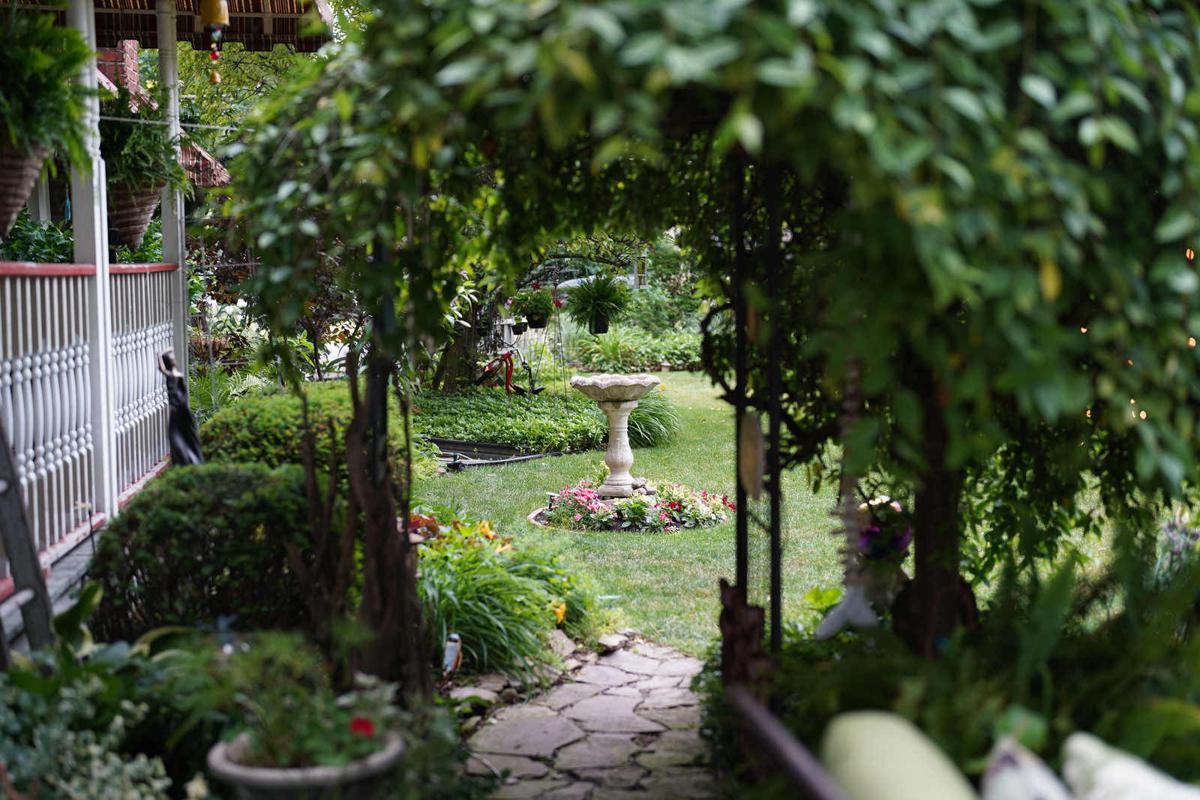 People who love gardening and outdoor living have plenty to do indoors in chilly January. They look back at what brought them happiness last year – a buzzing pollinator garden, perhaps, or a comfortable porch to enjoy a summer evening.
"I start doing my planning for the layout of the gardens this time of year – what I want to switch up, what I want to plant that's different than I did last year in certain spots," said Sharon Russell-Moore by phone earlier this week. She said that while watching football games on TV last weekend, she was flipping through seed catalogs, turning down the corners of pages of interest.
Russell-Moore and her husband, Mike Moore, were featured in The News' "Outdoor Spaces" series in June. This week we again reached out to them, and also to another featured gardener, Phyllis Lobbins, and asked them to share some of their successes in 2021, their flops and what they are planning for 2022.
Sharon Russell-Moore and Mike Moore have created several outdoor sitting areas, including a gazebo, a comfortable upstairs covered porch and other spots where they can enjoy the garden they have created through the years. Their garden was on the City of Tonawanda Garden Walk in August and was one of the "Open Gardens" visitors could tour in July.
They also collect garden decor, some quite unexpected.
"Part of gardening is not just planting plants. It's about creating a sense and a feel for who you are, whether it's artwork or tchotchke stuff, and we have that throughout the gardens, porches and sitting areas," Russell-Moore said.
"We go antiquing every spring to try and see if we can find things for the garden. Oftentimes, they are not things that are meant for the garden; they just struck our fancy and end up working in the garden," she said.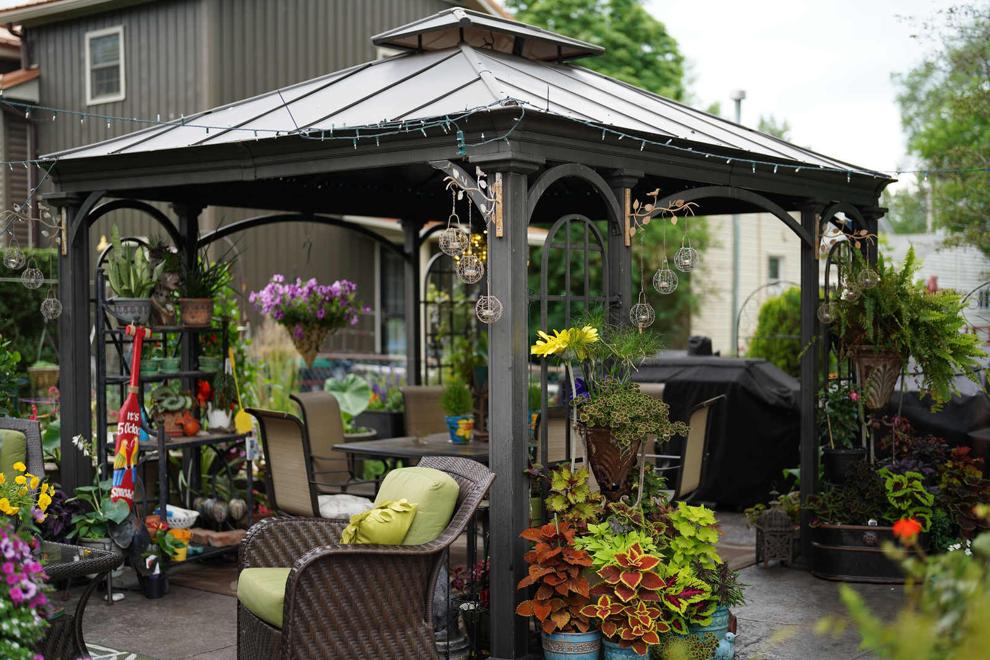 Successes in 2021? Last year's key additions included fish baskets Moore came across, originally meant to hold fish in the water after being caught. "We picked up a couple of those and put them on shepherd's hooks and then did battery-operated string lights so they would light little areas," Russell-Moore said.
She also discovered a trio of ornate metal lantern-style candle holders, not likely designed to be outdoors, and hung them on three shepherd's hooks of different heights.
"There are areas throughout the gardens where it's very difficult to have electricity. You also want things that are up higher so it shows the garden from the top rather than just throughout the plants," she said.
"These are really nice because you light them up at night and we can walk down and see the gardens," she said.
And another find: Moore found a huge cantilever umbrella on Marketplace, which he bought and repaired. They then set it up in the small driveway at the front of the house and added a couple Adirondack chairs – creating yet another sitting area on the property.
"We can go out there at night and sit and as people walk by with their dogs, we can have a conversation with our neighbors," Russell-Moore said.
Another success: They tore up a front garden that had massive roots from plants that had been growing there and added new plants.
What didn't turn out so well? Some of the vegetables. "I need two more hours of sun, so I think that's why some of my vegetables don't do well," Russell-Moore said. "Greens are great; lettuce and collard greens and Swiss chard all grow really well. But I find things like eggplant – some of the things I really wanted to be able to grow – I just can't grow. So that's a disappointment."
What's next? This year they hope to create a new garden in the area between the sidewalk and street, much like you see in Garden Walk Buffalo gardens. Russell-Moore said they envision ornamental grasses in different heights and textures and annuals for color, as well as a bench. She also is researching groundcovers that will successfully grow in a very shaded area along one side of the house, where hostas and other plants don't do well. "It's going to be a massive project," she said.
Phyllis Lobbins, whose garden was on the East Side Garden Walk in July, is a master gardener whose garden attracts many pollinators. One highlight is the "Agnes Marie" garden she created in memory of her mother, who died in 2005.
"I'm happy with the way most of my plants turned out last year. They did very well, and they blossomed well," she said.
One of her favorites: Echinacea (coneflowers). "They are so easy, very carefree and the bees love them," she said. "I'm also planting more zinnias and I was very happy with the way those turned out last year. As a result, I'm going to be planting a lot more this year."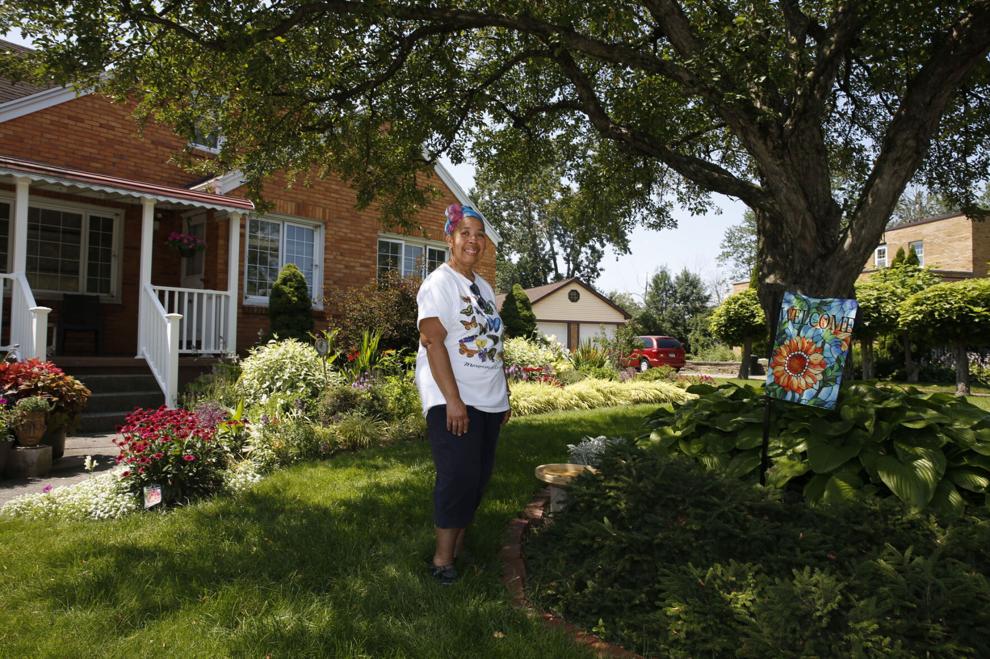 Other successes in 2021? "The No. 1 thing I was happy about was that I was able to garden because last February I had knee replacement surgery. My main concern with recovering was that I would be able to get out in my garden and work. So I was able to do that and I was very, very happy about that," she said.
"Another thing I was happy about was that my front landscape is coming together nicely. It's been a yearslong project, so it's really getting to the point where I'm happy with it.
"When I started with the front landscape, I had huge, overgrown yew which I was unhappy with for many years and finally had pulled out. That's when I really started working on the landscape.
"Also, my pollinator garden is coming together nicely. I've been eliminating some flowers that I noticed that the bees don't like and adding more flowers that the bees do like," she said.
What didn't turn out so well? "I was kind of disappointed in my vegetable garden," she said. "The neighboring trees are growing over the garden and I'm not getting as much sun. As a result, the vegetables aren't coming up as well. So I'm trying to think of other places where I could put them in where they'll get more sun," she said, noting that she may plant more in containers, as she did with some tomatoes last year.
"Also, I have a squirrel problem. The squirrels ate all of my ground cherries and some of my tomatoes," she said.
What's next? "I do a lot of winter sowing. It's where you plant seeds in plastic containers in the middle of the winter, put them outside and let them germinate and come up outdoors when their conditions are right rather than starting them indoors. It's a lot easier; you don't have to have indoor lighting or any of the other equipment required for starting seeds indoors. The winter sowing is so simple and easy to do. I tell everybody about it. I wait until after the holidays to start. It's a nice way to get my hands into the soil in the middle of winter," she said.
"I use translucent milk jugs, cut them in half, open them up, put in 2 or 3 inches of soil, plant the seeds and close them back up with duct tape and put them outside. The jugs act as a miniature greenhouse. It produces really strong, vigorous plants because they're growing outside, and you don't have to worry about hardening them off like you would anything that you grow inside and have to put back outside."
We plan to talk to other featured gardeners in the coming weeks. In the meantime, you can see photos and stories from previously published "Outdoor Spaces" features online at go.buffalonews.com/outdoorspaces.