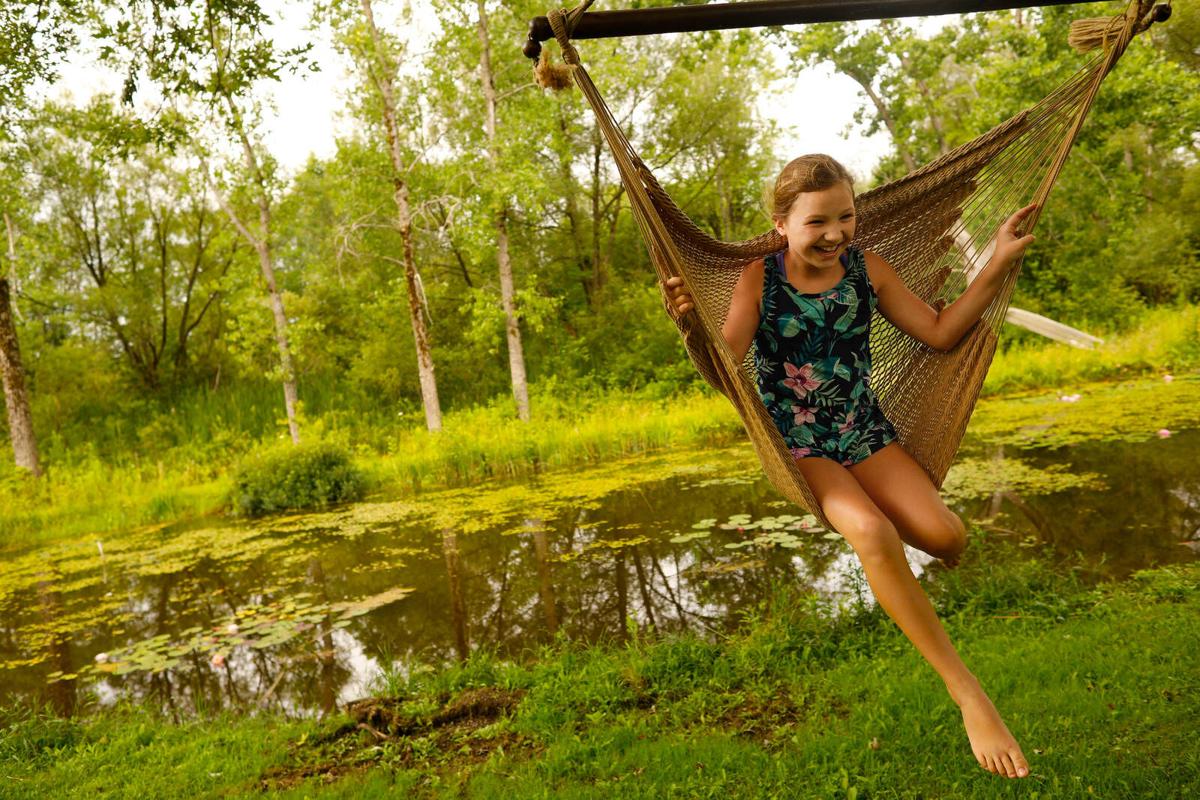 Packing a picnic for the park. Canning Grandma's favorite sauce. Fixing up the old bike to head out for a ride with the kids.
A few months ago, during stay-at-home orders, families were turning to sidewalk chalk, board games and jigsaw puzzles.
Now, with summer here and communities reopened, they're looking at new activities to do together. Or, as is often the case in this pandemic summer, some old ones to enjoy.
On social media in recent weeks, people have posted images of flashing fireflies, a 5-year-old flying a kite for the first time and lots of jars of homemade berry jam.
As Karyn Agle Sullivan, co-owner of Agle's Farm Market in Eden, put it: "If there is any benefit to this whole situation, maybe it's that people are thinking, 'Maybe we didn't need to be hurrying as much as we were and running around as often as we were. Maybe we can step back to a simpler time.' "
Here are some of the activities families are doing now.
In summers past, Carrie Rinehart and her family left their camper at a lake in Chautauqua County. This summer, it's parked in their backyard in Forestville.
"We do a bunch of camping, in general, and we normally have what's called a seasonal site, where you leave your camper there for the whole camping season. It kind of serves as a little cabin. This year we didn't do a seasonal site just because of everything going on. So we have our big camper in our backyard," said Rinehart, owner of Rusterior hand-printed clothing and home goods and founder of Buffalo Boss Babes, a female networking group.
Rinehart and her wife, Amber, have three children – Cameron, 10; Grace, 8; and Noah, 6 – who love to go camping in the backyard. The "park model" camper easily sleeps their family of five.
"It's a little more luxurious than tent camping. We like to hang out there. It's relaxing," she said.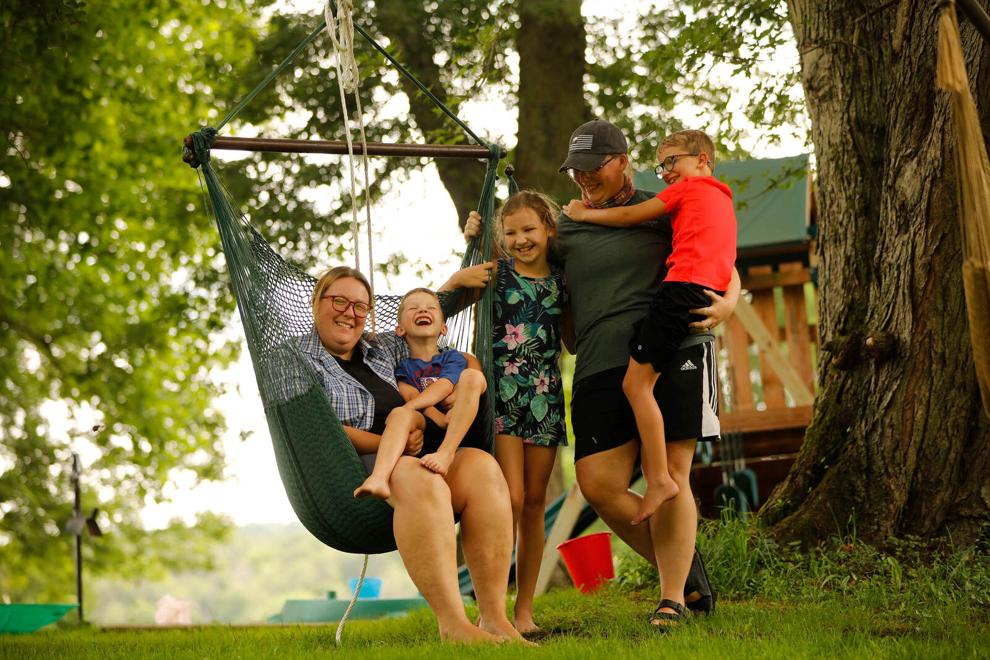 They spend a lot of time in the backyard, where they also have a vegetable garden. This year, the kids set up a little roadside pay-and-take stand, where people can buy beans, zucchini, cucumbers, herbs and other produce from the garden and leave coins in a tin can. The kids get to split the money.
In further describing summer 2020: "We hang out, we ride bikes, we hammock, we cook out, we have campfires," Rinehart said.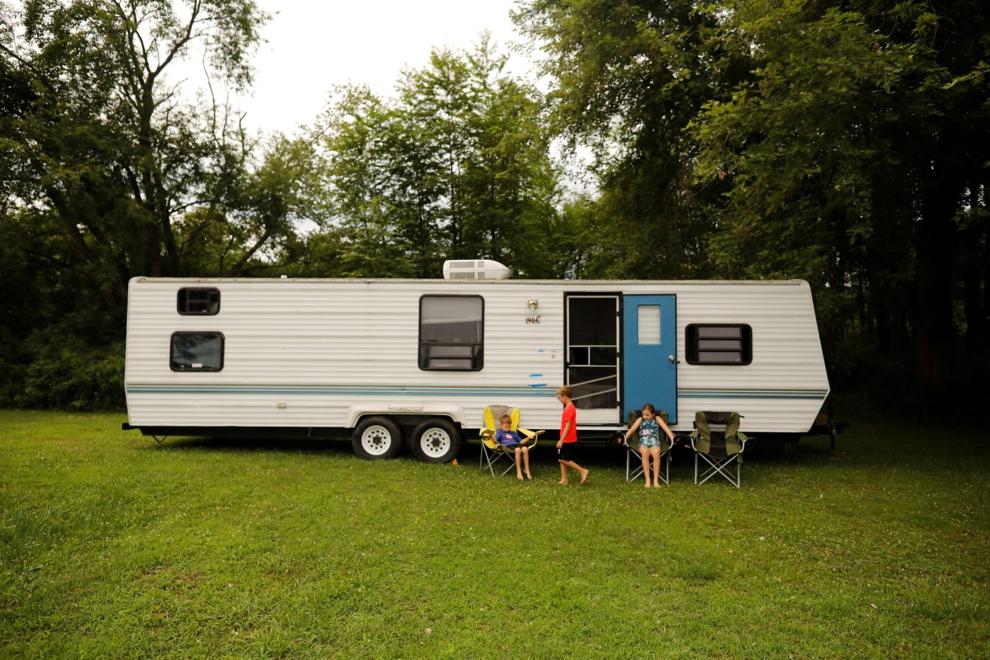 Perhaps in recent months you noticed many dogs being walked in your neighborhood. Some you never saw before the pandemic changed everyday life. Nor did you know the humans walking them. But many pets are getting a lot of attention and outings these days.
Julie DeAngelo, of Grand Island, said that she, her husband, Tom, and children Diana, 12, and Matthew, 10, have been spending a lot of quality time with their two young Boston terriers, Lilly and Lincoln.
"We do a lot of stuff with the dogs. We love our dogs regardless, but I feel like the dogs have been a source of entertainment, a source of comfort, a source of laughter," she said.
Lincoln likes to play, but doesn't like to go in the pool. Lilly is happy relaxing on a pool float.
There's always been snuggling with the dogs. "Now they're getting a lot more attention in terms of interaction," said DeAngelo, an interior designer.
And that furry passenger riding in the car when DeAngelo gets her morning coffee at the Tim Hortons drive-thru? That would be Lincoln. Every single morning.
Richard Wellenc, owner of the Dick's Bicycle Shop on Niagara Street in the City of Tonawanda, said he is at the ideal location for seeing people on the bike path along the Niagara River.
"We have a perfect spot. The bike trails are across the street. Take your family. Take a picnic lunch. Sit by the river on a bench and watch the boats go by. It's inexpensive," said Wellenc, who runs the business along with his son and grandson. "We fight a lot," he joked.
Business has been brisk. Interest is high this summer, but some inventory is low, due to current circumstances.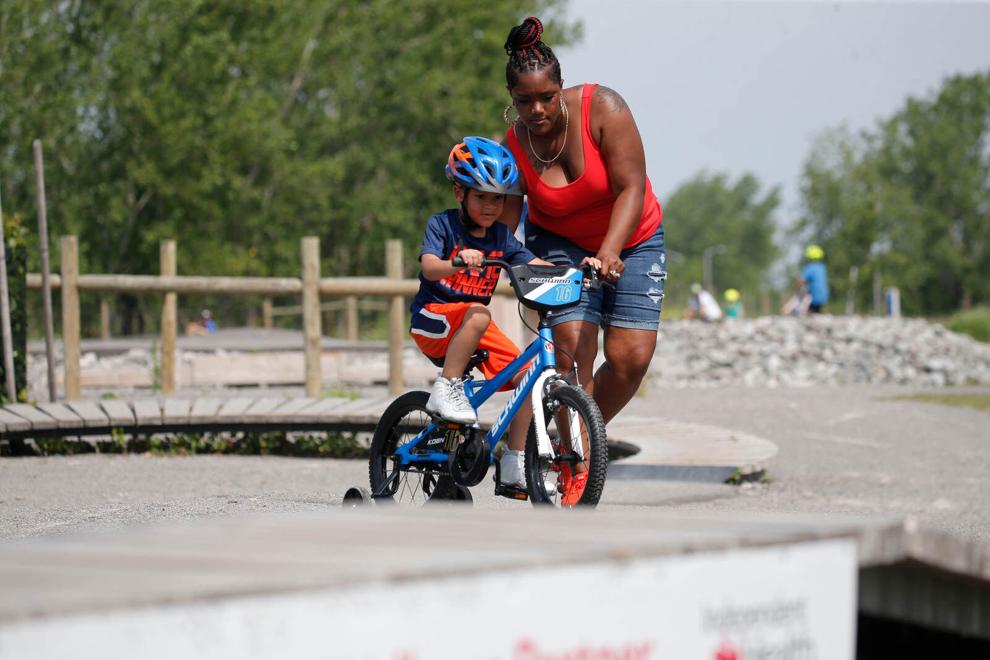 Wellenc said his bike stock is down to about 50 bikes on display with none in the basement (he has room for several hundred), and those are the higher-priced models ($800 and up). Affordable bikes ($400 or less) are scarce, and even the used bikes are gone.
"I'm 81 years old. I've been doing this since I was 20. I've been in business for about 40 years. I've never seen it like this in all my life. It's unbelievable. We can't get any bikes. Everything is back ordered because most of the stuff comes from across the water. So the pipeline has been empty for probably three or four months," Wellenc said.
But people are loving bicycling again. At one point, he had 75 bikes from customers in the shop to be repaired or refurbished. Customers are bringing in bikes they haven't used in years, he said. Now even bike parts are hard to find.
Tips for buying or renting a bike? Call some local shops to ask about inventory. Visit the GObike Buffalo website for local rental information. Check classified listings or Craigslist and other sales websites. Or check Nextdoor, the neighborhood social networking group.
Sarah Larkin often rides her bike by Hoyt Lake in Delaware Park, and this year she is seeing people of all ages enjoying an old-fashioned picnic.
"At dinner time you see groups of people with their lawn chairs having dinner together because they can spread out. We have been noticing that a lot more," said Larkin, public relations and events coordinator for Buffalo Olmsted Parks Conservancy.
Some bring their own food, but others are opting for takeout, Larkin has noticed.
"For people who may not want to go to a restaurant right now, they're still doing the takeout and finding a spot. Obviously Delaware Park is the most popular, but we've been starting to see it through all of our parks, too," she said.
Attendance at the six Olmsted Parks is up. "We have seen about a 40-50% increase in park usage throughout the system. It's been a crazy couple months for all of us, but it's been very rewarding at the same time. It's been nice to see people who may not have gone to the parks before really using them," she said.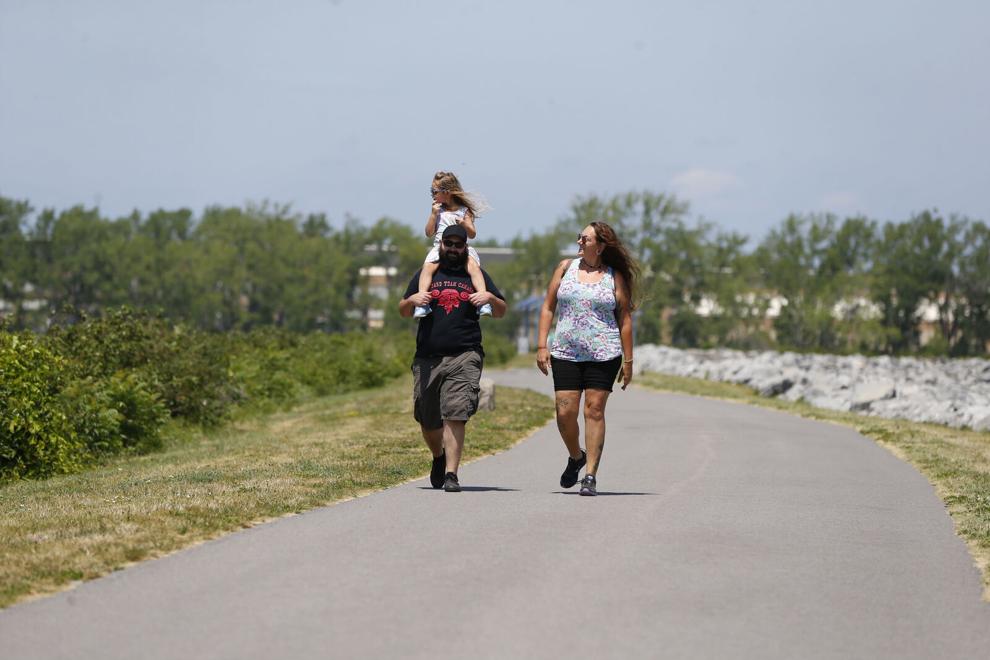 There has been renewed interest in canning in recent years, and its popularity is continuing this summer.
For many, canning is a family affair.
"I learned canning from my mother, and she learned it from her mother. It's definitely a traditional family activity," said Sullivan, of Agle's Farm Market.
And it's one best learned by observing. "I think it would be overwhelming if you were just reading it in a cookbook," Sullivan said.
Tomatoes and pickles are two favorites, and everyone has their own favorite family recipes. Grandma's sauce. Dad's salsa. Pickles, spicy or sweet.
"Canning is a good family activity. People get nervous about the boiling water, but kids can scrub the cucumbers and mash the berries for jam," said Kathy Manley, who teaches canning classes through Zoom for Lexington Co-op.
"It's time together. It's a nice sense of accomplishment, and the end result is delicious," Manley said.
It's an extension of another family activity that's enjoying a boom this year: vegetable gardening. During the spring planting season, customers were talking a lot about it, Sullivan said.
"Someone would say, 'I haven't planted a vegetable garden in 20 years. I think I'm going to give it a try again.' Or 'The kids are home from school so we're starting from seed. If the seed stuff works out, great. If not we'll come back for the already started plants,'" Sullivan said.