Move over, Jack. People are making space on their stoops, straw bales and mantels for more than just your traditional orange pumpkin.
Welcome to the world of wacky, weird pumpkins where warts are welcome, odd shapes embraced, perfection not required.
"The varieties they have come out with are just crazy," said Jamie Awald, who runs W&J Awald Farms Inc., 2258 Shirley Road, North Collins, along with her husband, Wes, and their three children.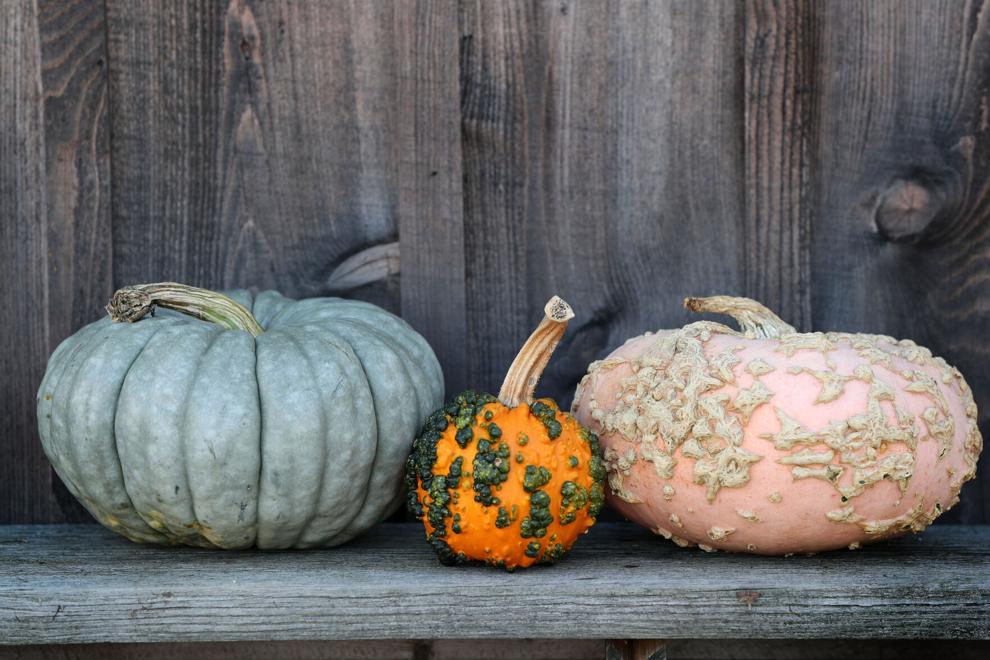 "People have been very interested in the selection of pumpkins. It's not just about the regular orange pumpkins anymore. It's about all these different shapes and sizes and colors," Awald said.
At Agle's Farm Market, 7952 Gowanda State Road, Eden, co-owner Karyn Agle Sullivan said she adds more of the specialty pumpkins each year.
The farm market has sold them going back at least 10 or 12 years, "but they have gained in popularity every year. The first couple years I would get one or two bins, and now I'm up to eight and will probably need more for the season," said Sullivan earlier this month.
"The nice thing about them is they can sit outside and be your Thanksgiving decoration, too. They're not just for Halloween," she said.
Sullivan said people will pick up some early in the season when they begin decorating for fall with mums, corn stalks and straw bales. Then they come back closer to Halloween for their carving pumpkins.
Stephen Reiners, professor of horticulture at Cornell University, said the trend for weird pumpkins is continuing.
He's been working with pumpkins for years. "I think I did my first trial back in 1991. The stuff that is being sold, the stuff that is being bred, the stuff that growers are putting out there are things that I would have called unmarketable. Nobody would have wanted them 30 years ago. Now everybody wants them," he said.
But years ago, many people preferred what they considered the perfect pumpkin.
"It had to be symmetrical. You didn't want that one flat side. You didn't want any warts on it. The color had to be uniform. You had to have a decent handle on it. I've seen so many people who find the perfect pumpkin, and they pick it up by the stem and the stem breaks off," Reiners said.
Now, the odder the better.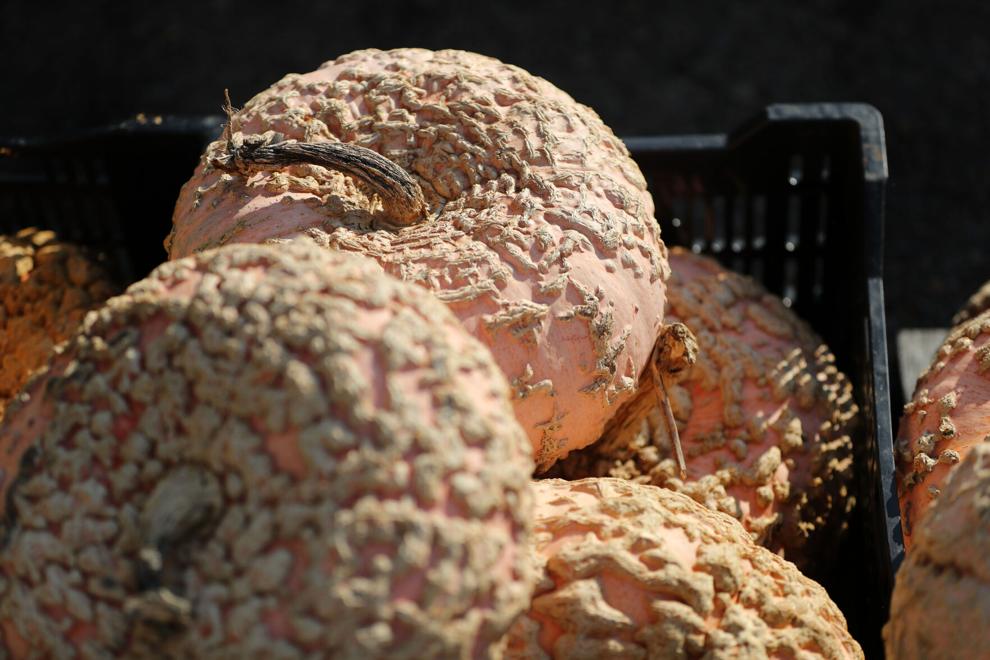 Wacky, weird – and edible?
Of the 16 varieties of specialty pumpkins the Awalds grow on their North Collins farm, eight are edible.
"People can decorate with them and then they can eat them at the end of the season, which is cool," she said. "Plus, a lot of these varieties of pumpkins are more in the winter squash family. So the outside rind on this pumpkin is a little bit different than a normal pumpkin would be. They're going to have a longer shelf life or storage life – more like a winter squash would – anything like your acorn, your carnival, your butternut. They'll last a little bit longer – obviously if they're not kept in direct sunlight and not in the warmth all the time. You can use these for Thanksgiving; you can use them for Christmas if they are stored properly," she said.
Let us introduce you to some of these "specialty pumpkins":
• Warty Goblin. "They're super cute. They're orange with green bumps all over them. They're just ornamental so you can't eat them, but they're super cool to look at and they're smaller so they're good for all ages," Awald said.
• Blue Doll: "They're super popular this year. A lot of people like the blueish, grayish, greenish tint. They're very good for eating," Awald said. Some people use them to make a pumpkin bowl filled with a stewlike dish that includes meat and vegetables.
• Peanut Pumpkin (Cucurbita maxima 'Galeux d'Eysines'): Covered with peanutlike growths, this heirloom pumpkin varietal is described this way by Gardeningknowhow.com: "Certainly unique looking, some might say unattractive, the 'peanuts' are actually a buildup of excess sugar in the flesh of the pumpkin." The Peanut Pumpkin is good for baking.
In addition, there are white pumpkins, the red-orange Cinderellas, flat stacking pumpkins in many sizes and colors – everyone seems to be stacking pumpkins these days – hull-less pumpkins (there's no outer shell on the edible seeds inside) and, of course, ornamental gourds.
"When we say 'pumpkin,' I think most of us think of the typical Halloween type of pumpkin. But botanically, there's not really a 'pumpkin,' " Reiners said.
"Pumpkins fall within the Cucurbita pepo species, which also includes summer squash, zucchini and acorn squash," he said.
"What we call pumpkins are actually very closely related to zucchini and summer squash. And those giant pumpkins that we see are related but they fall within a different species, Cucurbita maxima, which includes Atlantic Giants (which can grow to more than 2,000 pounds) and buttercup and hubbard squashes," he said.
Yes, it can all get a little confusing.
Awald and Reiners both said that this has been an OK pumpkin-growing season in Western New York, even though it was wet.
"You got heavy rains but not extensively heavy rains that we saw in some other places," Reiners said.
But he added: "This weather that we're having right now is really great for pumpkins because if it was cold, if we were having frost, if it was raining there would be more diseases out in the field … So the growing season wasn't particularly great, but this is an ideal harvesting season."
As for Reiners' favorite type of pumpkin?
"I like my pumpkins the old-fashioned way. Give me a beautiful deep-orange-colored pumpkin that has beautiful ribs on it. If I'm out in a field of pumpkins this time of year on a day like we've got today, that's just perfect," he said Tuesday, which was warm and sunny.
"I'm happy that people are enjoying all these different ones, but give me that good old standard Halloween pumpkin. That's what I like," he said.