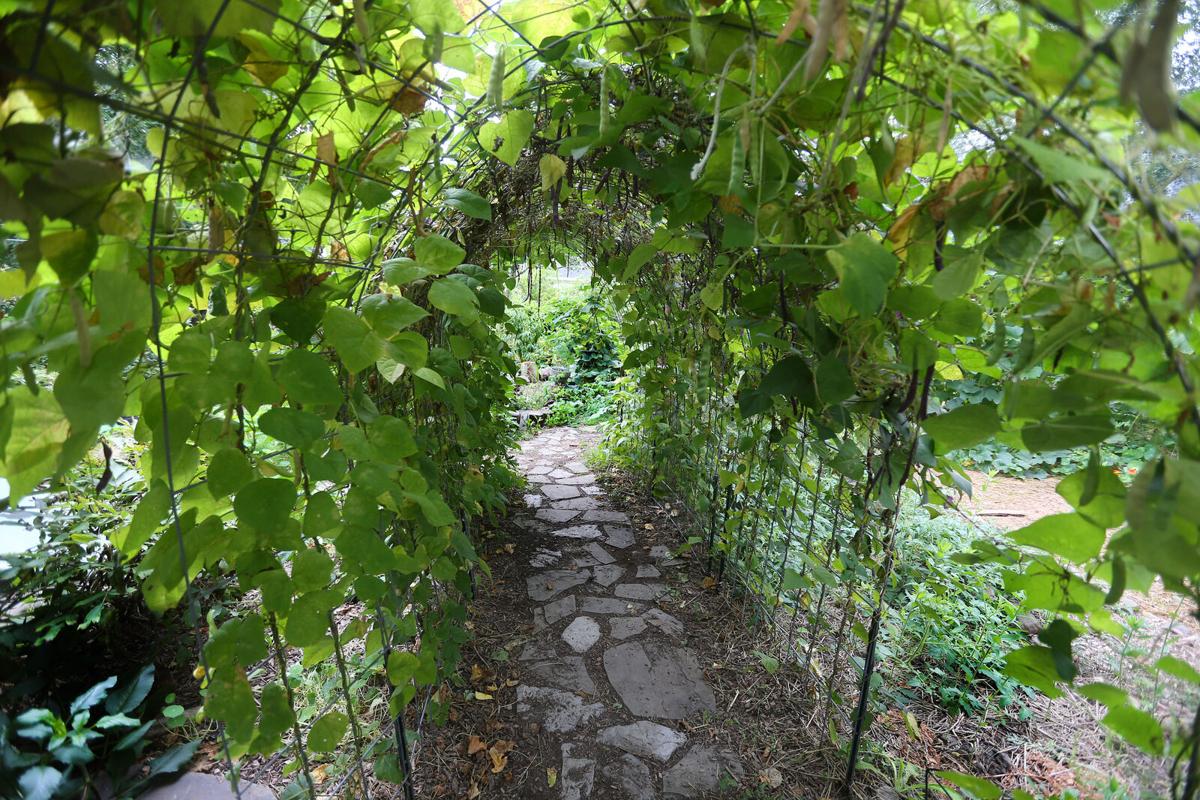 Mouse melons. Watermelon radishes. Tromboncino ("trombone") squash. These are just a few plants that can be found in the City of Tonawanda garden of Ben and Natalie Bolyard.
The couple have eliminated the lawn in the back and front of their home, mulched the ground and planted more than 50 varieties of perennial foods – including young fruit trees and shrubs – and many annuals grown from seed, often started indoors.
While many plants are edible, others are ornamental or selected to attract pollinators. They also grow cover crops, such as nasturtium and buckwheat, to protect and enrich the soil. Volunteer plants – which are plants that grow on their own from a seed dropped by a bird or animal, for example – are part of the landscape. Even weeds have a purpose in their garden, including to attract bees and butterflies and provide habitat for critters.
The couple started planning their nutrition-based garden in January 2020. Last year they harvested 56 pounds of sweet potatoes. They have more than 25 types of annual herbs. They are learning more about permaculture, in which they say they "focus on low-maintenance plantings which mimic natural ecosystems with a nudge toward our idea of elegant and flavorful varieties." They also have experimented with straw bale gardening, in which they use conditioned (decomposing) bales as containers for planting peppers and sweet potatoes. Their garden was on the City of Tonawanda Garden Walk and Urban Farm Day this summer.
The Bolyards emphasize that they are new to this and have made "garden blunders." They continue to learn and are not afraid to experiment.
"One thing we do is test and push our limits with what a plant can handle, how it will survive," Natalie Bolyard said.
This year they had aphids. "They suck the life out of plants," Ben Bolyard said. "We had the choice: Do we treat them or let them go? We have the philosophy of 'do less' and then the ladybugs came in. The ladybug population bloomed and the aphids went away, and then the ladybugs went away. They came in, ate what they wanted and then they left."
Their early attempt at growing food at their home of seven years began with a vegetable garden at the rear of their property.
"It never worked. It was in mostly shade, and we never went over there," said Natalie Bolyard, a stay-at-home mom. "Then we started planning ideas to make growing food more accessible to us."
The Bolyards, who follow a plant-based diet, grow a wide variety of fruits, vegetables and herbs that they can eat fresh from the garden, or use for baking, grilling or stir-frying. Soups are a favorite meal. They also can, freeze and dehydrate what they grow and also share with others. Last year, they stored their sweet potatoes for eight months and they were still nice and firm, Ben Bolyard said.
The couple also cite food safety, helping the environment and educating their two young children as other reasons for growing food. The children learn that food doesn't come from a plastic bag. The 4-year-old can identify plants throughout the garden. Both learned early on never to eat anything from the garden without first showing it to their parents.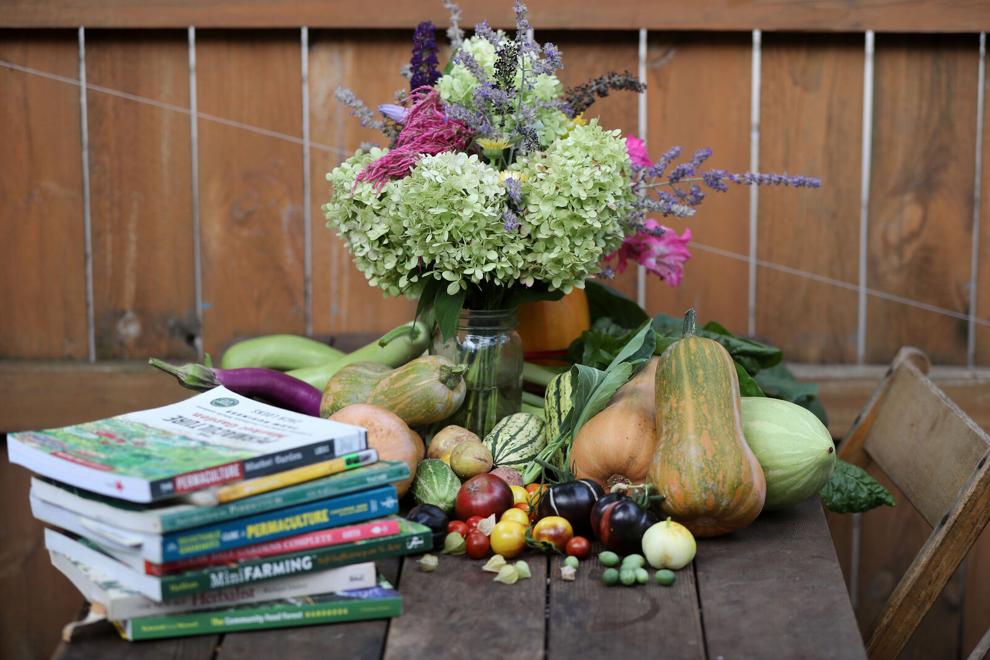 • Three "tunnels" are found in the backyard. They are made from cattle panels, the panels used as fencing for cattle. Now repurposed as arched trellises, one is used for growing tomatoes; the others for beans and squash. "We will rotate them every year," said Ben Bolyard, a mechanical engineer.
• The Bolyards have planted fruit trees in front. "They are much too young to provide food. In the meantime, we're going to boost the soil nutrition by growing more food," Natalie Bolyard said. "The more you grow the more you boost the soil nutrition, especially if you plant coordinating things." Lupine planted next to fruit trees next to comfrey, along with echinacea to attract pollinators and yarrow to attract beneficial insects, are an example, she said.
• They mulch the ground with wood chips, straw and green mulch, such as chopped leaves. They fertilize with compost and compost tea and use biodegradable materials such as local arborist logs to feed the soil. Composting is done in the rear of the property.
• The backyard has a patio and play area. There's a washing station for rinsing produce and where the children play with sand and mud.
The best part: Cleaning is as easy as hosing it down.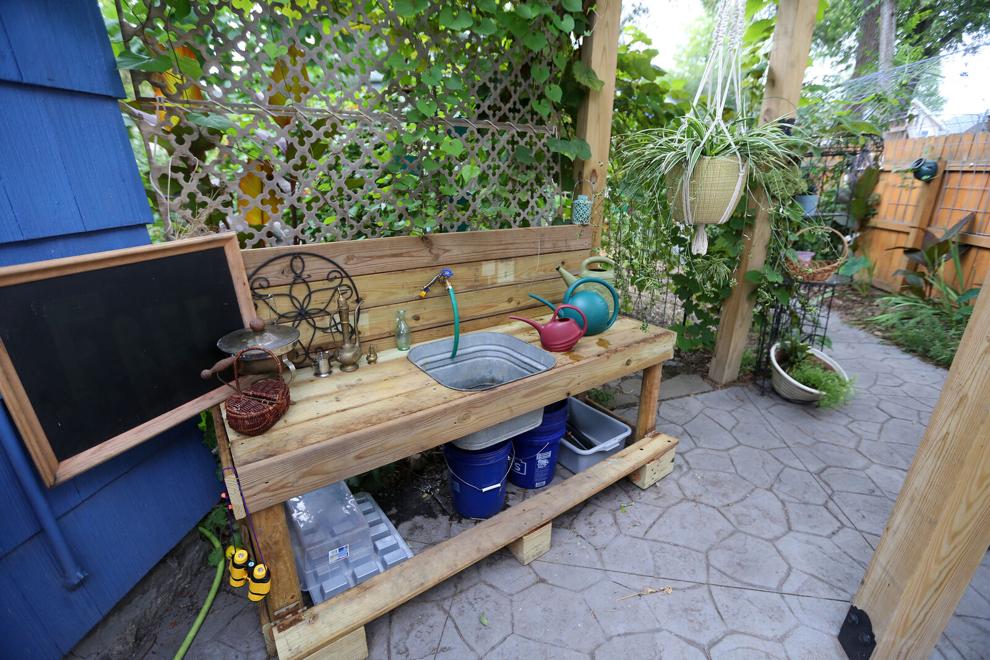 Sweet potatoes, leafy greens and heirloom tomatoes are just a few of the things Ben and Natalie Bolyard have planted in their garden. Here's a peek at other annuals and perennials from a list they provided. This is just a partial list; each category on their list contains additional plants.
Fruiting trees (perennials): Apricot, cherry, apple, plum, pawpaw.
Fruiting vines (perennials): Hardy kiwi, grapes, hops.
Fruiting bushes (perennials): Blueberries, currants, aronia.
Fruiting brambles and herbaceous layer: Boysenberries, raspberries, rhubarb, lemon thyme, oregano.
Herbs (annuals/self-seeding): Licorice basil, pineapple sage, creeping rosemary, lemon grass.
Fruits and vegetables (annuals): Pole beans (yard long, Blauhilde, succotash), bush beans (yellow wax, dragon tongue), squash (honeynut, zucchetta tromboncino, snake gourd), melons, cucumbers (Mexican sour gherkin, dragon egg), greens (lettuce, Swiss chard, endive, okra), roots (carrots, fennel, beets, onions, radishes), bulbs and tender perennials (garlic, shallot, elephant ear), nightshades (eggplant, cayenne pepper, tomatoes, ground cherries), grains and corn (amaranth, Tom Thumb popcorn), brassicas (kale, giant mustard).
Photos: Outdoor spaces: City of Tonawanda garden
Outdoor Spaces: City of Tonawanda garden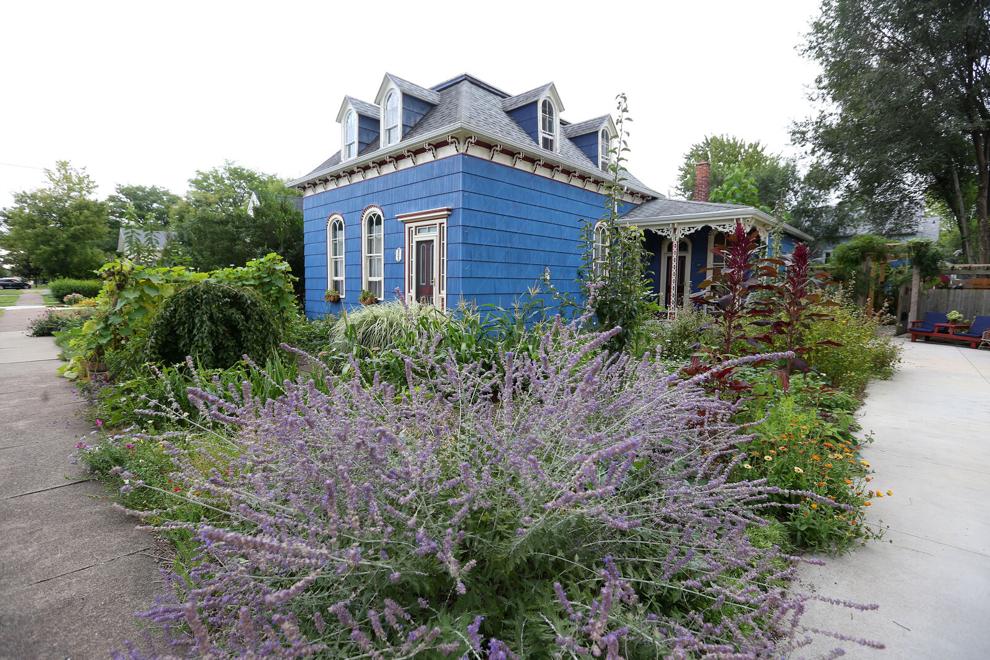 Straw bale garden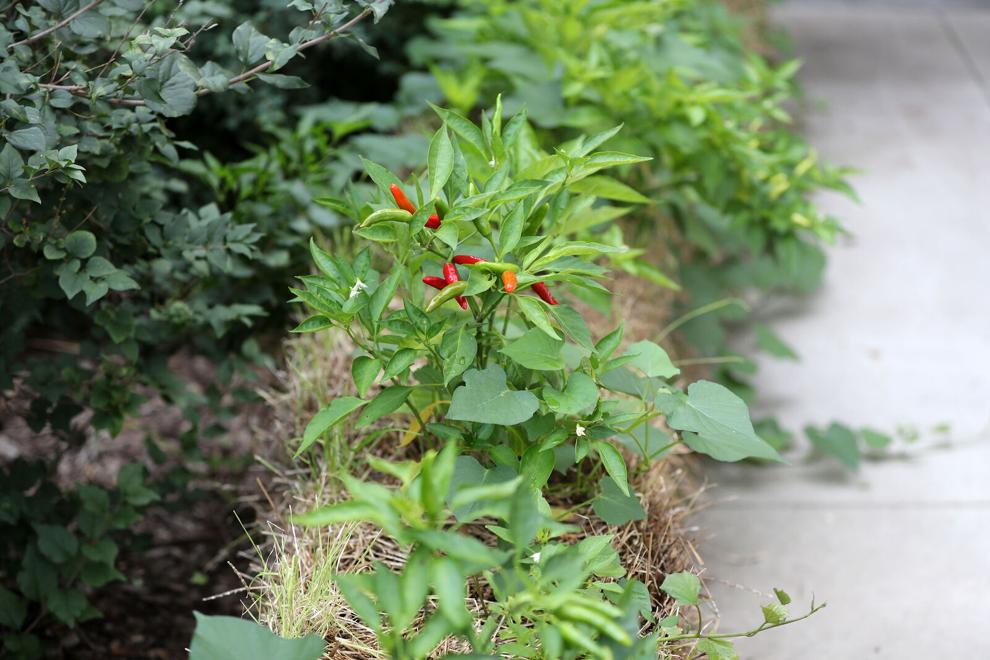 Hardy kiwi vine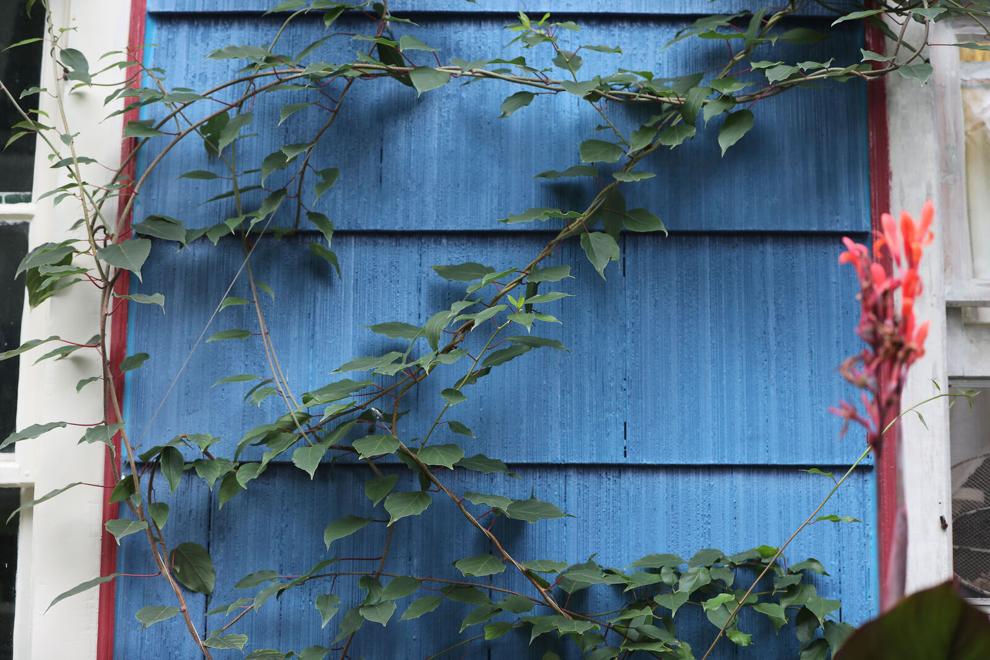 Bean tunnel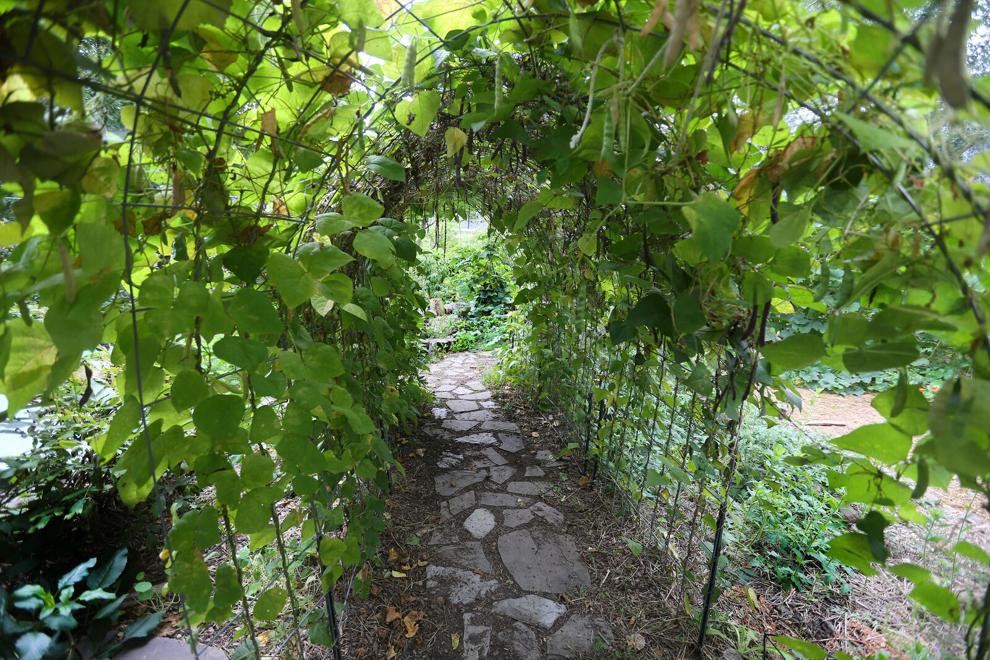 Beets and radishes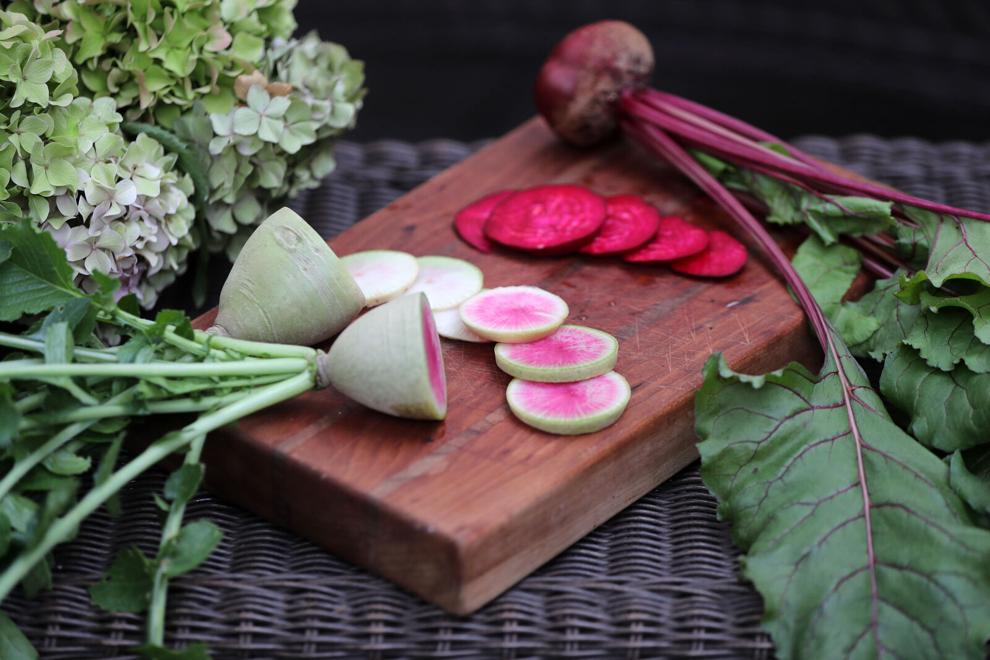 Squash tunnel
"Trombone" squash
Dark tomatoes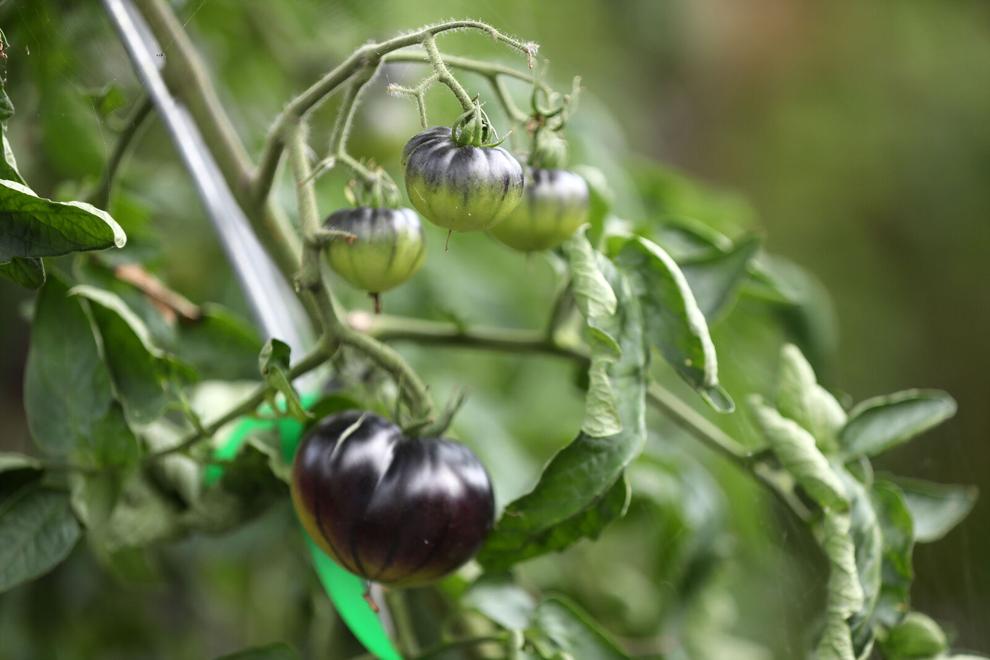 Washing station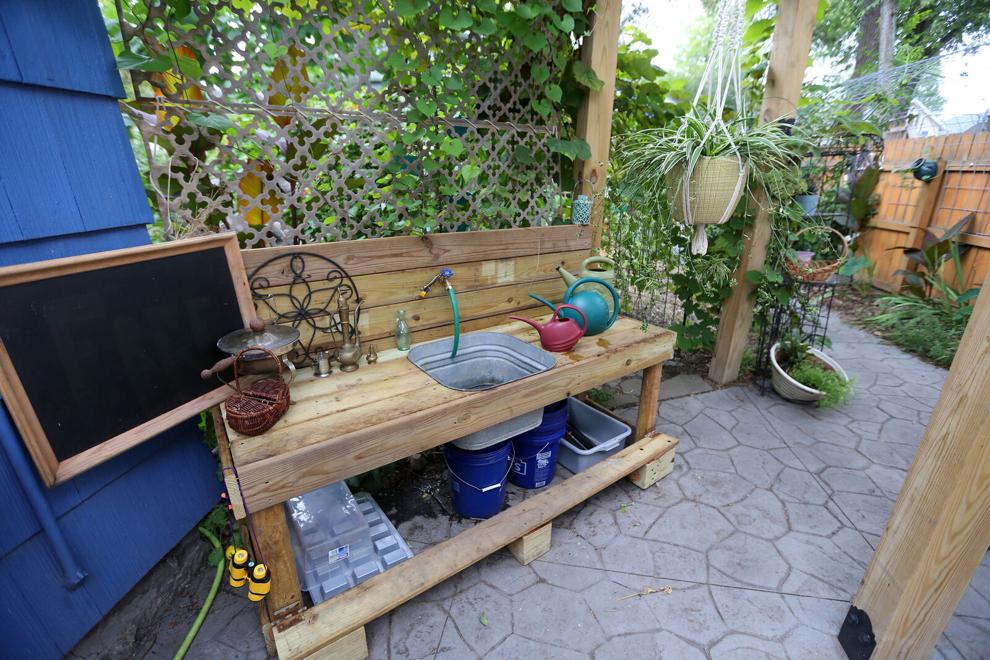 Elephant ears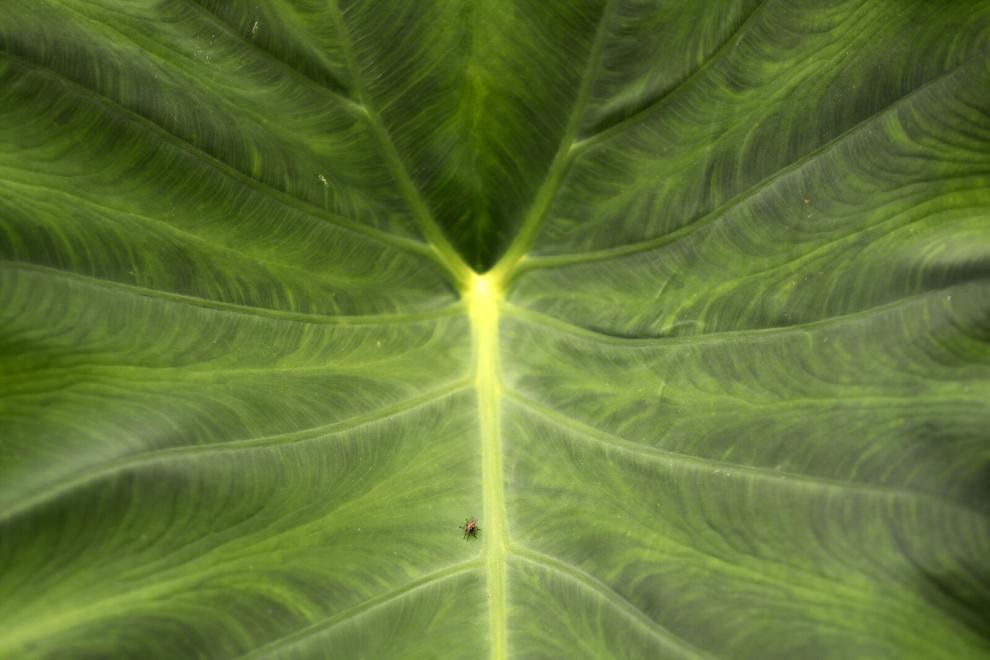 Herb spiral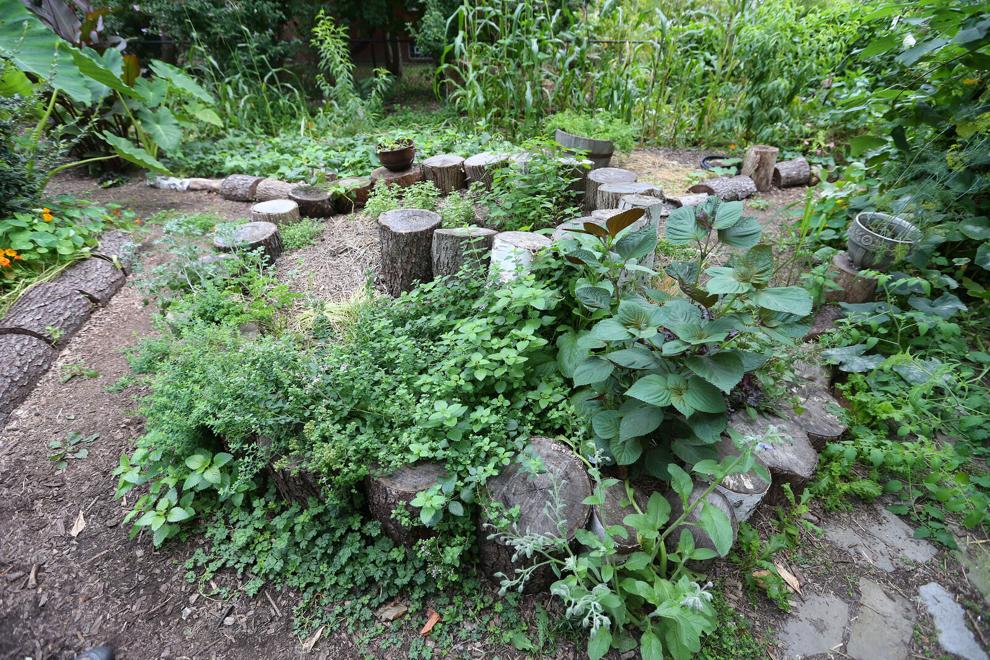 Play area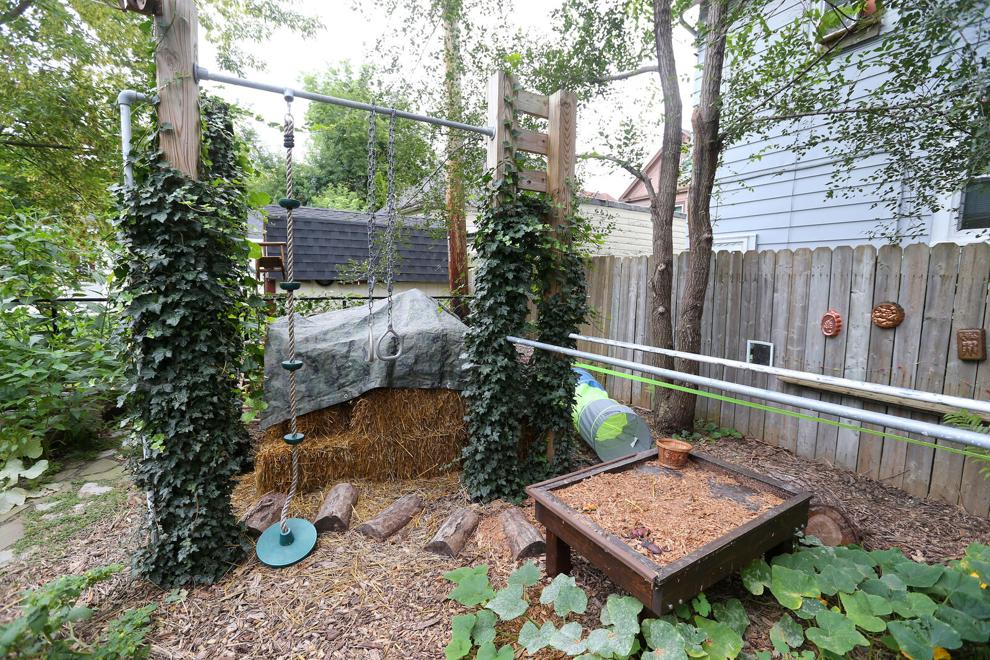 Ivy trellis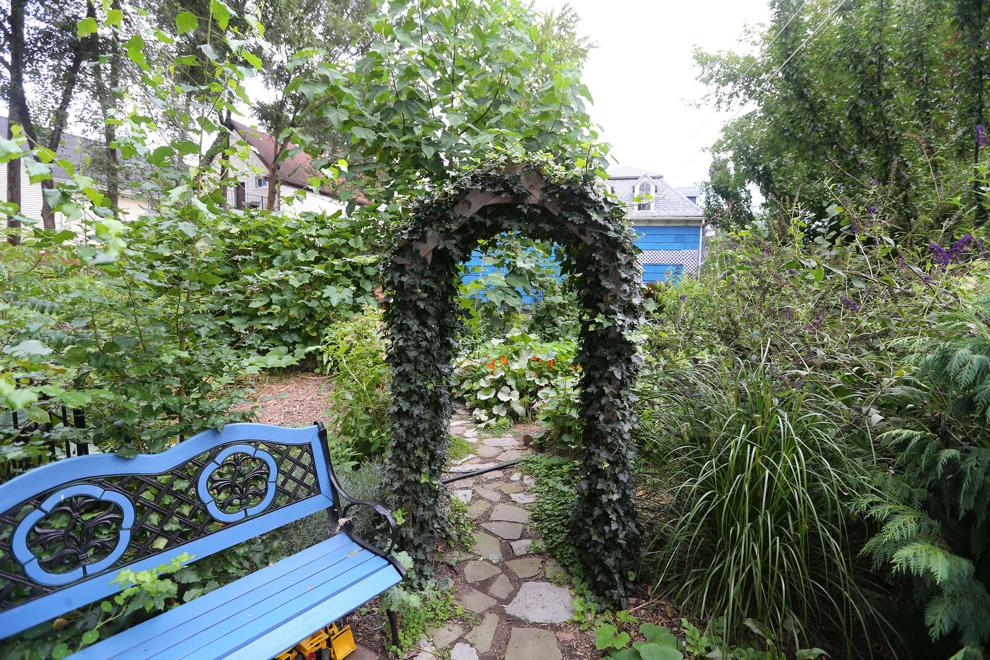 Mouse melons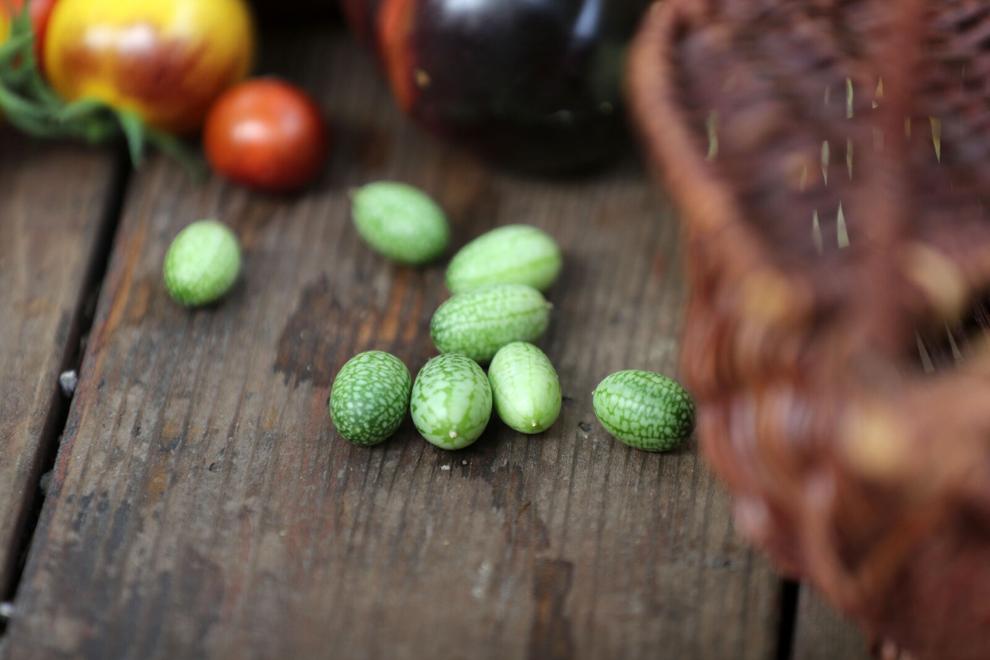 Ground cherries
Harvest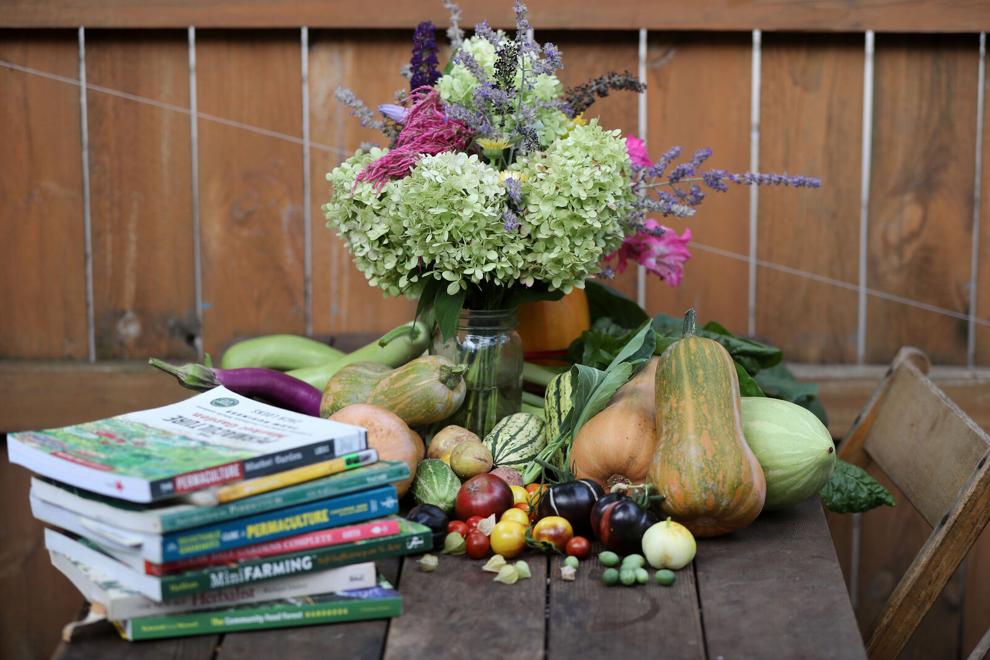 Vertical planter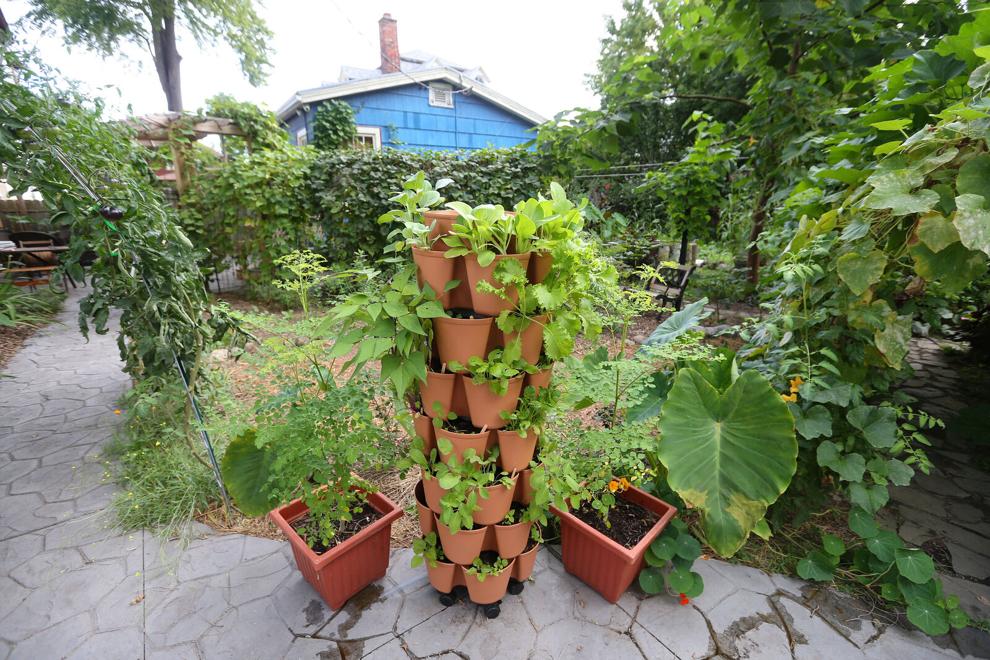 Ben and Natalie Bolyard