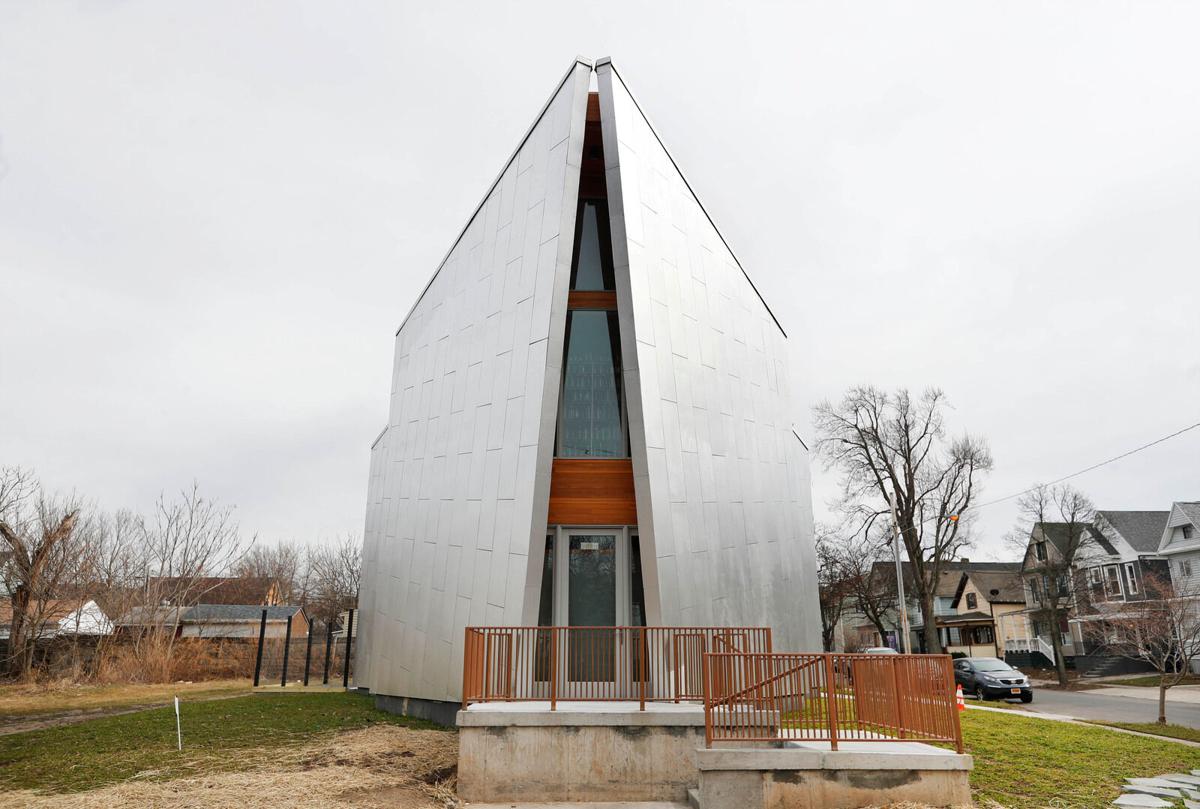 Longtime Buffalo artist Ben Perrone built a dining room table shaped like a triangle. He uses triangles in some of his artwork. Now, after decades of first thinking about building one, he lives in a contemporary, triangular house – with an exterior of fiber cement panels and cedar and a two-story interior with an open floor plan and some glass walls.
A table is one thing. But why a house shaped like a triangle?
Perrone said he thought about it years ago while living in the Town of Holland, where he had built his own passive solar home in 1978.
"While I was living out there, I had ideas about building. I thought, 'Boy, if you built a triangular house in the woods and the outside was all mirrors, it would just disappear into the landscape," said Perrone, 87, a painter, sculptor and installation artist whose work often has an anti-war or environmental theme. (You can read more about Perrone and his background and work at art-wny.com.)
"So that's where the triangular idea started, but I didn't do anything about it," he said.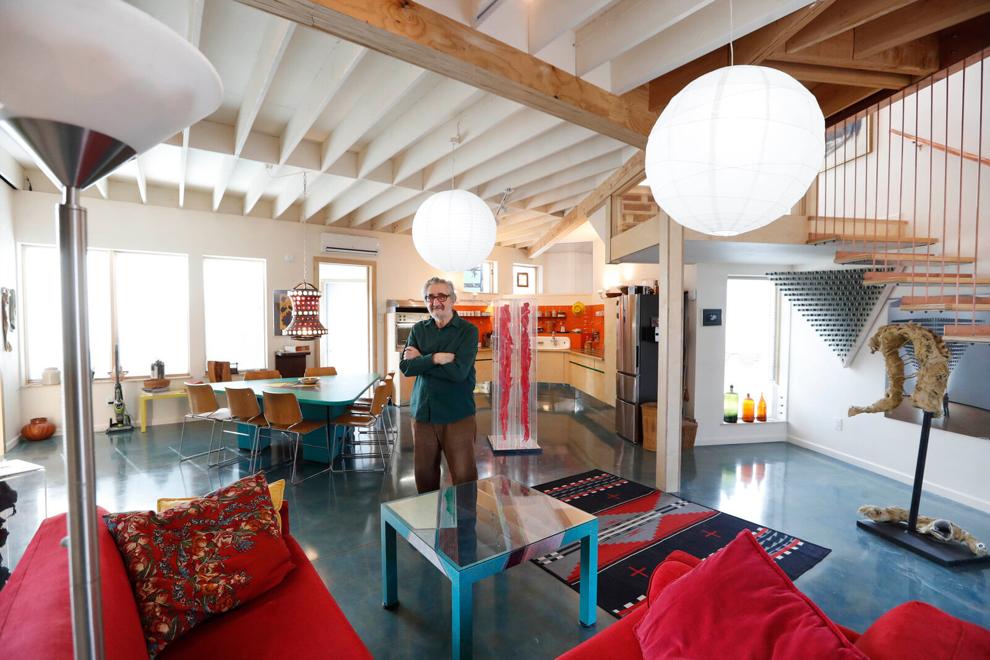 Until years later, back in Buffalo, when he sold a property he then owned and went for it. He worked with architect Kevin V. Connors, founder and principal at Eco_Logic STUDIO, which specializes in sustainable architecture and neighborhood revitalization.
Except this triangular home is on Buffalo's West Side, not in the woods. It's not mirrored, but rather the fiber cement panels, by James Hardie Building Products, are covered in aluminum paint, which is reflective.
"Ben had the concept for the house, for basically the form of the house. So from there it was a collaboration on how to make that livable space, because it's such an unusual shape. It has a lot of corners to deal with in terms of just placing furniture. It's kind of complicated. He helped out a lot by building his triangular dining room table, which is wonderful. We were just really striving to keep it as open as possible," Connors said.
The stairs were also part of keeping the design as visually open as they could because that's where the house converges in the front, he said.
"Being eco architects, we also wanted it to be as high performing as we could afford to do, so we have a pretty tight exterior envelope so it's pretty efficient," Connors said.
Perrone uses a combination of solar and electric power; no fossil fuels. "No gas bill," said Perrone, who also has a background in remodeling, carpentry, cabinet-making, graphic arts and teaching.
Among the highlights in the home, which is about 2,100 square feet and set on a double lot:
• Perrone's artwork is found throughout the home, including abstract acrylic and oil paintings; large mixed-media pieces made with painted and torn paper; sculptures and, on the windowsills, models of his ideas for sculptures. Works from other local artists also are found here.
• The first floor has an open plan that includes a living room, dining room, kitchen and half bath. The stairway is suspended by copper-covered steel rods. The floors are highly polished, dyed cement. The walls are painted a warm white.
• Inspired by his travels to Mexico, Perrone chose burnt-orange-colored tiles for the kitchen walls and blue-green tiles for the countertops, which also have varnished plywood edges. There's also a vintage Frigidaire double oven and range, cabinets made by local carpenter Tim Leary, and an old sink that came from a local school. To make the room appear larger, mirrors are installed above the sink area and beneath the cabinets to reflect the floor.
• Perrone built the triangular dining room table before he built the house. Above the table is a light fixture he crafted from an old apothecary sign.
• The loftlike upstairs includes the bedroom, office and full bath. The floors are waxed cork. Eventually he plans to install what he describes as a one-person, tubelike elevator going to the second floor.
• Perrone has an extensive bottle collection. He said he started the collection years ago when he didn't have much money and bottles were inexpensive. Also on display: Pieces of roof from old houses in Greece.
• His studio, which has solar panels on the roof, is attached through a walk-through to the back of the house. The siding on the studio is Shou Sugi Ban cedar. Shou Sugi Ban is an ancient Japanese technique that preserves wood by charring it.
• Perrone has created a maintenance-free yard. The ground cover is clover so he doesn't have to mow it.
Photos: A Closer Look: Triangle house
A unique home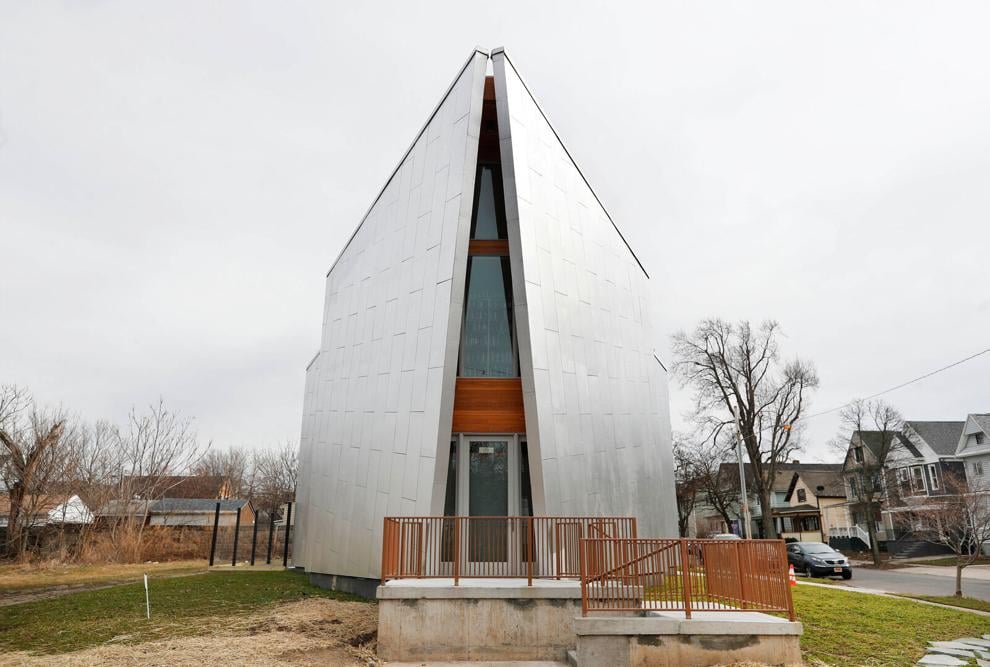 Aerial view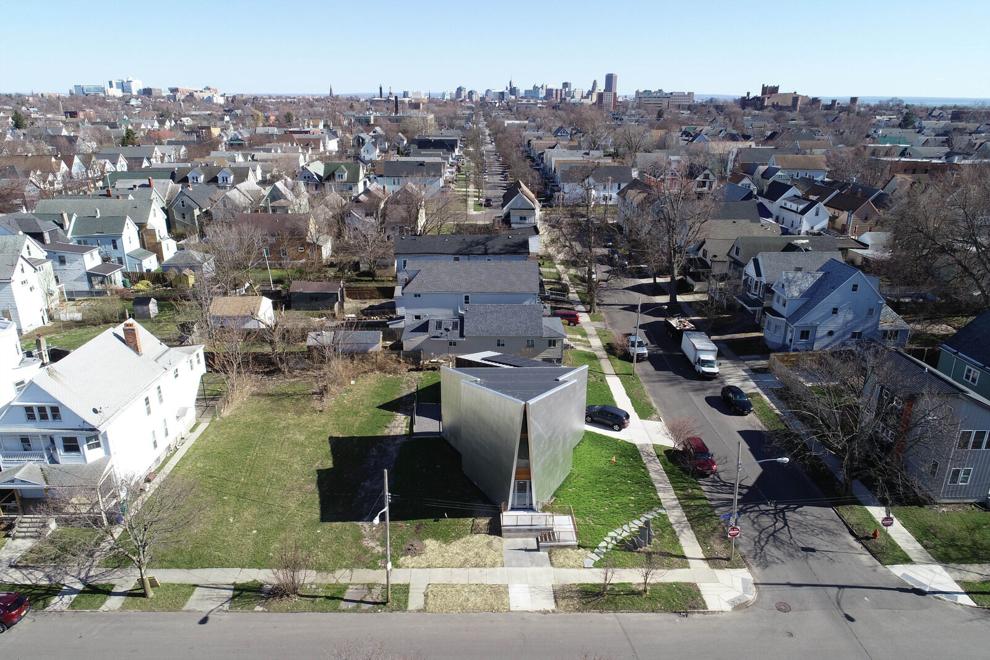 West Side neighborhood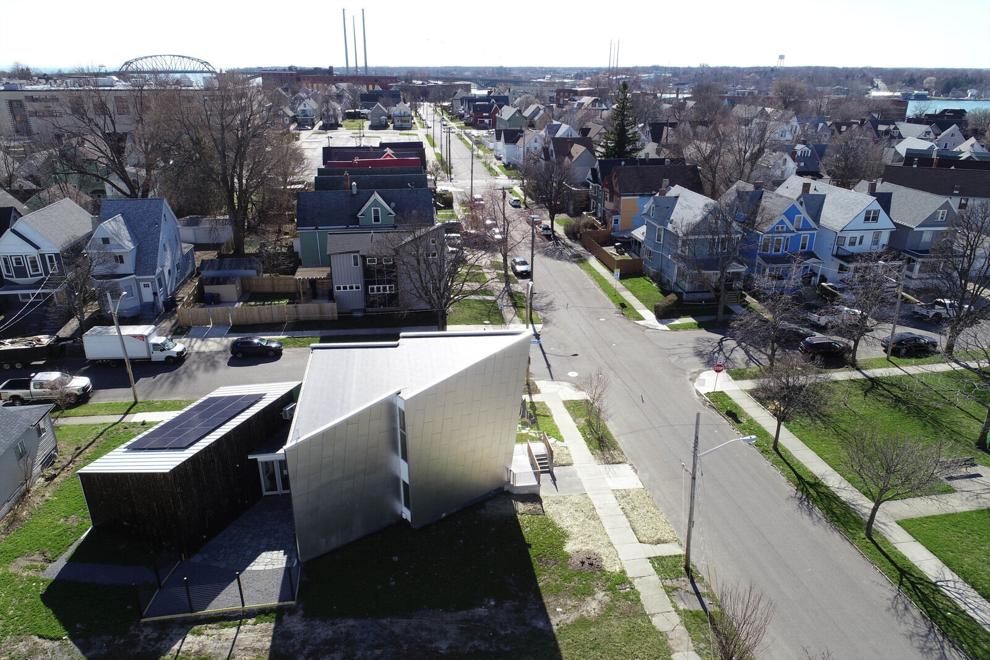 Shiny home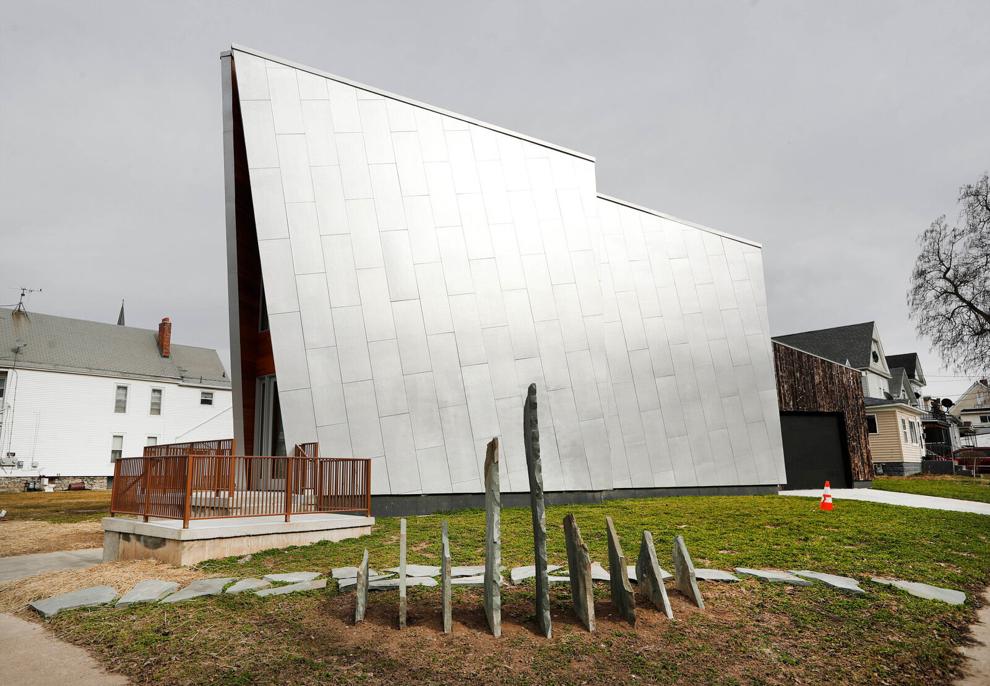 Energy efficient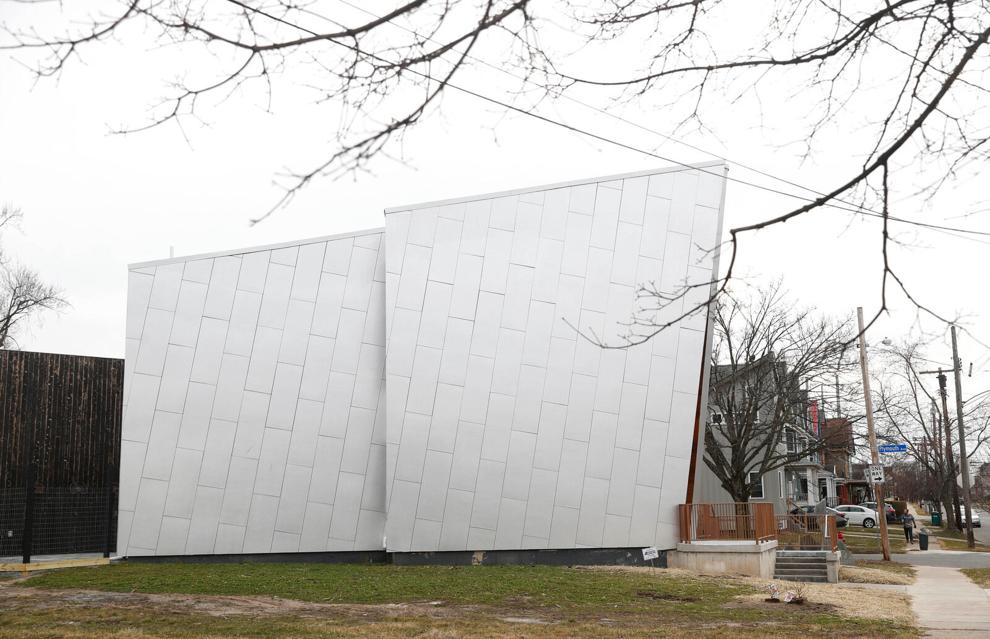 Back patio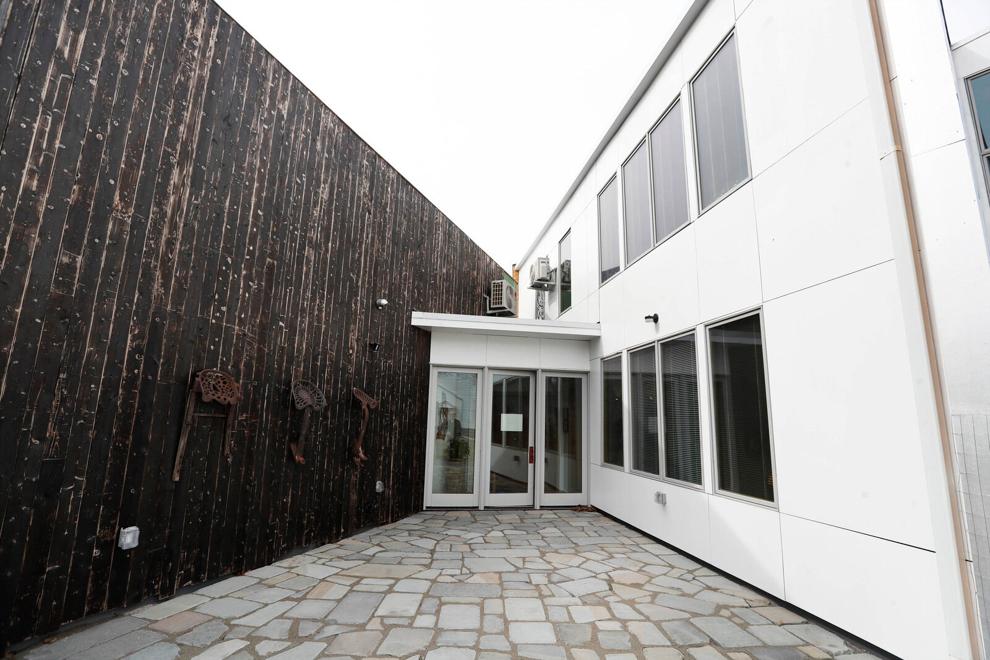 Burnt cedar siding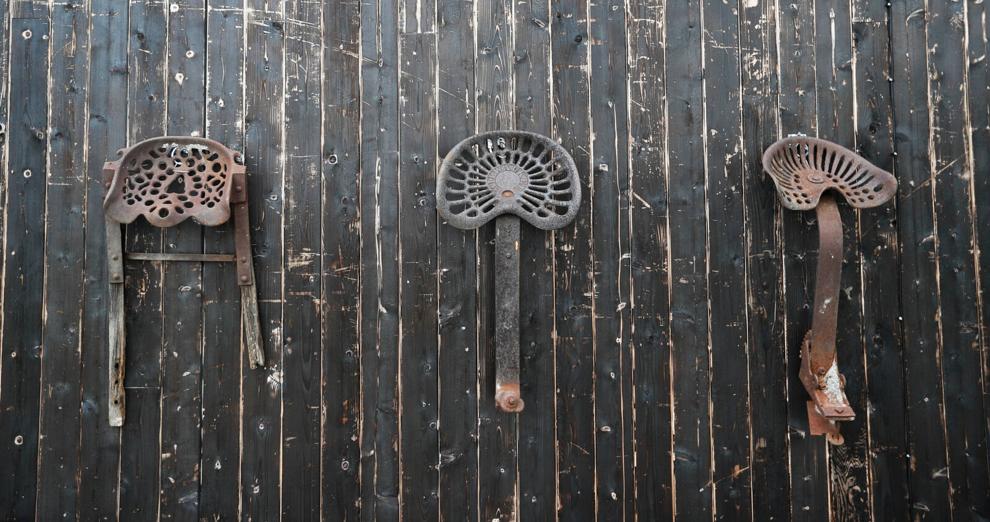 Solar panels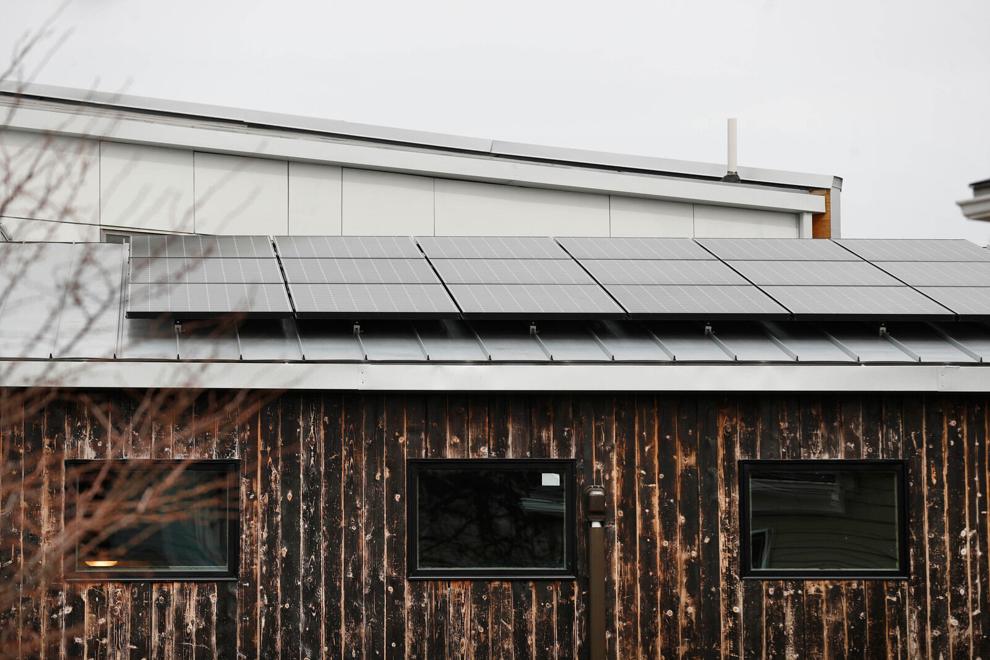 Perrone at home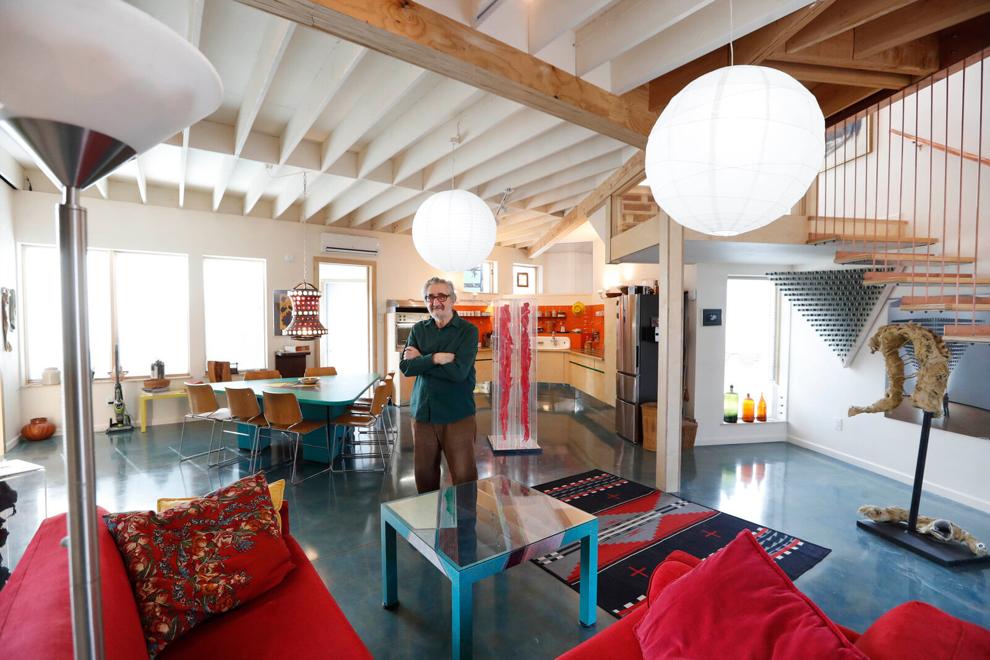 Living room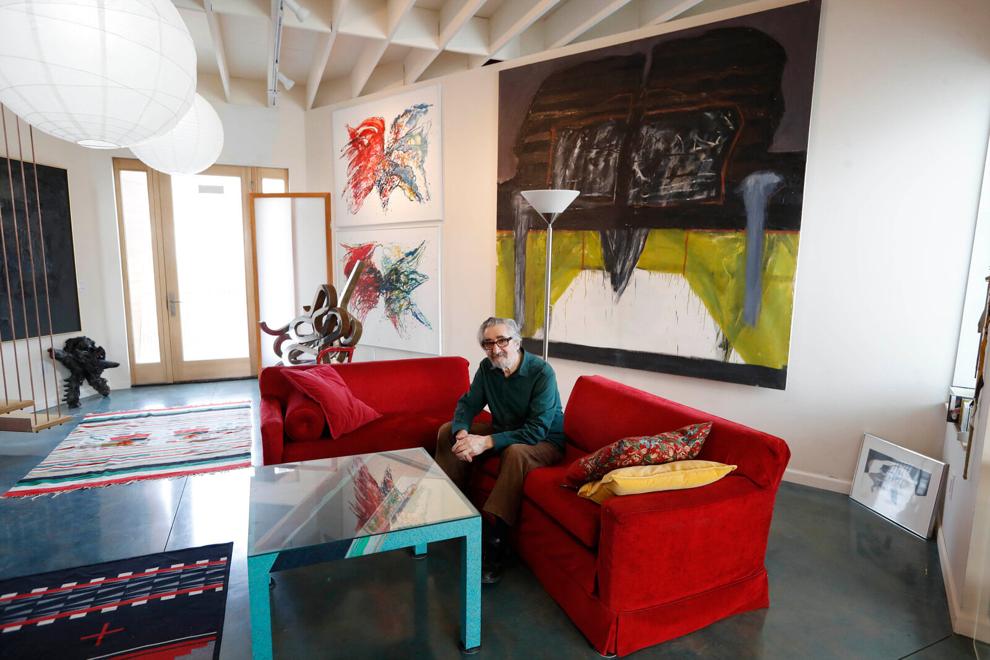 First floor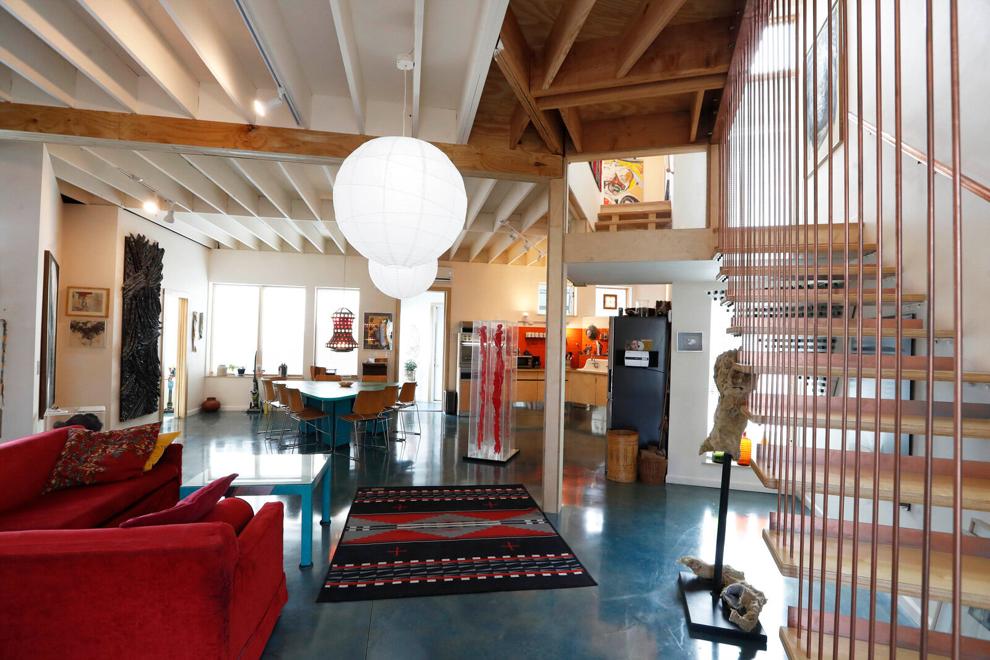 Dining room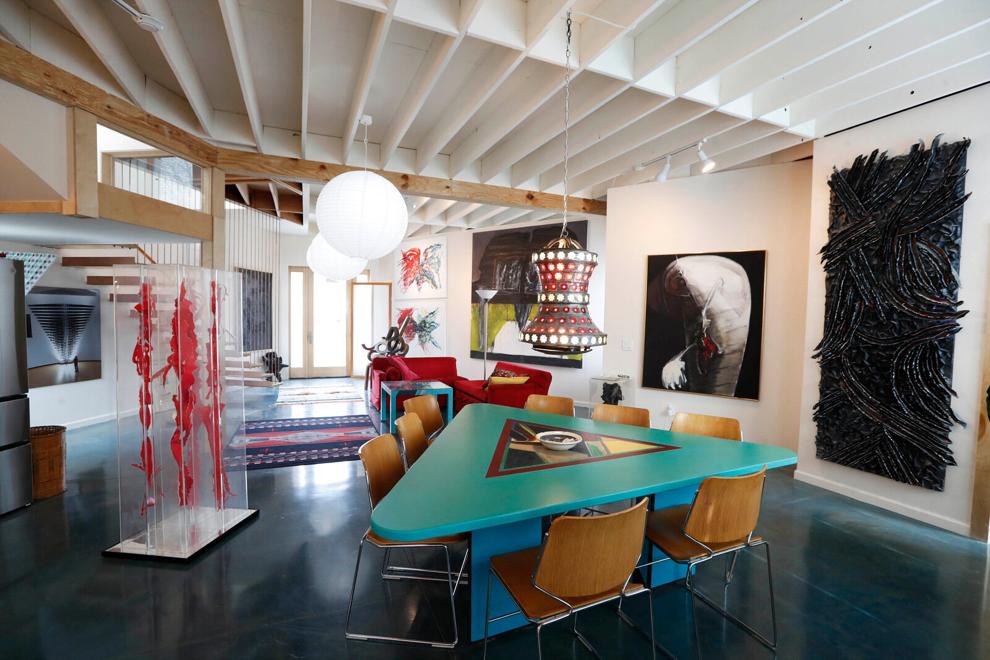 Triangular table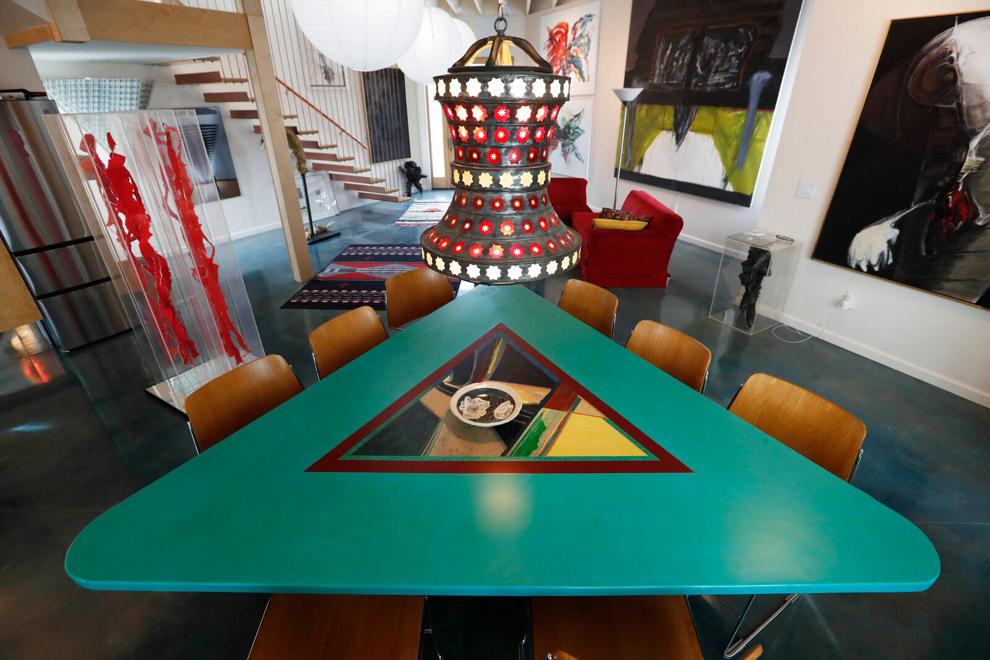 Creative lamp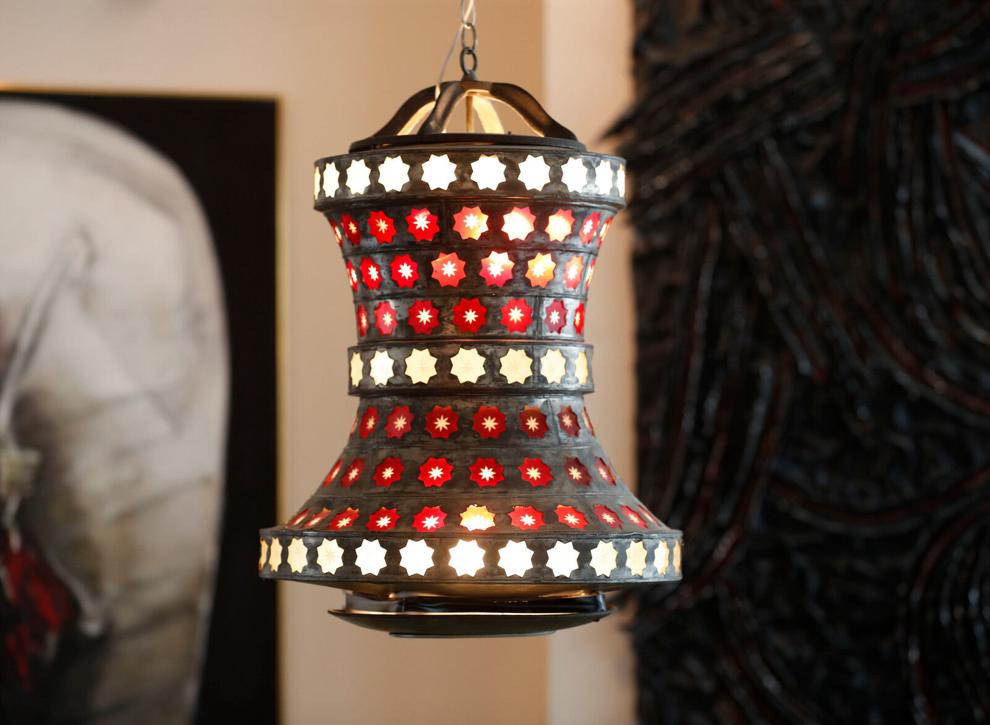 Perrone's sculpture
Red sculpture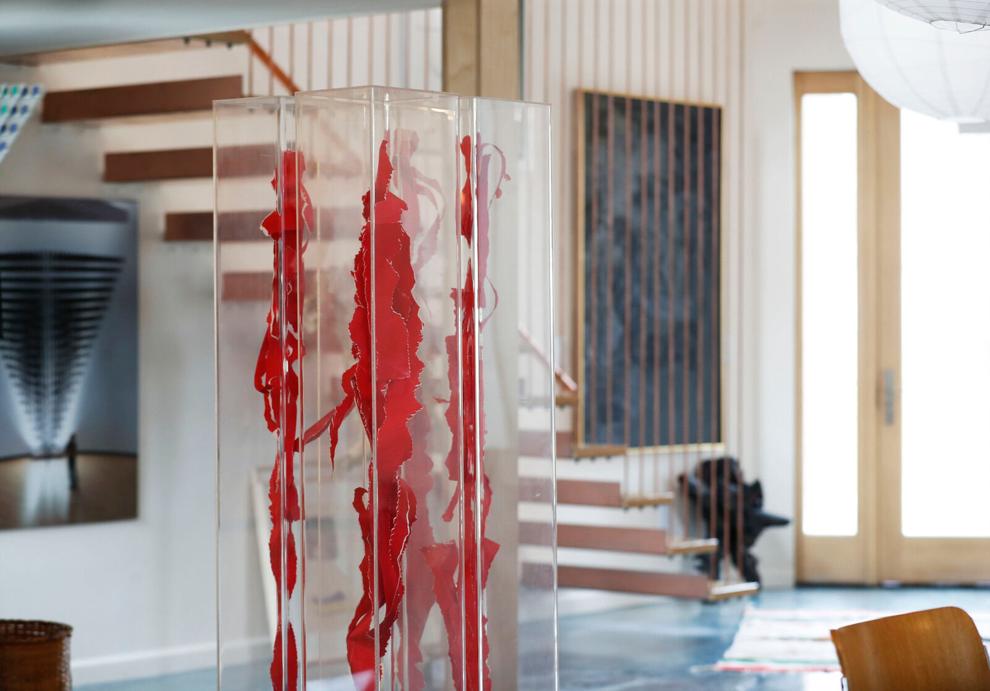 Kitchen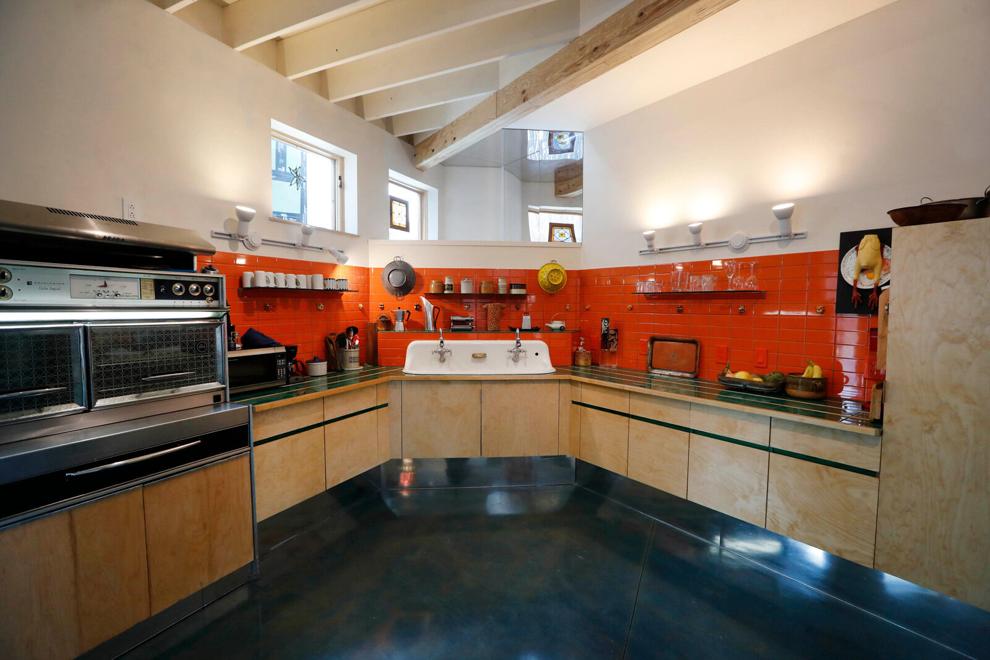 Kitchen sink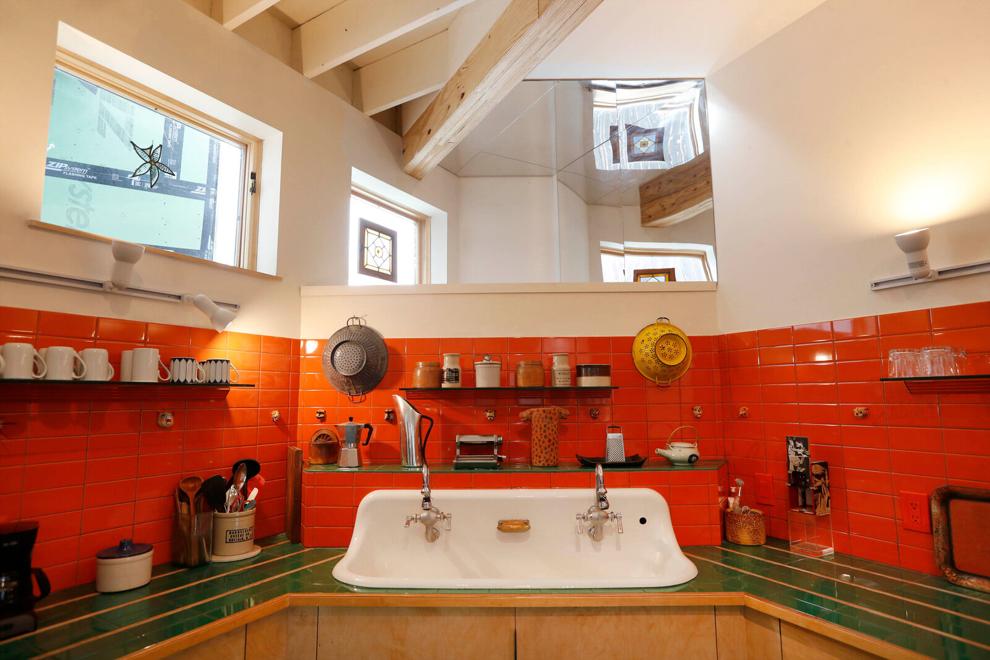 Retro stove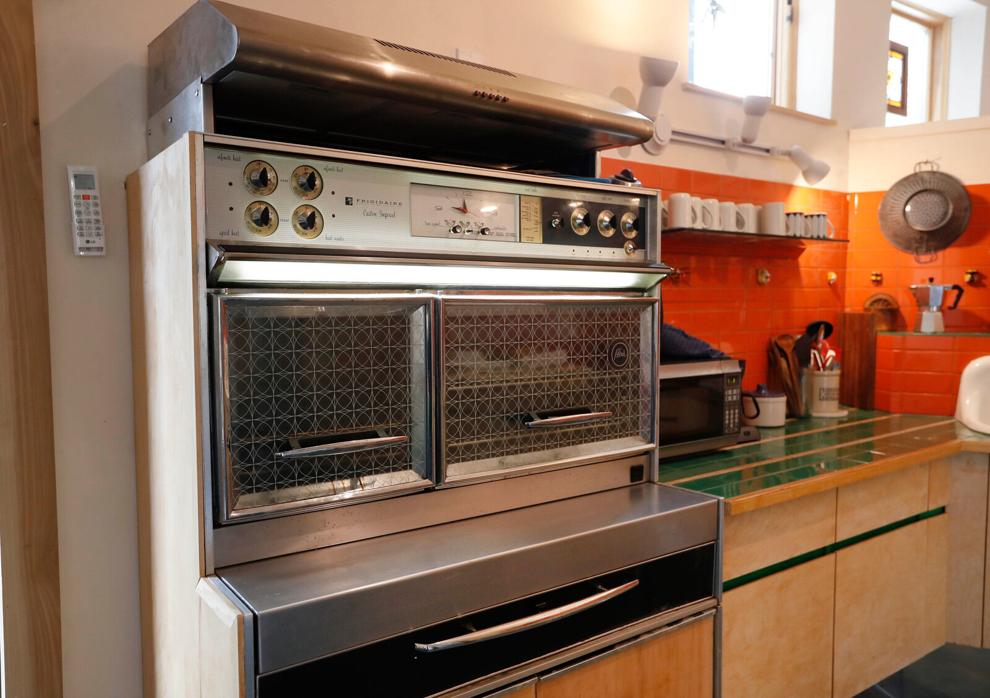 Cherry Chair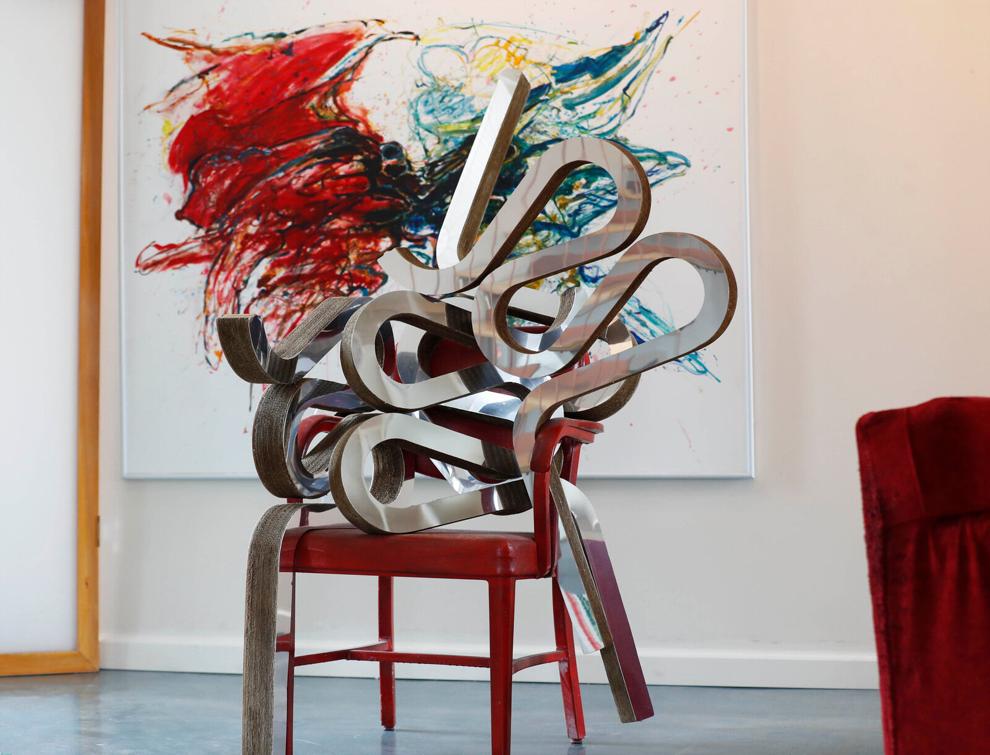 A memorable exhibit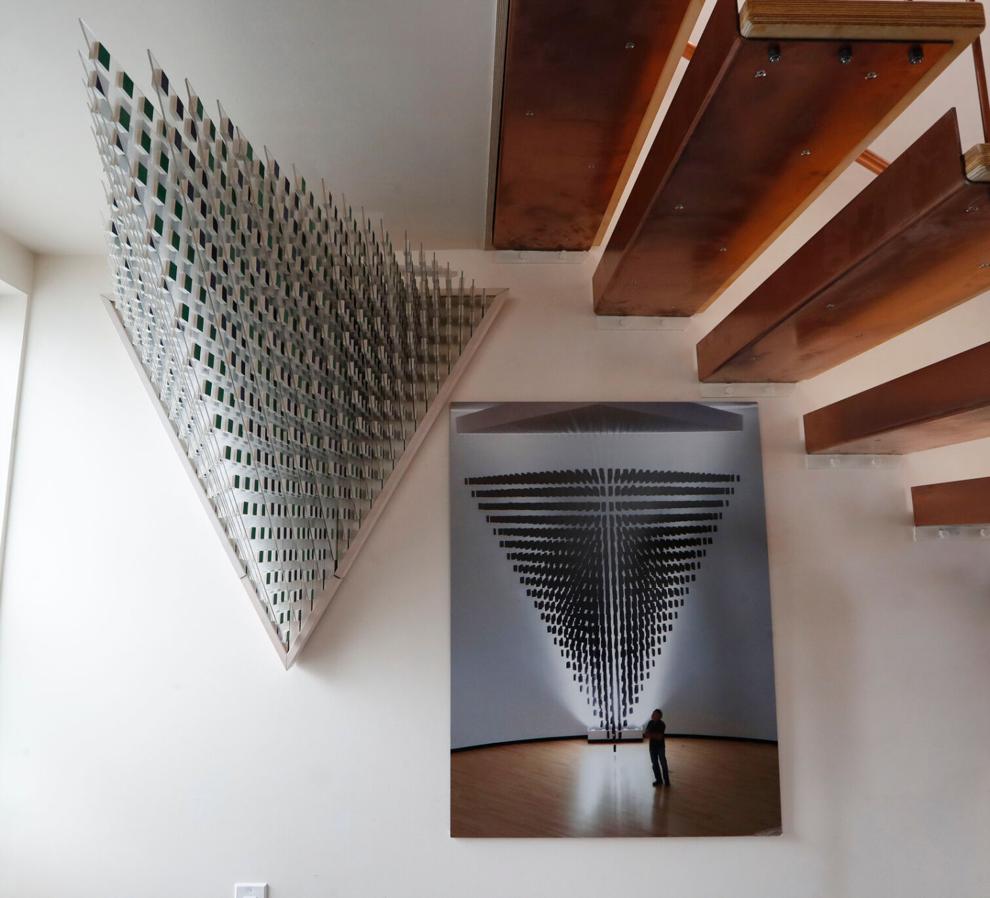 Stairway
Suspended stairway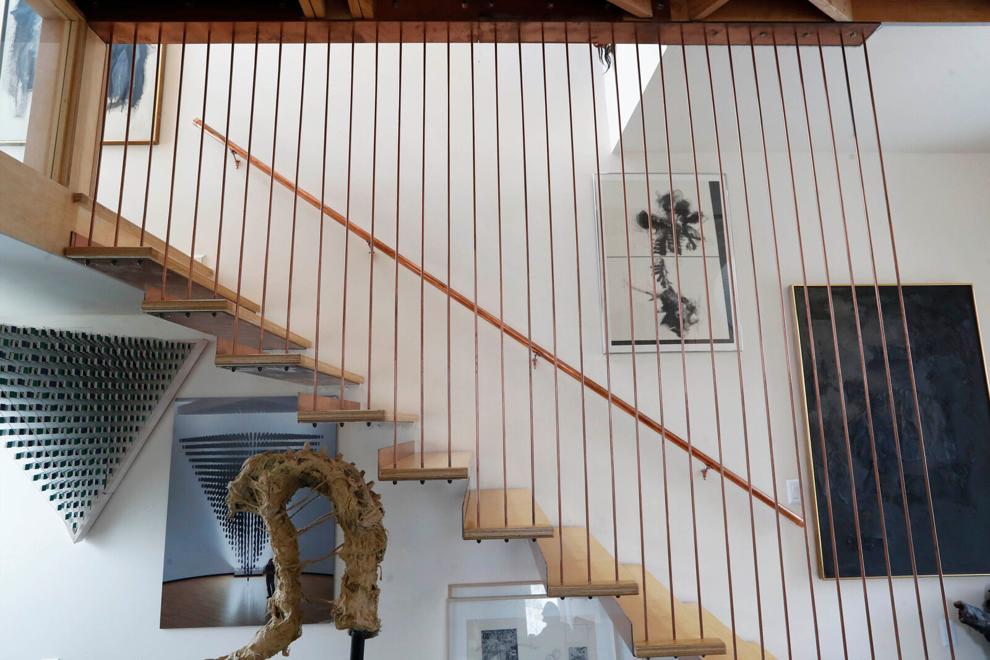 Looking down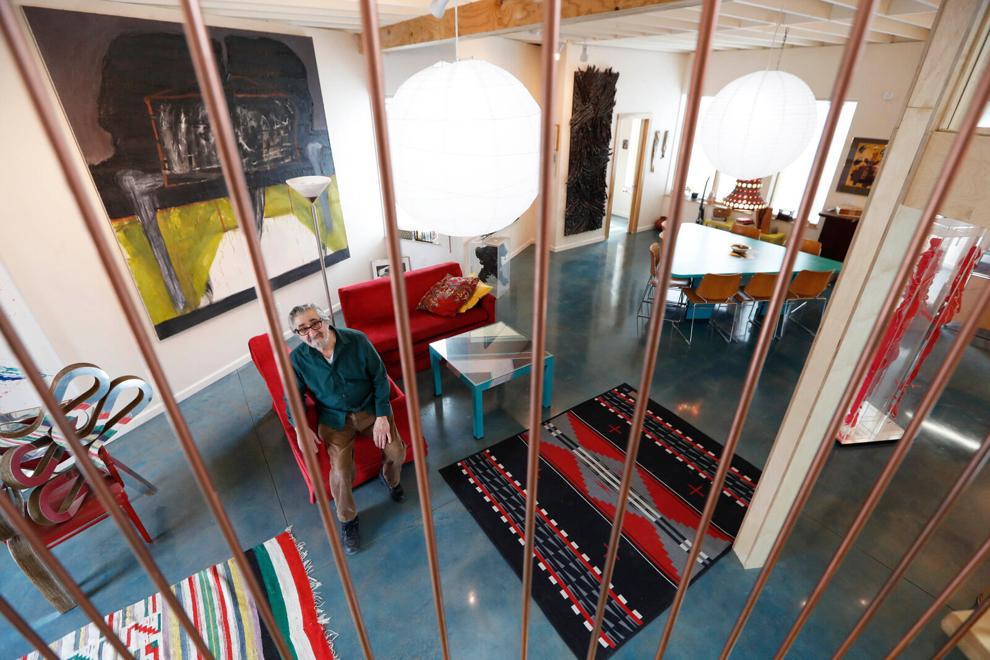 Upstairs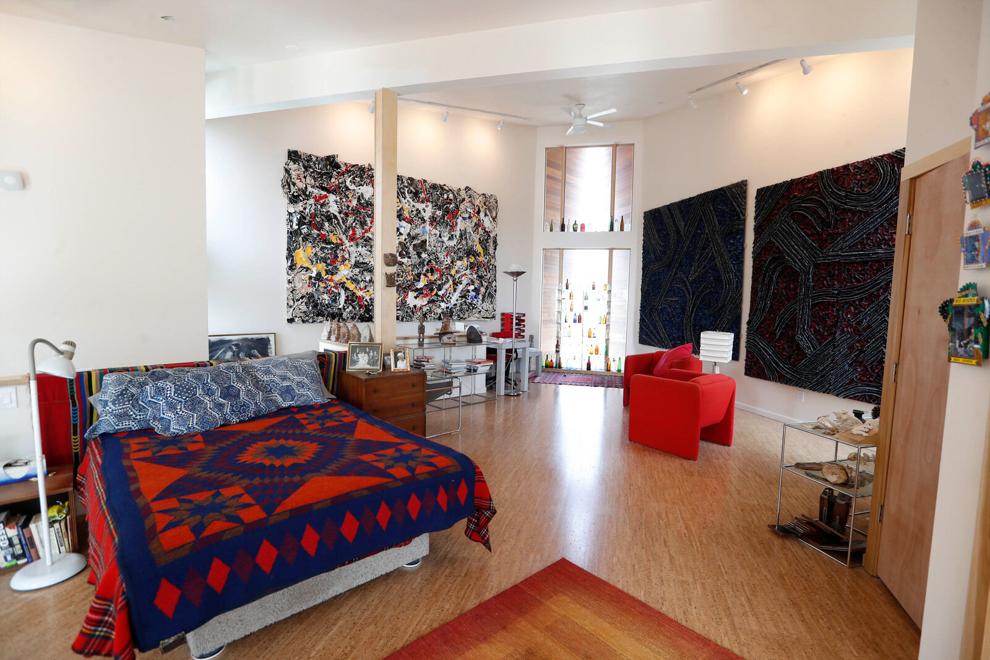 Sitting area
Artwork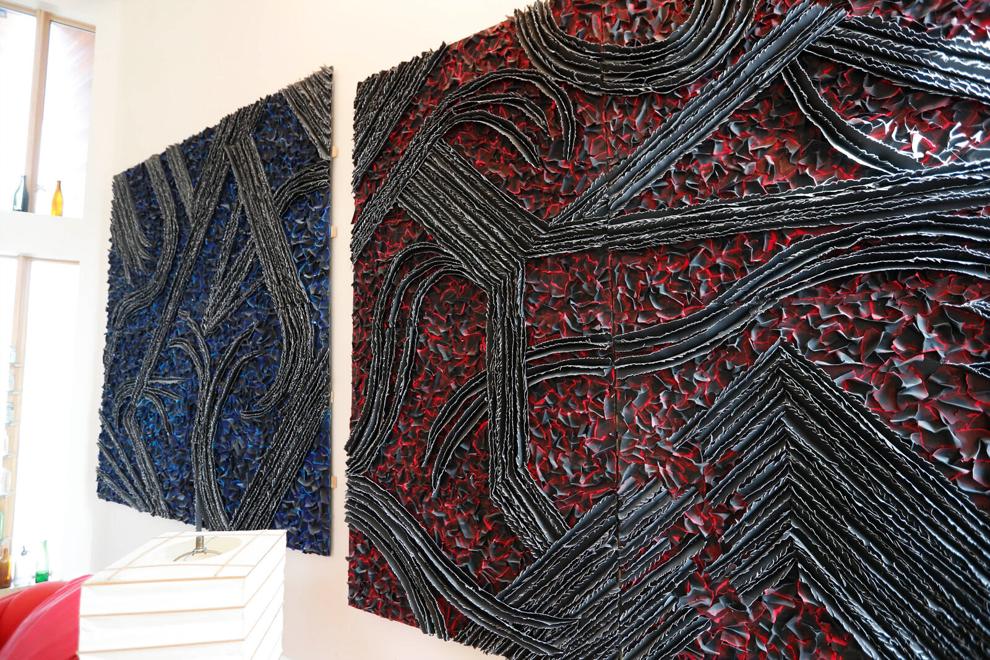 Second floor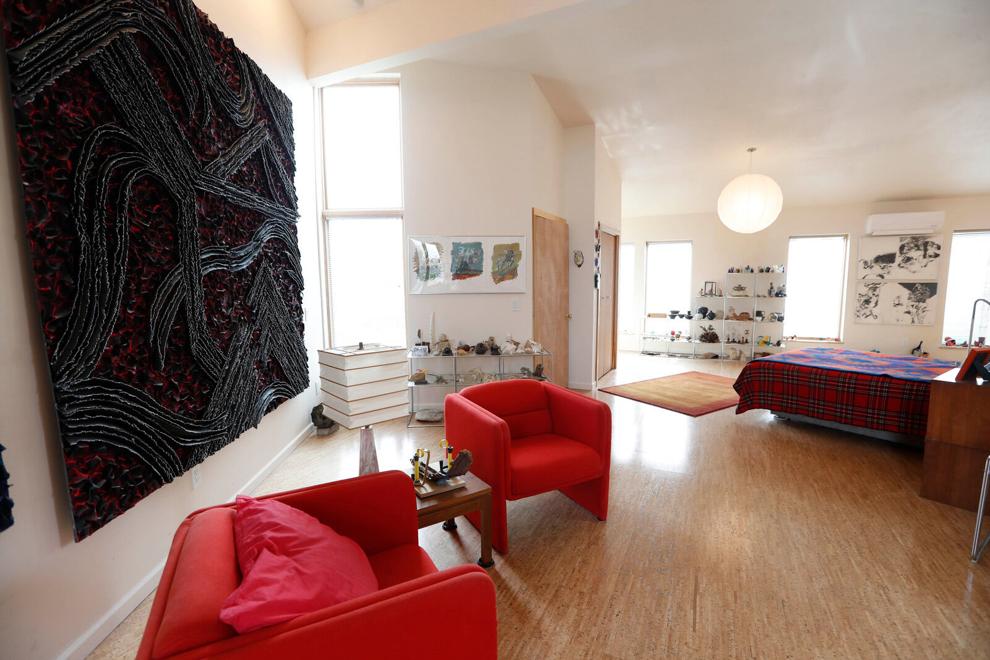 Bottle collection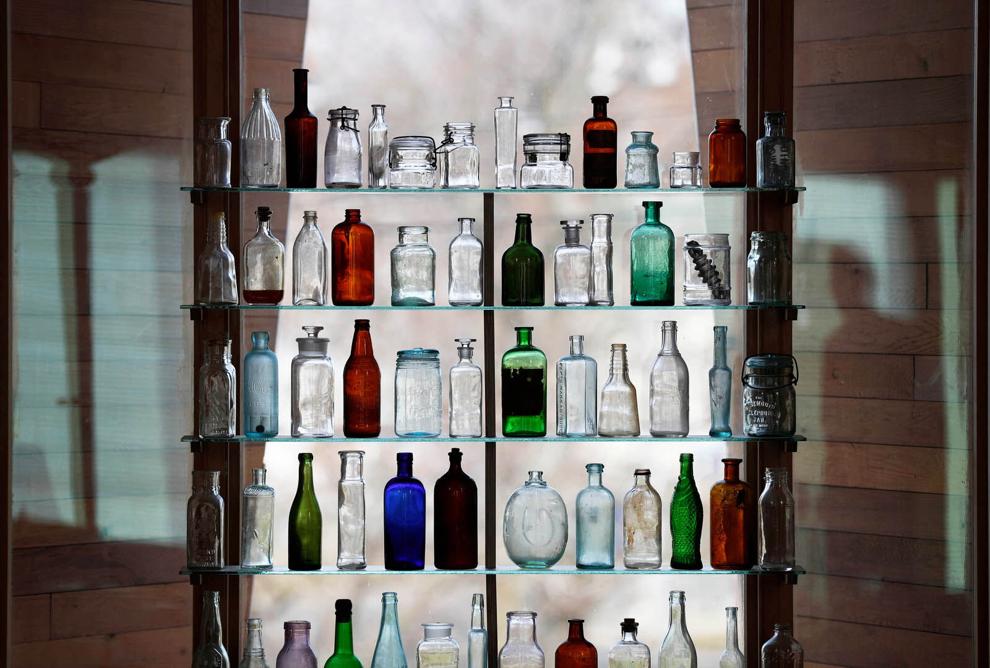 Long window and bottle collection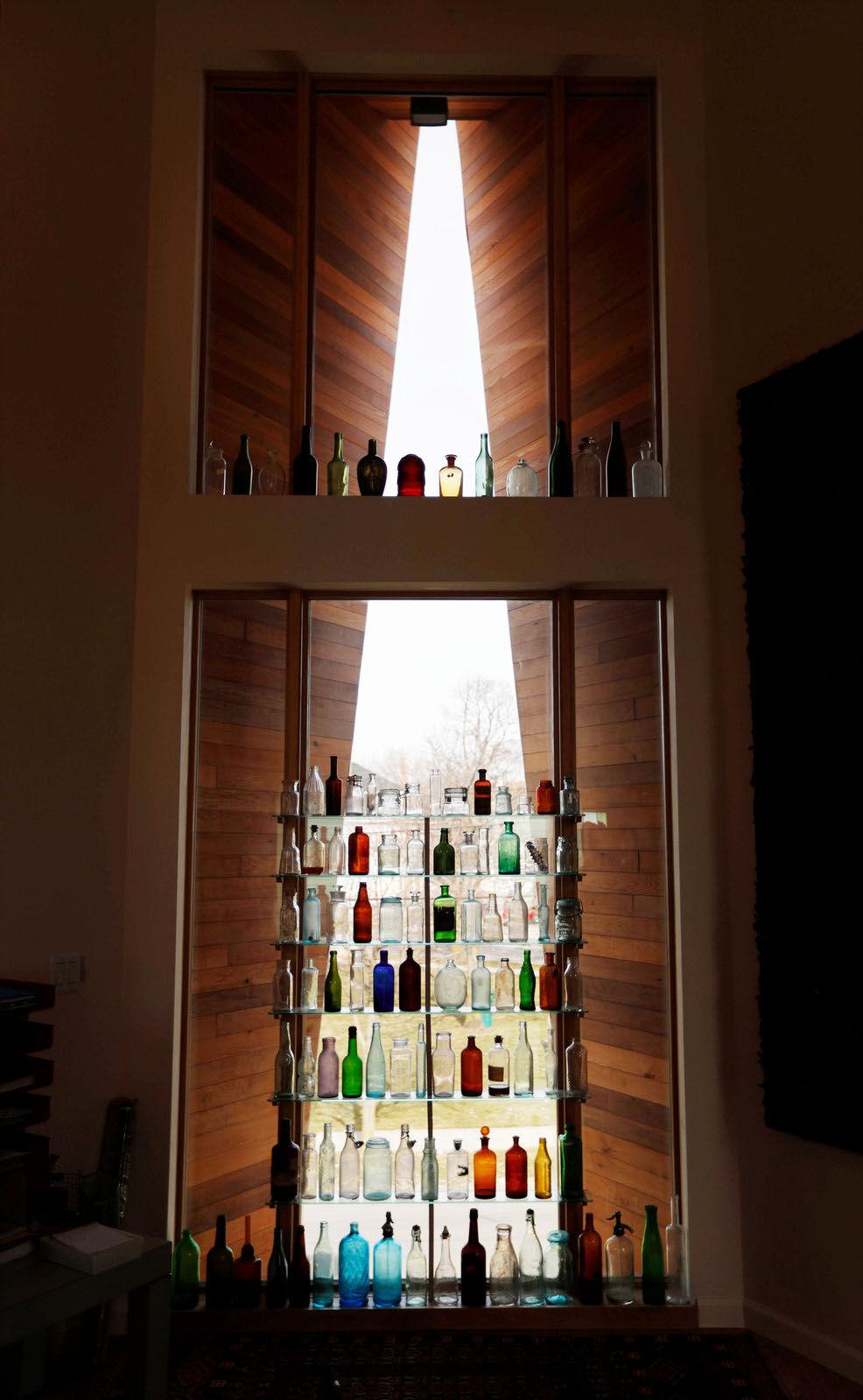 "Jackson Hot"
Cork floor
Creative corner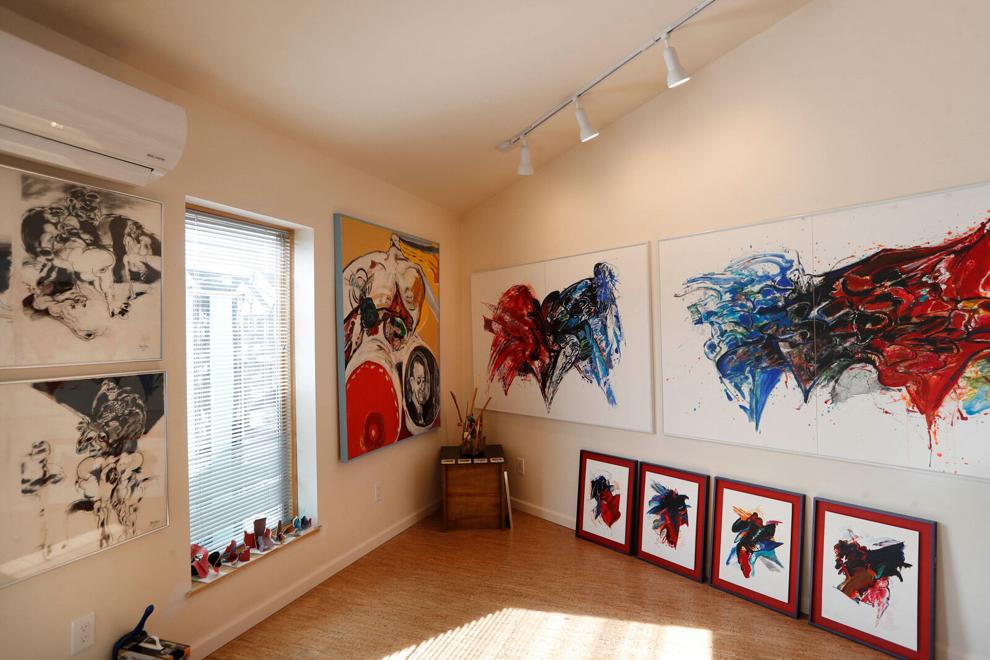 Two paintings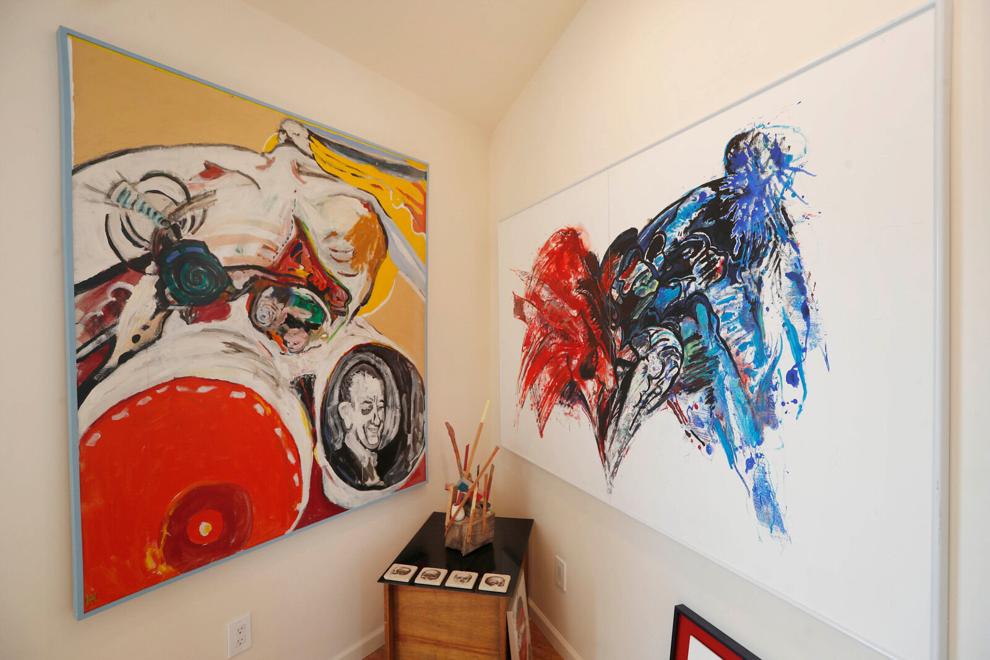 Creative process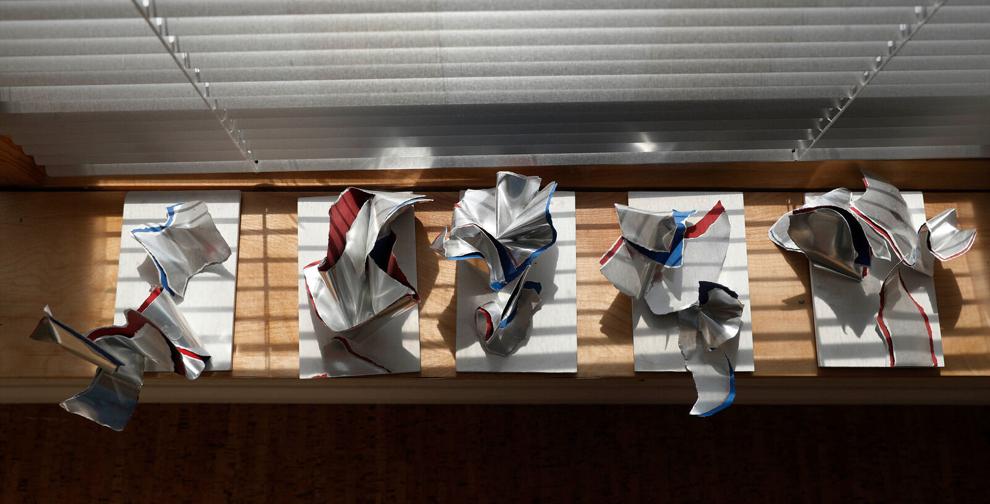 Bathroom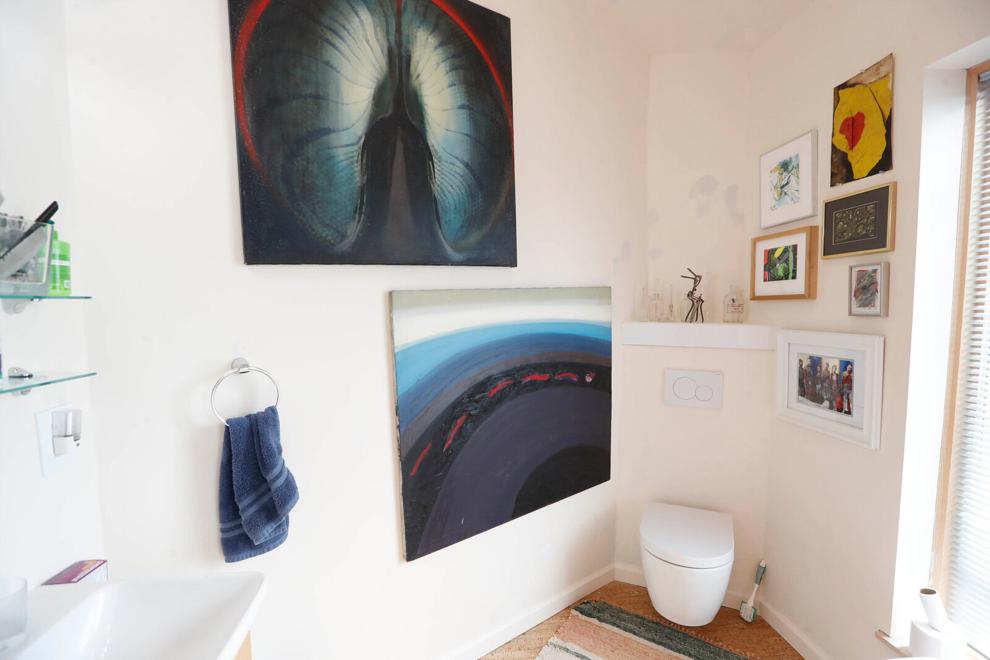 Shower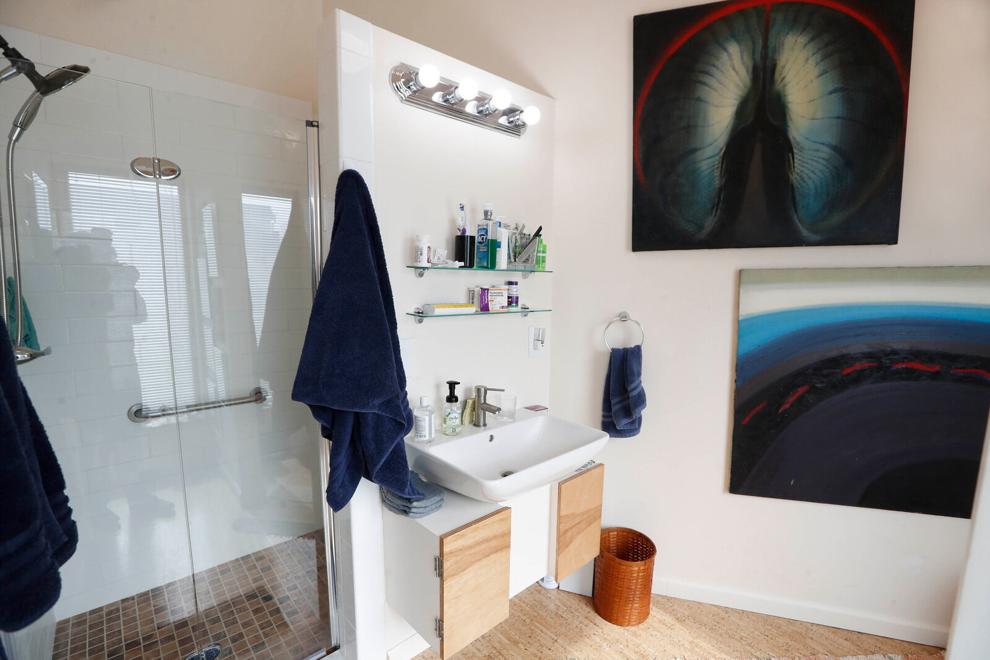 Exterior view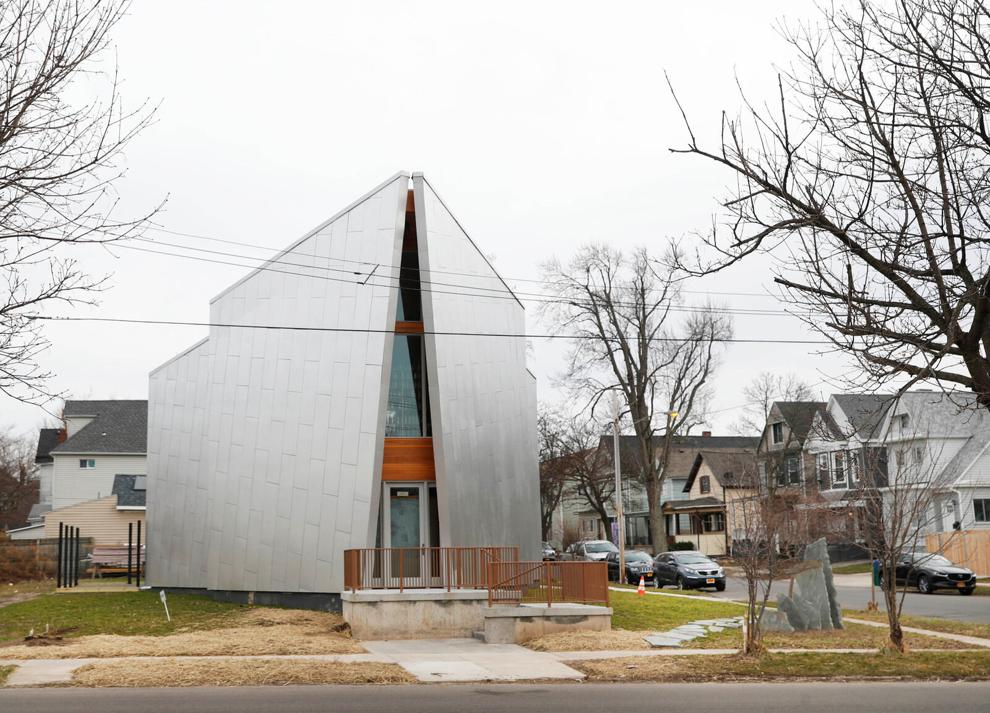 Aerial view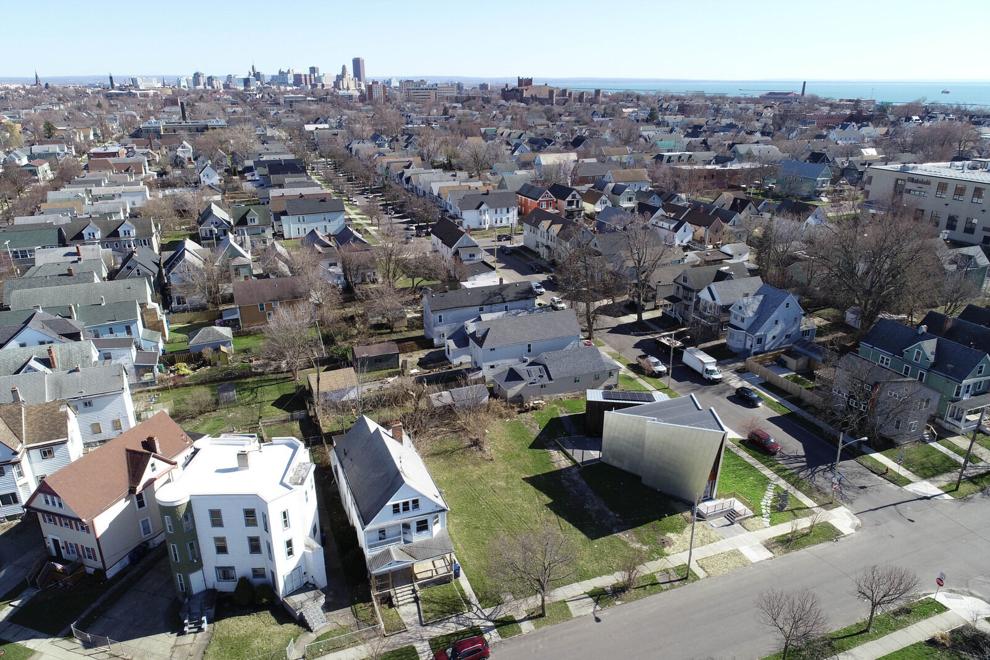 Set apart