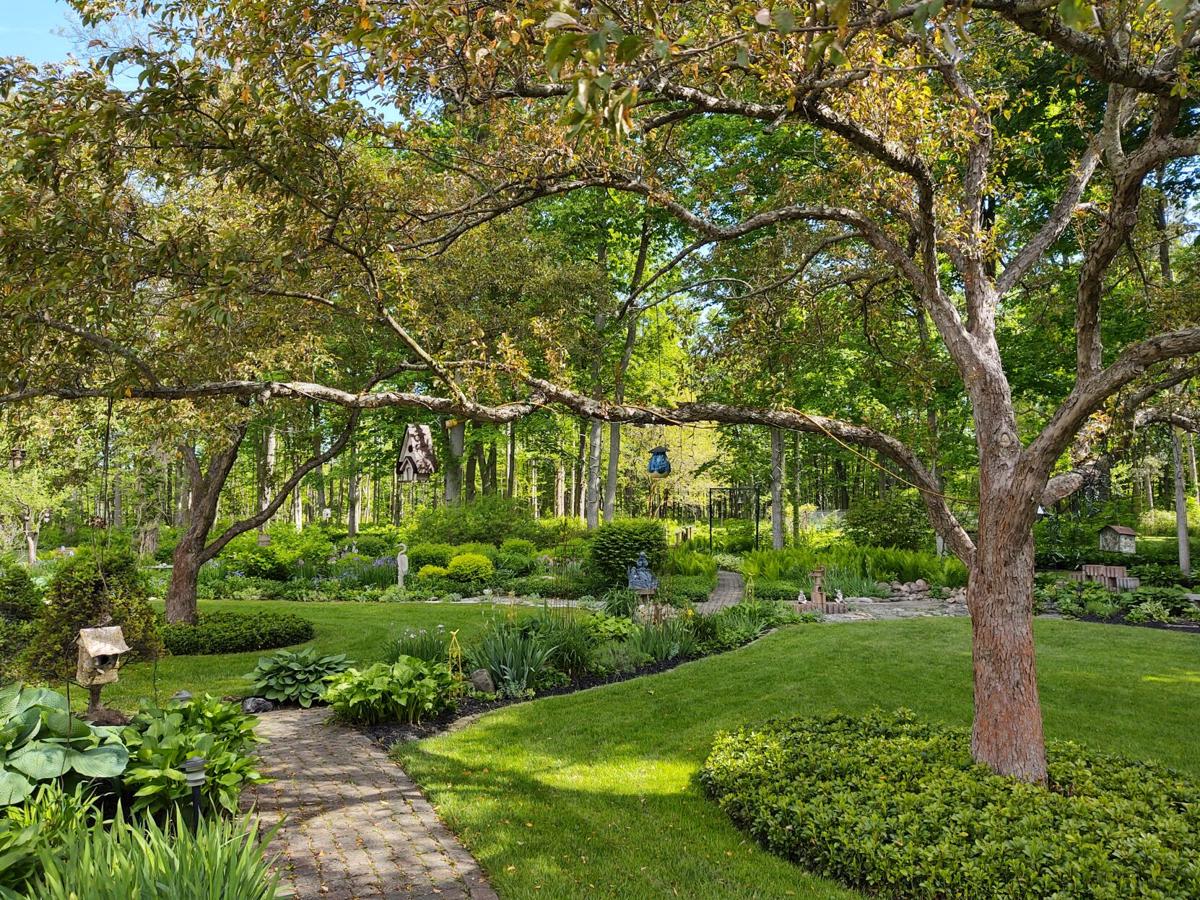 Fran Stoffel and her husband, Don, live in a home with a large garden in Alden that originally belonged to her parents. She and her husband are missionaries; they regularly visit the Bethesda orphanage about 30 miles from Johannesburg in South Africa. They also are representatives for the Every Child ministry which offers support to foster and adoptive parents in Western New York.
Today's Home of the Week story focuses on their garden, which is one of the nearly 100 "Open Gardens" visitors can explore throughout the Buffalo Niagara region during select hours on Thursdays and Fridays in July. Visit the Gardens Buffalo Niagara website for information on obtaining a guide book.
Here is how she described the garden for our latest feature. Photos are at the end:
"It was the year 1967 when my father, Frank Weber, discovered a little 8-acre parcel in the small town of Alden surrounded by Cayuga Creek. He thought it looked a bit like Germany where the love of his life came from – my mother, Crecentia. And so it goes.
"He bought the land, introduced it to my mother, built a home with creek stone and scrap iron from a Buffalo company, which he turned into railings for our outdoor steps. My dad was an artist in his right, but was a farmer at heart. We grew up with sheep, chickens, a pig, a pony and, of course, a dog named Fritz.
"We did chores and always had a vegetable garden. Never time for flowers. My dad's life was cut short at age 48, and our house was never really a home after that.
"When I married, my husband wanted to purchase the property and house to bring it to a place where my dad would have enjoyed rocking in a chair. My garden skills were nil, but I have always loved nature. And so the fairy tale continues today with much love and muscles put into our acreage of flower gardens, our vegetable garden, and our wooded paths that bring serenity to every single day.
"We have hostas galore (approximately 500) that were planted with histories. The mulberry trees are at their finest come the end of June. There are nine varieties of iris that bloom in May/June that take your breath away.
"The astilbe and assorted perennials adorn each other as they bow daily and the wind gently blows. The dahlias, zinnias and glads will soon be blooming as the trumpet vines and clematis climb to their peak. Blackberries, red raspberries, grapes and elderberries will be waiting to be harvested daily.
"I spend precious time in our garden in the mornings, greeted by cheerful woodpeckers, rose-breasted grosbeaks, brilliant yellow finches, cardinals, blue jays, orioles, hummingbirds and families of deer boosting their enthusiasm for the upcoming glorious day.
"However my favorite garden experience is walking with my husband through the paths in the woods and gardens at twilight, listening to the sounds and the silence, the whisper of the breeze, rustling of the leaves and gurgling of the water.
"Looking up, we are awestruck of the evening stars, all in their glory reminding us of our insignificance. That is when gardening becomes the greatest pleasure. What a glorious area we live in; the four seasons bring something new daily," she wrote.
Do you love your house enough to show it off? This could be your chance.
In fall 2017, The Buffalo News Home & Style section launched a digital feature called Home of the Week. Since then, readers have regularly sent in photos and described what they love about their homes. We have featured city homes, townhouses, an 1890s farmhouse, a cabin, a penthouse apartment and many more.
Now that warm weather and gardening season are here, readers have the opportunity to show off not only the interior of their home, but their outdoor spaces as well. Decks, porches, balconies, barns, gardens, ponds ... so many possibilities.
Here's what you need to do if you're interested in submitting your residence for Home of the Week: Tell us about your home in 150 words or less, and email 10 high-resolution images (in JPEG form; horizontals preferred) to homeandstyle@buffnews.com.
It's OK to send the images split among several emails. Please include your name and the city or town where you live. A phone number is also helpful.
We will contact those chosen to be featured. We will include your first and last names and the city or town in which you reside, but not your exact address.
For this digital feature, we will publish some or all of the photos you submitted.
Questions? Problems submitting photos? Please email Home & Style Editor Susan Martin at smartin@buffnews.com.