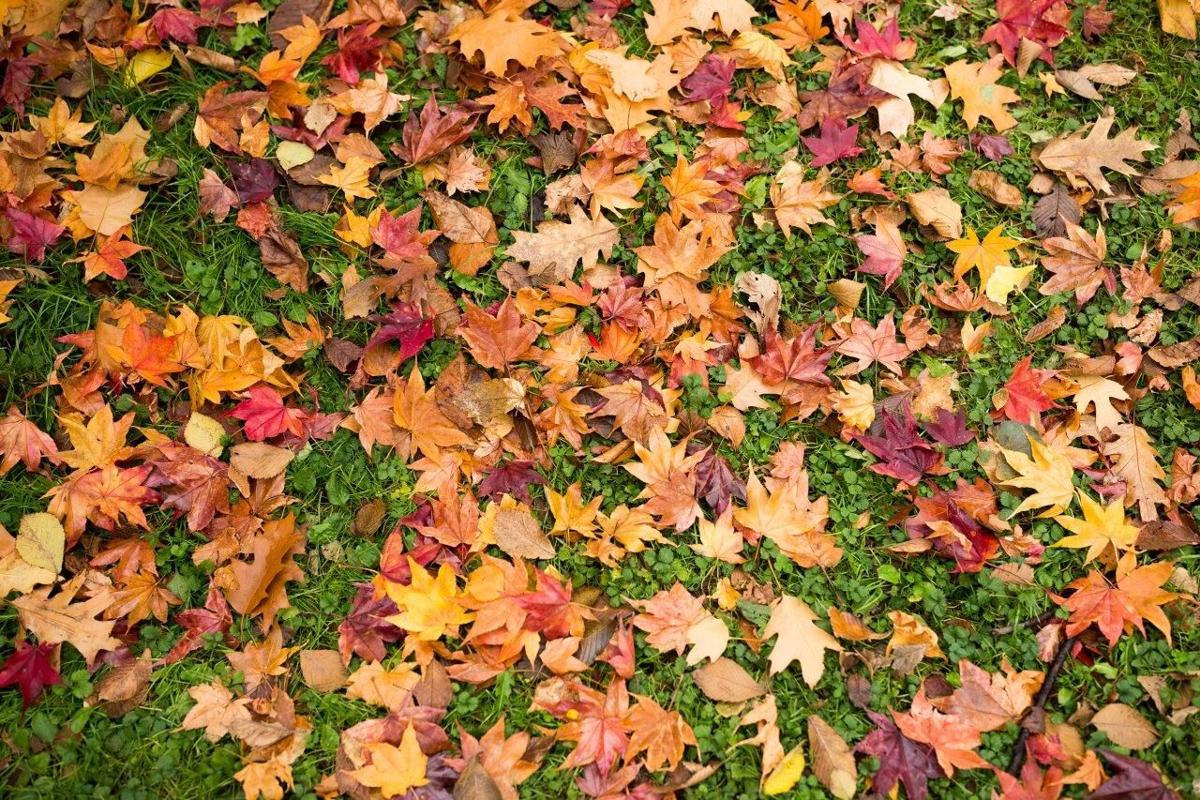 By now some of you have raked your leaves to the street for city or town pickup, but if you look upward you will notice how many have yet to fall. Leaves are a treasure. After they have served the tree, birds, insects and humans, they are a major source of organic matter. Mother Nature routinely uses them as key ingredients in her soil-making recipe. You can, too.
From simplest to most creative, one of these methods may save you from giving away such a valuable commodity.
If you have a few leaves on your lawn, run them over with the lawn mower once, and let them lie. They will decompose and add to the soil. However, if you have thick leaves on the lawn, rake them off because some turf grass fungus diseases can thrive under matted leaves.
Leaf piles aren't just for children to jump in. Standing alone, perhaps in a corner of the yard, a hill of leaves will begin to decompose over the winter, especially the leaves lower in the pile, and you can use this "leaf mold" on your gardens or in your soil next spring. This works in a tumbler, too.
You will have a compost-like material or leaf mold by next spring, if you put leaves in garbage bags or large barrels or garbage cans with holes. (If you don't poke holes it will be a wet mess when you open it – still useful on a garden but not the best method.) A useful trick: Use bagged leaves to stash around a slightly tender shrub or perennials, or line them up as a barrier between your hedge and the deer.
If you don't have a city ordinance against doing this, make an actual compost pile. For example, set up a square or rectangle of pallets or skids, or old screen windows, or use hardwood boards (space between them) to form a box at least 4 by 4 by 4 feet. Then layer in the organic matter, with the thickest stuff on the bottom. (See below for tips.)
Pile chopped leaves (best) or whole leaves on the soil of a flower or vegetable garden – perhaps 4 inches. Avoid oak leaves – or chop them – as they break down with great difficulty. I recommend covering it all if possible (black plastic tarp) so you will get the most decomposition and the least weeds by spring. Then you will turn the leaves into the soil.
Mulch a landscape or perennial bed
Rake leaves on top of tree root areas, or around shrubs and perennials, up to several inches thick. (Beware huge leaves that mat and prevent rain from penetrating.) If you have used woody mulch, ideally rake it back, spread the leaves, and push woody mulch on top. Do not pack leaves or any mulch against tree trunks.
Leaves are a great lower layer for a new bed you're preparing for next season. Pile up to 12 inches with some soil, manure or compost on top, and continue to build the bed with other material (compost, dead annuals, grass clippings, similar to building a compost pile.) At the top of the bed, use finished material such as composty topsoil, purchased quality topsoil or balanced "garden soil" such as Big Yellow Bag™ or Bumper Crop™ soil products. Cover it for the winter.
What joy in November to know you have improved soil with natural organic matter, saved tax dollar money and taken steps to make your spring garden startup easier.
Vary this formula depending on what you have. Start with piling layers, 6 to 8 inches thick, of:
• Sticks, brush, twigs, dead woody plants. (Put this coarse matter on the bottom.)
• Leaves and grass clippings.
• Manure if you are lucky enough to have it (or at least some soil or compost); this contains the most microorganisms that heat up the pile.
• Garden debris (tomato and squash vines, dead annuals, all finished veggies unless diseased).
• Weeds without the seed heads.
• Kitchen scraps: fruits, vegetables, broken eggshells, cut-up melon rinds and banana peels.
• Coffee grounds and tea.
• Leftover soil mix from containers.
Insects and microorganisms decompose the organic matter – producing actual heat if you have layered it well – until it turns into wonderful compost. Adding manure or compost within the pile accelerates decomposition. The process could take a year or two if you do nothing to it. (If you turn it, this happens much faster.) Keep the pile slightly moist. You do not have to cover it, but if you do, then check that it is somewhat moist during dry periods. You can make this pile in a shady or sunny area.
Do not use waste from anything that eats meat (dogs, cats, humans) or cat litter. All manures are good, from birds and guinea pigs to horses and chickens. Do not add meat, poultry parts or fats. In a city or town, avoid kitchen garbage in general as it can attract rats. (In the country, I bury fish bones or seafood shells 15 inches into the pile.) Do not be afraid of doing this perfectly, since the composting process teaches you what works. Enjoy it!