Something is missing in many garden lessons. The instructor or writer addresses "right plant, right place" and goes on about site analysis: Know your sun or shade, soil, wind, and drainage etc. and choose plants that suit that location. What's missing: how the plant behaves over time, as it grows.
Does the plant stay compact? Does it get tall and floppy? Does it form a broadening mound that needs dividing, or does it spread by seeds or rhizomes vigorously? In horticulture we call those behaviors the plant's "habit."
I have often declared: "I wouldn't have a garden without Filipendulas!" The plant is also called Queen of the Prairie, and its pink, fluffy plumes make it a car-stopper.
The trouble is passions like mine can backfire. People will complain, "Oh no … That plant spreads… It's so invasive!"
My response: First, I suggest that we save that word "invasive" for truly harmful non-native plants that do economic or ecological damage. Then comes the point about plant "habits." Before we make a commitment we should know how they behave. Spreading isn't a bad thing if a plant is placed where a generous sprawl suits your purposes.
But sometimes this lesson comes too late. Before you place the extroverts – many that are wonderful plants – with the introverts, know what to expect.
Not invasive. Just enthusiastic!
Below are some terrific plants that I highly recommend for perennial gardens, front yards or landscape beds. They are easy to grow and even compete well with many weeds and other assertive plants. But they should come with full disclosures:
• They do spread – a good thing for a dramatic show, or to cover an area quickly.
• They spread quickly once they're established (typically by year three).
Five bold beauties
1. Filipendula rubra (Queen of the Prairie): The pink plumes (about 4½ feet tall) are gorgeous and jagged leaves pleasing. It does well in partly sunny to partly shady spots, and even thrives in full sun if the soil is moist enough.
2. Black-eyed Susan: The native is Rudbeckia hirta, and the most popular one is Rudbeckia fulgida 'Goldsturm'. Many cultivars are available, most looking like bright yellow daisies. They make a strong show in late summer. A different rudbeckia is the spectacular 'Herbstonne 'that grows to 6 feet or more – just know where it fits. All rudbeckias please the pollinators.
3. Shasta daisies: These have a bad reputation because of Grandma's daisies. The old ones spread too fast and weren't that exciting anyway. Check out new cultivars (the choices vary in different garden centers) that have sturdy stems, a more controlled habit and bigger flowers in shades of white and creamy yellow.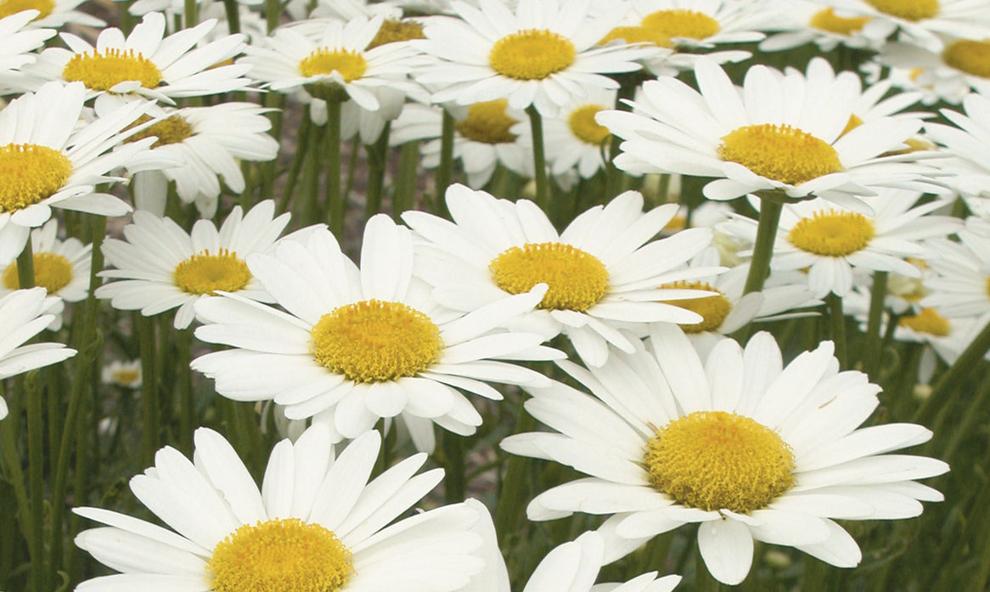 Brightside Leucanthemum superbum (shasta daisy). Photo courtesy Proven Winners (provenwinners.com).
4. Stachys byzantina (lamb's ears): It is grown for its fuzzy silver-gray foliage, and it's wonderful as the front of a large perennial border or bank covering. If you don't like the spiky flowers, find cultivars that don't flower. I almost hate to recommend this plant in person because someone always complains that it spreads so much. Honestly, it's easy to pull out and control. Like my Filipendula, I wouldn't have a garden without it.
5. Alliums: You're seeing the round, tall, purple flower heads everywhere right now, and you say, "Wow, I want those." They are usually planted as bulbs in fall, and someday you'll have way too many. There are many types of alliums, including those with bell-shaped flowers that attract hummingbirds. I am removing the purple ball alliums from my perennial beds because they have become too much of a good thing.
If only I'd planted them where their habit was acceptable, I wouldn't mind them at all. Point taken.
Sally Cunningham is a garden writer, lecturer and consultant.
* Read Sally Cunningham's column from last week.
* Check out Susan Martin's roundup of this season's garden walks and tours.