Laura Constantin has a quiet and charming place to relax. Welcome to the She Shed, an 8-by-10 backyard structure designed by her husband, Jim, and built by the couple four years ago in the backyard of their City of Tonawanda home.
"We eat out here. I read out here. I bring music out here. It's where I breathe at the end of the day," said Laura Constantin who, like her husband, works in medical health care planning and design at Roswell Park Comprehensive Cancer Center.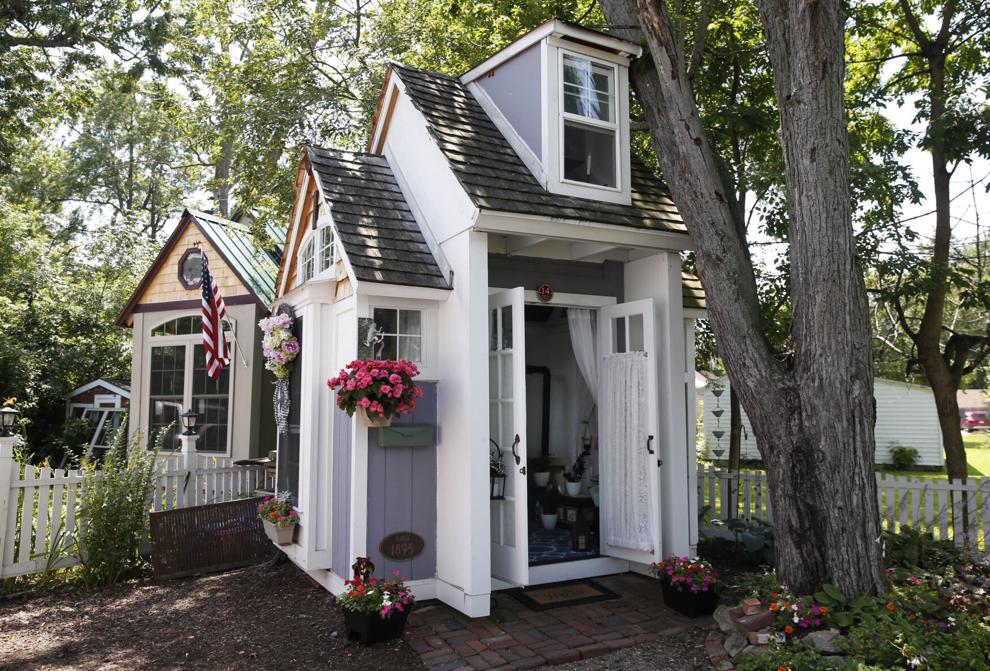 Their dog, Augie – a Pomeranian mix adopted from the City of Buffalo Animal Shelter – likes to nap in the She Shed, which is why the Constantins joke that it's the biggest dog house in town.
Jim Constantin, an architect, designed the shed using a standard shell as the base. The couple added two projected windows and a dormer.
Laura Constantin, an interior designer, calls it "a do-it-yourself special" made with cull lumber and clearance supplies they found at big box stores.
"It all came together because he had the base for the building, but we really didn't want it to be just a shed so it just evolved," she said.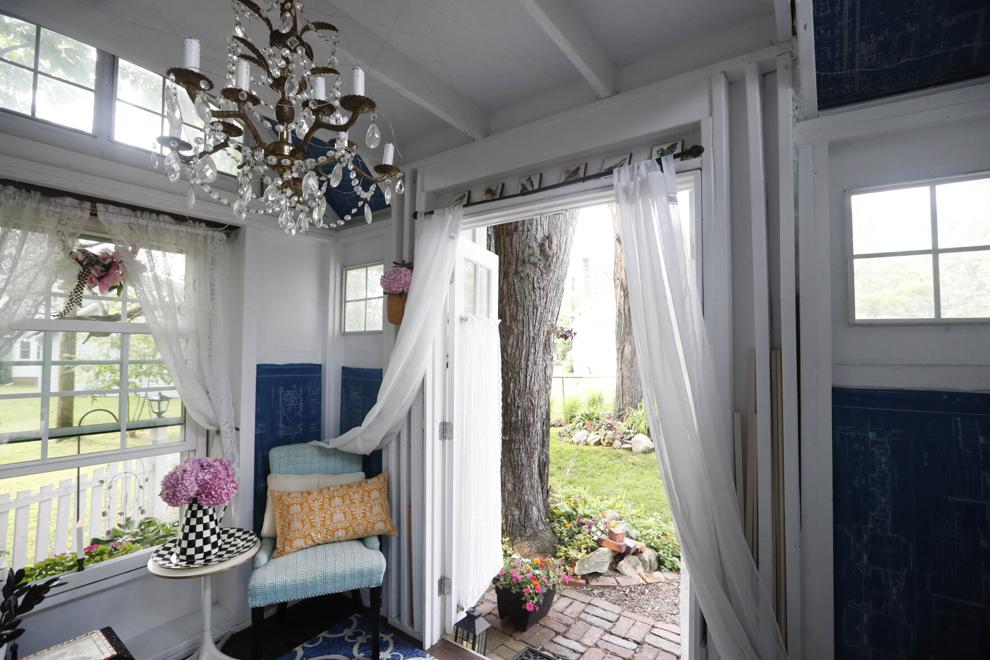 Some details: The interior is decorated with lace curtains from Goodwill; a chandelier from Craigslist; a window seat; three upholstered chairs from the Sanborn Old General Store antique co-op; vinyl plank flooring; potted plants; vases of pink hydrangeas from their garden; doll houses (which are architectural models made by Jim Constantin), and antique blueprints purchased online and hung on the white-painted walls. There's also a small loft area that functions as extra storage space when needed.
The exterior, with French doors, is painted white and grayish-purple to match the color of their 19th-century house. Laura Constantin designed, built and installed the white fence. The lamps on the coordinating posts are LED solars.
The He Shed is built near the She Shed on their property next door – another DIY project. It's not completely finished but still functional.
"It's been about three years in the making," said Constantin, who uses it as a workshop for laser cutting and, as he put it, "fooling around with prototypes for the doll houses."
• The Constantins have done extensive gardening in the back, front and sides. The property previously had only trees and beds of ferns.
"We removed the overgrown pine trees and created these curvilinear beds. Most of the plantings we've either gotten from friends, found on clearance at home improvement stores, or divided to make additional plants," said Laura Constantin.
One of her favorites this summer is a big hosta along the back fence. "It's going to get three times the size. Our friend brought it to us last year. I just love when we can trade plants," she said.
• The couple replaced an old rotted deck and also extended the outdoor living space to include a dining area under a gazebo. The cushioned teak dining benches have pillows in various designs and colors.
• Laura Constantin enjoys hand painting furniture and also collects patterned ceramic pieces from the Aurora-based MacKenzie-Childs. MacKenzie-Childs was the inspiration for a table she painted that is displayed in the backyard.
• The Constantins' garden is on the City of Tonawanda Garden Walk. A Night Lights tour of about 15 gardens is scheduled from 8:30 to 11 p.m. Aug. 6. The daytime tour of 25 gardens is scheduled from 10 a.m. to 4 p.m. Aug. 7. Look for maps at the end of July in the City of Tonawanda at City Hall, the police department, the public library and some local businesses. Or go to the City of Tonawanda Garden Walk Facebook page.