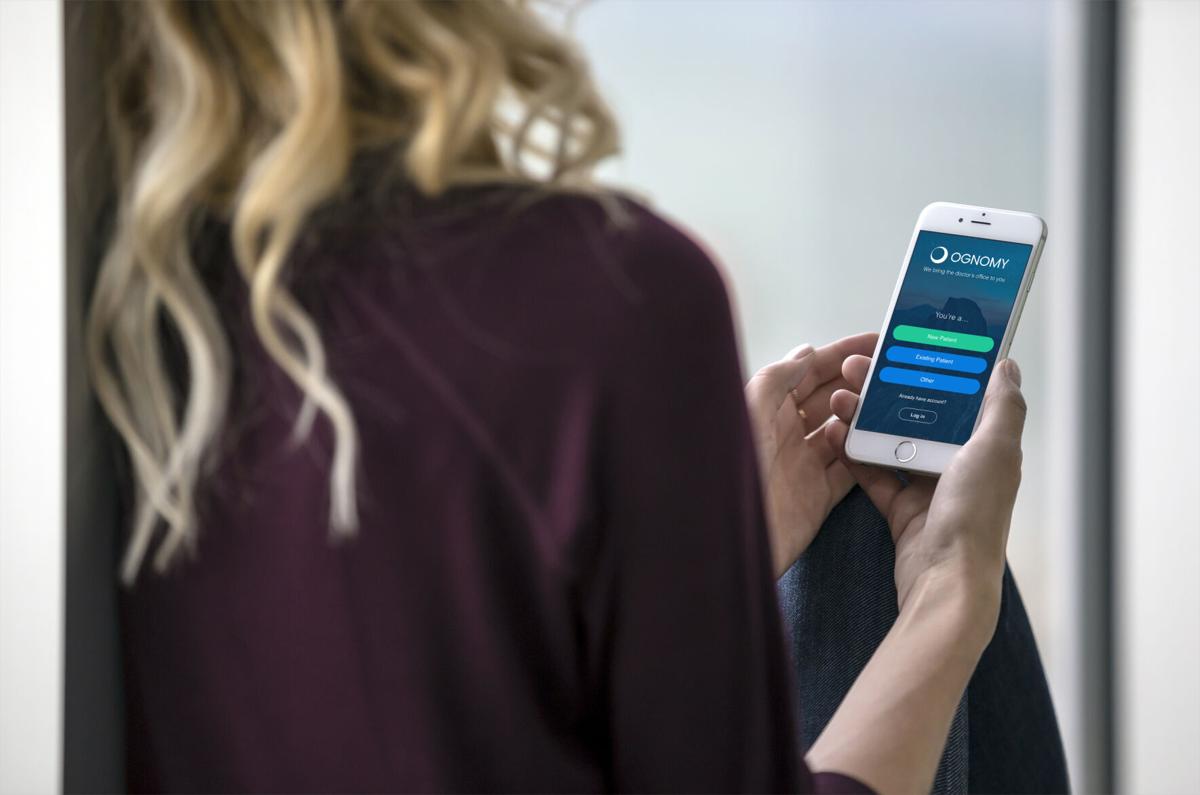 Dr. Daniel Rifkin was completing a master's degree in public health several years ago when he began to wonder if telehealth could help those with obstructive sleep apnea.
"It got me thinking more and more about creating something where patients don't have to come to a sleep center," he said. "Instead, the sleep center comes to them."
With help from innovators in Buffalo, he developed Ognomy, a new app available at the Apple App Store or ognomy.com.
Rifkin, who founded Sleep Medicine Centers of Western New York in 2002, said the app will allow he and five other providers in the practice to examine patients by computer or smartphone, ship them sleep study equipment if necessary and arrange treatment if the study confirms sleep apnea.
The approach will save time for patients, he said. It will be covered through most health insurance, and cost less than a clinical sleep study for those with high-deductible plans.
Sleep Medicine Centers has six locations across the region that serve more than 2,000 adults and children with problems that also include insomnia, restless legs syndrome and sudden daytime sleeping, though sleep apnea is more common by far.
It affects more than 25 million Americans, 80% of whom don't know what makes them so tired during the day, even after what they believed was a full night of slumber.
Instead, muscles in the throat relax and close during sleep. The body subconsciously awakens – sometimes hundreds of times a night – as it tries to restore normal breathing. Left untreated, it raises the risk for heart attack, high blood pressure, Type 2 diabetes, liver problems and mishaps due to drowsiness.
"Treating sleep apnea is just as important as addressing other medical conditions," said Rifkin, a Williamsville native who graduated from medical school at Dartmouth University, and trained in sleep medicine as a fellow at the University of Michigan before returning home. He is also a clinical assistant professor of neurology in the University at Buffalo Jacobs School of Medicine and Biomedical Sciences.
"We're now seeing patients I could never see before who are in Binghamton, Rochester, New York City or other parts of New York State," he said.
Q: What are common symptoms of sleep apnea?
Most people with sleep apnea will have loud snoring, but in women it could be more of a puffing-type sound. Patients can have night sweats or get warm at night where they're throwing the covers on and off. They tend to find themselves going to the bathroom a lot at night. They might have nighttime heartburn or wake up in the middle of the night with a sour taste in their mouth. One of the biggest problems is just feeling tired.
Once we make the diagnosis, it's amazing how many patients we can take off their reflux medicine and blood pressure pills and anti-depression pills. All these pills were for symptoms, but not the underlying problem.
Q: Who tends to have sleep apnea?
Sleep apnea doesn't discriminate. We used to think it was only in overweight people, when in fact that's not true at all. Close to half of patients are not overweight. It has to do with the narrowness of the throat or the way the muscles collapse in the throat during sleep.
Q: How did you come up with a name for the app?
It comes from the Latin word "physiognomy," which is the ognomy part. That involves the art of diagnosis through facial expression.
Q: How do diagnosis and treatment differ when you're using the app?
We're able to obtain all the paperwork and all the patient's history through the app. We take a sleep history through the app. We talk face-to-face with the patient. We can examine the patient's throat and windpipe area. We're getting a sense of their facial structure so that we can order appropriate testing. We can use home testing equipment – a home sleep test – we mail to their home. They use the equipment and send it back the next day. Results are hand scored by a technician and then reviewed by the doctor. And then the patient schedules a follow up visit to go over the results and to talk about treatment.
Q: What sort of equipment do you mail out?
It's called a Type 3 home sleep test. It monitors airflow coming out of the nose and mouth. There's a belt that goes around the chest that measures the effort or movement of your chest. And then there's a finger probe that measures your oxygen level and your heart rate. And all those data points together can point to the diagnosis of sleep apnea.
It allows patients to be scheduled very quickly, as opposed to an office visit that might take four to six weeks.
Q: What kind of Covid-19 office visit protocols do you have in place?
A patient first is screened over the phone and waits in their car the day of the appointment before they come in for the visit. Once they come in, they have their temperature checked. They're seen and scheduled out rather quickly. Even for our sleep studies at night, we follow very strict protocols for Covid.
Q: How are patients treated for sleep apnea?
The most common treatment is something called nasal CPAP, which stands for continuous positive airway pressure. It's a small mask that goes around the nose and it sends air into the throat area in a very low pressure to keep the throat open. What we do with the app is send them something called an auto pap machine, which they wear at night in their home, and it sends data to the (internet) cloud where we can evaluate it. Then we can make adjustments through the cloud back to their machine, so they don't necessarily have to come into the sleep lab to make those adjustments. We couldn't do it without this newer technology. There will be some patients that really need to be titrated or go on CPAP in the laboratory, because they have more complicated types of sleep apnea.
Q: Some people complain that they started using CPAP devices five, 10 years ago and decided that they were too challenging.
They've really improved the technology, the mask interfaces, the humidity. The tubing is now heated. There have been a lot of innovations to make CPAP more tolerable and a lot more comfortable. The app allows us to do more interactive engagement with the patient as well, as opposed to saying, "We'll see you in three months."