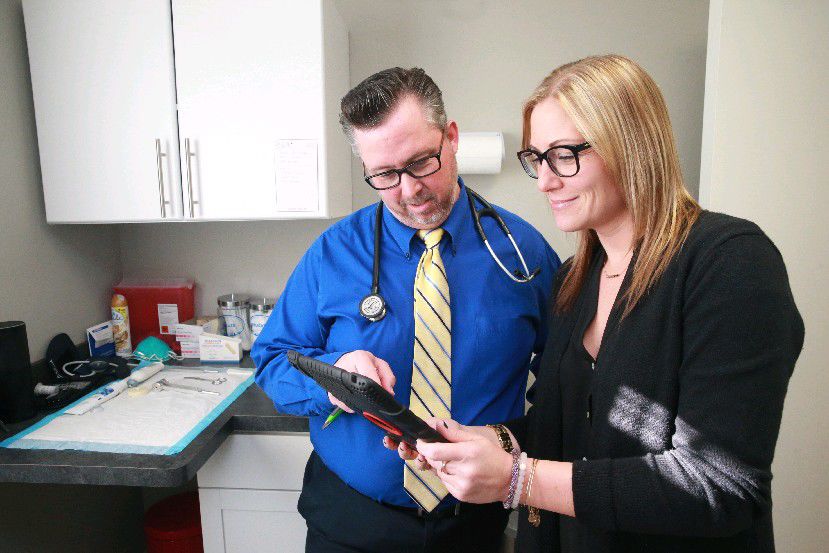 Charles W. Burns enlisted in the U.S. Air Force a quarter century ago and worked as an electronics specialist on the cruise missile program during Operation Desert Storm. But his interests turned to health care after he returned to his native Western New York and enrolled in the biomedical technology program at Erie Community College.
"We had to take anatomy and physiology and I loved it," he said.
Burns went on to receive a bachelor's degree in nursing from D'Youville College, then went to work in a Tampa, Fla.-area eye clinic and Wilson Memorial Hospital in Binghamton. He moved back home about three years later to pursue a master's from Niagara University as a nurse practitioner specializing in family medicine.
Why go back to school again?
"A lot of it, as a floor nurse, was my inability to make decisions for patient care. It was more following orders. I wanted to be more involved," he said.
Burns, 45, spent the next 15 years working in a Hamburg primary care office before setting out on his own late last year – sort of.
He has forged Destination Wellness in the lower level of a medical office building at 6435 Webster Road in Orchard Park, space he shares with a chiropractor, acupuncturist and massage therapist. His wife, Kathy, and a stepdaughter, Katie Rowley, help administer his practice. He also has two other stepdaughters, Melissa Bailey and Jill Marrinaro and two granddaughters, Cohen Bailey, 5, and her siser, Reese, 3.
Q. What was the concept for Destination Wellness?
Over the years of treating patients, I've used a lot of ancillary providers. We see a lot of back pain, a lot of chronic pain, in primary care and I thought, "Wouldn't it great if someone could come and see their primary care provider about a back problem and we could walk them over to the chiropractor and, on their way out the door, they can make an appointment with the massage therapist?" I got to know a chiropractor, Dr. Brian Veros, and we worked pretty well as a team. He and Andrea Shilling, who's with Acupuncture Works, decided to jump on board last November, December, when we opened. Massage therapist Sheri Pixley, of Hands On Healing, started here in March. She's here full-time. Dr. Veros and Andrea are here part-time. They all sublease from me.
Q. Some changes in 2015 allowed you to set up a practice like this.
The Nurse Practitioner Modernization Act basically gave the ability to practice independently. According to New York State law, we don't need a collaborating physician but according to some of the insurance companies, we do. I have to have a signed form that says a particular doctor is available for me to call if I need to. Dr. Steven Herman, who's in Hamburg, has agreed to do this. One of the things they're still working on in the law is that nurse practitioners still can't sign home health care orders, so one of the things Dr. Herman does is help us out with that.
Q. The law was passed to address a shortage of primary care physicians and encourage nurse practitioners to operate to the top of their licensure.
Within a mile from here, there's quite a few primary care doctors. I've plopped in the middle. We've been open a year and have about 1,300 patients already. A lot of them came from my old practice but we're definitely busy.
Q. Are you doing anything differently here that in that Hamburg practice?
I give my patients a little bit of an alternative, within reason, to do some homeopathic care. I prescribe a lot of supplements to patients who are willing to do that. Some people want to treat their high cholesterol, for instance, with natural supplements instead of taking traditional cholesterol medicine. I allow them that choice but obviously if somebody has a cholesterol of 400, I'm not going to let them take supplements. If they have high blood pressure and they're smokers and they're overweight with a history of heart disease, they're going on cholesterol medicine. If they go to the gym five days a week and don't have high blood pressure, there's more latitude. I use an app that calculates age, smoking, blood pressures and other factors and it gives us a risk score. I base some of my recommendations on that.
We always encourage diet and exercise and Dr. Veros runs a Transformations class, which is a lifestyle modification program based on diet. Statins are typically used for patients with extremely high cholesterol. (For others who are borderline or a little high), we start with really scaling back on the sugar intake in their diet, and we have supplements that address cholesterol and vascular inflammation.
Q. Any other kinds of holistic offerings?
Another nurse practitioner, Dawn Springer, is going to be joining us and she is certified in holistic medicine.
Q. Why do you emphasize preventive care?
The goal is to keep people out of the hospital. As nurse practitioners, we're first trained as nurses. Nursing is a caring science and I think that's why nurse practitioners generally have a good reputation. Doctors in the past were trained to treat disease but that's come around, too. You have to treat the patient as a whole person.
Q. What are the patient ages?
I take children from 6 and up. ... My oldest patient is 96.
Q. What are some of the common conditions that you see?
A lot of back pain, back problems. Diabetes. High blood pressure. Unfortunately, I see an extensive amount of anxiety and depression. When I started practicing 17 years ago, that affected probably 20 or 30 percent of my patients. Now it's probably 50 or 60 percent of patients who come in the door. The last few years the numbers have gone up substantially.
I've tried to figure that out. I've talked to a friend who's a pharmacist. He's got six pharmacies and says what they fill is much more substantial. I don't know if it's come to the point where 15, 20 years ago people did not want to talk about what medications they were on and now it's a water cooler discussion. I don't know if it's because of that, but my friend and I have come to the conclusion that life has become too fast and people are having a hard time keeping up and handling it. I think we've all experienced that in the last decade.
Q. What sort of treatments do you recommend?
I encourage a more holistic approach that includes exercise to get some of the stress out. I refer to counseling. If they're having symptoms once a week, there's something called Bliss, a natural anxiety/depression reducing supplement. But when somebody gets to a point where they're almost not functioning on a daily basis, you have to go to medication.
Q. What services do you provide that our covered by insurance?
First and foremost, I'm a primary care provider. The holistic and alternative approaches are a complement. My services are covered. Dr. Veros takes most insurances. Insurance does not take massage therapy unless it's no-fault insurance after a car accident. Some insurances cover acupuncture. It's becoming more covered. Dr. Jean Koch is here, too. She's a chiropractor and acupuncturist.
I've had acupuncture done and it's helped with my back issues. I struggle myself because I've been doing martial arts. A lot of my fellow students are my patients. I've become an expert in martial arts injuries, by proxy ...
Q. Can you talk about your system? What is the philosophy of treatment here?
Definitely primary prevention. Part of what insurance companies are going for is pay for performance, so preventative care is a huge thing, making sure people have their mammographies and colonoscopies and tests like that. When the other nurse practitioner and I are looking to conquer a problem, we look holistically. That might be acupuncture for smoking cessation. We also have a nutritionist that works closely with us.
Q. Can you share one or two success stories ?
I have a patient referred as a new patient discharged from the hospital, a Type 2 diabetic. We worked really hard. She took the Transformations class with Dr. Veros and lost somewhere between 20 and 30 pounds. We got her on some natural vitamin supplements and we got her off her insulin. She had been taking it for about a decade. We have a number of patients with back and spinal issues that have done very well getting back on their feet, back to work, back to their lives.