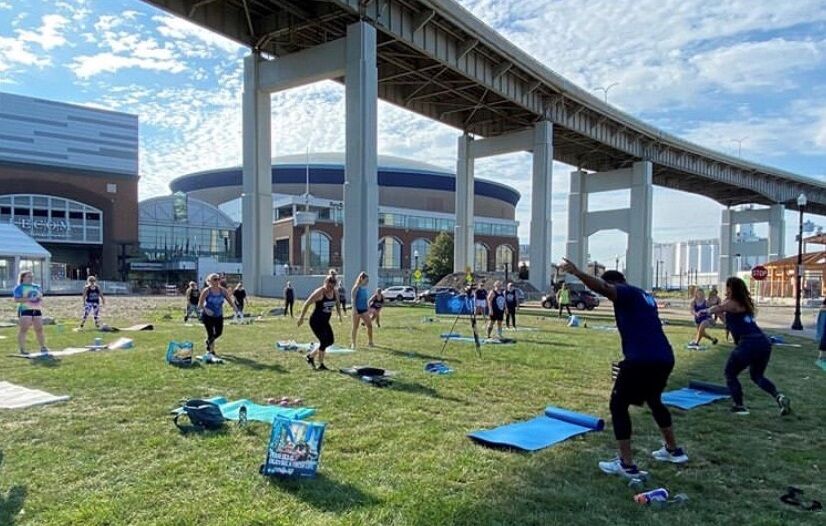 BlueCross BlueShield of Western New York, forced to start its outdoor group fitness classes late this summer because of the coronavirus pandemic, will continue them through September.
"It's important to us to provide our neighbors with options to enhance their health and well-being," Julie R. Snyder, chief marketing and communications officer with the health insurer, said while making the announcement Thursday.
Classes at Canalside and Martin Luther King Jr. Park typically end on Labor Day weekend. They typically start after Memorial Day.
This year has been anything but typical.
More than 12,500 people in the region have so far tested positive for the coronavirus, thousands got sick and more than 860 died.
Measures to slow the spread of the virus required BlueCross BlueShield and Independent Health to start the two largest outdoor group fitness programs in the region with online classes.
Both started a slimmed-down schedule of free outdoor classes about six weeks ago and required registration to limit class size.
Saturday morning classes at Martin Luther King Jr. Park have "sold out" to capacity so far, collectively attracting several hundred participants, BlueCross BlueShield of WNY public relations manager Amber Hartmann said.
"The beauty of our fitness classes has been the ability to continue to offer them virtually, too," Hartmann said. "We've averaged about 30 participants per virtual class – over 2,200 in total."
The classes are all free. Registration is required for the outdoor group gatherings to help ensure social distancing is followed.
An Independent Health official said Fitness in the Parks will run through Sept. 12 as planned. Find a schedule of nine outdoor classes in parks across the region and five virtual classes at independenthealth.com/fitpark.
La' Movement Fitness also will take place at 10 a.m. Saturdays through Sept. 26  at Martin Luther King Jr. Park as part of the Summer City Fitness series, in partnership with the City of Buffalo. Mayor Byron W. Brown streams classes on his Facebook page for those who prefer to continue following online workouts at home.
Those interested in all of those classes should preregister at bcbswny.com/play.
Blue Bikes also can be rented from 11 a.m. to 5 p.m. Friday through Sunday through Sept. 27 at Canalside. BlueCross BlueShield of WNY members ride free for the first hour by presenting their member ID card but the bikes are available to all for a nominal fee.
Build your health & fitness knowledge
Sign up here to get the latest health & fitness updates in your inbox every week!