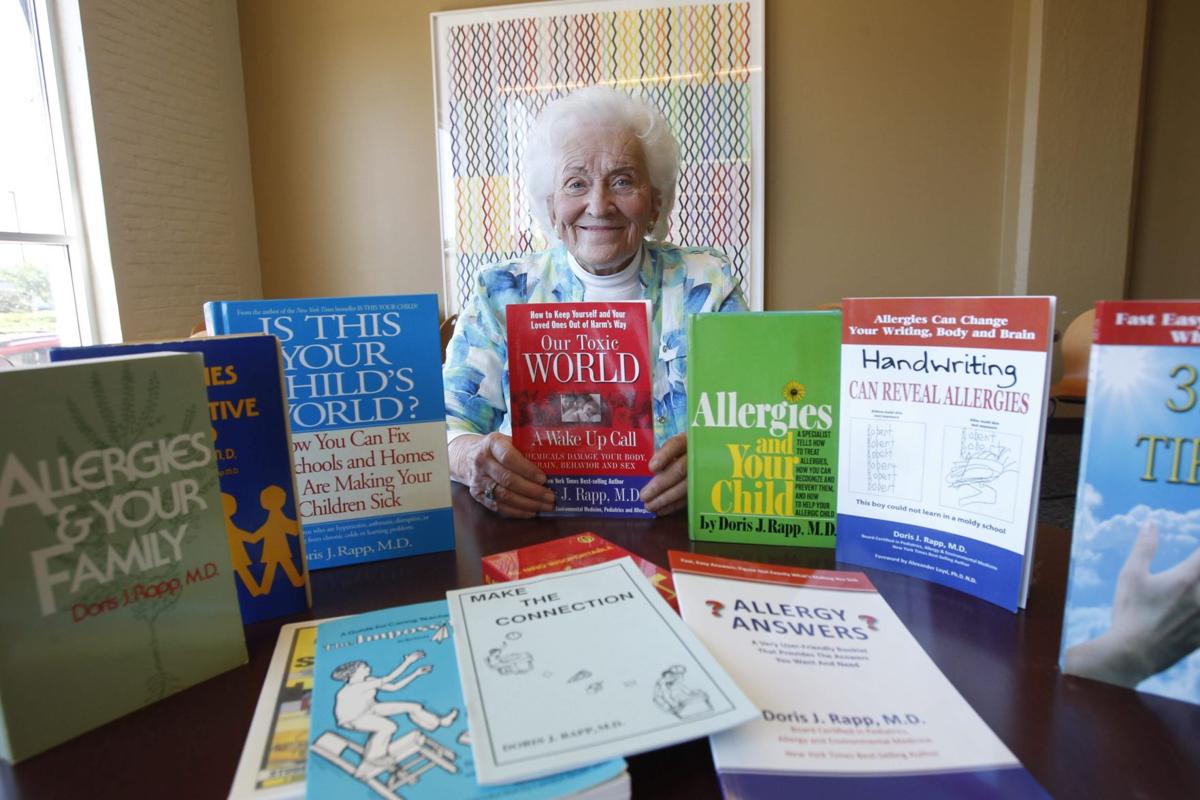 Was Dr. Doris Rapp ahead of her time? It depends on who you ask. Rapp, 84, who graduated with high honors in 1946 from the University of Buffalo, was a Western New York pioneer in the allergy field, particularly a practice called provocation-neutralization.
"Allergies are a lot more than hay fever, asthma and itchy skin," said Rapp, who moved to Phoenix, Ariz., 16 years ago but continues to regularly visit her hometown.
"I wish everybody realized that dust, mold, pollen, food or chemicals can adversely affect, or cause, symptoms in any area of the body, including the brain," she said, "and that these can be treated with drops of allergy extract under the tongue or by injection treatments."
Rapp was a pediatrician and allergy specialist in Buffalo from 1955, after graduating from New York University Medical School, until the late 1990s. She started using provocation-neutralization – applying diluted allergens to treat allergies – in the mid-'70s.
The established medical community maintains the process has been discredited in double-blind, placebo-controlled research studies, but it is still practiced across the country, including the Environmental Health Center at Buffalo. Insurance companies won't cover its cost, saying it continues to be experimental and can endanger some patients, particularly those with compromised immune systems or severe allergies.
Despite the skepticism, some of the ideas Rapp has espoused in recent decades in several books – including "Is This Your Child: Discovering and treating unrecognized allergies in children and adults" – have helped lay the foundation for those who would seek to improve health by addressing potential allergies and insensitivities to a variety of things by eliminating them from their environment, reintroducing them one at a time, and looking to discover what may be triggering an adverse reaction.
When I Googled your name, the first thing that came up was your website, drrapp.com. The second thing that came up was 'Dr. Doris Rapp, quack.'
The things that I've been doing have been found to be successful mostly by chiropractors. … I'm looking for fast, easy, inexpensive ways that really work. It's a shame that more medicine isn't oriented that way. You've got to find the cause and eliminate the cause. It's nice that you have something (drug-wise) that you can treat someone with, but that shouldn't be your ultimate aim. It takes more time to figure out the answers and doctors don't always have the time.
You say the turning point in your career came 20 years after medical school?
In 1975, I met with a doctor who brought in patients and relieved allergy symptoms by giving a drop of something that caused the symptoms. Their symptoms disappeared in 8 minutes; all they had to do was take a solution with that antigen. It had to be in the right dilution. If too much, they were sick; if just right, it'd be OK. It was a fuzzy area because the science wasn't there. I decided that my bottom line was a well patient, not a double-blind crossover study. If it didn't hurt and it helped, why aren't we using it?
You say a teaspoon of baking soda in a glass of water stops many allergic reactions in about 15 minutes. Why is that?
Your alkalizing the body. Whenever you're sick, you're too acidic. If you change your body, you stop having trouble.
You're concerned about environmental problems you say are making people sick.
We've got to start to wake up to the chemical problems. What's the answer to these problems? Easy. Clean up your air, your food and your water. Get an air purifier for the air, a water purifier for the water. With food, go organic. It's just common sense. You also have to be careful about your mattress and your carpets, because of the chemicals in synthetic mattresses and carpets. We live in a toxic world and the answer isn't to take one drug after another.
Nobody knows your body as well as you. If you keep asking, 'What did I eat, what did I touch, what did I smell?' you'll come up with the answers the best doctors missed, because nobody's going to take the time to take your history. If you have good days and you have bad days, write down everything you eat on the good days and write down everything you eat on the bad days. Cross out everything that's the same on both lines. Try taking away any foods on the bad list or that you binge on, because that can be the cause of the problem. If you want to check on a food, stop eating it for a week and on an empty stomach eat it, watch and see what happens. Check your pulse, pay attention to how you look and how you feel. If you need it, take the baking soda.
Fantastic. Everyone should feel as good as I feel. I usually play tennis the first thing in the morning. I ride a bike every day. I feel lucky. I think it's genetics and good living.
Do you take any medications?
No pills. Never had to take any. I'm basically a very healthy person. I take vitamins and nutrients, a good multivitamin.