Who she is: Passionate collector of hats, handbags, jewelry and clothing of all kinds. Ballroom dancer and past president of the Amherst Dance Club, which holds five dinner dances a year. Members wear gowns and other formal attire. The former Amherst town supervisor is currently legislative director and counsel at the New York State Senate.
What she's wearing: Tadashi Shoji sequin-and-lace gown she wore to an event last year at the 20th Century Club; angora-blend bolero with faux pearls; Mary Frances "Queendom" beaded crown handbag; pink pearls with Morganite and diamond enhancer (pendant); Morganite and diamond ring and earrings, and a diamond bangle bracelet. Her jewelry is from BOMI, a family-owned jewelry business that her father established in the 1930s. (The business name is the first two letters of her late parents' names – BO for Bob and MI for Mille.)
Signature piece: Pearls, including a triple-strand necklace that belonged to her mother. "I always add an enhancer  – a pendant that hangs from the pearls," Grelick said.
Fashion statement: "I like classic styles, but there has to be something whimsical, too, such as my handbag or jewelry. I like fabrics that are embellished –  velvets, sequins and ruffles," she said.
Last purchase: A Mad Hatter hat to wear to the Mad Hatter Gala to benefit the Williamsville Branch Library (Feb. 8).
In the market for: She's on the hunt for a derby hat and matching outfit for the annual Kentucky Derby luncheon at the Buffalo Niagara Heritage Museum  (formerly the Amherst Museum). The luncheon raises money for the museum and is hosted by the Amherst Women's Interclub Council.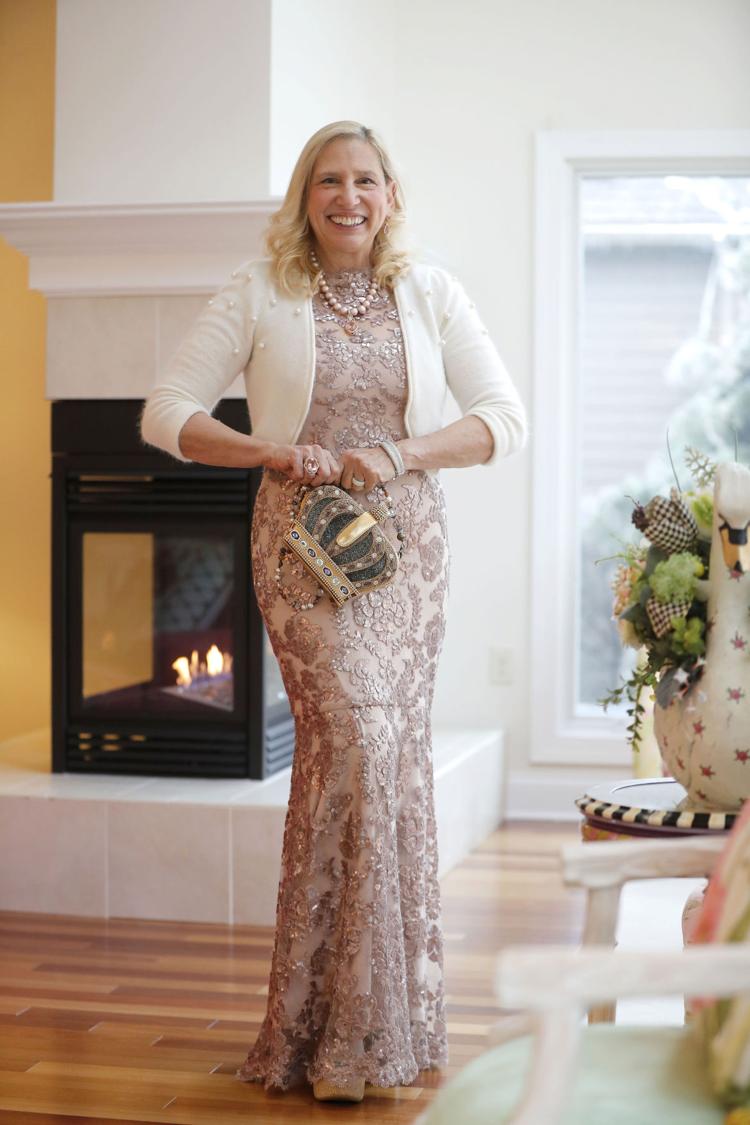 A full-length view of the outfit. (Mark Mulville/Buffalo News)
* In case you missed last week's Fashion Friday:
Be the first to know
Get local news delivered to your inbox!