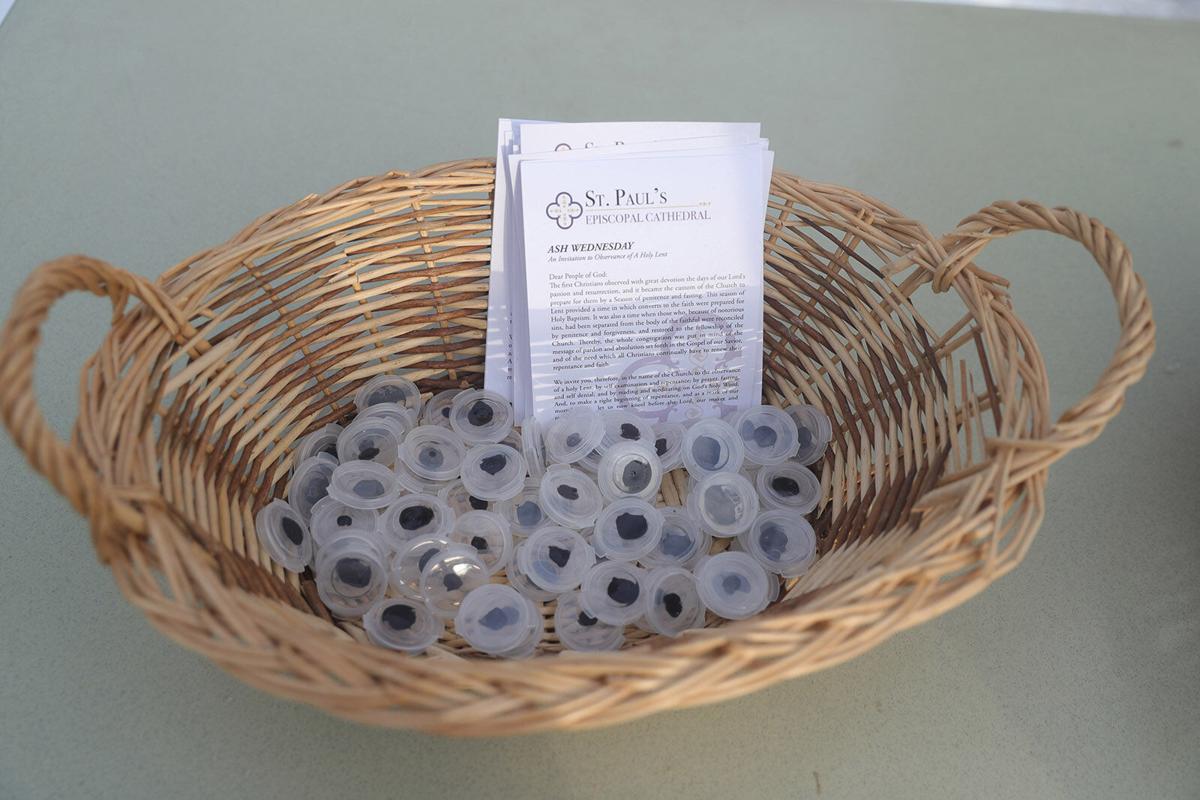 Throughout Western New York, many Christians looking to observe Ash Wednesday during a pandemic had a unique experience. 
They took the ashes to go, and headed home for a do-it-yourself start to the Lenten season.
To limit the close interaction that accompanies ashes being applied to one's forehead by a representative of the church on the first day of the season of Lent, several local parishes distributed ashes Wednesday in small bags along with instructions on how to conduct their own imposition of the ashes at home.
"Normally we reach into people's cars and put ashes on their foreheads, but given the Covid restrictions, we felt this would be the safest way to do it," said the Rev. Robert Harvey, rector of Calvary Episcopal Church in Williamsville. "It's our annual reminder that each of us will die one day, and certainly during this pandemic we have had a daily reminder of our mortality."
The Vatican announced in January that ashes were not to be imposed on people's foreheads as they have in the past, often by a priest using a thumb to smudge the sign of the cross on the forehead. 
A sunny morning and afternoon saw a steady stream of cars at Calvary, where multiple "ASHES TO GO" signs called to drivers on Main Street as well as South Cayuga Road. Cars headed through an easy-in, easy-out loop behind the church at 20 Milton Ave., where drivers picked up a packet (or six) from Harvey or one of his volunteers.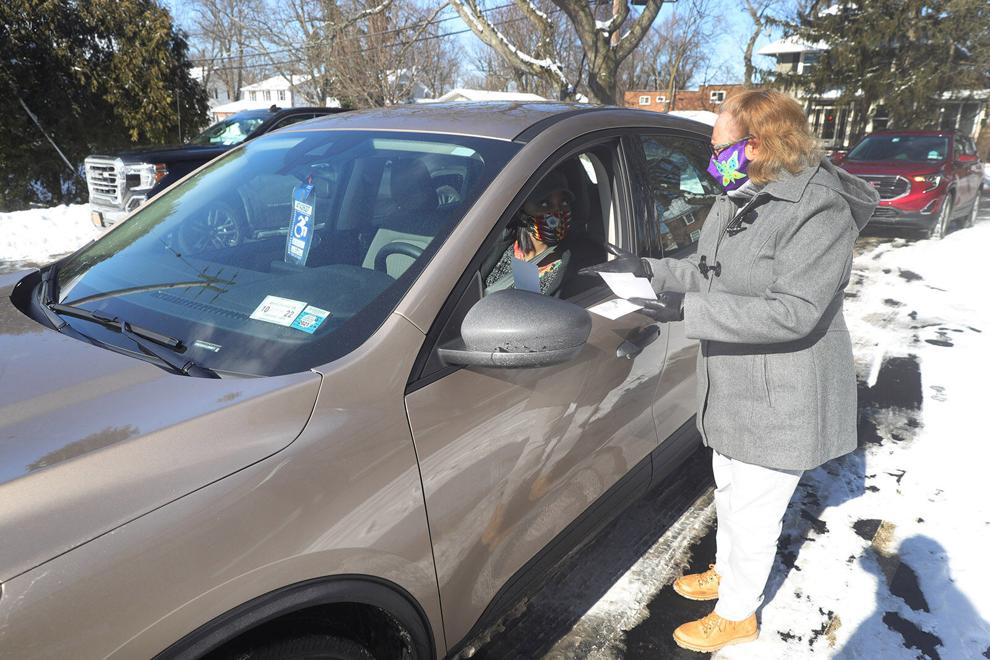 "We were probably going to skip it today," due to the pandemic, Amherst's Kiera Obst said from her sport utility vehicle, "but then I saw the sign and said, 'Let's do it!' I think this is a great way to still have the tradition, and it's nice because I've got five daughters in the back here and it brings us even closer. We've never put ashes on each other's heads, you know?" 
Harvey said that Calvary had been visited by more than 80 cars by noon, which was a good number, considering the pandemic. Calvary serviced more than 550 drive-thru cars last year. Harvey was joined by volunteers Pat Zebrowski, Paul McKenna and Kim Alexander-Thomson, who, all in masks, distributed ashes to sometime lines of three cars deep.   
At St. Paul's Episcopal Cathedral at 139 Pearl St. downtown, dean of the Cathedral Derrick Fetz was in Cathedral Park along Pearl Street with an "Ashes-to-Go" sign at a table where similar bags of ashes as well as small containers of oil were handed to passersby.   
"People have been extremely grateful that we're still able to do this," Fetz said of the church's effort, "and that we figured out a creative way to provide meaning and purpose in people's lives." 
One visitor was Elizabeth Kruger of East Aurora, who said she makes an annual trip to the cathedral on Ash Wednesday.
"I believe that the spirit of Christ is still very present, so why not?" she said of her do-it-yourself ashes home kit. "Nothing's more powerful that that, so of course it will come through."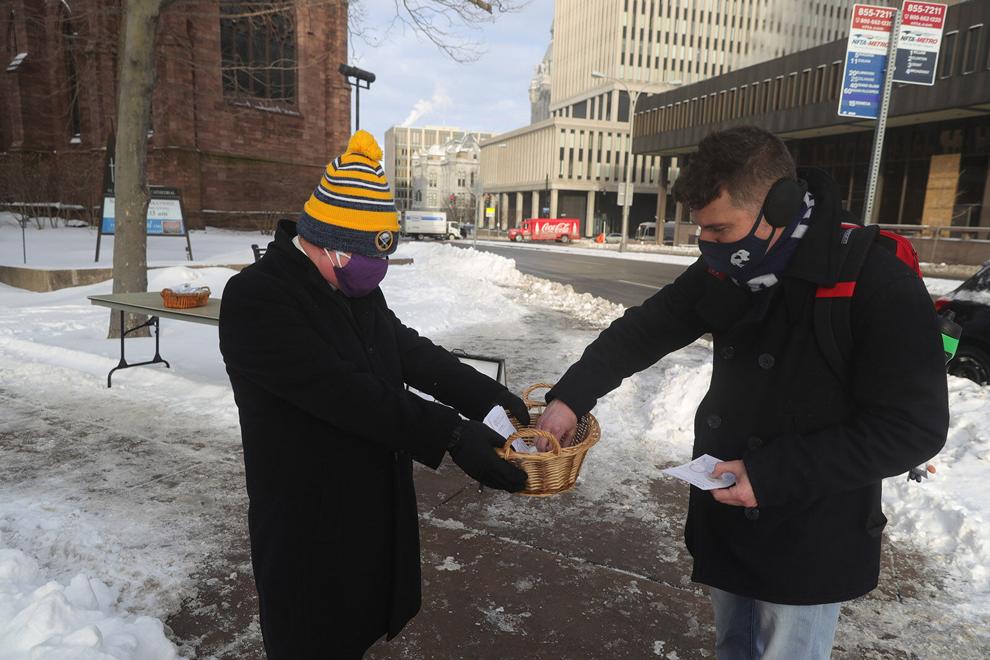 Fetz was pleased with the amount of people who came by during a morning hour and more than 30 visited during the lunch hour. "I wasn't sure what to expect," he said, adding "droves of people" from One M&T Plaza have traditionally visited during their lunch hour, but that was not the case this year with so many people working from home.
Among other locations to offer do-it-yourself ashes was St. Paul's Episcopal Church at 4275 Harris Hill Road in Clarence, which distributed a small bags of ashes throughout the day from its parish office and also had two drive-thru sessions.
At Blessed Sacrament Church in the Elmwood Village, a flyer advertising its 7 a.m. to 7 p.m. ash distribution read: "Hey Buffalo! Get Your Ashes in Here!"
Blessed Sacrament, which conducted its second-straight year of 12-hour ash distribution, adjusted for the pandemic, offering ashes by sprinkling them over the head, which they described as "the Roman fashion."
Ash Wednesday is "almost a reminder of our connection to each other," said Harvey of Calvary in Williamsville. "We're made of dust, we're told in the Bible that God breathed into dust the breath of life, and we humans became alive. The Bible also tells us that we will return to dust, and yet we are God's beloved dust.