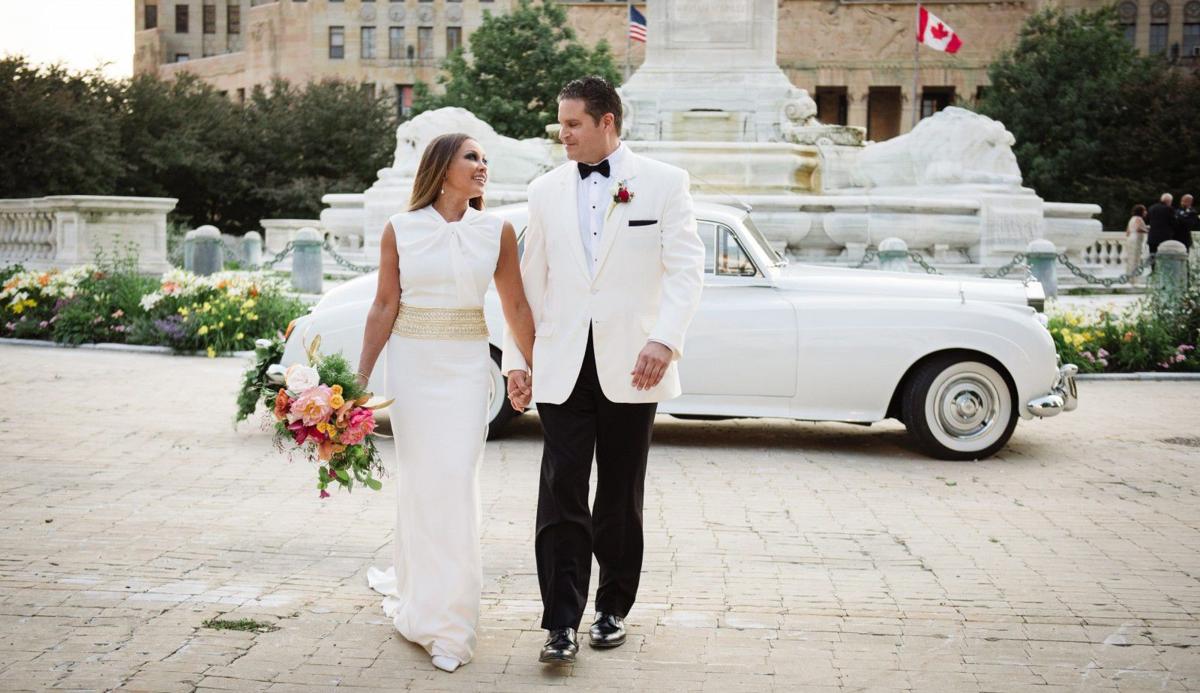 At 1 o'clock on a sunlit Sunday afternoon, Vanessa Williams was sitting by open bay windows of her luxury suite. The sounds of the street below – an intermittent horn, the occasional tire screech – weren't nearly as frequent as the ones she'd hear in the cities where you might expect her to be.
But this wasn't New York. Or L.A. Not Miami, not Chicago, not even Toronto.
This was Buffalo. The bridal suite of Hotel @ the Lafayette. It was exactly where the singer and actress wanted to be. Her husband of not even 24 hours, Jim Skrip, was in the room.
Williams was happy, in love – and pre-emptively apologetic.
"My voice might be a little hoarse after all the singing and screaming we've been doing all weekend," Williams said. "But I'll try to make it through."
Williams, 52, was talking to The News by phone about her wedding weekend. While her relationship with Skrip, a retired accountant who lives in Depew, is well documented, and it was known the couple was planning a Buffalo wedding, the date and details of their nuptials were kept tightly wrapped. To that point: Guests at the wedding, including celebrities who co-starred with Williams on shows such as "Desperate Housewives" and "Ugly Betty," refrained from tweeting about it until days afterward. And Williams' publicists offered this interview to the The News on the condition that the story be held till Wednesday, when in-depth coverage of the wedding will also break in a national magazine.
Williams has a long-held passion for Buffalo: Her mother, Helen Tinch Williams, grew up here, and she still has family in the area. In the three years of her relationship with Skrip, Williams visited Western New York frequently enough to be able to talk in detail about the area. Williams' Sunday afternoon interview was peppered with references to Buffalo-area sights, neighborhoods, cuisine and businesses. She knows Canalside, food trucks, Chippewa, Allentown, beef on weck, and a list of businesses and people, most of whom were somehow involved with her wedding.
Save for a nearly invisible slip-up or two (it's "fish fry," not "fried fish"), she sounds exactly like a Buffalonian – a very famous one.
The story of Williams and Skrips' secretive wedding weekend began three days earlier and three stories down, when the former Miss America pulled up on Washington Street to the valet parking in front of Hotel @ the Lafayette. A table of six diners sitting outside the hotel's Pan-American Grill & Brewery immediately recognized Williams. (Her piercing blue eyes are a dead giveaway.)
"Vanessa?" one of them asked.
"Yeah!" she said, cheerily. Williams, who lives downstate in Westchester County, arrived Thursday afternoon with one of her daughters. (Williams, married twice before, has four children ranging in age from 15 to 28.)
"Oh, hi!" said the diners. "Congratulations!"
Right then, Williams thought, 'The jig is up already? I haven't even checked into my hotel yet.'
Over the next few days, Williams was going to meet a lot of people. Her wedding events included three venues and a church. But if she had any nerves about overexposure, they were quickly quelled. "Everyone has been so sweet, so respectful, so relaxed, so welcoming," she said.
That gave Williams the space she needed. This weekend wasn't about being a celebrity.
It was about being a bride.
Williams and Skrip's engagement became public last September when the actress acknowledged her ring (which Skrip bought at Bomi Jewelers in Snyder) on "The Queen Latifah Show." Though she offered no details on what or when the celebration would be, know this: Williams is a woman with creative, distinct ideas and an unrelenting drive to make them real.
In the autobiography she penned with her mother, "You Have No Idea," the actress describes a plan she had years ago for an open, inviting dream home. She made it happen, pouring voluminous time and money into the project, even ripping down hundreds of thousands of dollars worth of work when the original builder failed to match her vision.
For her wedding, Williams was again specific in her plans. "It was my vision," she said. "I did work hard making sure it all came to fruition." Williams wanted a multiple-day event on a holiday weekend "so people don't have to rush away." She wanted distinctive settings – "access to phenomenal venues" – and she wanted the wedding to be accessible to Skrip's family and her extended clan as well.
Sounds like Buffalo, doesn't it?
"We had so many signs, or coincidences, that made Buffalo make sense," Williams said. "It was kind of a destination wedding for my other friends, and the destination was Buffalo."
With the location settled, Williams got to work. She used WeddingWire.com to scout wedding planners, settling on Carla Measer-Costamagna, whose company Costamagna Design is located in East Aurora. Williams was taken with Costamagna's award-winning work and diverse background: The planner and designer grew up in Europe and South America, studied and worked in Peru, Italy, New York and San Francisco. Maybe Williams felt a certain kinship with Costamagna because, she, too married a Western New York guy.
"She's a real asset to Buffalo," said Williams, who outlined her theme ideas for Costamagna: The entertainer envisioned an Egyptian-themed celebration in honor of where she and Skrip met – on a Nile cruise.
Costamagna got to work, coordinating many of her efforts with Williams' executive assistant, Brian Edwards. Williams, meanwhile, stayed hands-on in her efforts too. She recruited a Buffalo-born vocalist, Carmen Ruby Floyd, who appeared with her in "After Midnight" on Broadway and later became part of Williams' touring band, to perform at the wedding.
At an event in Los Angeles, she watched a great young jazz trio perform and complimented them afterward. She asked the leader, Greg Paul Webster, where he was from. When Webster answered, "Buffalo," Williams pulled him aside and said, "You happen to be busy next July 4th?"
Webster was booked on the spot.
In recounting these examples, Williams sees the story in the details. Floyd, she noted, attended First Shiloh Baptist Church on Pine Street, the same church Williams' grandmother once attended. And Webster, while home for the wedding, stayed in his own parents' home. These small bits of Buffalo add up, and Williams is unmistakably proud. "It's definitely a very deep Buffalo story between Jim and I," she said.
Buffalo was the star when the Williams-Skrip wedding festivities officially kicked off Friday night at Pearl Street Grill & Brewery. The wood-paneled fourth-floor was decked with a Fourth of July picnic theme, with blue-and-white gingham-checked tablecloths and red, white and blue flower centerpieces. Sam Ringwood, a Buffalo DJ who is Williams' cousin by marriage, provided the music.
The "Welcome to Buffalo" dinner for out-of-town guests featured an array of local foods: wings, beef on weck, fish fries and hot dogs with – what is the sauce called? Slime sauce? Williams couldn't quite remember.
"Babe," she called out to Skrip during the interview, "it's called slime sauce, is that what you picked up?"
"Texas Red Hot Sauce," Skrip said in the background.
Come Saturday and the wedding itself, the city became a backdrop. Wearing a sleek ivory and gold-trimmed dress by Carmen Marc Valvo – who also was in attendance – Williams and Skrip, in a white suit, celebrated a Mass of Thanksgiving at St. Stanislaus Bishop & Martyr Church. Skrip's late parents were married in that church, which is also home to the angel statues formerly housed in St. Mary's Redemptorist, the Buffalo church where Williams' parents were wed long before it was destroyed by fire in 1986. "We felt it was meant to be for us to have our wedding here," Williams said.
The actual exchange of vows happened afterward at Statler City, the site of the reception. Williams was walked down the aisle by her uncle, Fred Tinch of Buffalo, and her brother, actor Chris Williams, officiated. Afterward, the 385 guests entered the Statler's Grand Ballroom. "We took everyone on a magic carpet ride to Egypt," said Williams, who slipped into a gold Valvo dress for the reception.
Inside the Arabian tents, Moroccan lanterns lit tables set with dates, hummus, and pita bread. Dinner options included filet mignon and shrimp, chicken Milanese, sea bass and a vegetarian option. A tiered cake with gold papyrus leaves from Muscoreil's Fine Desserts of North Tonawanda tied together the Egyptian theme.
The following morning, guests were invited to Hotel @ the Lafayette for what Williams jokingly called "the hangover breakfast." "That's exactly what we all felt after having only a few hours sleep of dancing the night away," she said.
While Williams focused on her starring role in the wedding festivities, her guests were able to sample Western New York. Many visited Niagara Falls, of course, but also headed to Canalside, Allentown and Chippewa. They enjoyed Tim Hortons; Williams called out to some of her friends from her balcony window as they headed there across Lafayette Square.
Most of Williams' higher-profile guests, including "Ugly Betty" stars Ana Ortiz, Christopher Gorham, Mark Indelicato and Tony Plana, went relatively unnoticed in Buffalo. The one exception: Teri Hatcher, Williams' "Desperate Housewives" co-star, who triggered a day's worth of social media buzz when she popped into the Blue Monk on Elmwood for lunch.
"Did they see her?" Williams asked, amused, and when told of the attention Hatcher got, simply laughed.
Williams was pleased her guests had a chance to experience Buffalo. "They've noticed how it's on the rise again, that their visions of what it used to be and what it is now are definitely different and improved," she said. "I think that's a big positive point for the city. People do recognize that it is on the uptick. There is a lot of young energy coming in. It's hip."
And for one long holiday weekend, thanks to a love story that began on the Nile and came home to Buffalo, it became a little bit Hollywood too.