COMPILED BY SHAWN CAMPBELL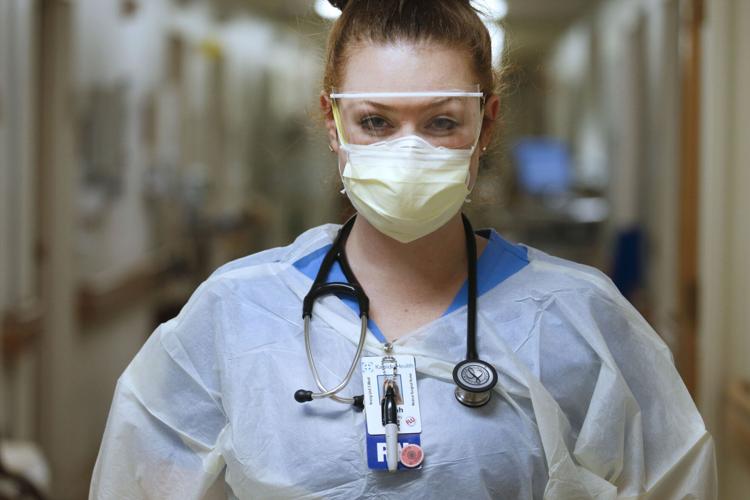 'Trust me when I say we WISH Covid was a hoax'
Sarah Dempsey is frank when talking about the pandemic.
"Trust me when I say we WISH Covid was a hoax," Dempsey wrote recently in one of a series of Facebook posts about her life and work as a registered nurse in a Covid-19 wing at Millard Fillmore Suburban Hospital.
Frustrated that virus numbers – and therefore hospitalizations – continue to rise, Dempsey has taken to social media to give people insights into the experience of a pandemic-era nurse.
"Most shifts are rough," Dempsey, whose nursing career began only months before the pandemic, wrote in a recent post. "Train wrecks. Hot messes. Debilitating. And once we make it to the end, you'll find us exhaustedly dragging our feet through the sticky hospital floor once we punch out. We give it our all. No matter how short staffed we are. We work together. We find a way to always get the job done. It is remarkable how it happens, but still, it's draining."
We tap into Dempsey's experiences in the latest installment of "Pandemic Lessons." Her message to those of us on the outside of the hospitals is stark: "If you're not concerned because it hasn't directly affected YOU or your family (yet)," she writes, "then YOU are a big part of the problem. (Plain and simple: selfish)."
And so too is her promise to her profession and her patients: "My patients count on me. I will not let them down. I will keep showing up."
---
---
MORE COVID-19 COVERAGE
Salons, gyms set to reopen today: Final preparations have been made for gyms and hair salons to get back to work in "orange" zones, freeing up those in much of Erie County that were abruptly shuttered last month. Salons are still restricted to either 25% or 50% of their capacity, while the gyms are capped at 25%, and staff must be tested regularly. Other cleaning regimens remain in place. Read more
Buffalo company found vaccine guinea pigs: Moderna Inc. needed thousands of people to volunteer to test the effectiveness of the biotechnology company's Covid-19 vaccine. That's where Praxis Communications, a subsidiary of Buffalo-based Crowley Webb, came in. Read more
Covid-19 takes 17 WNY lives: The pandemic continued to take its toll on the region and the rest of the state Saturday, as 746 new patients entered hospitals statewide, while just more than 1,000 people remained in intensive care and 106 died. Meanwhile, 520 patients are in hospitals in the five-county area designated as Western New York. Nearly three-quarters of the region's bed capacity is taken up. Read more
---
WHAT WE'RE TALKING ABOUT
Localities brace for more fiscal pain: As Congress dawdles and debates about whether to help local governments that have been sick with the novel coronavirus for months, county and municipal officials fear their budgets will soon be sicker than ever. Unless Congress acts, "the crisis will be at a depression level," Buffalo Mayor Byron W. Brown said. Read more
Christmas tree farms booming: Tree farm owners say they're as busy as they've ever been this year in the middle of the Covid-19 pandemic. Operators said people stuck at home for the holidays want it to look as festive as possible, and parents with kids are looking for something safe and fun to do with so many typical family activities limited or canceled this year. Read more
2020 was terrible for Niagara Falls tourism: With seasonal attractions closed for weeks during the peak business season, capacity limited and many people unwilling to travel, the Covid-19 pandemic delivered a body blow to the city's tourism-based economy. But as bad as it was, things got a little better as summer wore on, and there are prospects that 2021 might be a decent year. Read more
Chemical causing Mayville water ban was found in wells in 2019: Perfluorononanoic acid, or PFNA, the chemical that led to a "do not drink" order on tap water in the Chautauqua County village late last week, was detected more than a year ago in regular sampling of two of the three wells that serve the village, county and state officials said. Read more
---
Inside WNY's neighborhood shopping districts
Buffalo Magazine embarked on a 10-week series that explores the distinct personalities of our region's shop local scenes, from Lewiston to the Five Points pocket on Buffalo's West Side to Ellicottville, and the passionate people behind them.
---
WEATHER
Cooler start to week: Expect temperatures in the mid-30s today with scattered snow showers possible, according to WGRZ's forecast. Read more
---
BILLS
Postgame coverage: Buffalo Bills defeat Pittsburgh Steelers 26-15: Check out all of our postgame coverage of the Bills' 26-15 victory over the Pittsburgh Steelers on Sunday night at Bills Stadium, including columns from Vic Carucci and Jason Wolf, report card and much more. Read more
---
SABRES
Inside the NHL: So many questions to answer before the first faceoff in 2021: "The league needs to pick a divisional setup, announce a schedule, a playoff format and get moving on a host of other things," writes Mike Harrington. Read more
---
WITH YOUR MORNING COFFEE
• Erik Brady shares the remarkable story of Buffalo native Sandy Greenberg, who, despite going blind during his junior year at Columbia University, went on to successful careers as an inventor, investor, entrepreneur, philanthropist and public servant. Greenberg turned 80 on Sunday, and his memoir published this summer, "Hello Darkness, My Old Friend," is very appropriately named, considering with whom he roomed in college.
• Vic Talarico went for more than your typical Sunday stroll. The Tonawanda resident ran 50 miles – from Lake Erie to Lake Ontario – all for a good cause, WIVB reports.
• Looking for some good eats off the beaten path? Matt from Instgram account @buffalobodega shared some favorite "low key spots" with Step Out Buffalo.