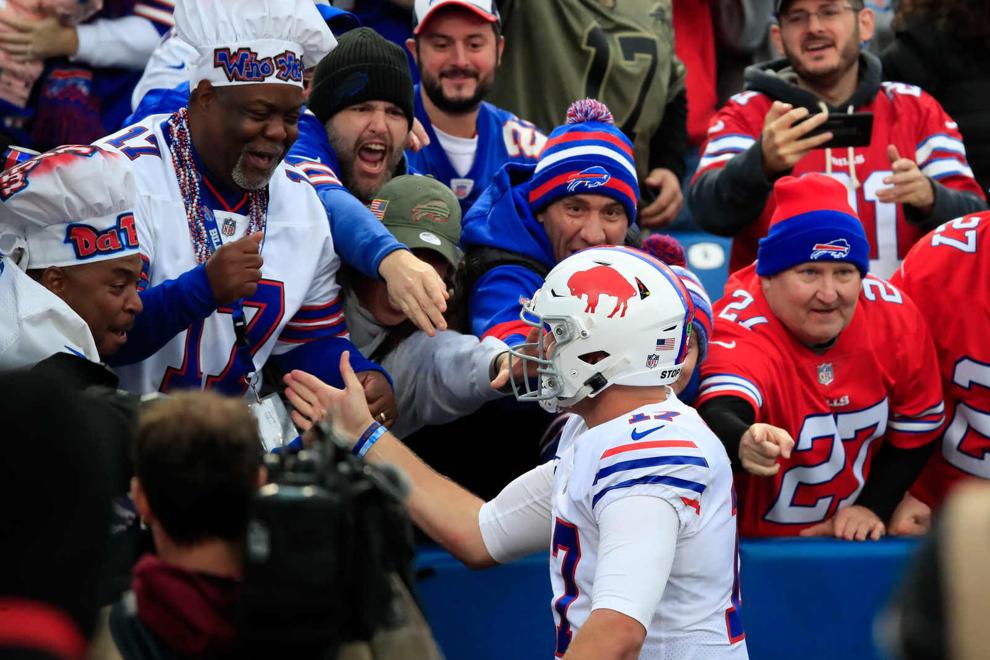 Orchard Park doesn't want its marriage to the Bills to end 
Orchard Park residents and business owners say that in the nearly 50 years the town has hosted the Buffalo Bills, the positives of this relationship outweigh the negatives.
The tangible benefits can be hard to pin down, aside from extra game-day spending at the town's restaurants and retail stores, but Orchard Park denizens still say they don't want the Bills, New York State and Erie County to build a new stadium near downtown Buffalo.
And even if a consultant's report produced for the state indicates the town won't see any additional spinoff development from a new stadium, some officials are convinced the town can leverage additional development from the construction of a new venue.
– Stephen T. Watson and Barbara O'Brien
---
How Black Friday continues to lose its buzz
Most of the fun has gone out of what was once the official kickoff to the holiday shopping season. That is especially the case as Covid infections continue to rise, inflation skyrockets and labor challenges make it harder and more expensive to open early and close late.
The outrageous doorbuster deals that drew shoppers in droves are gone. The 3 a.m. opening times have been pushed later. Marathon shopping hours have been shortened. And the kinds of deals shoppers used to line up for around the corner are now available online as soon as October.
But even though all the fun has fizzled, experts still predict Black Friday will be the busiest single shopping day of 2021.
• Discount Diva's pro tips for holiday shopping: Samantha Christmann shares some of the pro tips she has picked up over the years. Read more
---
COVID-19 COVERAGE
'We're doing everything we can,' WNY hospitals say amid Covid surge, capacity crunch: If things get much worse, Erie County Executive Mark Poloncarz warned that the county may have to order all elective surgeries canceled or postponed. Such a directive could deal another financial blow to the region's hospitals, still trying to recover from the havoc the pandemic has wrought while also grappling with a staffing crunch. Read more 
The 'new stage' of the pandemic: Explaining WNY's winter surge and living with the virus: "Normal" now and in the immediate future, health experts say, will likely still include some level of ongoing, fluctuating precautions as communities react to Covid-19 surges. Read more 
Extra random Covid test rankles travelers to Canada: You need to be vaccinated and to show proof of a recent negative Covid-19 test if you want to enter Canada – but that might not be all. Canadian border agents are randomly giving border-crossers take-home Covid tests, too, that they are required by law to take. And people who cross the border aren't happy about it. Read more 
---
WHAT WE'RE TALKING ABOUT
Priest seeks permanent spot for popular Nativity scene collection that keeps growing: The Rev. Roy Herberger's collection of often poignant and sometimes peculiar Nativity scenes from around the world keeps growing larger. He added 15 new sets in the past year, bringing the total to 670 from 61 countries. Read more
Photos: Buffalo Turkey Trot 2021: More than 12,000 people participated in one of the region's favorite traditions when the 126th YMCA Turkey Trot was held Thursday. View photos
BPS to open playgrounds, athletic fields to residents when schools aren't in session: Officials picked 17 playgrounds to launch the first phase of the initiative. When not in use by students, the playgrounds' hours for the public will be 4 p.m. to dusk on weekdays, but no later than 7 p.m., and from 10 a.m. to dusk on weekends. Read more
---
WEATHER
Lake-effect, blowing snow slated for southern Erie, Cattaraugus counties: The most snow will arrive over the higher terrain and some localized totals may be greater. Read more
---
HEALTH & WELLNESS
You can stay fit during the holidays, even if you do it from home: If you put off exercise during the holidays, or it has become a lost art in your life, you're likely to have a less stressful and more energetic next few weeks if you change your ways. Now. Start with a 15-minute workout three times a week and build from there. Four trainers with the BAC for Women in the Town of Tonawanda will show you how. Read more 
---
BILLS
Observations: Tre'Davious White's injury looms large after Bills' big win: White was hurt with 6:21 remaining in the first half on a play that ended in an incomplete pass for the Saints. Read more
Jason Wolf: Bills' Dawson Knox shines as miscues abound in lopsided victory vs. Saints: "There was little to feel good about other than the scoreboard and Knox's dominant performance." Read more
[More: Full coverage of the Bills-Saints game here]
---
WITH YOUR MORNING COFFEE
• "The mountains are calling you," reads a headline on CNYNews.com in a post that highlights nearly a dozen of the best ski slopes in upstate New York. Holimont Ski Resort in Ellicottville is among the destinations featured.
• It's Howdy Doody time this weekend. Saturday marks the 104th anniversary of the birth of Buffalo Bob Smith, co-creator and host of the popular children's television show "Howdy Doody." The former Buffalo radio personality was lauded as one of the "founding fathers of modern television" during an entertaining interview with David Letterman in 1987. Smith died in 1998.
---