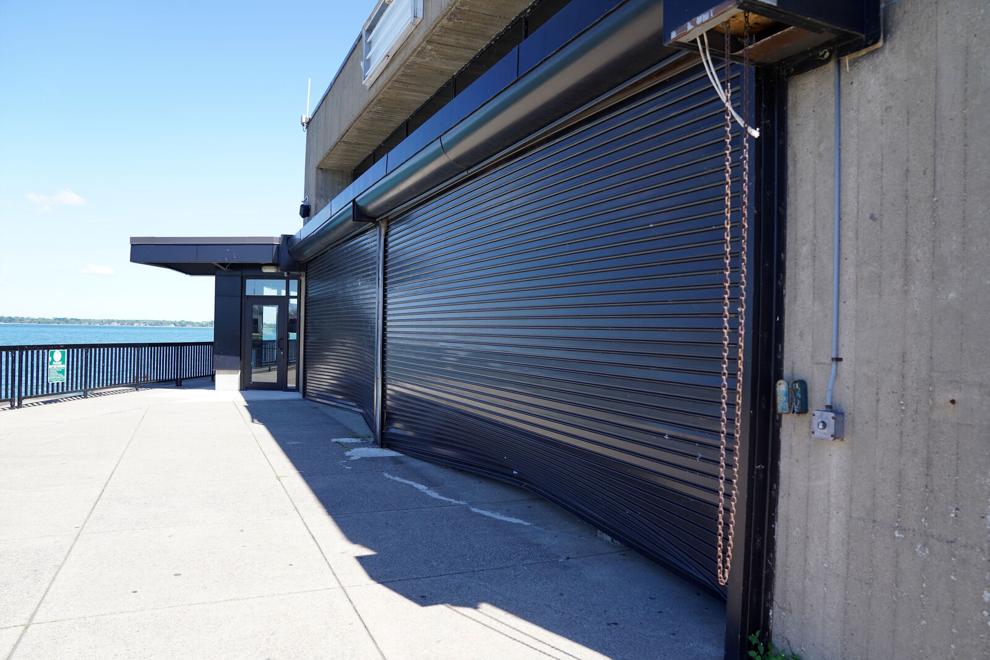 It's summer, so why isn't the Hatch open at Erie Basin Marina?
If you've been hoping to visit Canalside and have a drink, burger or a Perry's cone at the Hatch, you'll be sorely disappointed, at least for now.
The popular waterfront grill, bar and ice cream shop at Erie Basin Marina has been closed since late 2019, when the former operators decided not to renew their contract with the city so they could focus on other businesses. The building is dark and covered with cobwebs, and a pair of overhead doors are dented.
The city tried to get a new operator in early 2020 – but then Covid-19 hit and shut down everything. And an effort early this year came up short because restaurateurs were still wary of pandemic restrictions.
Officials are now ready to try again, with plans to issue a new request for proposals imminently. But it's already mid-June, making it difficult to get a new operator selected and opened earlier than mid-August. So the city plans to ask food trucks to set up shop there, to make sure visitors have options.
---
What's the secret to choosing wedding vendors? We'll give you a hint – it's kind of like dating, but don't go groaning yet. Here to help you navigate the region's pool of vendors with no hearts left broken are Syrie Roman of Social Maven and Danielle Ossher of WNY Weddings. Watch now >>
---
Nik Wallenda completes high-wire walk over Buffalo's West Side
Five stories above the ground on a wire 320 feet long and not even an inch wide, daredevil Nik Wallenda wowed Western New York again Thursday afternoon, this time on the campus of D'Youville College.
The event came nine years, almost to the day, after he thrilled an audience of millions as he crossed the thundering cataracts of Niagara Falls on a steel cable on live television.
---
COVID-19 COVERAGE
Erie County: If you want to see a Bills game in person, you still need to be vaccinated: Regardless of what the state says, Erie County Executive Mark Poloncarz is sticking to his guns that if you want to attend a Bills game, proof of full vaccination is still required. Read more
Jeff Miers: For summer concerts, it's game on, with no rules and referees: "Despite the happiness I feel for friends, family and musical colleagues who make their living largely (or entirely) from the live music industry – people whose lives and livelihoods have been upended by the past 15 months of financial and emotional strain – I'm feeling apprehensive," Miers says after the removal of most restrictions at concert venues. Read more
With most Covid restrictions lifted, there could be a spike in common colds: Now that most Covid-19 restrictions have been dropped in New York State, some health experts expect to see a bump in non-Covid respiratory infections. A number of states have already seen an increase. WGRZ's Kelly Dudzik shares this outlook of the summer cold season. Read more
---
WHAT WE'RE TALKING ABOUT
Amid financial woes, ECC to review three-campus system: SUNY Erie, better known to most as Erie Community College, is grappling with a potential financial crisis and looking ahead to how to close that gap. One possibility would involve shutting down one of its three campuses. Read more
Gundlach offers $2.5 million matching grant for Albright-Knox expansion; would bring personal gift to $65 million: Jeffrey Gundlach, the billionaire bond trader who grew up in Snyder, announced a community challenge grant on Twitter that, if matched, would raise his total contribution for the new Buffalo AKG Art Museum to $65 million. Read more
Three Democrats jockey for party line in Erie County sheriff's race: "They don't come around all that often, Democratic primaries for Erie County sheriff," writes The News' Matthew Spina. Here's a roundup of the field for Tuesday's Democratic primary for sheriff. Read more
State wants more private sector development in Niagara Falls: The state's regional economic development agency unveiled a new strategy for redeveloping more than 8 acres it owns in downtown Niagara Falls. USA Niagara Development Corp. has grouped more than 30 parcels into five development areas and will seek private sector proposals for them, beginning with the Old Falls-First Street area next month. Although an architectural firm made suggestions, the eventual work will be based on what the market wants, agency officials said. Read more
---
WEATHER
Wind picks up, showers and storms move in, and temperatures rise: Friday will feel warmer and more humid ahead of a cold front that may trigger some scattered midday showers, predicts WGRZ. Read more
---
FOOD & DRINK
Clam bars that are ideal for summer dining: Whether you like your clams steamed, fried, raw or casino-style, Step Out Buffalo's list of a half-dozen local clam bars has you covered. Read more
---
HEALTH & WELLNESS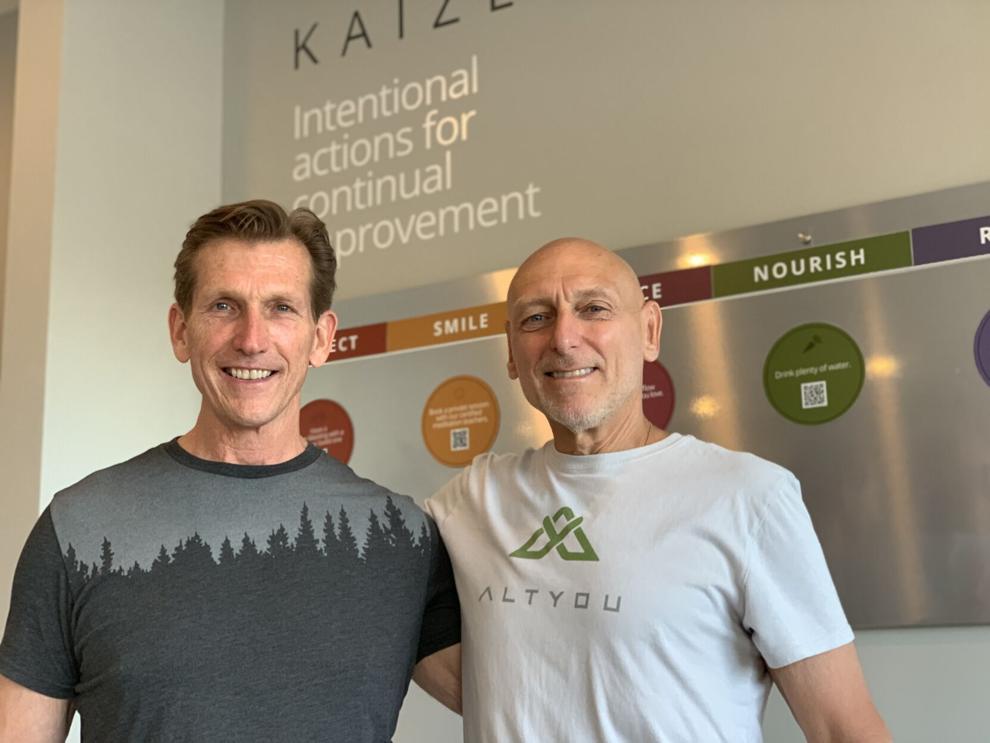 Health challenges brought two longtime gym owners together in a new fitness model: Bob Gosch and Rick Leugemors were so physically fit during their younger days they could push themselves hard during workouts, reward themselves by eating whatever they wanted and maintain a high level of fitness. That changed as they closed in on 60. They aim to put more life in their remaining years with a new studio, AltYou in Williamsville. Read more 
Remembering Phil Haberstro: Loved ones aim to build on wellness leader's legacy: It turns out Haberstro really was irreplaceable as executive director of the Wellness Institute of Greater Buffalo. The institute has foundered since he was diagnosed with cancer and soldiered on to keep it afloat before he died unexpectedly last November, at age 72, while undergoing treatment. Friends and others who respected his community service are bent on reinvigorating the organization. Read more
---
BILLS
Emmanuel Sanders tells Bills teammates he came here to win the Super Bowl: Veteran receiver Emmanuel Sanders, who joins the Bills this season at age 34, got a chance to address his new teammates this week as the Bills gathered for mandatory minicamp. "My first year, I went to the Super Bowl and I've been chasing it ever since," Sanders told the other Bills players. Sanders has played in three Super Bowls and has himself a ring, but he came to Buffalo to win another one, he said, according to Josh Allen. Read more
Cole Beasley sounds off: The receiver has not been quiet about his vaccine hesitancy this offseason. He made that perfectly clear again Thursday on Twitter, this time to call the NFL Players Association a "joke." Read more
---
WITH YOUR MORNING COFFEE
• Who needs treadmills or dumbbells to get a good workout? Why not try rock climbing, aerial arts or dancing to strengthen some muscles you might not even know you had? In this video for Project Best Life, Liberty Darr suggests alternative workouts. 
• An Iraq War veteran has written a children's book that highlights the important role families play in the lives of people who are in the armed services. Marilla resident Michael Eberle talks with WIVB's Melanie Orlins about his book titled "My Daddy, My Hero."
• Bryant Street is best known to many local residents as home to the former Women & Children's Hospital. But blogger and urban hiker Ellen Mika Zelasko writes that the street on Buffalo's West Side has an eclectic collection of residences that span from the late 1800s to the 1950s and early '60s. This digital tour on Hello Buffalo includes information about structures designed by prominent architect E.B. Green.
---