COMPILED BY BEN TSUJIMOTO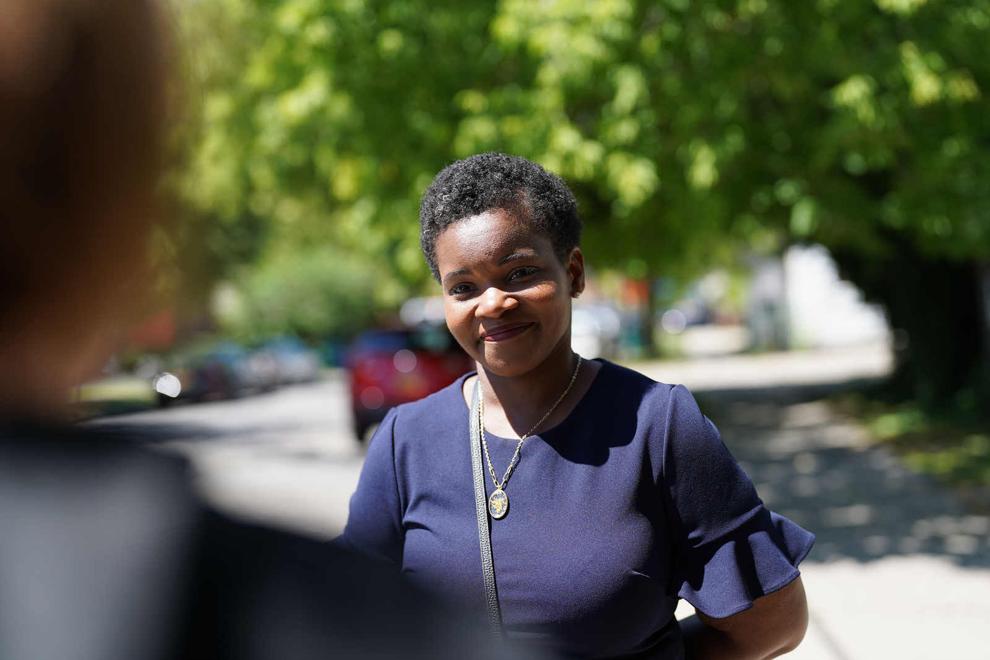 India Walton, poised to be Buffalo's next mayor: 'It's surreal'
After a sleepless night and then back-to-back interviews with local media all morning, India Walton emerged from inside Betty's restaurant in Allentown a little before noon. Diners seated on the patio cheered and clapped.
"Should I clap too?" said Walton, a little unsure about how to handle the sudden spotlight on her.
"It's surreal," Walton told The Buffalo News. "I entered into the race with the intention of winning. I don't do things thinking I'm going to fail. But the level to which we took this campaign is incredible. I have the best team. Sixteen national endorsements. The expertise and capacity of the Working Families Party. This has just been an unprecedented campaign like Buffalo has never seen before. I'm extremely proud."
Walton teared up as she discussed her unlikely rise from a single teenage mom to the first woman to be the mayor of Buffalo.
---
See how Chef Darian Bryan grills up the first of four dishes in this season of Dig In, Buffalo! Jamaican jerk chicken with rice and beans and plantains, the perfect combo for your next BBQ. Watch now >>
Sponsored by Tops Friendly Markets
---
MORE ON THE MAYORAL RACE
India Walton is a proud Democratic socialist: What that does – and does not – mean: Buffalo community activist India Walton won this week's Democratic primary for mayor – and she won as a Democratic socialist. But that doesn't mean she's a communist. It means she's for a much more active government effort to share the wealth, Jerry Zremski explains. Read more
Why turnout in Buffalo's mayoral primary wasn't really as low as some might think: The voter turnout was just over 20% in India B. Walton's victory over Mayor Byron W. Brown. While that figure won't set any records, it is on par with recent primary elections, and that turnout percentage was the highest among Tuesday's high-profile primaries in Western New York. Read more
Analysis: Numbers tell the story of Brown's defeat as four-term mayor weighs options: As Mayor Byron Brown considers a write-in campaign, analysis of his election results shows a drastic reduction in his support throughout the city – even in his home base of Masten. He must make a decision within the next few days, Robert J. McCarthy reports. Read more
---
WHAT WE'RE TALKING ABOUT
Concern builds over McKinley Mall buyer's track record as Hamburg attempts to halt sale: Nassau County-based Kohan Retail Investment Group has a record of buying malls falling behind on utility, tax and mortgage payments – and letting the properties languish in disrepair. In several instances, KRIG has lost ownership or control of the malls altogether, Samantha Christmann reports. Read more
Rod Watson: Stimulus money stimulates push to get city involved with schools: According to the state's College, Career, and Civic Readiness Index, Buffalo Public Schools rates a 1 out of 4, the lowest score possible. The State Education Department calls the index an indicator of how well a district "has prepared its students for life beyond high school," including readying them for college or the workforce. Given that rate, how should BPS spend the $289 million in federal stimulus? Read more
Hamburg woman battles cancer with fellow survivors on an online app: Lori Porte needed a little extra help through a cancer relapse diagnosed in March 2020, just as the Covid-19 pandemic swept into Western New York. An online support group called GRYT has helped bring her through a slow, continuing recovery. Read more
Niagara Wheatfield ignored student victims of rape, assault, state lawsuit says: For the first time, the state Attorney General's Office has sued a school district over an alleged lack of response to student bullying and assaults. The suit accused the Niagara Wheatfield district of failing to provide a safe educational environment for all students. The suit said there have been more than 30 such cases, but specified three, including one where a girl who was raped by a classmate said she was repeatedly stared down by him in the halls. Read more
---
WEATHER
Don Paul: Can tinderbox California do much to prepare for the worst?: With 75% of California already in extreme to exceptional drought just a short time after an extremely disappointing rainy winter season, the dwindling water supplies in the state and from outside resources such as Lake Mead make for a grim picture. Read more
---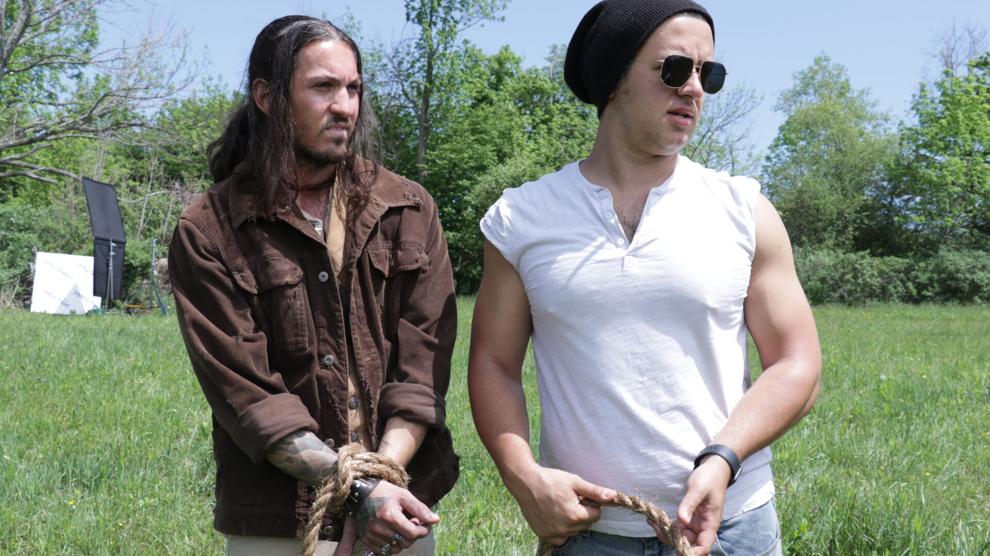 Jeff Miers: For Mac Cappuccino and Grabbitz, enduring friendship yields inspired artistic collaboration
Both filmmaker Mac Cappuccino and musician Grabbitz (Nick Chiari) got their starts in Buffalo before heading to opposite coasts, in New York City and Los Angeles, respectively. The shutdowns of Covid-19 brought them back home more frequently, and the longtime friends took the chance to meet up.
"Unfortunately, the pandemic kept our process pretty well locked up," said Cappuccino, who conceived and directed the independent film "Malaisia" in Buffalo in 2017. "But at the same time, it provided us with the sort of echo chamber we needed to bounce ideas off of each other until something stuck."
Those increasingly refined collaborative ideas eventually fully flourished in the form of a video for the Grabbitz tune "Pigs in the Sky," which will be celebrated with a red carpet premiere at the North Park Theatre at 7:30 p.m. today. 
---
POLITICS
The field narrows slightly in race for Erie County sheriff: Moves are afoot to make the crowded field in the Erie County sheriff's race less crowded. Democrat Brian J. Gould, who had been the Democratic Party's favorite, pledged his support to the candidate who beat him in the party primary Tuesday, Kimberly Beaty, and will no longer seek the office. Matthew Spina updates the race. Read more
Close races in Niagara County go to absentee ballots: All absentee ballots in Niagara County are to be counted Monday, Republican Election Commissioner Jennifer M. Sandonato said. That will decide a close race for a GOP County Court judge nomination and several other nail biters around Niagara, including a Democratic Hartland town justice primary that ended in a tie and a Democratic primary for county legislator in Niagara Falls where incumbent Owen T. Steed is 11 votes behind Jeffrey Elder. Read more
---
BILLS
Bills receiver Cole Beasley says he has no regrets for comments on vaccine: In an interview with the Fort Worth Star-Telegram in his home state of Texas, Beasley said he was  standing by what he said but "not trying to sway anybody in either direction. That's what I am doing and that's the end of it." He said he no longer wants to be a distraction. Read more
---
SABRES
Memories of Rene Robert: Reactions to the death of the 'French Connection' right winger: "Rene was in good shape," Gilbert Perreault told Mike Harrington on Wednesday by phone. "Every time I talked to him, he was doing the bicycle two-three times a week and playing golf three times a week and was enjoying life. He was doing very well, so it was shocking news. Very shocking." Harrington highlights more reactions from former teammates. Read more
---
WITH YOUR MORNING COFFEE
• For its annual "Buffalo Quickies" presentation, Alleyway Theatre did something unique: Actors performed 10-minute plays inside storefront windows along Main Street in downtown Buffalo as small groups of theatergoers moved from window to window to watch. Melinda Miller shared her experiences from opening night.
• Sharon Russell-Moore and Mike Moore have spent years creating a garden that includes several sitting areas to enjoy it all. Check out Susan Martin's first "Outdoor Spaces" feature of the season.
• Given how they were staffed Tuesday night, TV stations weren't expecting India Walton's historic upset of Byron Brown, Alan Pergament writes. Pergament shares his favorite moments – and his least favorite – of the coverage.
• As Rod Watson wrote in his Wednesday column, Buffalo's lack of literacy, especially in its youth, is alarming. The Buffalo Reading Invasion, which trumpets the importance of reading and of using the city's green spaces, is a good opportunity to emphasize the skill in public, writes Buffalo Rising. 
---