COMPILED BY BEN TSUJIMOTO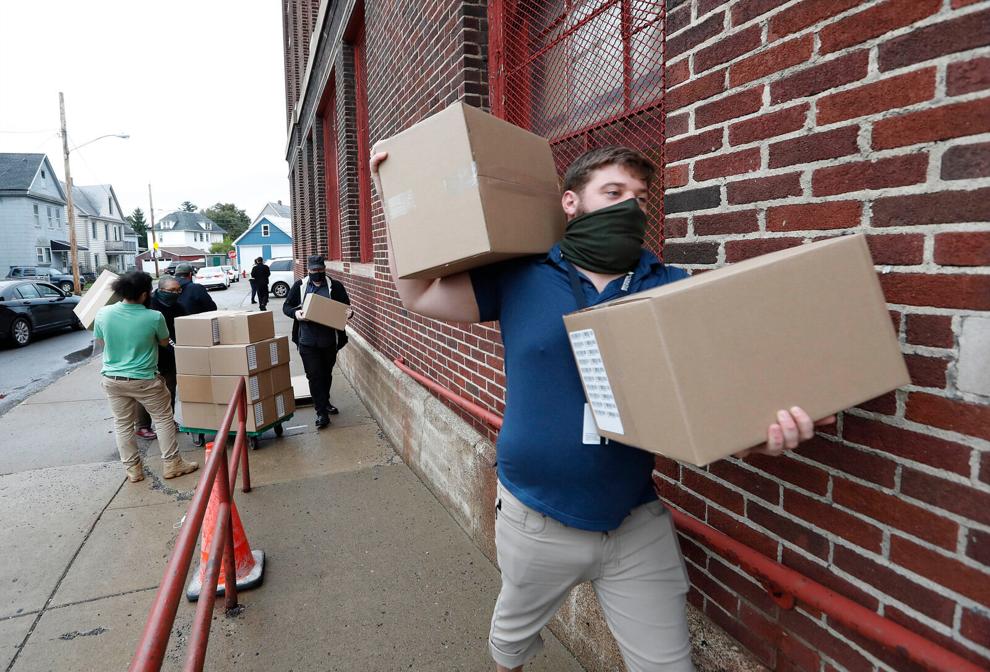 In Buffalo Public Schools, a device for every student – finally
Buffalo Public Schools will quietly hit an important milestone this week: A laptop or tablet issued to every student.
More than two-thirds of district students were issued a device in the spring amid the Covid-19 shutdown, but the city school system was still waiting for nearly 10,000 iPads to arrive for those in pre-K, kindergarten and first grade.
The first batch arrived mid-October and the final allotment is expected early this week.
Putting devices into the hands of students is one of the critical first steps during this period of remote learning to ensure no one gets left behind.
"The digital divide is real," said Rachel Fix Dominguez, who co-chairs the Buffalo Parent Teacher Organization, "and it is critical that all BPS students have free access to devices and internet connectivity."
---

Don't miss this opportunity to get financial assistance. Your small business could be eligible for a grant of up to $45K to cover past and future expenses.
---
MORE COVID-19 COVERAGE
Cuomo blasts Trump, says New York proves Covid-19 can be controlled: "It was the great American surrender," Gov. Andrew M. Cuomo said of the Trump administration's response to the pandemic. The governor's criticism came after Trump's chief of staff told CNN that America would be unable to control the spread of Covid-19. Read more
State's focus on 'micro-clusters' will change how WNY fights Covid: Start paying attention to words like micro-clusters and focus zones. Cuomo is no longer talking about shutting down whole regions of the state to contain spikes in Covid-19 cases. Instead, he's talking about targeting hot spots and flare-ups at the neighborhood level. Read more
---
WHAT WE'RE TALKING ABOUT
Sewer contractor who died after falling into well identified: K. Darren Stevens, a 50-year-old private contractor and father of six on the Cattaraugus Indian Reservation, was working on a Buffalo Sewer Authority project at its pumping station on Bird Island when he fell into a well that was 15 feet deep. Read more
Norm Dechert, 86, was longtime fixture of North Park Theatre: "[Dechert] kept the North Park running in good times and in bad," said Ray Barker, the theater's program director. "Without Norm, it is unlikely that the North Park Theatre would even exist today." Mark Sommer tells more about the life of Dechert, who preferred to fly under the radar. Read more
East Aurora native Kaitlin Hawayek, partner win silver at Skate America competition: The 23-year-old ice dancer from East Aurora claimed her third Grand Prix medal in seven seasons with partner Jean-Luc Baker. The duo, which finished second to Madison Hubbell and Zach Donohue, performed in a fan-less arena in Las Vegas. Read more
---
WEATHER
Some rain expected on Monday: Scattered rain showers are likely throughout the day on Monday, although there will be plenty of breaks from the drizzle, WIVB forecasts. The high temperature will continue to linger around 50 degrees.
---
VOTING AND POLITICS
Jacobs lives up to promise as votes align with Trump policies - mostly: In the three months he's served the NY-27 Congressional District, Christopher L. Jacobs has largely stuck to the party line and backed President Trump and his major policies – such as the tax reform act. Jacobs, a moderate Republican, delivers his thoughts in a much different tone than the president, Jerry Zremski writes. Read more
Pandemic casts shadow over race for 59th State Senate District seat: Pandemic-related issues are at the heart of the race between Republican incumbent Patrick M. Gallivan of Elma and Democrat contender Jason W. Klimek, of Fairport. It's the second time in 10 years that Gallivan has faced a challenger for the seat. Read more
---
BILLS
Bills are 5-2 but show signs of struggling: What do we make of the Bills through seven games? They're two games ahead of Miami and in first place in the AFC East, but there are some warning signs that should be concerning to the team and its fans, particularly the execution on offense the last few weeks. Here's Vic Carucci's column on a sloppy win, but a win nonetheless. Read more
Defense takes control: The Bills' defense needed a day like this. After two beatdowns, a strong response was in order. Who led the way? Veteran Jerry Hughes. Jason Wolf has the column on what the Bills hope was a turning point. "That's who we are, that's who we want to be, so it'll be good build off something like that." Read more
Report card: Second-half adjustments led to high marks for the defense. Here are Jay Skurski's grades. Read more
---
SABRES
---
AROUND TBN SPORTS
Mallory Grubb is just a one-sport fall athlete now: Balancing soccer and cross-country last fall was stressful and exhausting for Amherst's Grubb, who opted to focus on running this fall after finishing last year as a first team all-state selection for Class B. The News' Milt Northrup catches up with Grubb to learn more about her choice and her future plans. Read more
---
WITH YOUR MORNING COFFEE
• Should the Toronto Raptors need an across-the-border home for the coming NBA season, Sen. Tim Kennedy is pushing for Buffalo to be atop the list. WKBW reports that Kennedy sent a letter to the Raptors' brass urging them to consider the Queen City.
• A drive-by parade welcomed home Chelsea Ellis, the Buffalo resident who was paralyzed after being struck by a police car while walking down Main Street in March. WIVB's report shows a long line of friends and family giving encouraging words on Sunday.
• Spectrum News' Everyday Heroes series praises the efforts of two volunteers – Michelle Barczak and Paula Lawson – for FeedMore WNY, a nonprofit organization that is on track to serve more than 15 million meals this year to neighbors in need.
---