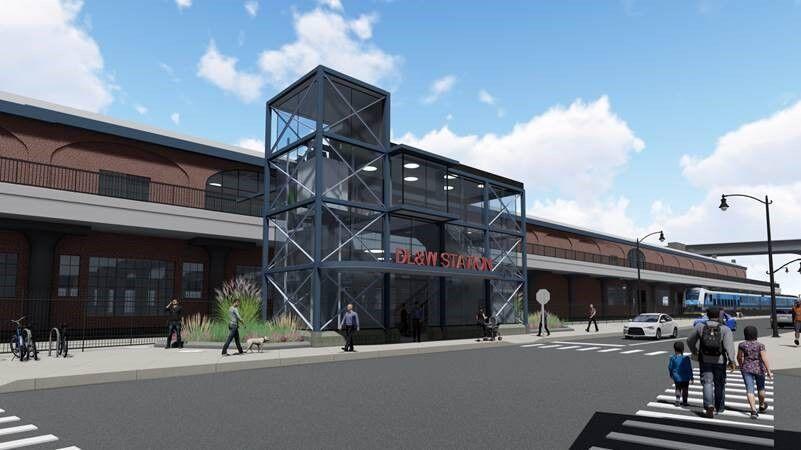 Sneak peek: Latest plans to turn DL&W terminal into Metro Rail station
Efforts to resurrect the former grandeur of the Delaware, Lackawanna and Western Railroad Terminal at the foot of Main Street are beginning to become reality as crews work on $52 million worth of track reconfiguration to prepare for interior improvements.
The News' Robert J. McCarthy reports that the Niagara Frontier Transportation Authority and Savarino Cos. are sharing their illustrated visions for the proposed regional attraction. The artist renditions include a new crosswalk on South Park Avenue, a new stair tower at South Park and Illinois Street and a new Metro Rail station within the terminal on the first floor of the Buffalo River side.
While the future of the train shed's cavernous second floor has yet to be finalized, its private developer said the goal is to make the DL&W an integral part of the city's burgeoning waterfront.
---
COVID-19 COVERAGE
Cuomo: 'Major reopening' of New York to begin May 19: Many businesses across New York State can start letting in more customers later this month when the state eases capacity restrictions, Gov. Andrew Cuomo said Monday. The restrictions, most of which go into effect May 19, must incorporate a 6-foot social distancing requirement, the governor said. Read more
How vaccinations, Covid-19 mitigation could impact attendance at college sports: Restrictions surround college athletics as the pandemic continues, even with the ongoing vaccine rollout and declining case numbers and positivity rates across the country and in Western New York. Administrators and coaches at local colleges and universities plan on fans returning in the fall, but they also understand that getting back to normal – or creating a new normal – hinges upon multiple factors, including whether the pandemic wanes or waxes. Read more
Alan Pergament: Ted Shredd's Covid post should inspire others to advocate for vaccinations: The popular co-host of the morning show at 103.3 FM The Edge is battling Covid-19. "I admire Shredd for being willing to post a picture of himself at his most vulnerable from a hospital bed receiving oxygen and telling everyone to get vaccinated," Pergament writes. Read more
---
WHAT WE'RE TALKING ABOUT
$4 million renovation of Lockport's Historic Palace Theatre reveals long-hidden mural, dome: After a five year restoration, the neoclassical 1925 theater opened this past weekend with fresh coats of paint, plaster, added sparkle and some restored features that were hidden from public view for decades. Read more
Orchard Park gym owner who fought mask mandate objects to school discussion on race: An Orchard Park parent believes his son's freshman English teacher is making white children feel guilty about their race during discussions of white privilege. "It's OK to believe that white privilege doesn't exist, it doesn't mean you're a racist," parent Robert Dinero said. Read more
McMurray joins HoganWillig's new cannabis practice: Nate McMurray, the Grand Island Democrat who unsuccessfully sought the 27th Congressional District seat three times in recent years, will now help direct the expanded cannabis law practice team at a prominent local firm. Read more
---
WEATHER
Spring showers: Expect cloudy skies with occasional rain showers. Highs will be in the mid-60s. Read more
How close are we to climate change tipping points? "There is good agreement in the scientific community the largest single threat posed by our human activity-driven warming climate is rising sea levels," writes Don Paul. Read more
---
FOOD & DRINK
Cinco de Mayo approaches with Mexican and Tex-Mex specials, takeout and a few saucy parties: From digging into trendy birria tacos with consommé at home to enjoying Coronas under a tent with friends, Cinco de Mayo in Buffalo has a fleet of options for people to enjoy the holiday through food and drink. Read more
Buffalo Without Borders cocktails add to international cuisine fundraiser: Cocktail artists have added to the impact of the International Institute of Buffalo's annual Buffalo Without Borders culinary fundraiser by designing original cocktails to accompany the four nights of immigrant cuisine. News Food Editor Andrew Galarneau takes a look at the cocktails, and what's in them. Read more
---
BILLS
Bills pick up fifth-year options on Josh Allen, Tremaine Edmunds: The Buffalo Bills announced that it has exercised the fifth-year contract options on their two 2018 first-round draft picks – quarterback Josh Allen and linebacker Tremaine Edmunds, meaning they are both under contract through the 2022 season. Read more
---
SABRES
The Wraparound: Sam Reinhart helps Sabres rally from 2-goal deficit in win: Sam Reinhart's game-winning goal with 4:04 remaining in regulation stood as the game-winner and gave rookie goaltender Michael Houser his first win in his NHL debut. Read more
Michael Houser's 'special night' following difficult road ends with a Sabres win: Playing in his first game at any level since March 7, 2020, Houser stopped all 15 shots he faced in the third period, standing tall to help the Sabres rally from a two-goal deficit to defeat the New York Islanders 4-2. Read more
---
WITH YOUR MORNING COFFEE
• Three student cooks in Batavia have rocketed to the finals in a nationwide culinary competition sponsored by NASA to devise healthy recipes for comfort food. Spectrum News' Ted Goldberg says students at the Genesee Valley BOCES Batavia Campus have made it into NASA's top 10 with their recipe for sweet potato shepherd's pie. The winner will be announced Thursday.
• As a part-time instructor on three local college campuses, it's exciting and a bit nostalgic to chat with students who are "discovering" the allure of vinyl. Welcome 716's Max Fisher writes about the ongoing resurgence of vinyl records, describing it as an "analog revolt against the digital revolution." 
• Running can help people find "mental health clarity," writes Lauren Genesky in Buffalo Rising. She's candid about her struggles with anxiety and depression, hoping it will help others as we commemorate Mental Health Awareness Month. She says running has provided a positive outlet. "Around every turn, I find something to inspire me on my runs," she writes, citing as examples Buffalo's architecture and its growing array of public murals.
• 'Tis the season when many gardeners ponder nagging questions. What if your bulbs produced lots of leaves and no flowers? Why do some people "pinch back" their mums? Carol Ann Harlos shares tips for helping your garden achieve its "fullest potential" in this post on Forever Young.
Have a great day. And may the fourth be with you. 
---