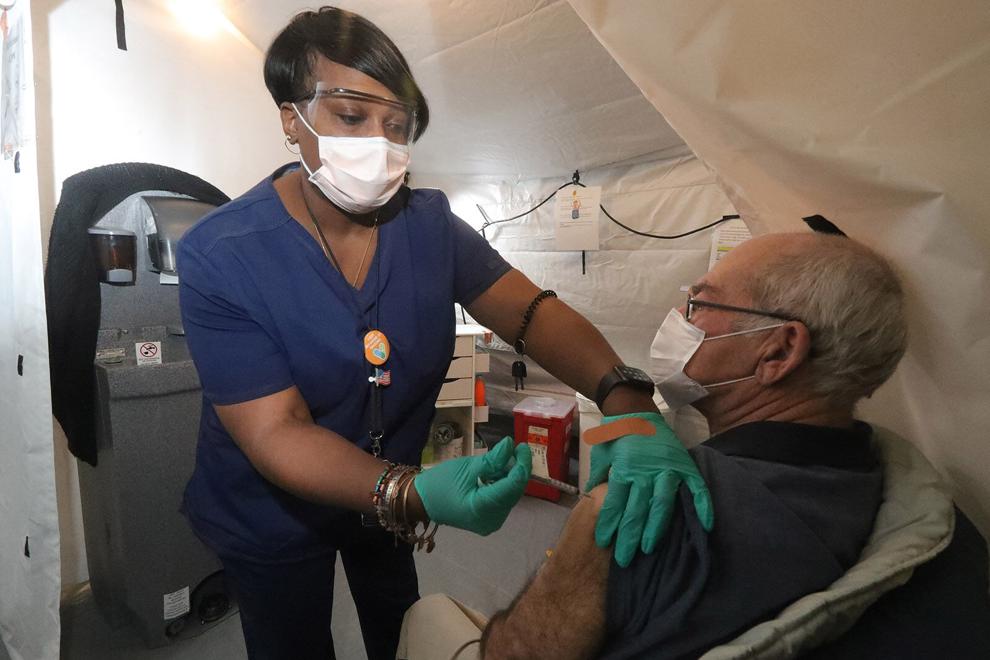 First-of-its-kind system brings Covid-19 vaccine to WNY veterans
Staff with the Veterans Affairs Western New York Healthcare System say they were hoping to deliver 500 doses of the Covid-19 vaccine a day after converting a field hospital into a vaccine clinic in a parking lot on the grounds of the Buffalo VA Medical Center.
Now, 600 shots is a slow day and they've administered as many as 1,000 in the climate-controlled tent that, officials say, is the first operation of its kind in the national VA health system. Other VA centers have asked the Western New York VA how they did it and some have sent unused vaccine doses here because of the local system's efficiency in delivering the shots to veterans.
As if that weren't enough, the Western New York system on Sunday held what it describes as the VA's largest rural vaccination outreach clinic at an American Legion post outside Jamestown, where it provided about 715 initial vaccine shots.
Veterans in interviews this week said they appreciate the efficiency of the tent vaccine clinic, which relies on VA staff and volunteers to keep things moving. The most notable presence on the recent visit was Lucretia Cole, a licensed practical nurse who urges the veterans to keep rotating the arm that received the shot and lets them know when their 15-minute, post-shot observation period is over.
"They call me a drill sergeant," she said. Asked if she ever gets tired from moving up and down the aisle, broadcasting announcements and bantering with the vets, she replied: "No, I like it."
---
Are you a local educator? Now through June, The Buffalo News is offering free digital subscriptions to all educators in Western New York. Sign up here.
---
MORE COVID-19 COVERAGE
KeyBank Center becomes Erie County's newest vaccination site for those 65+: The home of the Buffalo Sabres will soon be the central site of a new Erie County Covid-19 vaccination clinic. Read more 
5,000 Buffalo schools students return to classrooms March 15: Superintendent Kriner Cash was eyeing next week for their return, but the district needs more time to work out routes for buses picking up and dropping off elementary students. Read more
State wants to cancel six Regents exams: There's good news for some high school students not looking forward to taking Regents exams this year. New York State would only administer four exams that are required by federal law, and cancel six others because of the pandemic. Read more
Buffalo parents question no-spectator policy at school basketball games: The local governing body for high school athletics last week began allowing home teams to host up to two spectators for each one of their athletes. But there's at least one local school district sticking with a no-spectator policy – much to the displeasure of parents. Read more
Judge may order ICE to take Batavia detainees to public vaccination clinics: A week ago, U.S. District Court Judge Lawrence Vilardo became the nation's first judge to order that Immigration and Customs Enforcement vaccinate its most vulnerable immigrant detainees to protect them from Covid-19. On Thursday, after the Buffalo Federal Detention Facility in Batavia failed to present a plan to get that done – because, a lawyer explained, it could not obtain doses of the vaccine – Vilardo said he might order the staff to escort the detainees to public sites in the region or throughout upstate New York. Read more 
---
How some local theater companies are weathering the tempest
With the return of live, in-person performances to full houses still seemingly a long way off – most in the community aren't expecting to be able to fill their venues with patrons before 2022 – the theater community is in full-on survival mode. 
While they continue to pursue virtual productions and alternative means of patron engagement, these theaters are attempting to navigate the murky waters of grant application processes. They're making efforts to seek their rightful share of SBA grant money being offered through the Save Our Stages Act, Shuttered Venue Operators Grants (SVO) and Paycheck Protection Program (PPP) loans. 
Here's how three women at three prominent area theater companies are approaching the present moment as they attempt to steady their ships for the rough ride between today and the still-distant "return to normal."
---
WHAT WE'RE TALKING ABOUT
Plan for Nicklaus-designed golf course in jeopardy: Civic activist Kevin Gaughan's plan for a Jack Nicklaus-designed golf course in South Buffalo is in jeopardy after falling behind on the mortgage for the site. Instead, a renewable energy company that originally had an option for the property plans to put up a community solar farm on the site. Read more 
New indictment accuses of Morgan of 'wide-ranging' conspiracy to defraud: The new 104-count indictment comes nearly five months after a federal judge dismissed an earlier 114-count indictment against Rochester developer Robert Morgan and three co-defendants. Federal prosecutors accuse them of a mortgage fraud scheme that targeted financial institutions and government-sponsored enterprises. Read more
Construction starts on long-awaited plan to jump-start Lancaster business district: Construction began this week on a $12 million mixed-use retail and housing development in the Village of Lancaster. Developer Tommy Sweeney of Glassco Management is planning a three-phase project on West Main Street, creating what local leaders called a "transformative" shopping venue and residential attraction to enhance the Central Avenue Business District. Read more
Community rallies for USS The Sullivans emergency repairs: The community rallied around the World War II destroyer once it became known the decommissioned vessel was in danger of sinking at the Buffalo and Erie County Military & Naval Park. And two businessmen, Scott Bieler, president and CEO of West Herr Automotive Group, and developer Douglas Jemal, are leading the charge. Read more
---
HEALTH & WELLNESS
How mental health counseling can help you build a healthier relationship with food: Samantha Sessamen doesn't like to use the term "eating disorder." "I think one of the problems we have is we think of eating disorders as emaciated white women and that's not the case," she says. "People in all-sized bodies, of all races of all genders, of all socioeconomic statuses, can have some kind of disordered eating." Pandemic or not, mental health counseling can often help people build a healthier relationship with food. Read more 
---
COLUMNS
Sean Kirst: In Lackawanna, a second vaccine dose feels like a new chance: The full meaning of what is at stake in this pandemic – and the irreplaceable civic treasure being protected by the Covid-19 vaccine – was made clear Wednesday at a pop-up clinic in Lackawanna. Community elders, many from neighborhoods of color, explained the factors that inspired them to show up for their second shot. Read more
---
BILLS
Bills offseason questions: Is it guaranteed that Tremaine Edmunds' option will be picked up?: The impending unrestricted free agency of Matt Milano has rightfully garnered much of the attention, but General Manager Brandon Beane also has to concern himself with another matter: What to do about the fifth-year option on Tremaine Edmunds' rookie deal? Read more
---
SABRES
Observations: Ralph Krueger not looking to 'reinvent' Sabres amid 5-game skid: "The unraveling of the Buffalo Sabres is no longer a story about bad luck," writes Lance Lysowski. Read more
Sabres notebook: Taylor Hall 'open' to returning to Buffalo next season: For all that's gone wrong with the Sabres so far this season, Hall told the media following the morning skate Thursday that he is open to returning to Buffalo next season. Read more
---
WITH YOUR MORNING COFFEE
• A mysterious painting discovered two years ago in the basement of Corpus Christi Church in Buffalo's Broadway-Fillmore neighborhood has been restored. The damaged 150-year-old painting of St. Joseph holding baby Jesus was restored after the parish mounted a fundraising effort. WGRZ's Kelly Dudzik reports that a special ceremony is planned on Sunday.
• New York's parole system is riddled with problems that take both monetary and human tolls, WBFO's Thomas O'Neil-White reports. He examines the problems and looks at the prospects for reform.
• A fifth generation beer distributor who serves as chairman of the Buffalo Niagara Partnership talks about the local brewing industry and entrepreneurship. Paul Vukelic, CEO of Try-It Distributing Co., shares his family's intriguing business saga on the WNY Entrepreneur podcast.
• Make sure you wish Buffalo's most famous finger food a happy birthday this weekend. The first platter of what we now know as Buffalo chicken wings was served in the wee hours of March 6, 1964, according to the official history of the Anchor Bar. Visit Buffalo Niagara shared this post a couple years ago that highlights how it all began.
Have a fun and safe weekend!
---