COMPILED BY SHAWN CAMPBELL
Child respiratory disease comes early and hard, raising specter flu could do the same
An early spate in cases of respiratory syncytial virus (RSV) at Oishei Children's Hospital concerns Dr. Stephen Turkovich, chief medical officer.
The hospital typically sees cases start to climb in November. In September, 107 patients were admitted, including 26 to the pediatric intensive care unit.
"The RSV season this year is significantly earlier than we have ever seen it before," Turkovich said.
He and other doctors in Western New York wonder how busy the new RSV season will get, how long it will last and if the same forces will take place with the flu.
"We're certainly not seeing a lot of flu," he said, "but because we've seen it, we know that it's in our community. Respiratory viruses usually start with small numbers of patients, and then over the next four to six weeks, generally will start to increase."
The Buffalo hospital also matched its monthly record of Covid-19 cases in September, with 25, involving children and pregnant women.
---
MORE COVID-19 COVERAGE
Mask protests prompt Clarence, Orchard Park to take board meetings virtual: Clarence ended its meeting Sept. 20 just shy of eight minutes in, when the board voted to adjourn until there was compliance with the masking policy. Orchard Park School Board members called an executive session during their meeting Sept. 14 after a number of audience members refused to wear masks. Read more
Three Western New Yorkers latest to die of Covid-19: Two Erie County residents and one person from Allegany County were among the 34 people statewide who died of Covid-19 Saturday. The seven-day average percent of those in the region who tested positive, as of Saturday, was 4.5%, above the state percentage of 2.5%. Read more
---
WHAT WE'RE TALKING ABOUT
Meet Dexter Harris, the mayor of the Maid of the Mist: Dexter Harris is the kind of man any business would like greeting its customers. For one thing, he can do it in 30 languages. The 62-year-old Niagara Falls native is in his 19th year working for the Maid of the Mist, the iconic boat ride that draws hundreds of thousands of tourists every year. Read more
Film reveals grace and joy of Mamie Kirkland, who saw the worst of bigotry before moving to Buffalo: The story of Mamie Kirkland, who died in 2019 at 111 years old, was told Sunday on the North Park Theatre's screen. When she was 7 years old, her family fled the deep South after her father was told he was going to be lynched. Tarabu Betserai Kirkland made the award-winning documentary about his mother – "100 Years From Mississippi." Read more
Jean Knox seeks quarter-million dollar repayment from Beth Hoskins following animal cruelty case: As Beth Lynne Hoskins appealed animal cruelty convictions, she received hundreds of thousands of dollars in loans from Jean R. Knox, according to a State Supreme Court lawsuit filed Thursday. Now Knox wants to be repaid. Read more
---
WEATHER
Sunny and warm: WIVB says today's high in Buffalo will approach the record of 82 set in 1964. Mostly sunny skies will accompany the warmth. Read more
---
FOOD & DRINK
Watch now: Look inside bowl-ify in Niagara Falls: bowl-ify, a new fast-casual, gourmet mac and cheese restaurant, opened near the Fashion Outlets of Niagara Falls USA in September. Jason Lizardo, who also owns Rock Burger, started bowl-ify with Ed Slowinski and Paul Kudela. Customers may choose between the basic mac and cheese, several signature mac and cheeses or build their own mac and cheese. Read more
---
ELECTION 2021
Does Byron Brown deserve credit for Buffalo's population increase? Buffalo's population increased for the first time since before Mayor Byron W. Brown was born, the 2020 census reported recently. But did he have anything to do with the increase? Brown and his mayoral opponent, India B. Walton disagree – but both say they're committed to keeping the growth going. Read more
Analysis: India Walton keeping unapologetically to the left: "Walton offers no apologies for featuring left-wingers in this 'conservative Democratic' city," writes News Political Reporter Robert J. McCarthy. "And her leftward course remains steady from the primary instead of the traditional adjustment toward the center in the general. It all adds up to a defining moment for Democratic politics in Buffalo." Read more
Candidates spar over qualifications in race to be next Niagara County judge: Democrat Michael E. Benedict is the more qualified candidate, according to the Niagara County Bar Association, whose rating committee of local lawyers deemed him "well qualified." Republican John J. Ottaviano was rated "qualified." Read more
---
BILLS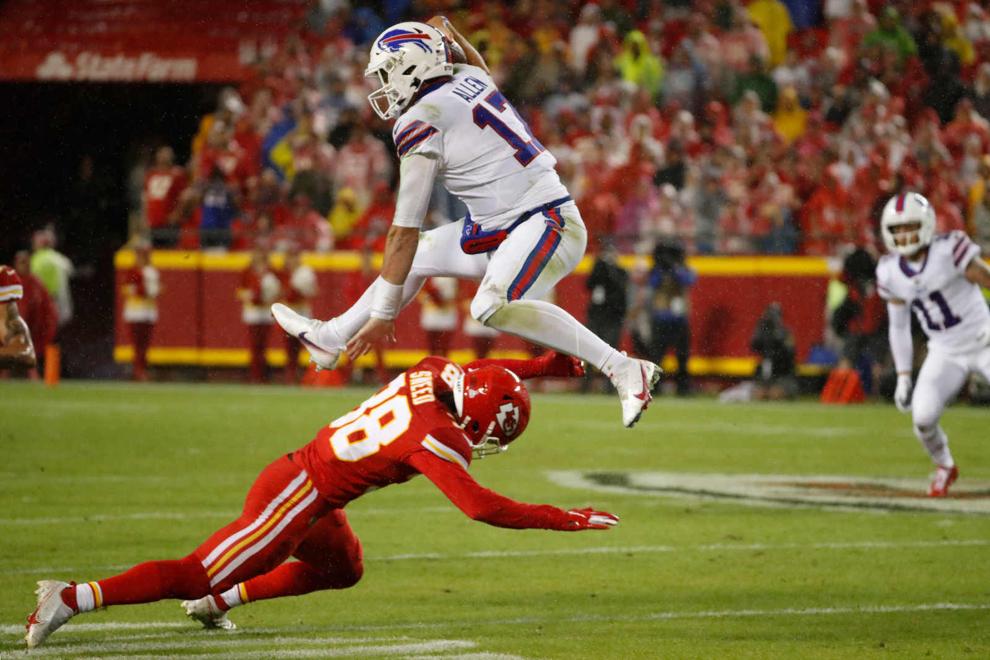 Your guide to Buffalo Bills' statement victory over Kansas City Chiefs: The Bills improved to 4-1 and avenged their loss in last season's AFC championship game with a 38-20 drubbing of the Kansas City Chiefs on Sunday in a game interrupted by a lightning storm. Read more
---
SABRES
Sabres place winger Axel Jonsson-Fjallby on waivers; Casey Fitzgerald joins Amerks: Jonsson-Fjallby, a 23-year-old winger, was placed on waivers by the Sabres on Sunday, only six days after he was claimed by the club from the Washington Capitals. Additionally, the Sabres loaned defenseman Casey Fitzgerald and winger Brandon Biro to Rochester. Read more
---
WITH YOUR MORNING COFFEE
• It's cider season, and whether you prefer the hard or nonalcoholic variety, there are plenty of places to enjoy the drink around Western New York. Step Out Buffalo shared a guide of where you can get your cider fix.
• If you like to take your pup to the dog park, there's a new option in Lancaster. The Como Lake Bark Park held its grand opening over the weekend. Organizers hope the park, complete with an Instagram-worthy mural, attracts out-of-town dog owners to the village, Spectrum News' Katherine Chloé Cahoon reports.
• Can you believe it's been 15 years since the October Storm? In that span of time, volunteers with Re-Tree Western New York have planted 30,000 trees to make up for those lost in the storm. More planting is planned for November, WIVB's Kayla Green reports.
• Fifteen years is nothing compared to the age of photos a Wisconsin photographer printed. A 30-pound box of glass negatives produced images from the early 1900s, including some portraying Western New York. WGRZ's Danielle Church has the story.
---