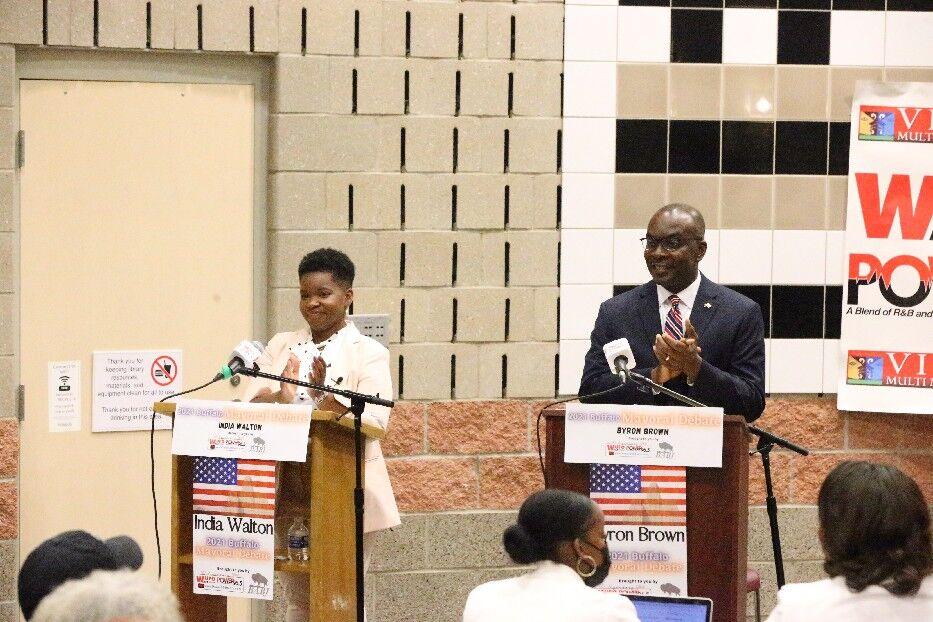 Byron Brown shifts ad strategy, targets India Walton plan to reduce police budget
Mayor Byron Brown acknowledges he ignored his opponent – India Walton – during the spring campaign in the Democratic primary. Indeed, he lost.
So after a lackluster primary featuring only his "warm and fuzzy" ads touting his administration's accomplishments, Brown on Tuesday unleashed an attack ad, claiming her plan to slash $7.5 million from the Police Department will spur the layoff of 100 officers.
Walton says other ways besides intensified enforcement can often achieve better results. She now outlines a program of "restorative justice" that embraces alternatives to prison for crimes such as sexual assault.
---
Josh Allen: Built For Buffalo – A documentary book containing a collection of stories and original photographs from our newsroom is now available in The Buffalo News store. Get yours today >>
---
PLAYACTION
Bills will look to over routes vs. Dolphins: The Miami Dolphins have spent more money on the cornerback position than any team in the NFL. So, in theory, they're built to stop the Bills. But the Dolphins, who play a lot of man-to-man coverage, were susceptible last season to over routes, a pattern Josh Allen and Stefon Diggs connected on for big gains. Mark Gaughan explains more.
---
COVID-19 COVERAGE
Judge issues temporary halt to state's Covid vaccine mandate: A federal judge in Utica has issued a temporary restraining order against Gov. Kathy Hochul and New York State from proceeding with a Covid-19 vaccine mandate on all health care workers. Read more
Bills, Sabres to require full vaccination for fans in attendance: Erie County Executive Mark Poloncarz announced that proof of vaccination would be required for all future Buffalo Bills and Buffalo Sabres games, triggering a torrent of cheers and jeers. Read more
Christian Central Academy loses initial challenge to school mask mandate: State Supreme Court Justice E. Jeannette Ogden rejected the school's request for a preliminary injunction against enforcement of the mask mandate. She set an Oct. 1 hearing for further arguments and will then decide whether to approve or dismiss the school's petition. Read more
---
WHAT WE'RE TALKING ABOUT
Should Outer Harbor host concerts? This is the central question that divides supporters and opponents of a state agency's proposal to transform a derelict former port warehouse into an open-air pavilion. And it's the latest issue in a decades-old clash. Read more
Justice Department sues Independent Health over 'millions' in inflated Medicare claims: The Justice Department is accusing Independent Health, a former affiliate company and that affiliate's CEO in a lawsuit centered on alleged overcharging for Medicare claims. The defendants deny the allegations. Read more 
Mural whitewash has Grand Island residents seeing red: The decision by the owner of the Grand Island Plaza to paint over a mural that highlights the town's history and natural features has upset some island residents. Plaza owner Don Singh said it's a business decision because he plans to cut truck bays into the wall that now features the 250-foot-long, 9-year-old mural. But some Grand Island residents say the move is a slap in the face after years of fundraising and maintenance that went into the mural. Read more
---
FOOD & DRINK
Homemade apple cider donuts: A rite of fall: As we prepare to welcome autumn, many local shops are serving up this seasonal treat. Step Out Buffalo shares a list of nine places that are known for their sweet concoctions. Read more
---
POLITICS
Poll shows Hochul doing well, among New Yorkers who know about her: When it comes to her favorability ratings by New York voters, Gov. Kathy Hochul in her first few weeks as governor is starting off pretty strong. But a new poll suggests that her main obstacle – or perhaps a path for opportunity – is that 41% of registered voters say they don't have enough information to form an opinion about Hochul. Read more
---
COLUMNS 
Alan Pergament: Recalling an old, chilling interview with Michael K. Williams of 'The Wire': After learning of the actor's tragic death earlier this month, Pergament re-listened to a recording of an interview he did with Williams in 2017 during a trip to Los Angeles to preview television shows. Read more
---
BILLS
Bills' trust in Dawson Knox on display in season opener: Knox caught all four passes thrown to him, gaining 41 yards and producing three first downs. He played 48 offensive snaps (56% of the team total), while the only other true tight end on the roster, Tommy Sweeney, played two. Read more
'Sneak pass' worked to perfection for Bills in 'Cheeseburger Game': Fortunately for Mike Mularkey, Drew Bledsoe and Willis McGahee, Cameron Sutton was not on the field in 2004 when the Buffalo Bills sprung a trick play on the Seattle Seahawks. Read more
---
SABRES
Jack Quinn, J-J Peterka among players to watch at Sabres Prospects Challenge: Following a tumultuous 56-game NHL season, and a second consecutive summer without the Sabres hosting a development camp, the Prospects Challenge is returning this week, as midweek practices will precede a pair of weekend games for Buffalo: Friday night against New Jersey at 7 p.m., and a 3 p.m. Saturday puck drop versus Boston. Read more
Sabres prospect Lukas Rousek undergoes surgery on ACL, per league source: Successful surgery on an ACL led to winger Lukas Rousek's omission from the Sabres' roster for their Prospects Challenge, a league source told The Buffalo News on Tuesday. Read more
---
WITH YOUR MORNING COFFEE
• As kids return to in-person learning, some are struggling with anxiety. WGRZ's Karys Belger talks with an expert who says it's important that parents be on the lookout for changes in behavior – even seemingly small changes.
• A local architect has been snaring attention in comic-con circles, WKBW's Mike Randall reports. Elizabeth D'Amore has been using her architectural prowess to pen blueprints for movie, television and comic book buildings and vehicles, including the X-Men Mansion.
• Fall foliage tours can be especially memorable aboard a vintage passenger train. It's not too soon to plan for such autumn endeavors. Step Out Buffalo shares information about four local rail excursions.
• "Rack 'em up," reads the headline above an article that spotlights notable pool halls in upstate New York. CNY News includes on its list of fun pool parlors the New Classic Cue Billiards in Depew and Pocketeer Billiards on Clinton Street in Buffalo.
---