COMPILED BY SHAWN CAMPBELL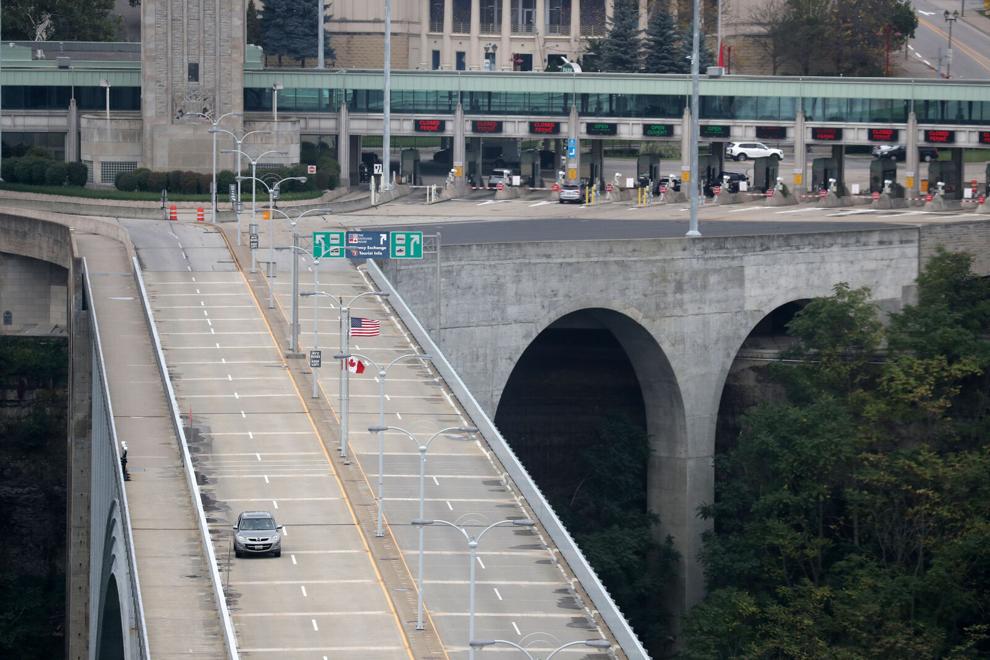 After 19 months of Covid-19 travel restrictions, Buffalo Niagara residents, businesses welcome border reopening
The U.S.-Canadian border closed to nonessential travel on March 21, 2020 – but the American side will finally reopen to vaccinated travelers next month, three months after the Canadian side did.
And that brought a sense of great relief Wednesday to families that have been separated by the border shutdown as well as to businesses that have struggled to overcome it.
Much remains unknown about the reopening, such as its exact date and exactly how stringent the vaccination requirement will be.
But one thing remains certain: Those most affected by the border shutdown said the looming reopening will be a return to normal, finally.
– Samantha Christmann, Jonathan D. Epstein and Jerry Zremski
---
Meal prepping is a convenient way to make sure you're eating properly portioned, healthy balanced meals. 95 Nutrition, who recently won Best of 716 for Best Meal Prepping Companies, shared their business ethos and debunked common misconceptions about meal prepping. Read more >>
Sponsored by 95 Nutrition
---
MORE COVID-19 COVERAGE
Poloncarz: Judge's mask mandate ruling a 'vindication' of Erie County's pandemic efforts: Erie County Executive Mark Poloncarz celebrated a lower court ruling that denied Christian Central Academy's bid to be exempted from public health orders mandating masks be worn by students and staff. But the attorney who represents the school said he'll discuss appealing the ruling with the school. Read more
Health sectors see 3% reduction in staffing since state vaccination mandate: Gov. Kathy Hochul on Wednesday said the state's mandate that hundreds of thousands of health care workers get vaccinated is working, but she also acknowledged it has created a 3% reduction in overall staffing levels at hospitals, nursing homes and other facilities because of the loss of workers who declined to get vaccines. Read more
---
Sheriff's deputies file grievance as star badge goes to civilian; candidates weigh in
Some Erie County road deputies have long grumbled that Erie County Sheriff Timothy B. Howard has issued honorary badges – which look just like a real badge – to select friends and "reserve deputies" who don't go through academy training.
The union representing the real deputies has filed a grievance asking the sheriff to revoke the badge given to businessman Gerald A. Buchheit Jr. and identify who else has a star badge without being certified as a police officer in New York.
With the grievance filed so close to the election, the candidates seeking to replace Howard weighed in on the matter.
---
WHAT WE'RE TALKING ABOUT
Family of drowned police dive-team member to receive $1.275 million settlement: On Oct. 13, 2017, Buffalo Police Officer Craig Lehner disappeared in the Niagara River during a dive training exercise. Exactly four years later, the Common Council preliminarily approved a $1.275 million settlement to the family of Lehner, who drowned during the incident. Read more
Rod Watson: Drop-in center's mission is simple – save lives: "(Anthony) Herrera, 27, and Aaron Robinson, 22, are trying to recruit young men ages 13 to 18 to a new drop-in center run by Urban Christian Ministries in its headquarters on Jefferson Avenue, just north of the Kensington Expressway," writes Watson. "The concept is simple: Get them to trade in the streets, where too many bad things happen, for a safe environment where they can be exposed to positive influences." Read more
Hertel bar's Indigenous Peoples Day post prompts denunciations: "Let's celebrate a Bills victory over the Indigenous People's Chiefs," the since-deleted post from the Sterling's Facebook account said. "Isn't if great we beat down those Chiefs, and stomped on their Arrowhead. Nothing like silencing those silly little war drums the Chiefs fans were beating at Arrowhead Stadium. Christopher Columbus would be proud! #BillsMafia." Read more
Starbucks has closed two stores that tried to unionize – and says it's a coincidence: The Elmwood Village store closed this week for what the company said was a planned remodel and will reopen next week. The Cheektowaga store has been converted to a training center. Both stores were busy and profitable, the company said. Read more
---
Walton campaign accuses Brown over campaign fundraising
Byron Brown's mayoral campaign doesn't want to talk about Republican/Conservative support for his write-in, re-election campaign. But India Walton's does.
The Walton campaign has studied the mayor's post-primary campaign donations and linked about one-third of them to Republicans and Conservatives. It's part of an effort to link Brown –the former state Democratic chairman – to Republican politics in an uber-blue city.
The mayor's campaign would not discuss the situation, but Conservative sources say he has asked for help and will take any vote he can get.
---
WEATHER
Don Paul: Autumnal pattern sets up this weekend: "It will really be a return to long-overdue seasonable temperatures you would expect this time of year, rather than a blast of cold weather," writes Paul. "It may feel that way to some – after the readings we've experienced recently – true enough." Read more
---
BILLS
Q&A: Bills offensive line coach discusses Brown, Ford, Dawkins, depth and more: Bobby Johnson gushed last week about Spencer Brown, saying the rookie right tackle "jumped off the tape" in the preseason and in limited mop-up duty through the first three games of the regular season, leading to his first career start in Week 4. Read more
---
SABRES
Mike Harrington: Sabres' box office might take the biggest hit from another non-playoff year: "A confluence of factors – led, of course, by the team's 10-year playoff drought – has cratered season ticket sales to a point the franchise has never endured," Harrington says. Read more
Sabres preview: Don Granato's drive to build a winner; No, they're not tanking: The Sabres open the 2021-22 NHL season tonight against Montreal at KeyBank Center. Check out our team's complete preview coverage here.
---
WITH YOUR MORNING COFFEE
• The 2021 Greater Buffalo Sports Hall of Fame class was inducted Wednesday. Check out News Staff Photographer Harry Scull Jr.'s gallery from the ceremony.
• "The national touring production of 'Tootsie' that opened at Shea's Buffalo Theatre this week is wonderfully fun," writes Anthony Chase in this theater review. "It has a superior score by David Yazbek, and is smartly staged. The choreography is witty and precise. Best of all, this show is genuinely, cleverly, irresistibly funny."
• Football fans remember Thurman Thomas as a Hall of Fame running back for the Buffalo Bills. His wife, Patti, is talented in her own right. Paintings by Patti Thomas are on display at the Burchfield Penney Art Center, WGRZ's Claudine Ewing reports.
• To gain some appreciation for Buffalo homes' interior architecture, you don't even have to leave your own home. The Parkside Community Association is holding a virtual tour of homes in its neighborhood this month, WKBW shares.
---