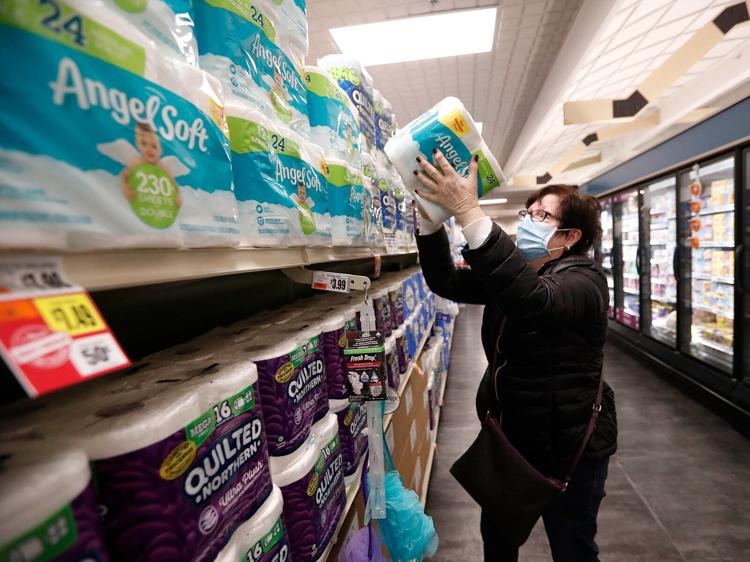 As Covid-19 cases spike, consumers are stocking up again
If you were at the grocery store over the weekend, you likely saw empty shelves and got a sense of deja vu.
As Covid-19 hospitalizations rise and possible business shutdowns loom, consumers are once again getting nervous and beginning to stockpile supplies such as household cleaners and paper products. To prevent hoarding, grocers are putting purchase limits on the most in-demand items, such as peanut butter, oatmeal and storage bags.
But this time around, grocers said they are ready.
"What the grocery industry experienced in March was unlike anything we had ever seen before," said Michele Mehaffy, Wegmans spokesperson. "We've certainly learned from that experience and have worked incredibly hard since then, not only to replenish supply, but also to make sure we don't find ourselves in a similar situation."
Both Wegmans and Tops Markets have reached out to new manufacturers and suppliers to fill in gaps.
An internal team at Tops Markets has been studying global events and their effects on commerce, and had been expecting demand to spike this month. The company has begun carrying 10% to 15% more inventory in its warehouses than it normally would, and took special care to stock up on things such as turkeys and baking supplies in advance of the holidays.
"Our warehouses are replenished all of the time, every day, to make sure we can handle any spikes in business," said John Persons, Tops CEO.
---
Take this survey for a chance to win $1,000!
Help us better understand how your plans have changed during Covid-19, so we can best support our local community. It takes a few minutes of your time, and upon completion, you will be entered into a drawing to win $1,000. Start the survey now »
---
MORE COVID-19 COVERAGE
Amid crush of bad news, state's plans for Erie County's yellow zone to come today: Will the county's "yellow" precautionary zone go orange? Or even the most-restrictive red? Will any schools be required to go remote-only or restaurants be forced to stop serving indoors? These questions and others should be answered today. Read more 
As case counts soar, experts zero in on Covid-19 hospitalizations: Western New York's so-called "second wave" picked up yet more steam this week, with skyrocketing case counts and positive test rates widely expected to prompt new shutdowns. But amid all the ominous metrics, experts are paying particular attention to the number of Western New Yorkers hospitalized with Covid-19: 185, as of Monday. Read more 
UB to continue classes through Tuesday, despite nearly 100 Covid-19 cases: The University at Buffalo, despite being perilously close to a state threshold that requires campuses to pause in-person instruction, plans to continue with face-to-face classes until Thanksgiving break begins next week, in part so it can finish testing more than 4,000 students who have yet to get a required Covid-19 test. Read more
Local businesses adjust to rising Covid-19 cases: Beginning Monday, Northwest Bank will again require customers to make appointments to visit branch lobbies, a sign of Covid-19's resurgence. Some other area businesses are also changing their operations due to the virus. Read more
---
WHAT WE'RE TALKING ABOUT
Developers kick off project to bring historic Silo City back to life: The $65 million project will transform the American Mill & Warehouse complex into an apartment, office, wellness and artistic destination. The renovation by Generation Development Group aims to revive a landmark industrial grain silo on the waterfront by attracting residents, workers, recreational users and other visitors. Read more
Federal grand jury hears testimony on developer's pay-to-play allegations in Buffalo: It's been a year since the FBI hauled cartloads of documents from City Hall offices, and more than three years since subpoenas seeking additional information were issued. Now The News has learned that a federal grand jury is asking questions about City Hall activities. Read more
Absentees give win to Assemblywoman Wallace: Democrat Monica Wallace emerged victorious over Republican challenger Frank Smierciak II in the 143rd Assembly District race after absentee ballots were tallied. But the determination of the winners in two other hotly contested races awaits the verdict from the Erie County Board of Elections. Read more
Lockport girl with 'heart of gold' remembered for making others smile: Mackenzie Kulesza, 11, died last week after she was struck by a vehicle on Rapids Road in Lockport. "She was that kid that would wear a dress and go puddle jumping and get muddy," her mother said. Read more
---
WEATHER
Calm and cool: Partly cloudy today with highs in the upper 30s. Read more
---
FOOD & DRINK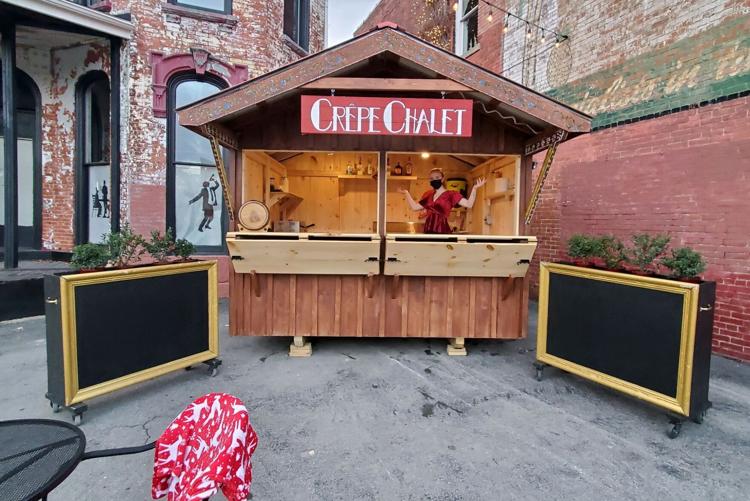 Coco to launch outdoor crepes food stand, plus holiday market: Inspired by travels throughout Europe, Coco Bistro owner Maura Crawford will debut Coco's Crepe Chalet on Friday. Seven savory and sweet crepes will be offered, in concert with a Christmas artisan market that will boast 10 local vendors. Read more
---
BILLS
Column: Fixing the run game tops Bills' bye-week to-do list: The problem is, when the Bills do try to run, they mostly do it poorly, writes Vic Carucci. Read more
Cardinals fans have some fun: A Cardinals fan on Reddit had a good idea: Adding on to the Oshei Children's Hospital donations in honor of Bills quarterback Josh Allen's grandmother. Read more
---
WITH YOUR MORNING COFFEE
• People who are diagnosed with Alzheimer's or dementia are at higher risk of suffering from depression if they're deprived of social interaction, reports WBFO's Nick Lippa. He takes a closer look at a local program that uses virtual art therapy to foster social connections.  
• It's rare when engaging in an online role-playing game inspires a thriving startup. Lindsey Tropf was playing World of Warcraft when she realized she could create her own game featuring quirky characters and intriguing missions to build science literacy. Immersed Games is a Buffalo-based startup that was a runner-up in 2018's 43North competition and was among eight firms selected this year by AT&T for its Aspire Accelerator class. UpstartNY contributor Jana Eisenberg takes a peek behind the scenes at the startup. 
• When a huge contraption falls from the ceiling, it makes a thunderous sound, but rarely makes global headlines. It was 24 years ago this week that an incident branded by The News as "Jumbletron" garnered worldwide attention. News contributor Steve Cichon looks back on the day when the 20-ton Jumbotron hanging over the playing surface at then-Marine Midland Arena crashed at center ice as crews did routine maintenance. Fortunately, no one was injured. "If it was meant to fall, it happened at the right time," Sabres President Larry Quinn told reporters. 
• Consider it a delectable day trip for chocolate fanatics. NYup highlights a Silver Creek mainstay that sports a 12-foot high Dolly Dimples towering over the entrance. Valvo's Candies is operated by a family that has been concocting sweet treats for a century. The store on Route 5 also sells Christmas items, whimsical statues, toys and other items. 
---
Be the first to know
Get local news delivered to your inbox!