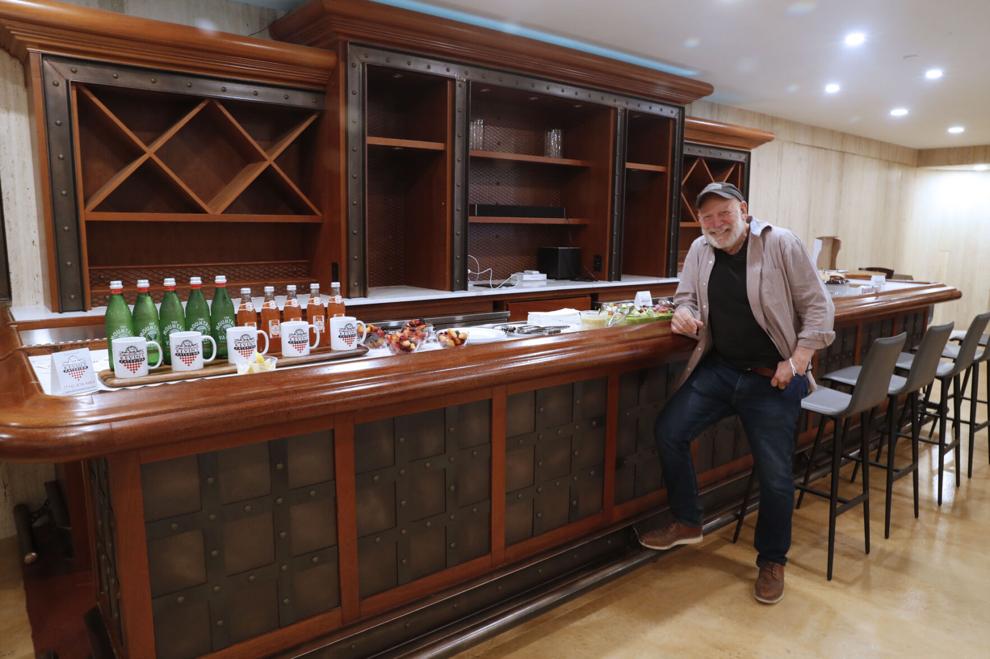 Eat, drink and be merry: Jemal's $120 million makeover transforms Seneca One
Seneca One tower – Buffalo's tallest structure – has long been primarily an office building, hosting banks, law firms and other service businesses. But under new owner Douglas Jemal, it has a very different future.
Jemal is still bringing back new office tenants, anchored by M&T Bank Corp.'s new technology hub, along with 43North, Lighthouse Technology Services and Serendipity Labs. But he's also brought 115 new apartments to the scene, with the first tenants moving in Sept. 1.
Most notably, though, he's introducing an array of new amenities and features centered around food and drink, to make the building attractive for conventions, technology conferences, banquets and other events.
With its new lobby bar with soft-seating, a food hall, a 250-seat auditorium, a new seven-room conference center and event hall, three new retail and restaurant buildings, and a wood-paneled exterior clubhouse with an English bar and couches, Jemal is hoping to draw in new business activity to Buffalo. 
---
WHAT WE'RE TALKING ABOUT
Future of historic Cobblestone buildings at crossroads: Preservationists and the Brown administration want to save two historic buildings in the Cobblestone District. The owner wants to save the facades for a planned skyscraper. All agree that time for the buildings is running out. Read more
Downtown businesses object to plan to narrow 'Middle Main': City officials are hoping to extend their "Complete Streets" streetscape and infrastructure improvements to a section of Main Street from Tupper to Ferry streets, but the plan is meeting opposition from businesses along the route that fear a negative impact on their operations. The project would reduce the number of traffic lanes to one in each direction, plus a middle turning lane; widen sidewalks; and "bump out" curbs to help slow traffic. Read more
Mural, street sign honor legacy of East Side civic leader Rhonda Ricks: A new street sign advertising Dr. Rhonda Ricks Way – which stretches from Broadway to Sycamore street on Buffalo's East Side – celebrates the  civic leader and developer who died last June after a multiyear battle with cancer. Read more 
---
COVID-19 COVERAGE
Pandemic makes teacher substitute shortage more pressing: Substitute teachers have always been in short supply, but in the midst of the pandemic this year, some schools anticipate they may be even scarcer. Some subs – many of whom are retired teachers of an age that puts them at higher risk for Covid-19 – might decide that the possible exposure to the coronavirus is not worth the $100 to $150 a day they would make. Read more 
Reopening schools brace for the inevitable: a confirmed Covid-19 case: Local school districts are bracing for the unfortunate reality that they will see Covid-19 cases among their own students and teachers. District officials say they don't have a predetermined threshold for the number of positive tests that will drive them to shut down a classroom, a school or an entire district, but they will make those decisions as situations arise in close consultation with Erie County and state officials. Read more 
State's rapid Covid tests show 3.4% infection rate in WNY: New York State tested 1,024 people Saturday at three Buffalo sites and sites in Amherst, Dunkirk, West Seneca and Niagara Falls and the positive rate was 3.4%. The rate of positive rapid tests Saturday in the City of Buffalo was 5.5%, according to Gov. Andrew M. Cuomo. The region's infection rate has continued to rise over the past 10 days while the rest of the state was at .69% Saturday. Read more
---
WEATHER
A sunny start to the week: Mostly sunny skies are expected today with a high in the low 80s. Read more
---
BILLS
'Leap of faith' in going with Tyler Bass rooted in trust: Special teams coach Heath Farwell said Tyler Bass "just does everything right" and the kicker is someone the coach trusts. It was that trust that helped the Bills take a "leap of faith." Vic Carucci has the story. Read more
Observations: Zach Moss was limited Sunday with a sore neck, and Devin Singletary showed some burst. Mark Gaughan has more observations from practice, including a nifty move by Cole Beasley, standouts on defense and the rest of the injury report. Read more
---
WITH YOUR MORNING COFFEE
• When Clifford Grant bought a toy tractor for his infant son almost 50 years ago, he had no idea the purchase would be the first piece in a collection now valued at close to $1 million. WGRZ's Heather Ly visited Grant at his home in Gasport to check out his collection of more than 4,000 tractor and John Deere memorabilia (properly known as Grant's Toy Farm). 
• Earlier this month the Albright-Knox Art Gallery enlisted six artists to create murals on the South Park side of the DL&W Terminal in the Cobblestone District. Buffalo Rising reports that the murals are now complete and ready for viewing. The stunning murals, with vibrant colors and a mix of abstract, modern and pop art, bring a  burst of color to a barren part of town. Next summer the museum will complete phase two of its plan and hire six more muralists to complete beautifying the building. 
• As we prepare to trade August for September, perhaps you're looking for a little bit of inspiration or a way to get out of the house? Step Out Buffalo has got you covered. Check out its list of 22-plus events happening in Western New York next month. The list includes everything from yoga to jazz concerts and food tours. 
---