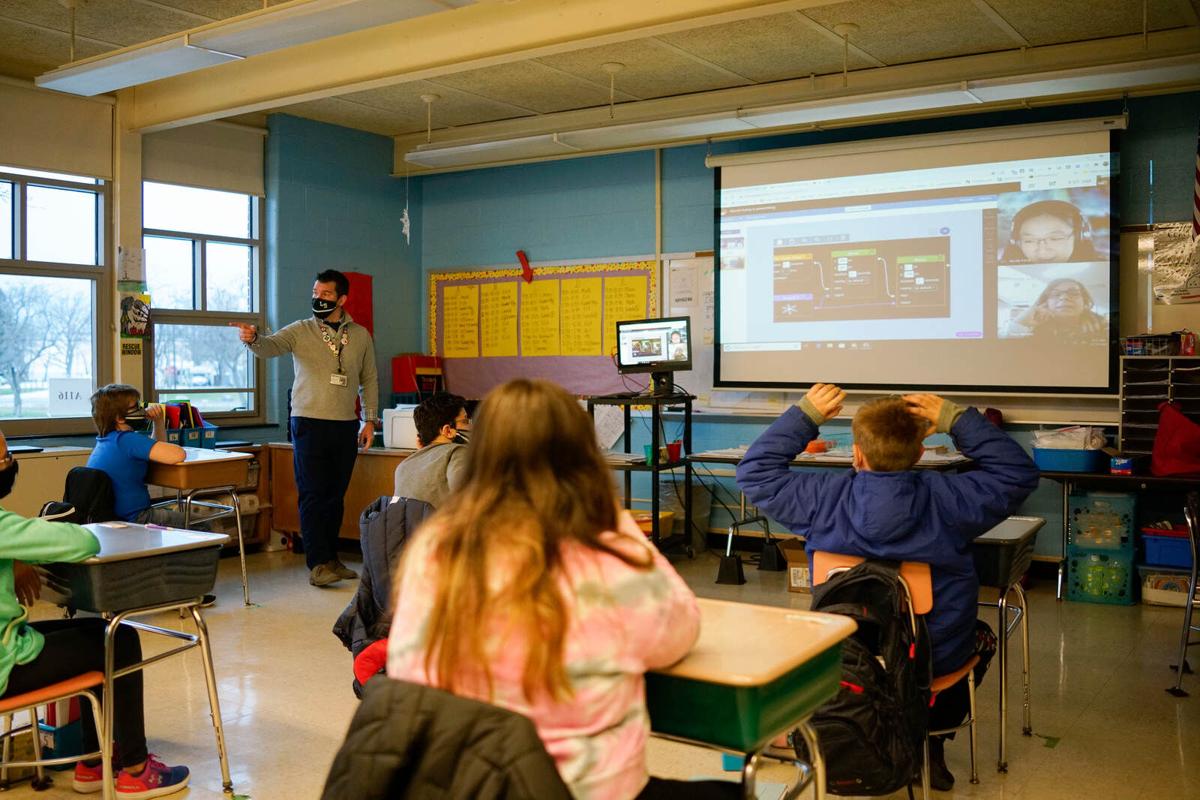 Covid-19 forced everyone, from students to teachers to administrators, to step out of their comfort zones.
Most were unprepared for the abrupt closing of schools last March. Some schools did not have enough computers for every child, and not all families had access to the internet for online classes.  
"It essentially forced every single teacher to get online and use technology because that was the only way they could reach their students," said Michael Drezek, district technology integrator at Lake Shore Central School District. "What this has done in terms of Covid, it really has just pushed it forward on a large scale." 
And learning will never be the same.
When schools closed last year at the beginning of the pandemic, some teachers had an easier time than others pivoting to virtual learning.
"There's a little bit of the luck of the draw between students who have tech-savvy teachers and those who do not," said Steve Graser, director of professional development and instructional technology resources with Erie 1 BOCES.
But after the past year, more will get lucky as most teachers expanded their technology knowledge.
It wasn't easy. Many experienced teachers said they felt like it was their first year teaching. From the physical education teacher incorporating exercises students could do at home to the science teacher doing experiments to the art teacher giving students drawing lessons and checking their work, most found a way to get their points across.
"What we're seeing here is a lot more implementation of best practices that would be good for all students," Graser said.
Teachers who would never have considered using different models of blended learning found they are perfect for student-directed work at home and reinforcement with face-to-face sessions with an educator.
"I've had teachers who I have worked with for a few years approach me and say I didn't realize how valuable this really was," said Melanie Kitchen, coordinator for instructional technology and staff development at Erie 1 BOCES.
Distance learning doesn't always mean 20 students in squares on a computer screen.
But now that students and teachers are at ease with the technology, it could mean that students who are out of school for extended periods of time for an illness could catch up.
And those in a school that does not offer a particular course, like AP Calculus, could more easily join a virtual class at another high school. That can give students access to more college-level courses.
"This speaks also to the equity piece, giving kids access to rigorous curriculum," Graser said.
Not all students are suffering with virtual learning.
"There is a group of students who are thriving under remote instruction," Graser said.
Some students who never participated in classes are answering questions and engaging in discussions. Others enjoy working at their own pace.
More than a few school districts, including Buffalo, are thinking about setting up a remote academy – after things return to normal – for those who do better virtually.
Their parents used to listen to the radio on snowy mornings, waiting for the alphabetical list of school closings, but these days schools usually call or text parents when school is closed unexpectedly.
Now that students are used to logging onto their computers from home, why take a day off?
Class can continue remotely. And then there's no second-guessing whether the snow day should or should not have been called. School may have closed because of poor weather, but learning doesn't have to be canceled. 
It's already happening in some places. Syracuse City Schools reminded parents in December that for the 2020-2021 school year, should schools be closed for inclement weather, "students will be expected to attend classes virtually."
"Every single teacher has experienced some successes and has experienced some hurdles," Drezek said.
Some never want to be on a Google Meet again. But, he suggests, maybe that video meet technology can connect students with a park ranger in California.
"I think more teachers might tap into using technology to connect with the world," he said.
They've already done that in Lake Shore, where fifth grade students connected with a third grade class in Connecticut, and both classes met with the founder of a coding firm in France for a virtual field trip.
But technology isn't all or nothing, Drezek said.
"If the best tool for a job is a pencil, then we use a pencil. Not everything has to be online," he said.