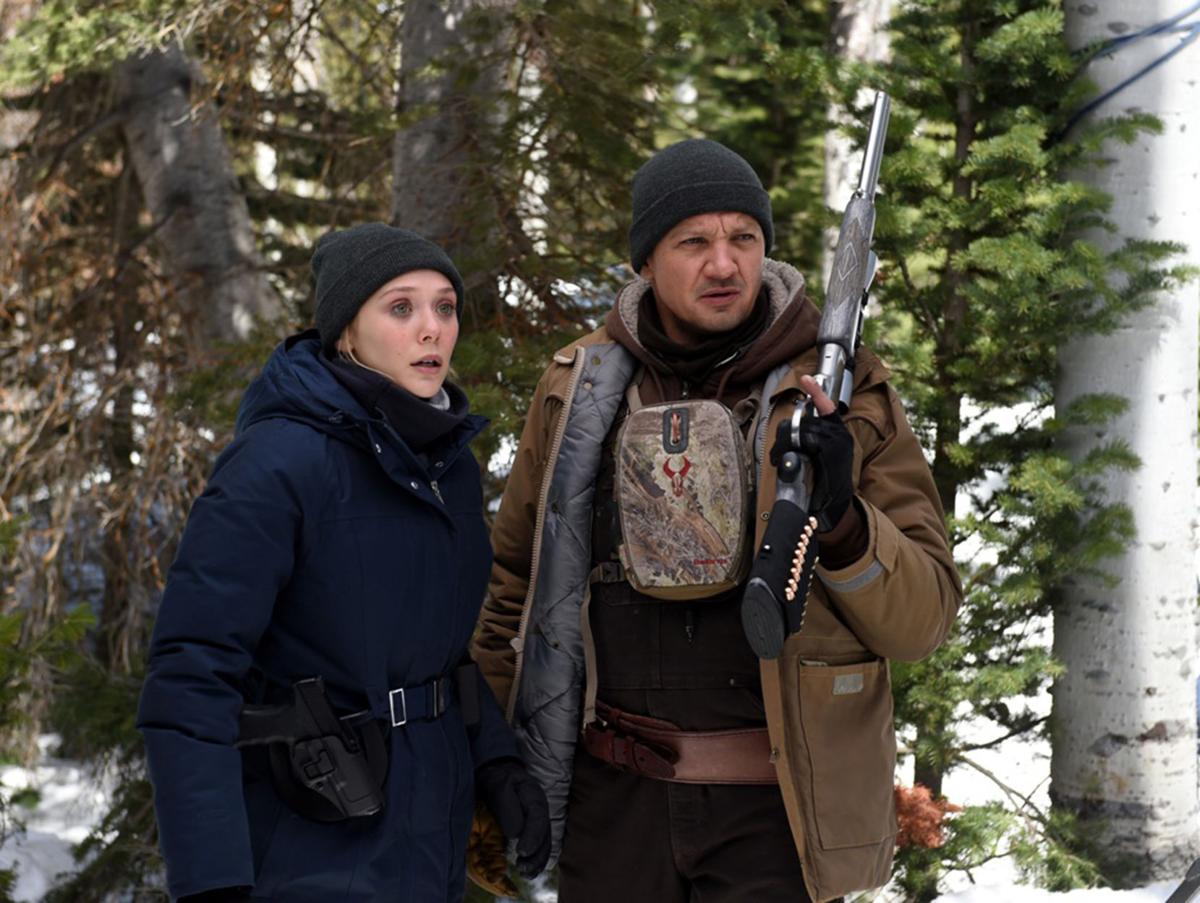 "Wind River" is the name of a snow-covered Native American reservation in the mountains of Wyoming. It is, to put it mildly, an inhospitable place to live in the winter. Even in the summer, snow caps its highest mountain. If you run outside in the snow for too long a distance during the winter, the gulped air freezes your lungs and, in minutes, you drown in your own blood from pulmonary hemorrhage.
Jeremy Renner plays a Fish and Wildlife Officer named Cory Lambert. It's a somewhat glorified title for the area's official hunter and tracker. It's his job to keep nature's predators from devouring the livestock. He's there to shoot the wolves before they slaughter the sheep and to track to their lair the mountain lions who are brazenly chewing through the local cattle.
He is the most ancient American sort of hero-- a great outdoorsman out of James Fenimore Cooper. And then one day up in the mountains, he finds a young woman dead and barefoot and inadequately clad in the snow. She is Native American. She was one of the best friends of his daughter, who is also gone but, revealingly, never counted. Missing native American women never are. The result is a unique statistical blank in American crime.
Rape and murder is not so common. So the FBI sends an agent played by Elizabeth Olsen. She shows up in heels and winter fashions that might be appropriate for apres-ski in Aspen or Lake Placid. Right up here you should know that for some years now, those paid to keep track of such things have been listing Renner and Olsen as  an offscreen item (at the very least, serious friends).
She plays Lambert's opposite in the law enforcement business. The Native American police chief on the reservation is played by Graham Greene, the Native American actor who doesn't have to do much more than stand in front of a camera lens to command your attention in a movie.
We know that the hunter/tracker and the FBI clothes horse will team up. We also know that no decent writer/director in 2017 will allow her to be clueless and ineffectual for long. When the first round of hair-raising shooting occurs, she is as proficient with her handgun as Clint Eastwood. (Actually, I'd love to see who'd survive a shootout with "Dirty Harry" Callahan.)
But tracking rapists and murderers in the snow is not her thing. She needs the hunter/tracker badly. And, courtly fellow that he is, you know that he will, in a genteel way, eventually notice that she looks like a movie star.
In this very good movie opening weekend, we're getting a look at the kind of movies American movie independents make when they refuse to fly over America without looking down--when they, for instance, set complex and very loose and funny caper films in North Carolina speedways rather than Las Vegas casinos (see "Logan Lucky") and rape/murder investigations in the snow-covered high country of Wyoming.
This is the first major film to be directed by Taylor Sheridan, who began as an actor and then wrote two extremely fine scripts, "Sicario" and "Hell or High Water." He also directed some entry-level horror junk called "Vile" in 2011 but, for his sake, let's forget about it. Everyone has to start somewhere.
He is a very good director here. He wants to do two things and he does both with panache. He lets the inhospitable landscape become a major character in the film. Even on a hot night, audiences might find themselves shivering at this movie.
And he wants all of his actors to function at peak proficiency by underplaying - especially the Native Americans and those playing Native American roles. There is a closeup of Gil Birmingham, playing the murdered girl's distraught father, where his eyes penetrate your soul by revealing his.
Birmingham was previously very droll as Jeff Bridges' cop partner in "Hell or High Water." The performance he gives here proves his own versatility and power as well as Sheridan's impressive gifts as a film director. They're both naturals.
Three and a half out of four stars
Jeremy Renner, Elizabeth Olsen, Graham Greene and Jon Bernthal star in snow-covered thriller about the gang rape and death of  young woman on a Native American reservation in Wyoming. 111 minutes. Rated R for strong violence, a rape, disturbing images, and strong language.
Stay up-to-date on what's happening
Receive the latest in local entertainment news in your inbox weekly!