For months, we've been bombarded with lengthy lists of closures, cancellations and postponements. How about some good news for a change?
Popular local attractions are slowly reopening – with safety first in mind. So we can finally get out to meet young Toni the sea lion at the Buffalo Zoo; see the acclaimed traveling exhibit "Golden Mummies of Egypt" at the Museum of Science; and get wet while up close and personal to one of the seven wonders of the world.
Here's a quick look at some of the area attractions that have reopened. Each will have enhanced cleaning protocols in high-touch areas, directional signage and additional hand sanitization locations. Masks must be worn for guests ages 2 and older, unless specified, and social distancing will be enforced. These attractions have reduced occupancy, with most requiring advanced ticketing and time slot reservations. Since information changes rapidly, check with the attractions for updated hours and procedures.
2655 South Park Ave. (827-1584, Ext. 212)
After months of quarantine, reconnect with nature under the dome of the Botanical Gardens starting July 15. While workshops and classes are only offered online, you can still stroll through the Victorian glass house and take in the beauty of the natural world. The Botanical Gardens has devised its own three-phase plan. Audio tours, the Wegmans Family Garden and Outdoor Children's Garden will be unavailable until at least the third phase, but other exhibits will be open. Detailed information is online.
Before you go: Timed e-tickets are required for the first two weeks by calling or purchasing online at buffalogardens.com. Enter through the front entrance with your ticket and I.D. Starting July 22, onsite ticket sales, walk-ups and guest passes will be accepted based on capacity. Cashless payment options are preferred if buying onsite.
Hours through Aug. 2 are 11 a.m. to 3 p.m. Wednesday to Sunday; high-risk individuals can visit from 10 a.m. to 11 p.m. Wednesdays and Fridays. Beginning Aug. 5, it will be open on Mondays, as well. General admission tickets are $12.50, students and seniors older than 62 are $11, and children 3 to 12 are $7. Members and children 2 and younger are admitted free.
1020 Humboldt Parkway (896-5200)
The U.S. premiere of "Golden Mummies of Egypt" was only opened for about a month before the Museum of Science closed because of the pandemic. Now we have a chance to see the exhibit of more than 100 artifacts from the Manchester Museum's collection, including eight mummies, plus masks, coffins, jewelry and sculptures.
For safety reasons, museum visits will be limited to the "Golden Mummies" exhibit and the second-floor galleries. There will be live science demonstrations, but some of the more interactive galleries and the 3-D cinema and concessions will be closed.
To reduce hand contact with exhibit surfaces, visitors will receive a free stylus to interact with touch screens and buttons.
Before you go: Tickets must be purchased or reserved in advance at sciencebuff.org or via phone. Tickets are $19 adults, $16 for the rest of the family, including ages to 17, seniors 62 and older, students and military. The entry fee for members has been waived, including children ages 2 and younger.
Arrive within five minutes of the time listed on your ticket, and have your ticket ready to be scanned on your phone or printed. On-site transactions will not be available. The museum is open 10 a.m. to 6 p.m. Fridays through Sundays.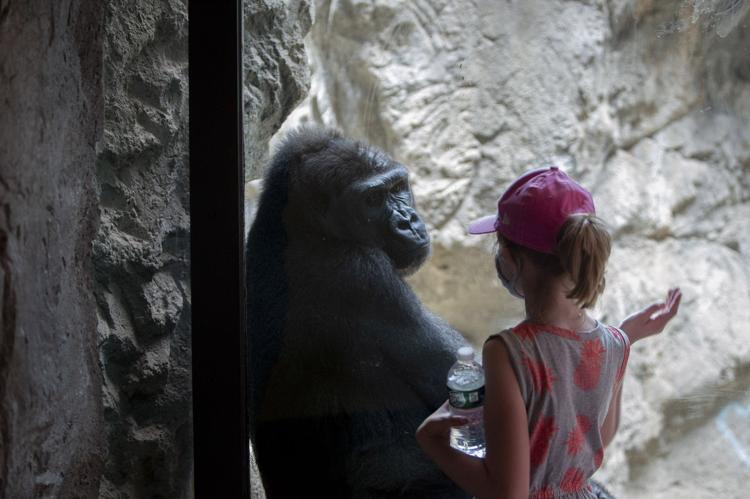 300 Parkside Ave. (837-3900)
Return to the zoo and say hello to polar bears Sakari and Luna as they swim by at the Arctic Edge and visit such popular spots as the Amphibian and Reptile Center, Gorilla House, Rhino Yards, Giraffe House, lion enclosure and Sea Lion Cove, where you can visit their youngest pup, Toni. Check out the new Animal Ambassador exhibit which rotates different types of animals in the lobby of the updated education center. Indoor and outdoor exhibits will be open with extra signage and markings directing foot traffic.
Before you go: Reservations are necessary and tickets must be purchased in advance at buffalozoo.org, where you'll pick a time slot to visit. General admission guests can visit from noon to 4 p.m.; members have the choice of either 9 a.m. to 11:30 a.m. or noon to 4 p.m.
Temperatures of all guests will be checked at the gate; parties with a member having a temperature above 100.4 will not be allowed entry. The zoo is open Wednesday through Monday. It is closed on Tuesdays for deep cleaning and disinfection.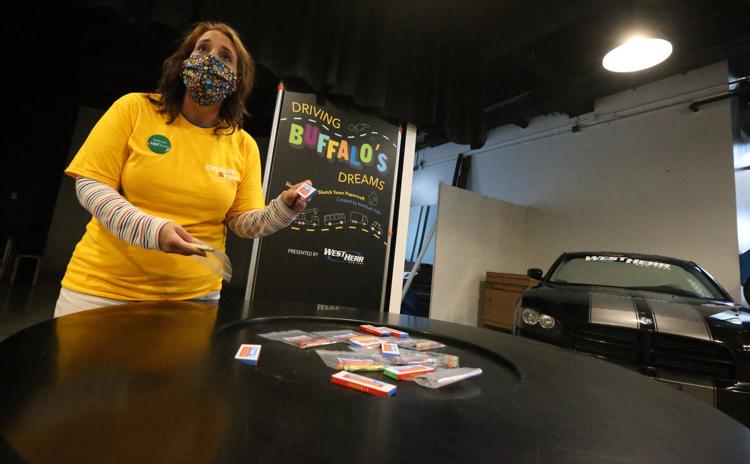 While it won't be quite as hands-on as it has previously been, many of the museum's popular exhibits will be open. In the Moving Water exhibit, an indoor 30-foot waterfall will help kids learn about the hydraulic power that Niagara Falls generates. Kids also can learn to maneuver a boat through canals and step into a construction zone at the Building Buffalo exhibit where they can design and build a cityscape. Other exhibits include Being Good Neighbors, Playing Together, Farm to Fork and Lighting Buffalo's Imagination.
The museum is operating at 15% capacity (120 people) and will slowly increase to 20% and then 25%, phase four limit. Benches are placed throughout the museum where families can regroup and give children a safe place to temporarily remove masks if needed. Bags are at each exhibit to collect toys that have been played with so they can be sanitized.
Before you go: Tickets must be purchased in advance at exploreandmore.org, where you'll pick a timed reservation of either 9:30 a.m. to noon or 1 to 3:30 p.m. Present the printed or electronic tickets at admissions. The museum is open Wednesday through Sunday and closed for an hour at midday for sanitation. General admission is $11 for children and adults, members and children younger than 12 months are admitted free.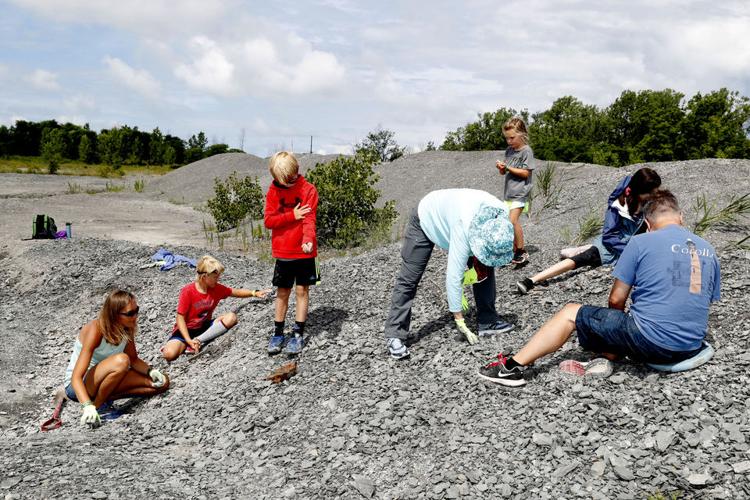 4050 North St., Blasdell (627-4560)
Did you know that Buffalo is home to the No. 1 fossil park in the U.S.? At Penn Dixie, you can search for and keep the fossils you find that were once part of a shallow ocean environment that existed 380 million years ago.
Formerly a cement quarry, this 54-acre site is so large that is it naturally socially distant. Still, face coverings are required for guests ages 3 and older in public areas and on the central paved trail, but may be removed in the rear of the park and on nature trails.
Rent a tool set for $5 (a small sledge hammer, geologist's hammer, chisel, safety goggles, knee pad and bucket) or bring your own tools to dig. Don't forget bags to store your fossils.
Before you go: Advance booking is required at penndixie.org for all nonmembers and members visiting for the first time. Time slot reservations are in 30-minute increments, but you can stay as long as you want during business hours. Once you arrive, send one member of the party to check in at the green pavilion to get directions. First-time visitors will receive a safety briefing and an introductory tour of the park. Tours depart every 30 minutes beginning at 9:15 a.m., with the final tour at 2:45 p.m. Members who have previously visited do not need to make a booking but must register at the check-in pavilion.
Only cashless payments are accepted onsite. Admission for ages 18 to 61 is $12; children 3 to 17,  $9; and seniors over 61, military and students,  $11. Members and children under 3 and younger are free. The park is open daily from 9 a.m. to 4:30 p.m.
NIAGARA COUNTY
Visit one or multiple Niagara County attractions.
701 Whirlpool St., Niagara Falls
Indoor and outdoor exhibits are open, and visitors will be able to see feeding and training sessions at the pools where the sea lions and seals are housed. Experts and education staff will be around to answer questions. However, there will not be interactive exhibits, shows, presentations or animal encounters. Guests must stay with their group, limiting one group per exhibit.
Before you go: It is strongly advised that you purchase tickets and reserve a time slot in advance at aquariumofniagara.org. Entry time slots are divided in 30-minute increments; however, you can stay as long as you like. Walkup spots are not guaranteed. Members do not need to reserve a time to visit.
Summer hours are 9 a.m. to 7 p.m. Sunday to Thursday and 9 a.m. to 9 p.m. Friday and Saturday with the last admission sold 30 minutes before closing. General admission is $14.95, $12.95 for seniors aged 60 and older; $10.95 for ages 2 to 12. Members and children 2 and younger are admitted free.
Niagara Falls State Park, 24 Buffalo Ave., Niagara Falls (278-1796)
This natural attraction is one of the best ways to get close to Niagara Falls. Descend 175 feet to the floor of the Niagara Gorge. Once you exit the elevator, you'll traverse wooden walkways down to the Hurricane Deck, placing you within feet of the plummeting Bridal Veil Falls.
Elevator capacity will be limited to small groups of visitors that are traveling together. Face coverings will be required while in line, in the elevator and traveling through the tunnel to the Gorge. Once on the decks, masks are not required but you must remain socially distanced from other groups.
The World Changed Here Pavilion is closed. Sandals will not be provided, however there will still be complimentary ponchos.
Before you go: Tickets are not sold in advance, so arrive early to purchase tickets as capacity will be limited and time slots will fill up quickly. Daily hours are 10 a.m. to 7:15 p.m. when the last ticket is sold. General admission is $19, children are $16, ages younger than 5 are admitted free.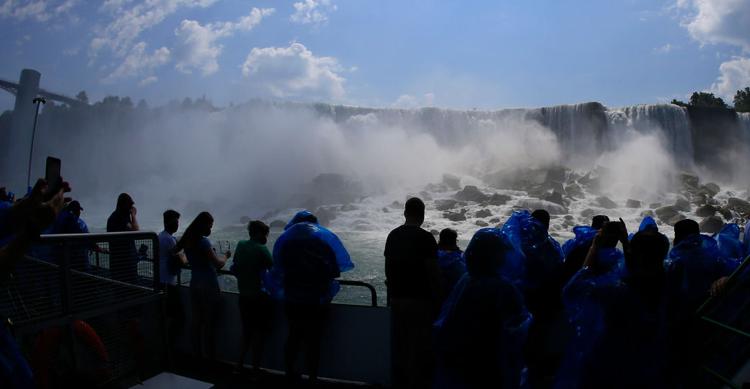 Niagara Falls Observation Tower, 1 Prospect St., Niagara Falls (284-8897)
There are few tourist experiences more iconic than the Maid of the Mist, considered the crown jewel of the oldest state park in the U.S. for 135 consecutive seasons.
Tours depart every 30 minutes and pass along the base of the American Falls, into the basin of the Horseshoe Falls. You'll hear the roar of 600,000 gallons of water pummeling into the rocks below, as you're soaked by the mist. The iconic blue poncho will be available, but you'll still get wet.
Before you go: Advance online ticket purchase at maidofthemist.com is encouraged, but not required. Face coverings must be worn on board.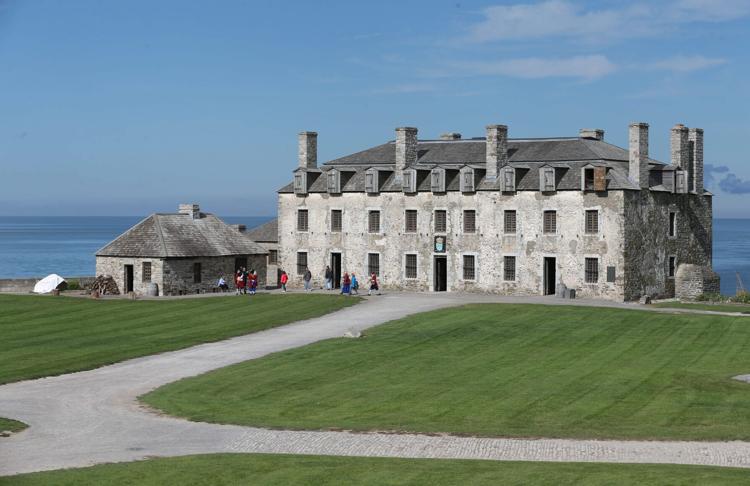 The 22-acre historic fort is another spot where it's easy to naturally keep a social distance. For indoor spaces such as the Visitor Center, museum and historic buildings, staff will be on hand to cap capacity at 25%. Hourly musket demonstrations, plus living-history demonstrations and performances will all take place outdoors.
If you go: Admission can be purchased at the gate with cash or card. Guests will be encouraged to tour the grounds in a clockwise direction. Daily hours are 10 a.m. to 4 p.m. General admission tickets are $22.25; children aged 6 to 12 years, $14; and children 5 and younger, free.
Stay up-to-date on what's happening
Receive the latest in local entertainment news in your inbox weekly!